Truck Accident Lawsuits
Truck accidents are different from ordinary car accidents. The damage is often catastrophic, and the legal cases are more complex. Hiring an experienced attorney gives you the best chance of recovering compensation for your injuries, pain and suffering, lost wages and other damages.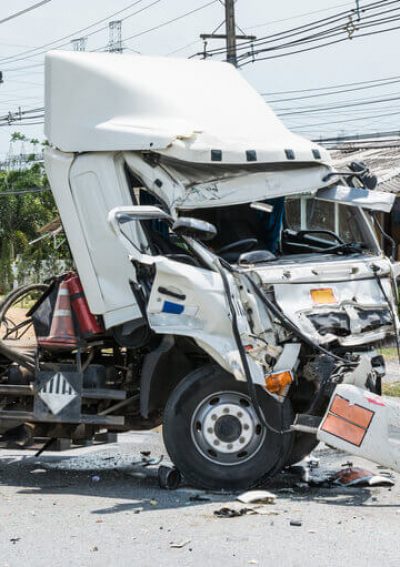 When you're involved in a truck accident, the consequences can be devastating.
Thousands of people are killed every year in accidents involving large trucks, leaving behind grieving families and financial ruin. Those who survive often have severe or disabling injuries, and the cost of medical treatment can be overwhelming.
A variety of factors — ranging from speeding to distracted driving to driver impairment — can cause truck accidents. An experienced attorney who understands the complexities of truck accident law can help you determine who's at fault and guide you through the process of seeking compensation.
Who Is Liable in a Truck Accident?
Determining who's at fault is one of the critical issues in a truck accident case. In order to be successful, you must be able to prove that the truck driver or other parties were negligent.
Trucking companies are often held liable for their employees' negligence. If a truck driver is an independent contractor, on the other hand, he or she can be held personally responsible for causing a crash.
Sometimes, trucking companies will try to claim that a trucker they employ is an independent contractor to try to get out of being sued. But independent contractors must meet very specific conditions under employment and tax laws. If a truck company is paying employment taxes, such as Social Security, Medicare and federal unemployment taxes, then the trucker is an employee, not a contractor.
Other parties may also bear liability for a crash. If a defective part contributes to a crash, for example, the manufacturer of the part may be sued. Similarly, a cargo loader may be held responsible if improperly loaded cargo causes an accident.
Some common causes of truck accident negligence include:
Speeding
Careless driving
Driver fatigue
Driver impairment (alcohol, drugs, illness, etc.)
Distracted driving
Poor vehicle maintenance
Equipment failure or defects
Improper cargo loading
A recent study by the Insurance Institute for Highway Safety found that three-quarters of trucks involved in crashes in North Carolina had vehicle defects that were identified during inspections after the accidents. The study also confirmed that driver fatigue is a big contributor to crashes. Those who had driven 12 hours or more since an extended sleep period were nearly 86 percent more likely to be involved in an accident.
Comparative Fault
You may still be entitled to compensation even if you're partly to blame for the accident.
Most states follow the doctrine of comparative negligence when determining liability in a personal injury case. What that essentially means is that if you were determined to be 20 percent to blame for the accident, any damages collected would be reduced by that percentage. In that situation, if you were awarded $1 million, you'd be able to recover $800,000. Conversely, if you were found to be 80 percent responsible, you'd only be able to collect $200,000.
While 13 states follow a "pure" comparative fault rule, 33 states follow a modified version of the concept that depends on the degree of fault of the damaged party.
Twelve states follow what's known as the 50 percent rule, which means if an individual is 50 percent or more to blame, they can't collect a dime from the other party. Twenty-one states follow the 51 percent rule, which bars recovery if you're 51 percent or more at fault for an accident. Only four states and the District of Columbia follow the pure contributory negligence rule, which bars a plaintiff from recovering damages if they're even 1 percent at fault.
Accident Site Investigations
Investigations of the accident site are a key part of building your case, and a competent attorney will perform a thorough accident investigation. It's important that your lawyer is on scene as soon as possible to talk to witnesses, take photographs and preserve critical evidence.
Many trucks contain event data recorders known as "black boxes" that may provide evidence of actions that the truck driver took or didn't take in the moments before the crash. This can help forensic investigators determine how the accident occurred.
To reconstruct the accident, investigators will also examine a variety of other evidence, including: skid mark directions, the length of skid marks, points of impact, impact angles and the weight dimensions of each vehicle. They may even conduct crash tests to try to recreate the accident.

Notable Verdicts
In 2019, a jury ordered a trucking company to pay $27 million in damages to a family of an Idaho woman who was killed in 2016 when she was hit head-on by a semi as she came around a bend. The driver of the truck, James Decou, was in the woman's lane attempting to pass an RV, according to The Oregonian.
According to the newspaper, Decou and several other truckers had allegedly been playing a "cat-and-mouse" game that involved "racing, speeding, aggressively honking and brake-checking" for more than 90 miles when the accident occurred.
Sara Allison of Boise, Idaho, died at the scene. Her husband, Matthew Allison, was airlifted to a hospital, where he underwent surgery. The couple was returning from a concert in Oregon, where they were celebrating Matthew's cancer remission. The driver of the truck pleaded guilty to second-degree manslaughter and is serving 75 months in prison.
Other notable truck accident verdicts include:
$101 million verdict

In July 2018, a Texas jury handed up a $101 million award against an oil services company whose driver plowed into the back of a pickup in 2013. The driver of the pickup did not believe he was injured at first but later needed neck surgery and is unable to work. The truck driver tested positive for methamphetamine and marijuana after the crash and admitted in a deposition that he had used the drugs several times per week.

$80 million verdict

In May 2019, a Texas jury awarded $5 million in actual damages and $75 million in punitive damages to a truck driver who said the company he worked for forced him to alter his logbook and exceed federal hours of service rules in 2015. Lauro Lozano alleged that Jorge Marin, the owner of three trucking companies, ordered Lozano to falsify log records and drive beyond legal limits to deliver a 1,800-mile haul. Lozano ended up falling asleep behind the wheel and plowed into another tractor-trailer. He suffered abdominal trauma, a crushed pelvis and other injuries.

$53 million verdict

In February 2018, a California jury awarded $52.84 million to two brothers who were hit head-on by a semi truck that crossed a road's center line in 2014. The boys suffered traumatic brain injuries, back and arm injuries, and post-traumatic stress disorder. The truck driver admitted he caused the accident.

$15 million verdict

In May 2019, a Connecticut jury awarded $15 million to a Pennsylvania man who was rear-ended by an 80,000-lb semi in 2014. According to the Stamford Advocate, the truck driver didn't realize traffic was stopped until it was too late. He swerved to avoid a collision but slammed into the back of 50-year-old Jorge Amparo's car. Amparo's car was totalled and he had to be extracted from the vehicle by the Jaws of Life. He suffers from post-concussion syndrome, which can cause sudden and unexpected dizziness, nausea and vomiting.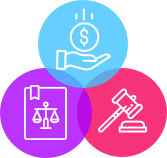 Fighting a car or truck accident lawsuit? You may be eligible for a settlement loan
Get a free, pre-settlement loan quote.
What's the Average Semi Truck Accident Settlement?
Since many settlements are confidential, it's impossible to pinpoint an average settlement figure. But it's not unusual for settlements in truck accidents to reach into the millions.
Various factors that can influence settlement figures include:
Medical expenses

Every case is different, but generally, the higher your medical bills and the longer you need treatment, the higher your settlement will climb.

Lost income

Many truck accident victims miss substantial time from work, and some are unable to ever work again. Whatever the case, your lost wages will be figured into your settlement amount.

Property/vehicle damage

Because 18-wheelers are so massive, they tend to cause disastrous damage to the vehicles they hit. In that case, the insurance company will total your car. If the car can be fixed, cost of repairs will usually be determined by an insurance adjuster.

Pain and suffering

Calculating pain and suffering isn't as cut and dry as other damages. Also known as "non-economic" damages, pain and suffering includes everything from physical pain and disfigurement to loss of enjoyment of life and other types of emotional distress. Typically, the more severe an injury, the higher the payout for pain and suffering.

Legal fees

Personal injury attorneys typically work on a contingency basis, which means that your lawyer will take a percentage of whatever settlement you're offered. Different law firms charge different amounts, so be sure to read the fine print of whatever agreement you sign when you hire a firm to represent you.
In most cases, it's the insurance companies that pay the verdicts and settlements in trucking accident litigation.
Because of the nature of the commercial trucking industry, truck insurance policies usually have much higher liability limits than typical passenger automobile insurance policies. Interstate truckers hauling non-hazardous goods, for instance, are required by federal law to carry a minimum of $750,000 in liability insurance. Overdrive, a trucking industry magazine, suggests truckers consider carrying at least $5 million in coverage.
Please seek the advice of a qualified professional before making decisions about your health or finances.
Last Modified: August 18, 2021
Share This Lawsuit page
22 Cited Research Articles
Consumernotice.org adheres to the highest ethical standards for content production and references only credible sources of information, including government reports, interviews with experts, highly regarded nonprofit organizations, peer-reviewed journals, court records and academic organizations. You can learn more about our dedication to relevance, accuracy and transparency by reading our editorial policy.