Takata Airbag Recall
The Takata airbag recall is the largest vehicle recall in United States history. Tens of millions of vehicles have been added to the list, and more than 20 people have died and hundreds more have been injured due to defective airbags. Learn how to find out whether your car is on the list and what to do if it is.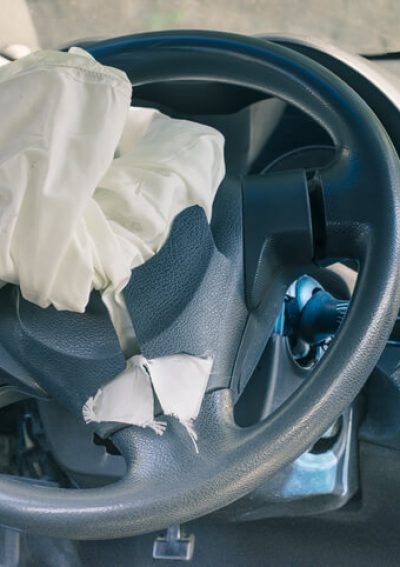 Takata Corporation issued its original airbag recall in 2013 following a series of deaths and injuries. Components meant to inflate the airbags exploded, sending metal shards into drivers and passengers. As of March 2019, defective airbag inflators had killed at least 24 people and injured 300 others worldwide, according to Consumer Reports.
The 2013 recall affected 3.6 million vehicles, but it was just the first of several. By April 2019, additional recalls had increased the total to 41.6 million vehicles fitted with 56 million Takata airbags. The National Highway Traffic Safety Administration had estimated that the number of recalled airbags would grow to 65 million to 70 million by the end of 2019.
In December 2019, five automakers announced recalls of older model cars because of a separate issue with Takata airbags. The Takata airbags in the latest recall might fail to inflate properly in a crash, or they, too, could explode. The new recall affects 1.4 million older German and Japanese models.
Takata had about 20 percent of the global airbag market around the time of the first recall and was one of the three largest suppliers of the devices in the world. At least 34 makes of cars, from Fords to Ferraris, are affected by Takata recalls. If you own one of the affected vehicles, you can have the airbags fixed free of charge.
Exploding Airbags
During a crash, a device called an airbag inflator ignites a chemical explosive. Manufacturers use different kinds of chemicals in their products but all burn quickly and generate a harmless gas, usually either nitrogen or argon. The gas inflates a nylon bag to protect the driver or passengers.
But there were problems with inflators built at Takata's plant in Coahuila, Mexico. Takata used ammonium nitrate as the explosive compound in these airbags. This was the same explosive used in the 1995 Oklahoma City bombing. Takata improperly handled and stored the chemical at the Coahuila factory. This caused some of the ammonium nitrate to become unstable.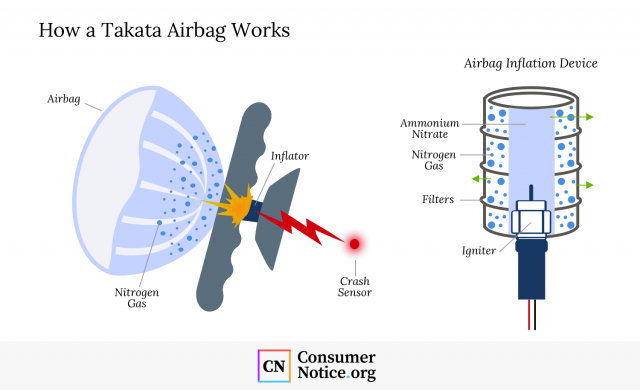 Takata was the only airbag manufacturer to use ammonium nitrate, according to a 2014 Bloomberg report. The chemical allowed Takata to make smaller airbags than its competitors, but it has serious drawbacks.
Ammonium nitrate becomes unstable if it's exposed to excessive heat or humidity, causing it to explode. The explosions could turn inflators' metal casings into flying shrapnel that can injure and kill drivers and passengers.
Heat and humidity problems put airbags in vehicles in Hawaii, Puerto Rico and the Southeastern United States at a higher risk of exploding, according to a 2018 report in Fortune magazine. The first six reports of explosions in the United States that federal regulators received were all from either Puerto Rico or Florida, according to a 2014 article in The New York Times. All of the reports came in before the first recall was announced.
There are also reports of the airbags exploding during low speed, parking lot fender-benders and even when a car simply stopped for a red light.
Older Airbags May Fail to Inflate or Spray Metal Debris
The 2019 Takata recall involves older vehicles with a different airbag design called non-azide driver inflators, or NADIs. The inflators may not have been properly sealed. In the event of a crash, the bags may not fully inflate. Underinflated airbags may not properly protect the driver or other occupants in a crash.
They may explode or spray sharp, metal and plastic shrapnel onto people in the cars.
Takada made about 4.5 million NADI airbags. But because they had been discontinued almost 20 years before the recall, automakers believe much fewer are still on the road. NADI airbags with the potential defect were used in certain 1995 through 2000 model years. BMW, Audi, Honda, Mitsubishi and Toyota have all issued recalls of older models that used the design.
At least one person has been injured and two others have died as a result of problems with this Takata airbag series.
Is Your Car Part of the Recalls?
You should receive a first class letter from the manufacturer if your car is part of the Takata airbag recall.
If you haven't received a letter, or think you may have thrown it away, you can enter your vehicle identification number, or VIN, into the National Highway Traffic Safety Administration's database to find out if your car is part of the recall. You can find your VIN on the corner of your car's dash near the windshield.
Consumer Resource
Enter your VIN in the
NHTSA database
to find out if your car is under recall for defective Takata airbags.
Be aware that your car may be part of a recall but not show up in the search in some cases. VINs for vehicles affected by newly announced recalls may not have been added to the database yet, and recalls more than 15 years old are not included.
If your car may be affected, you should check back from time to time for updated recalls or sign up for recall email updates from the National Highway Traffic Safety Administration.
Recall List
The recalls affect nearly three dozen carmakers, and more than 180 different models. Model years range from 1995 to at least 2018, depending on the make and model affected.
Car Brands Equipped with Recalled Airbags
Acura
Audi
BMW
Cadillac
Chevrolet
Chrysler
Daimler Trucks (Sterling Bullet)
Daimler Vans (Sprinter)
Dodge/Ram
Ferrari
Fisker
Ford
GMC
Honda
Infiniti
Jaguar
Jeep
Land Rover
Lexus
Lincoln
Mazda
McLaren
Mercedes-Benz
Mercury
Mitsubishi
Nissan
Pontiac
Saab
Saturn
Scion
Subaru
Tesla
Toyota
Volkswagen
Cars, pickup trucks, SUVs, vans and commercial trucks are included in the lengthy list. More vehicles could be added through at least 2020.
What to Do If Your Car Is Under Recall
If your vehicle is part of the recall, the manufacturer has to fix it free of charge. A dealer cannot charge you for repairs needed under the Takata recall or any other safety recall. If a dealership asks for money, contact the manufacturer immediately.
You will have to schedule an appointment to have the work done. Because of the millions of vehicles affected, carmakers and federal regulators prioritized repairs based on the risk of injury or death. Older cars and those exposed to greater heat and humidity have the highest priority.
File a complaint
If a dealer tries to charge you for replacing a recalled Takata airbag, you can
file a complaint
with the National Highway Traffic Safety Administration.
If you have the recall letter, make sure to have it handy when you call to schedule repairs. And take it with you to the dealership when you show up for your appointment. It may save time and confusion, but it's not necessary in order to have your car fixed.
Some of the recalled vehicles are models that were discontinued as carmakers reorganized in the wake of the 2008 recession, so some dealerships for specific models no longer exist. If your car is a Pontiac, Saturn or Saab, it was manufactured by General Motors. You can find out more information from GM's recall center. Mercury owners can schedule repairs using Ford's Takata Airbag Recall webpage.
Is Your Car Safe to Drive?
If your car is under recall, you should contact your dealership to see if it's safe to keep driving it without a fix. Some manufacturers have warned against letting anyone ride in the front passenger seat.
The National Highway Traffic Safety Administration says "the vast majority" of Takata airbags will function normally. But some vehicles are at a much higher risk and should be repaired before driving.
Ford and Mazda advise owners not to drive 2006 Ford Ranger and Mazda B-Series pickups. Stop driving and contact your dealership immediately. It will provide free towing and a loaner vehicle.
If you have a 2001 to 2003 Honda or Acura, you should immediately contact your dealership or call Honda at 844-758-9245. Honda recommends only driving the vehicle to take it in for repair.
BMW warns that if you have a 1999 to 2001 model BMW 323i or 328i sedan, you should not drive it until the airbag is replaced. The company may not have a fix until sometime in 2021 and BMW said it was unlikely to offer free loaners to people awaiting repairs due to the recall.
Recall Fallout
The cost of recalls and related lawsuits forced Takata to declare bankruptcy in 2017. United States-based Key Safety Systems purchased the Japanese company for $1.6 billion.
As part of its bankruptcy agreements, Takata set up a trust fund to settle current and future claims of deaths and injuries from its airbags. Payments are based on the type and extent of injury and range up to $5 million for death or loss of vision.
Automakers have also paid hundreds of millions of dollars to settle Takata airbag lawsuits filed against them. Ford agreed in 2018 to pay nearly $300 million just for consumers' economic losses. BMW, Subaru, Mazda and Toyota agreed to a $533 million settlement in 2017. Nissan settled lawsuits against it for $98 million that same year.
Please seek the advice of a qualified professional before making decisions about your health or finances.
Last Modified: September 21, 2021
Share This Page
21 Cited Research Articles
Consumernotice.org adheres to the highest ethical standards for content production and references only credible sources of information, including government reports, interviews with experts, highly regarded nonprofit organizations, peer-reviewed journals, court records and academic organizations. You can learn more about our dedication to relevance, accuracy and transparency by reading our editorial policy.