Hip Replacement
Hip replacement is a surgical procedure in which a doctor removes a damaged or diseased hip joint and replaces it with an artificial joint to relieve pain and increase mobility. It is usually done after a hip fracture or to treat severe pain because of arthritis when no other treatment options seem to work.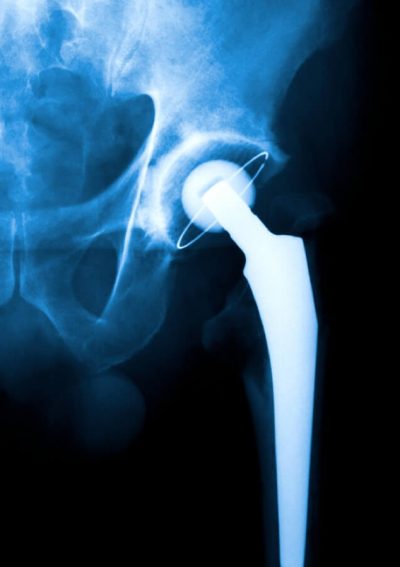 Hip replacement, or hip arthroplasty, is one of the most common and successful surgeries in the United States. More than 300,000 hip replacements are performed every year in America, according to the Agency for Healthcare Research and Quality.
Hip replacements have improved the quality of life for millions of people. They can relieve pain and increase mobility for people with damaged or diseased hip joints.
But, like all surgeries, there are risks. Complications are rare but can be serious when they happen. And thousands of people are still walking around with hip implant devices that have been removed from the market because of problems that injured people.
Partial vs Total Hip Replacement
In a healthy joint, a ball at the top of the thighbone fits into a socket in the hip bone. This allows the leg to move at the hip.
Hip replacement surgery replaces one or both of these natural bones. Surgeons may perform either a total hip replacement or a partial one. It depends on the type of injury or condition you have.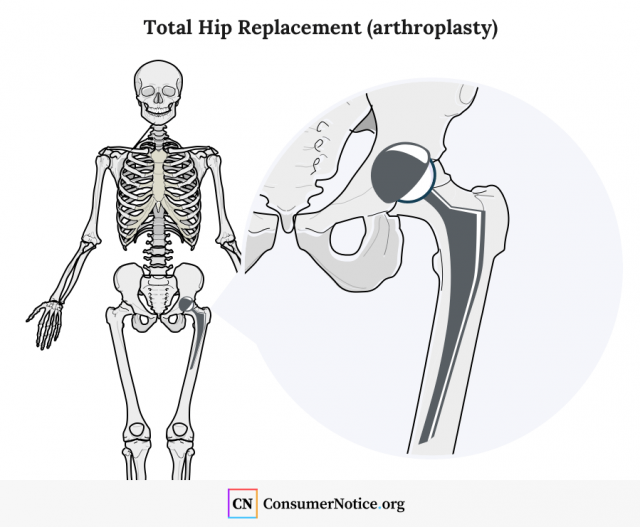 Partial hip replacements are used if you have a fracture in the neck of your thighbone that can't be fixed with metal pins. A surgeon removes the upper portion of the thighbone and replaces it with an artificial ball. This is then reinserted into the healthy socket portion of the joint.
Total hip replacements usually treat degenerative diseases, such as arthritis, that wear out the bones in the hip joint. A surgeon replaces the ball at the end of the thighbone and attaches an artificial socket to the hip bone. But in some cases, if the socket is still relatively intact, the surgeon may line the natural socket with plastic, metal or ceramic materials.
How Long Does a Hip Replacement Last?
Several factors can affect how long a hip replacement will last, but according to a study published in The Lancet in February 2019, roughly 75 percent of hip replacements last 15 to 20 years and more than half last 25 years in patients with osteoarthritis.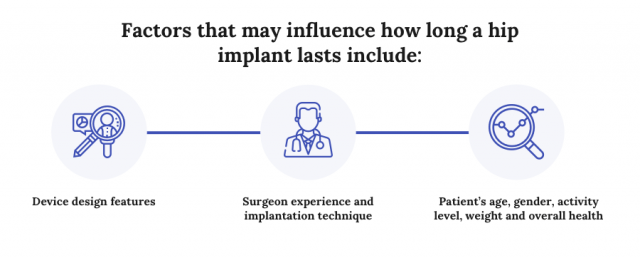 According to the FDA, patients may have different outcomes with the same hip implant system. And although hip replacement is generally successful, you may eventually need to have your implant replaced.
Reasons for Hip Replacement Surgery
Hip replacements remove damaged or diseased bones that make up the hip joint. The most common causes of hip pain leading to replacement surgery are severe osteoarthritis and bone fractures.
What are the signs of needing a hip replacement?
You can no longer do routine daily tasks without help.
Medication fails to relieve pain or causes severe side effects.
Pain is severe enough to keep you awake.
Pain prevents you from walking or bending over.
Your doctor determines other types of surgery won't likely help.
You are diagnosed with debilitating osteoarthritis.
Tests show advanced arthritis in the hip or other serious joint damage.
A doctor may recommend hip replacement surgery after other attempts to relieve pain have failed. These alternatives may include medication, physical therapy or lifestyle changes to reduce weight. Your doctor or an orthopedic specialist should be able to tell you when you are ready for a hip replacement.
A study published in 2018 in Clinical Orthopaedics and Related Research looked at data for 131,808 patients who underwent total hip replacement between Jan.1, 1999, and Dec. 31, 2012. It found the average age at hip replacement was 68. But the procedure has been successfully performed in patients younger than 50 and older than 90, according to the Arthritis Foundation.
Types of Hip Implants
Hip replacement surgery replaces damaged parts of the joint with man-made implants. These artificial hips come in a variety of designs, materials and sizes to meet your individual needs.
Types of total hip implants include:
Metal-on-polyethylene: metal ball and a plastic or plastic-lined socket
Ceramic-on-polyethylene: ceramic ball and a plastic or plastic-lined socket
Ceramic-on-ceramic: ceramic ball and a ceramic-lined socket
Ceramic-on-metal: ceramic ball and a metal-lined socket
Metal-on-metal: metal ball and a metal or metal-lined socket
Most hip implants are cleared for sale through the FDA's 510(k) process. It only requires that a company show a new medical device is "substantially similar" to one already on the market.
Since May 2016, however, the Food and Drug Administration has required manufacturers to get premarket approval before selling metal-on-metal total hip implants. The agency determined the devices should remain Class III, or higher risk, devices.
Premarket approval sets a higher bar for manufacturers. They have to prove their device is both safe and effective before the FDA will let them sell it in the United States. The FDA raised the standards for metal hips after widespread reports of serious complications.
As of March 2019, the FDA had not approved a single premarket approval application for metal-on-metal total hip replacements. But there are two metal-on-metal resurfacing devices that the FDA has approved for partial hip replacement.
Risks and Complications
Though hip replacement complications are rare, replacing all or part of your hip is still a major surgery and comes with certain risks common to any operation. These include a potential reaction to anesthesia, infection or heart attack. Hip surgery can also lead to excessive bleeding or blood clots.
Complications can occur immediately after surgery or may not show up for months or even years later.
Potential complications after hip replacement include:
Bone fracture
Bone loss around the artificial hip
Difference in leg lengths
Hip dislocation
Implant loosening
Joint infection
Nerve damage with numbness or weakness
Reactions to particles or ions from the implant
Pain in the groin, hip or leg; a limp or change in your ability to walk; swelling at or near the hip joint; or noise, such as squeaking, grinding, clicking or popping from the hip joint could indicate a device is not functioning properly. These symptoms may occur three or more months after surgery, and depending on how severe they are, they may require more surgery to correct.
As of July 2019, nearly 30,000 people had filed hip replacement lawsuits over complications with artificial hip implants.
You should talk with your doctor about your concerns ahead of surgery. He or she can tell you what to do to minimize your chances of hip replacement complications.
Most doctors have a plan to examine a patient's progress in the months after surgery to check for problems. Your doctor can tell you the signs and symptoms to look for in your particular case.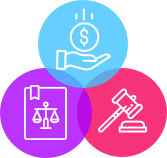 Experiencing pain, device dislocation or other complications after hip replacement surgery?
Get your free case review today.
Metallosis and Other Serious Complications of Metal-on-Metal Hips
While metal-on-metal total hip replacements are no longer an option in the United States, thousands of people still have the devices implanted in them. Many of these devices failed years before they were expected to wear out. And thousands of people reported severe complications related to the devices.
Metal-on-metal hips became popular around the turn of the century. They consisted of a metal ball that fit into a metal socket or a metal lining the surgeon placed in the natural hip socket. Manufacturers claimed the all-metal parts would last longer, and they marketed metal-on-metal hips to younger and more active patients.
Did You Know?
One in 20 people fitted with an artificial hip may experience metallosis.
But the devices shed microscopic metal ions as the metal parts rub against one another. This can lead to a potentially fatal type of metal poisoning called metallosis. As the metal debris builds up around the artificial hip, it can kill bone, muscle and other cells. As it progresses, it can cause bone fractures or cause the artificial hip to fail.
How to Prepare for Hip Replacement Surgery
Hip replacement surgery is recommended only after all other treatments fail to relieve your pain or improve your mobility. Doctors may first recommend medicine, physical therapy or changes to your diet or activities.
You'll need to get some things in order and get in shape ahead of surgery. You should take time to get yourself mentally and physically prepared for the operation and the weeks or months afterward.
Before you have hip surgery:
Gather your information.

This should include personal, medical and insurance information. Make a list of all your doctors and medications to provide the hospital or surgeon. List previous surgeries, the medications you are taking and any allergies. Have your insurance information ready and understand the process for checking in for your surgery.

Get in shape.

Getting as healthy as possible before surgery can improve your

hip replacement recovery

. Eat a balanced and nutritious diet in the weeks before surgery. Quit or cut back on tobacco if you smoke. Avoid alcohol and any controlled substances in the two days before your operation. Work with your doctor on upper body exercises you can do. These can help you keep weight off the new hip as you recover.

Plan your recovery.

Make sure you have someone to drive you home and get you inside. You'll also need someone to stay with you for several days after surgery. Pre-prepare two weeks of food for after the operation because you won't be able to cook. Place items within arm's reach of where you need them so you don't have to reach up or bend down. Borrow a walker and move furniture, rugs and other items out of the way so you can use it. Ask your doctor or the local Department of Motor Vehicles about how to get a disabled parking permit. You may need it for several months.
What to Expect: Questions to Ask Your Doctor Before Surgery
Talking with your doctor and asking questions about what to expect can help you cover all the bases in planning for surgery and help ease your nerves. It will also help you understand more about how the surgery will play out and the hip implant that will be used in the operation.
Questions to ask your surgeon before hip replacement surgery include:
What is the name of the manufacturer and what is the brand name of the implant?
Is there patient information that comes with the implant, and if so, how can I get a copy?
What are the risks associated with this particular model of artificial hip?
What is your personal experience with this model?
How many of this model hip implant have you personally implanted in patients?
How often have you had to replace this model because it failed?
How long will I stay in the hospital?
How long will my recovery take?
How will I manage pain after surgery?
What signs or symptoms should I watch for following surgery?
The surgery itself will only take a few hours in a hospital or a surgery center, but recovery from hip replacement surgery can be a long process.
Please seek the advice of a qualified professional before making decisions about your health or finances.
Last Modified: October 27, 2022
Share This Page
18 Cited Research Articles
Consumernotice.org adheres to the highest ethical standards for content production and references only credible sources of information, including government reports, interviews with experts, highly regarded nonprofit organizations, peer-reviewed journals, court records and academic organizations. You can learn more about our dedication to relevance, accuracy and transparency by reading our editorial policy.