NEC Baby Formula Lawsuit
NEC baby formula lawsuits claim babies who were fed Similac or Enfamil cow's milk formulas developed necrotizing enterocolitis, a disease that can cause serious intestinal damage and death. Lawsuits say manufacturers Mead Johnson and Abbott failed to warn parents about NEC risks.
Status of Similac and Enfamil NEC Lawsuits
So far, there have been no trials or settlements in Similac and Enfamil toxic baby formula NEC lawsuits. As of April 17, 2023, there were 157 cases in the MDL.
The judge has received a proposed trial schedule from plaintiff's lawyers. Discovery in the case is expected to continue through December 2023.
Following the completion of discovery, the first bellwether test trials may begin in the first few months of 2024. Plaintiffs and defendants each pick cases to serve as bellwether trials.
What Are NEC Baby Formula Lawsuits?
NEC baby formula lawsuits are claims parents filed because infants developed necrotizing enterocolitis after consuming Similac or Enfamil cow's milk baby formula. Necrotizing enterocolitis, or NEC, is a serious gastrointestinal disease that causes intestinal tissue death and could lead to serious health problems or death.
Studies have shown premature babies fed cow's milk baby formula have an increased risk of developing NEC.  An NEC lawsuit for baby formula claims baby formula makers Abbott and Mead Johnson knew about the risk but failed to warn the public and continued to sell the dangerous products.
In April 2022, judges consolidated NEC baby formula lawsuits from across the country into multidistrict litigation in the Northern District of Illinois under MDL number 3026.
These cases all claim that "cow's milk-based infant formula products marketed under the Similac and Enfamil brand names have a higher propensity to cause necrotizing enterocolitis (NEC) in infants born prematurely than other, allegedly safer alternatives," according to the case transfer order.
Who Qualifies to File an NEC Baby Formula Lawsuit?
Parents or caregivers of premature babies who developed NEC after consuming Similac or Enfamil may qualify to file an NEC baby formula lawsuit.
Babies may have consumed Similac or Enfamil in the hospital. Parents may have taken formula from the hospital or bought formula after bringing their preemie home.
Lawyers encourage parents and caregivers to keep all medical records, receipts and formula packaging for evidence in their case. If you don't know if your baby was fed Similac or Enfamil, your lawyer may be able to help get this information.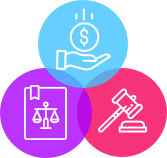 Did your premature baby develop NEC after consuming Enfamil or Similac baby formula?
Get your free case review today.
How Much Will Baby Formula Lawsuits Be Worth?
The exact worth of baby formula lawsuits has yet to be determined, though lawyers speculate the value could be in the millions.
Some juries have awarded anywhere from $1.5 million to $23 million in older NEC cases, though these cases have mostly been against medical providers and not baby formula manufacturers. A few lawyers have used these cases to speculate the value of NEC baby formula lawsuits.
After the first bellwether cases happen in 2024, lawyers will have a better idea of how much baby formula cases could be worth. Jury verdicts after bellwether trials could lead to global baby formula settlements.
However, it's important to note that parents and caregivers aren't guaranteed any specific amount of compensation. How much a baby formula case is worth may be influenced by the severity of injuries, cost of financial or physical damages and other loses.
Similac and Enfamil Baby Formula Recalls
Similac and Enfamil baby formulas have not been recalled for NEC. However, Abbott issued a baby formula recall for potential bacterial contamination in February 2022 after some babies died from infections.
The recall included certain lots of EleCare, Similac and Alimentum baby formulas from Abbott's factory in Sturgis, Michigan. The U.S. Food and Drug Administration found several strains of Cronobacter sakazakii at the plant during its March 2022 inspection, but it didn't find any bacteria in product samples.
Cronobacter can cause serious illness in infants, including death. Symptoms of Cronobacter infection include jaundice, irritability, changes in temperature, grunting breaths, poor feeding and excessive crying. Contact your child's physician right away if you suspect infection.
Parents can see if their formula is included in the recall by entering lot numbers on Abbott's recall website.
Please seek the advice of a qualified professional before making decisions about your health or finances.
Last Modified: May 16, 2023
Share This Lawsuit page
5 Cited Research Articles
Consumernotice.org adheres to the highest ethical standards for content production and references only credible sources of information, including government reports, interviews with experts, highly regarded nonprofit organizations, peer-reviewed journals, court records and academic organizations. You can learn more about our dedication to relevance, accuracy and transparency by reading our editorial policy.