COVID-19 Litigation
COVID-19 litigation encompasses lawsuits filed by businesses and individuals who have suffered losses from the coronavirus pandemic. Most of these cases are business interruption lawsuits, but other types include wrongful termination, discrimination and worker's compensation.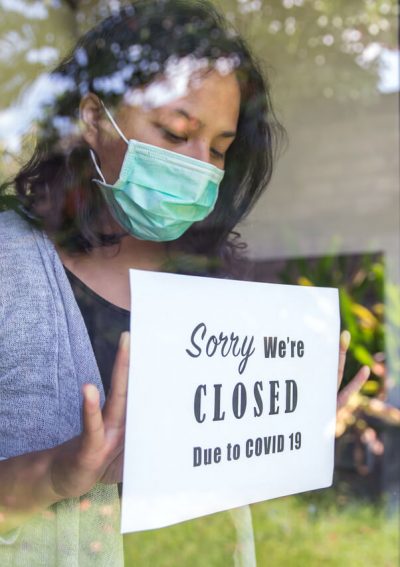 There were more than 4,200 COVID-19 lawsuits filed in the United States between Jan. 30, 2020 and Aug. 12, 2020, according to Hunton Andrews Kurth's COVID-19 Complaint Tracker. Some of these cases involve multiple plaintiffs and defendants. New York, California and Florida are the top three states with the most lawsuits filed.
According to the University of Pennsylvania's COVID Coverage Litigation Tracker, most of the cases are individual cases and aren't class actions.
As the pandemic continues, more businesses and consumers may seek legal help for financial losses. Lawyers and other industry experts predict lawsuits stemming from COVID-19 business interruptions will continue to rise.
Business Interruption
Business interruption occurs when a business is forced to shut down for a period. Because they cannot stay open, the business loses income. This usually happens because of theft or property damage from fire or storms. In order to offset closure losses, many businesses have business interruption insurance.
While each policy is different, The Hartford says that most business interruption insurance coverage pays for operating costs, such as:
Loan payments
Payroll
Relocation costs
Taxes
Mortgage or rent
Lost revenue
Forced business closures resulting from the COVID-19 pandemic have left many businesses with heavy losses. Businesses have had their COVID-19 insurance claims denied because provisions in some policies deny coverage for viruses. This has led to hundreds of lawsuits from businesses who say insurers refuse to provide coverage.
Tom Baker — William Maul Measey professor of law at the University of Pennsylvania Carey Law School — said the number of lawsuits for COVID-19 has exceeded lawsuits filed during natural disasters such as major hurricanes Sandy, Irma and Harvey, Insurance Journal reported.
Businesses who have been denied insurance coverage may contact a lawyer to see if they have a claim.
Examples of Business Interruption Lawsuits
Restaurants and bars filed a large number of lawsuits against insurance companies. Two restaurants that filed lawsuits are Firebirds Wood Fired Grill and Hudson House.
Firebirds International, LLC v. Zurich American Insurance Co.
Firebirds International, LLC — a company that owns more than 54 Firebirds Wood Fired Grill restaurants across the country — filed a lawsuit against Zurich American Insurance Co. in Cook County, Illinois, on Aug. 12, 2020. The plaintiff claimed Zurich was in breach of contract for failing to cover the restaurant's coronavirus losses.
According to the complaint, "Zurich has, by written communication to Firebirds, refused to pay its insured a single dollar of the Policies' coverages for losses suffered due to the COVID-19 pandemic. In so doing, Zurich has materially breached the parties' insurance contracts and is liable for the full amount of coverage afforded by the Policies."
The company asked for the limits of its liability coverage in the amount of $146 million and court costs and fees.
Vandelay Hospitality Group LP D/B/A Hudson House v. The Cincinnati Insurance Company
Dallas-based Vandelay Hospitality Group purchased an "all risk" policy from The Cincinnati Insurance Company. Vandelay filed a claim on March 17, 2020. Five days later, Cincinnati sent a letter "which clearly indicated" that it would not provide coverage, according to the complaint.
The company sued The Cincinnati Insurance Company on May 26, 2020, for breach of contract and asked for damages including attorney's fees and costs.
Insurance Coverages and Requirements
Business interruption insurance typically requires physical damage to the property before coverage kicks in. Many policies also exclude viruses and disease as a cause of damage, according to insurance experts Howard Zandman and Laurie Dugoniths Busbee. Some attorneys who filed lawsuits argued that this policy language isn't clear and may mislead business owners.
Other types of coverage that could apply to the coronavirus include civil authority coverage and contingent business interruption coverage.
Civil Authority Coverage
This coverage pays out benefits for the forced closure of a business by a civil authority. It applies if the insured business can't access its property as a result of a government order. However, the order has to be the result of physical damage to nearby or adjacent property, according to an article in the CPA Journal.
Contingent Business Interruption Coverage
Contingent business interruption coverage is sometimes called supply chain coverage. It protects businesses against losses incurred when a supplier or other entity on whom the business depends suffers property damage.
What Can Businesses Do to Mitigate Losses?
Filing a claim or a lawsuit because of COVID-19 business interruption is not a quick fix for losses because insurance companies intend to fight claims, Tom Baker told Consumer Notice.
"This litigation is not going to help businesses recover quickly. The insurance industry has decided to litigate rather than compromise, and they have some strong defenses, particular for policies that have virus exclusions," Baker said.
Businesses can mitigate losses by:
Reviewing the insurance policy for other coverages outside of business interruption that may ease the financial burden
Asking the insurance company for premium payment waivers, waivers of late fees or postponement of payments
Documenting losses specific to COVID-19
Gathering documents to prove the loss, such as payroll records, bank statements, profit and loss statements, tax returns and invoices or purchase orders
Staying informed of the regulations coming from federal and state officials
Finding alternative suppliers if current suppliers are affected by the pandemic
Developing a plan to assure customers of their safety
Future Reinsurance for Pandemic-Related Loses
Baker recommends a "public private partnership to provide a reinsurance backstop" to prevent future business insurance coverage issues during a pandemic. He added that a similar program was put into place "for riot-caused losses in the 1960s," and it was a success.
One such bill, the Pandemic Risk Insurance Act of 2020, would mandate that insurance companies cover business interruption losses because of pandemics. It would also establish a Pandemic Risk Reinsurance Program within the Department of the Treasury.

Other Types of Litigation
While many of the lawsuits involve business interruption coverage, individuals may also file lawsuits because of COVID-19 losses such as hazard pay, wrongful termination or workers' compensation.
Hazard Pay
Many essential workers were forced to work and put themselves at risk of contracting the coronavirus. Some have filed lawsuits against their employers demanding hazard pay.
For example, Brenda Braswell and other government employees filed a class action suit against the United States of America. The complaint argued that the government "failed to provide hazardous duty and environmental differential pay to the plaintiffs when they work with or in close proximity to objects, surfaces, and/or individuals infected with COVID-19."
According to the complaint, the government has a twenty-five percent hazardous duty pay differential for exposure to "virulent biologicals" that it owes plaintiffs.
Wrongful Termination
Employees may file wrongful termination lawsuits if they were fired for unethical or unfair reasons related to the coronavirus.
An individual may contact an attorney if they believe they were fired because they complained about safety or health concerns, took medical leave under the Family and Medical Leave Act (FMLA), or did not go to work because they were obeying a self-quarantine order.
Workers' Compensation
Normally, workers' compensation doesn't cover illnesses like the flu or the common cold because they aren't tied to the workplace. But with many workers exposed to COVID-19 while on the job, there may be exceptions to that rule.
Many states have their own laws that apply to workers' compensation.
In some cases, states have extended coverage to workers such as first responders and health care workers affected by COVID-19, according to the National Conference of State Legislators. Check the NCSL site for a list of state actions.
Lawyers are accepting cases where people were denied coverage they may be entitled to.
Please seek the advice of a qualified professional before making decisions about your health or finances.
Last Modified: October 7, 2021
Share This Lawsuit page
12 Cited Research Articles
Consumernotice.org adheres to the highest ethical standards for content production and references only credible sources of information, including government reports, interviews with experts, highly regarded nonprofit organizations, peer-reviewed journals, court records and academic organizations. You can learn more about our dedication to relevance, accuracy and transparency by reading our editorial policy.