Guide to Staying Safe After a Train's Chemical Spill
Chemical emergencies can cause temporary or irreparable damage to you and your loved ones, the environment, properties and businesses. Our environmental experts at Consumernotice.org understand how these challenges can impact you.
Our mission is to promote consumers' awareness of public health and safety hazards and inform them of their rights when faced with loss or injury caused by another's negligence.
That's why Consumernotice.org created this guide to help you cope with the aftermath of a train's chemical spill. It includes tips for staying safe from exposure and information about dangerous chemicals transported across the nation. The guide also explains chemical cleanup procedures, financial resources and much more.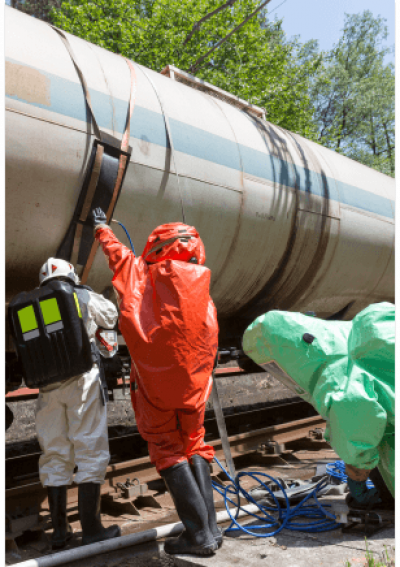 Impact of a Train's Chemical Spill
A train's chemical spill, like the ones caused by the BNSF Railway and Canadian Pacific Railway in March and the Norfolk Southern Ohio train derailment in February, can impact people, their pets, livestock and the environment. The effects of a chemical disaster vary depending on the type and amount of chemical involved as well as the duration of exposure.

Some hazardous chemicals are so powerful they can cause toxic effects in living organisms as well as air, water and soil after a single release. This is known as acute toxicity. Prolonged exposure to such dangerous chemicals is known as chronic toxicity.
Effects on People
Chemical disasters can cause immediate problems for people living near the chemical spill or those who encounter contaminated air, drinking water and soil. These problems include skin irritation and respiratory conditions. However, prolonged exposure to hazardous chemicals may also lead to genetic mutations, physiological malfunctions such as kidney failure, and cancer.
Pregnant women, children and the elderly may be at greater risk of health impacts such as birth defects and genetic mutations. Those who experience symptoms should contact a local poison center.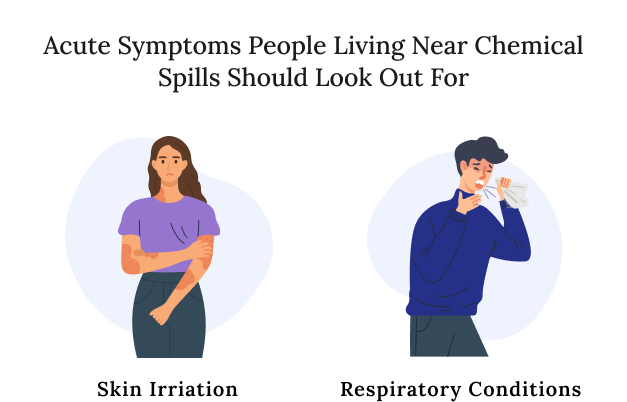 Effects on Pets and Other Animals
Residents living in or near East Palestine, Ohio, reported dead livestock and pets days after the Feb. 3 Norfolk Southern chemical spill. Others said their pets showed unusual signs such as sores and chemical burns to their skin.
If pets are exposed to chemical spills, the effects on their bodies may be like those affecting humans. However, pets may accidentally ingest contaminated water or be more readily exposed to contaminated soil through their paws and exhibit gastrointestinal issues. Unlike humans, pets cannot communicate their symptoms. This makes it difficult to identify health issues.
Officials with The Humane Society of the United States recommend not allowing pets to roam free, keeping them in carriers if possible, checking with an animal shelter for post-disaster help and contacting a veterinarian if pets show any unusual symptoms.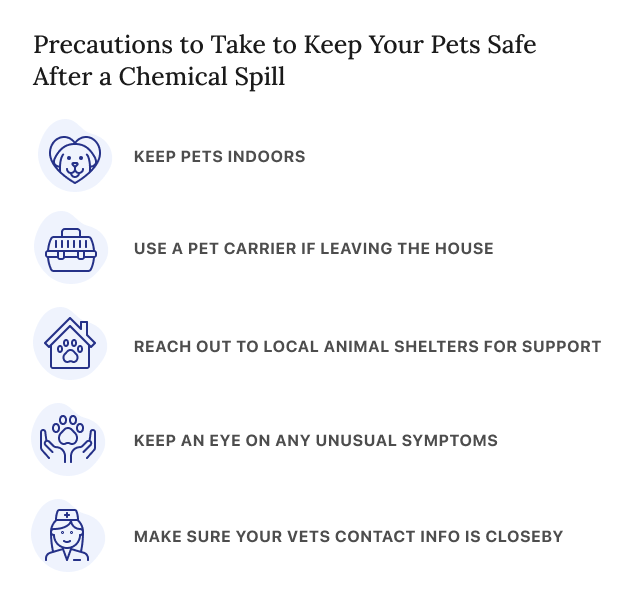 Source: The Humane Society of the United States.
Effects of Water Contamination
The Ohio train derailment killed nearly 45,000 aquatic animals, such as fish and crustaceans, living in nearby streams in East Palestine, according to the Ohio Department of Natural Resources. But dead fish are not the only ecological consequences of contaminated water.
A chemical spill can contaminate the water people drink and bathe in with toxic chemicals that may cause severe problems to animal and human populations. Residents with private wells on their properties should have their water tested for possible contamination from a chemical spill such as the one in Ohio.

Timeline of Train Chemical Spills in the U.S.
Unfortunately, the Ohio train derailment in East Palestine was not the first major chemical disaster involving a train. The Federal Railroad Administration reported 1,164 train derailments across the United States in 2022. The agency said 11 of those involved chemical spills.
Several of those derailments also leaked toxic chemicals into the air and water, endangering residents and local wildlife.
March 30, 2023: Raymond, Minn.

A 22-car BNSF train carrying ethanol derailed and caught fire. Residents within a half mile of the derailment were evacuated.

March 26, 2023: Wyndmere, N.D.

A Canadian Pacific Railway train derailed and spilled ethylene glycol (antifreeze ingredient) and liquid asphalt. A car carrying propylene released the vapor into the air.

Feb. 3, 2023: East Palestine, Ohio.

A Norfolk Southern Railway train derailed, spilling toxic vinyl chloride into the air and water supply. The chemical spill killed thousands of aquatic animals and endangered residents and livestock.

Dec. 22, 2020: Custer, Wash.

The BNSF train derailment spilled nearly 30,000 gallons of crude oil, which resulted in a two-hour fire. About 120 people were evacuated.

July 2, 2015: Maryville, Tenn.

A CSX Transportation train derailed, spilling 24,000 gallons of acrylonitrile used in plastic production. Officials evacuated 5,000 people and more than 90 people were treated for respiratory issues.

Nov. 30, 2012: Paulsboro, N.J.

A train derailed over Mantua Creek, releasing 23,000 gallons of toxic vinyl chloride into the water. Health officials in 2014 said one in 10 residents sought medical attention for symptoms of chemical exposure stemming from the derailment.

Jan. 6, 2005: Graniteville, S.C.

A Norfolk Southern Railway train collided with a parked train, releasing 90 tons of liquid chloride. Nine people died of exposure and more than 5,400 people were evacuated.

Jan. 18, 2002: Minot, N.D.

A Canadian Pacific Railway train derailment caused more than 146,700 gallons of anhydrous ammonia to escape. When released into the air, the chemical forms large vapor clouds. One person died from exposure to the toxic gas and 322 others reported minor injuries.

June 30, 1992: Superior, Wis.

A Burlington Northern freight train derailed and three of its 14 cars fell into the Nemadji River. The derailment spilled more than 21,800 gallons of cancer-causing benzene. More than 80,000 people were evacuated.

July 14, 1991: Dunsmuir, Calif.

A Southern Pacific train derailed in Northern California. The accident resulted in more than 19,000 gallons of the herbicide metam sodium spilling into the Sacramento River and spreading 20 miles to Lake Shasta. The spill killed wildlife, including fish, reptiles and other animals.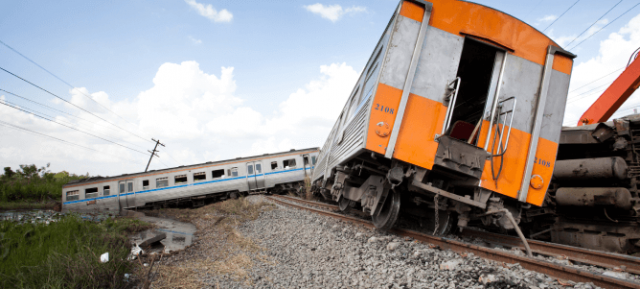 What Should People Do After a Chemical Spill?
Awareness of safety hazards is a core part of our mission at Consumernotice.org. That's why we urge people living near a chemical spill to take precautions that will avoid or limit exposure to any toxic chemicals released into the air, water or soil.
Emergency response officials recommend the following tips to keep you and your loved ones safe.
While the guidelines may vary depending on the type of toxic chemical, these general tips can help residents minimize exposure risk and keep themselves and their loved ones safe.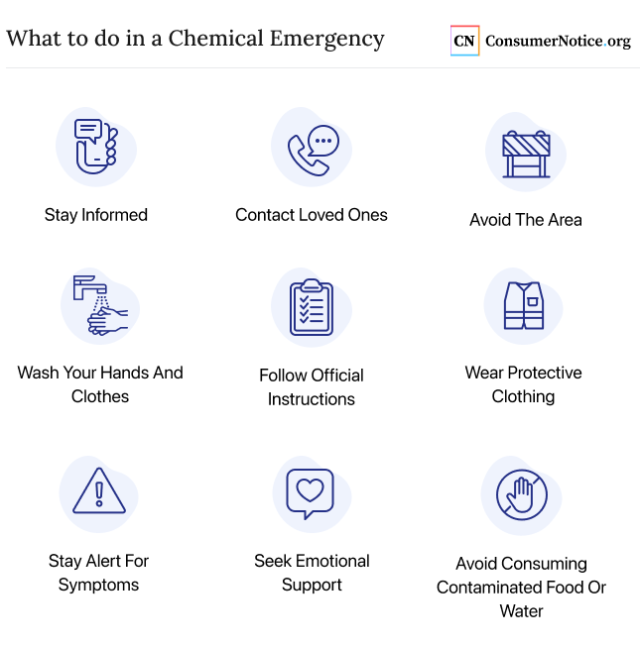 What Chemicals Pose the Greatest Risk After a Chemical Spill?
The Association of American Railroads reported that railroads in 2021 accounted for the transportation of 2.2 million carloads of fertilizers, plastics and other chemicals, including soda ash, sulfuric acid and agricultural chemicals.

Two of the major train accidents over the last decade, including the February 2023 Ohio train derailment, involved an accidental chemical spill of vinyl chloride. This chemical is primarily used in the manufacturing of polyvinyl chloride, which is also known as PVC.
Some of the most dangerous chemicals transported via rail include:
Anhydrous Ammonia
The clear and colorless gas or liquid can break down tissue upon contact at high concentrations, and it can be fatal. Concentrated amounts are used in refrigeration and manufacturing. It's also used as a fertilizer. Severe exposure can cause temporary or permanent blindness, vomiting and skin burns.
Benzene
This chemical is a carcinogen linked to acute lymphocytic leukemia, multiple myeloma and non-Hodgkin lymphoma, among other cancers. Recently, several sunscreen brands and dry shampoos were recalled because of benzene contamination risks.
Chlorine
Low-level exposure to chlorine can cause eye, throat and nose irritations. At higher levels, chlorine can impact a person's breathing rate, cause severe coughing and lead to lung damage.
Ethanol
This is the highest-volume chemical transported via rail in the U.S. Low concentrations are used in alcoholic drinks and consumer products. But large concentrations, if ingested or inhaled, can cause vomiting, respiratory depression and death.
Vinyl Chloride
The chemical is used to make PVC pipes, coatings for wires and cables, and materials used to package other products. While PVC is harmless, vinyl chloride is a carcinogen linked to cancers of the liver, brain and lungs. It can also cause lymphoma and leukemia.
According to the AAR, "More than 99.9% of all hazmat [hazardous materials] moved by rail reaches its destination without a release caused by a train accident."
Symptoms of Exposure to Chemical Spills
Symptoms of exposure to chemical spills can affect your skin, respiratory system and gastrointestinal tract. If your skin is exposed to a chemical, bathe for at least 15 minutes and wash gently with soap and water. If you develop symptoms, seek medical attention immediately.
While symptoms related to chemical spills depend on the type of chemical, toxicity, amount and length of exposure and how it entered the body, most dangerous chemicals share similar symptoms that may be present in humans and animals.
Symptoms also vary depending on individual differences such as body size, age, allergies, etc.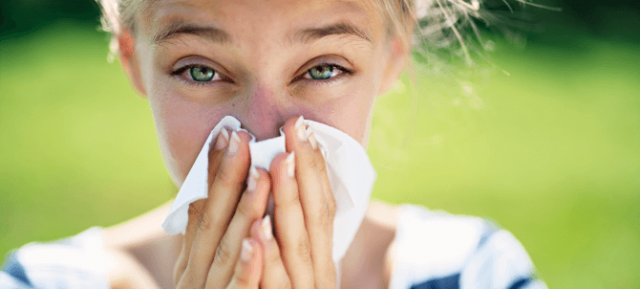 Common symptoms of exposure to chemicals include:
Coughing or sore throat
Dizziness and headaches
Irritated or watery eyes
Loss of balance or coordination
Nausea or vomiting
Shortness of breath
Skin irritation
Although this is a short list of possible symptoms of exposure to a chemical spill, you should report any unusual symptoms to a poison center to ensure you get the right medical attention.
What Is the Chemical Spill Cleanup Procedure?
The cleanup process for a chemical disaster depends on the type and amount of chemical involved, as well as the extent of the contamination.
For example, after the Ohio train derailment chemical spill, about 4,600 yards of contaminated soil and 1.1 million gallons of contaminated water were removed from the area. Norfolk Southern was also required to remove the soil under the tracks.
In general, the Federal Emergency Management Agency and other agencies list the following as steps involved in most chemical emergencies.

Evaluate the Incident
Officials will assess the extent of the chemical spill by testing the soil, water and air in the affected area for the presence of any toxic chemicals. Results will help identify the level of contamination and potential risks to public health.
Communication
Officials coordinate communication with response and recovery personnel, which include state, local and federal agencies as well as the public. Communication is needed to overcome misconceptions and lack of awareness during a chemical emergency.
Containment
Barriers and other nontoxic chemicals may be used to keep toxic substances from spreading. Contaminated soil may also be covered to prevent airborne contamination and barriers may be installed to prohibit unauthorized access to the area.
Removal
Contaminated materials, including soil, water, plant matter and other materials, will be removed and disposed of according to federal standards and best practices.
Decontamination
Once all contaminated materials are removed, cleanup crews will use chemical treatments and other methods to make the area safe for people, pets and other living organisms.
Restoration
A lengthy part of the chemical cleanup process is restoration. This involves replacing soil and vegetation, reforestation, repairing damaged infrastructure and fixing damage done to public or private property.
A chemical spill cleanup may be lengthy depending on the extent of the chemical emergency. It also requires careful coordination between local, state and federal agencies. Groups such as the American Red Cross, food shelters and poison centers are also involved to ensure the public is kept safe from toxic chemicals.
Government Role After a Train Chemical Spill
The government plays several roles during a chemical disaster, including investigating the incident, helping victims, finding any negligence and enforcing penalties, among other responsibilities.
Some of the services the government may provide include the following.

Emergency Services
Officials with FEMA, the Environmental Protection Agency and other federal agencies will coordinate with the Red Cross and other local and state support groups to help affected residents with food, shelter and medical attention.
Investigation
Agencies such as the U.S. Chemical Safety and Hazard Investigation Board, EPA, National Transportation Safety Board and others will investigate the chemical disaster to see if there was any negligence or wrongdoing. They will also enforce any penalties. For example, EPA officials ordered Norfolk Southern to identify and clean contaminated soil and water at its own expense and reimburse the agency for costs incurred for cleaning public and private businesses.
Financial Assistance
FEMA provides financial services to people affected by disasters such as a chemical emergency.
Enforce Safety Regulations
Several agencies are involved in procedures to ensure the best safety practices and recovery efforts are followed and that state and federal environmental safety laws are followed. These agencies may include FEMA, the United States Departments of Justice, Homeland Security, Health and Human Services and Department of Transportation, among others.
How Can the Legal System Help Victims of a Chemical Spill?
People who are affected by events stemming from chemical emergencies can seek legal options against negligent companies that put profits above public safety.
Several residents living in or near East Palestine have filed dozens of lawsuits seeking class-action status against Norfolk Southern Railway for the chemical spill.
Plaintiffs allege the company is responsible for:
Deaths in their families
Medical issues
Damages to their properties
Diminished property values
Business shutdowns
The Department of Justice on March 30 filed a lawsuit against Norfolk Southern. Justice officials said the complaint "seeks penalties and injunctive relief for the unlawful discharge of pollutants, oil, and hazardous substances under the Clean Water Act."
On March 14, 2023, Ohio Attorney General Dave Yost filed a 58-count federal lawsuit against Norfolk Southern. The suit alleges the company's negligence and recklessness not only injured residents, but also caused "substantial damage to the regional economy."
Transportation Secretary Pete Buttigieg in February accused the rail industry of not improving safety measures that could lead to less train chemical spills.
Profit and expediency must never outweigh the safety of the American people. We at USDOT are doing everything in our power to improve rail safety, and we insist that the rail industry do the same – while inviting Congress to work with us to raise the bar.
Reasons for Filing a Lawsuit After a Chemical Spill
While there may be many reasons people choose to file a lawsuit against a negligent party after a chemical disaster, these are some of the ways the legal system can help.
Compensation for Damages
Victims of a chemical emergency may be entitled to compensation for damages, including medical expenses, lost wages and property damage. Attorneys can help victims pursue compensation through lawsuits against the responsible party or parties.
Accountability
The legal system can hold responsible parties accountable for their negligence. Accountability can include costly monetary penalties and fines, imprisonment and enforcement of state and federal environmental regulations.
Environmental Remediation
Lawsuits can force negligent parties to repair damages to the environment caused by a chemical spill. Remediation usually involves the safe removal of toxic chemicals from any contaminated areas and transportation to a waste disposal facility.
Future Accident Prevention
Legal actions, such as penalties for noncompliance, can lead to stricter regulations that may prevent a similar chemical emergency in the future.
Resources
Our environmental experts at Consumernotice.org hope the information in this guide will keep you and your loved ones safe from the dangerous effects of a chemical disaster.
The following state, local and federal organizations have spent decades providing resources for emergency housing, tools for reporting a possible chemical spill, information on who to contact if you are exposed to a toxic chemical and other forms of relief.
American Red Cross and The Salvation Army: These organizations can provide emergency shelter to people displaced by a chemical disaster. Users can enter their ZIP codes on the respective websites for local assistance.
Environmental Protection Agency: If you suspect an environmental violation, such as a chemical spill, you can contact the EPA and report it.
FEMA: The federal agency's Individual and Households Program provides financial help to people affected by a chemical emergency. The FEMA helpline, 800-621-3362, may offer referrals.
National Response Center: If you suspect there is a chemical or oil spill, you can contact the EPA's NRC at 800-424-8802.
Poison Centers: There are 55 poison centers across the nation that can provide help after a chemical spill. If you come in contact with a toxic chemical, call 800-222-1222.
Please seek the advice of a qualified professional before making decisions about your health or finances.
Last Modified: November 29, 2023
Share This Page
26 Cited Research Articles
Consumernotice.org adheres to the highest ethical standards for content production and references only credible sources of information, including government reports, interviews with experts, highly regarded nonprofit organizations, peer-reviewed journals, court records and academic organizations. You can learn more about our dedication to relevance, accuracy and transparency by reading our editorial policy.