Aqueous Film Forming Foam (AFFF) Lawsuits
Lawyers are filing aqueous film forming foam (AFFF) lawsuits on behalf of people who developed health problems after toxic AFFF exposure. Long-term exposure to chemicals in AFFF called per- and polyfluoroalkyl substances (PFAS) have been linked to serious health problems, including cancer.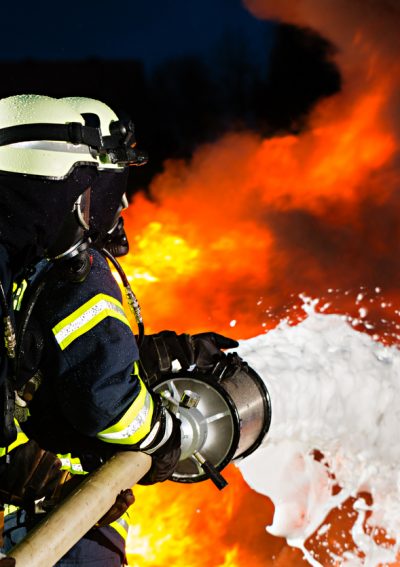 Chemical manufacturers including DuPont and 3M have manufactured firefighting foam for decades. The Department of Defense has used AFFF since the 1970s, according to the U.S. Department of Veterans Affairs.
Civilian firefighters, military firefighters and military personnel have used AFFF for decades to control difficult to fight fires, especially fires involving liquid fuel. The film-forming foam coats a fire, smothering it and preventing it from reigniting.
Fact
In 2018, the Judicial Panel on Multidistrict Litigation consolidated AFFF injury lawsuits from across the country in federal court in South Carolina under MDL No. 2873.
AFFF contains toxic chemicals called per- and polyfluoroalkyl substances (PFAS), most notably perfluorooctane acid (PFOA) and perfluorooctanesulfonic acid (PFOS). Research has shown these chemicals can remain in the body and the buildup can cause serious illness — even cancer.
Lawsuits say AFFF manufacturers knew or should have known PFAS in firefighting foam were hazardous and manufacturers failed to properly warn people of the health risks.
"Plaintiffs generally allege that aqueous film-forming foams (AFFFs) containing perfluorooctanoic acid (PFOA) and/or perfluorooctane sulfonate (PFOS), two types of PFAS, contaminated groundwater near various military bases, airports, and other industrial sites where AFFFs were used to extinguish liquid fuel fires," according to the Aqueous Film-Forming Foams (AFFF) Products Liability Litigation website. "The plaintiffs allege that they were caused personal injury, a need for medical monitoring, property damage or other economic losses."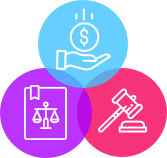 Did you develop cancer or another serious illness after toxic AFFF exposure?
Get your free case review today.
Cancer Risk and Other Illnesses
AFFF is classified as a carcinogen, but it contains PFAS that are toxic and carcinogenic to animals and possibly to humans. In fact, the International Agency for Research on Cancer (IARC) classifies PFOA as a 2B carcinogen. Many of the lawsuits against AFFF manufacturers allege the foam led people to develop cancer.
Because PFAS are persistent and don't break down in the environment, they can build up over time in the body leading to other health problems, according to the U.S. Environmental Protection Agency.
According to the Agency for Toxic Substances and Disease Registry, a large number of studies looked at the relationship between these chemicals and human health and reported several potential health effects.
Cancers and other illnesses linked to PFAS in AFFF include:
Decreases in infant birth weight
Immune system problems
Increased cholesterol levels
Liver problems
Preeclampsia in pregnant women
Reduced antibody response to vaccines, especially in children
Testicular, kidney and other types of cancer (mostly linked to PFOA)
Thyroid disease (PFOS)
Ulcerative colitis
Firefighter Files AFFF Bladder Cancer Lawsuit
In September 2020, firefighter Lon Holliday, Jr. filed a lawsuit against 3M and several other companies after he developed bladder cancer that he claims AFFF caused.
Holiday said he regularly used AFFF in training and to extinguish fires while he worked as a civilian and military firefighter.
According to his suit, by the end of the 1980s, manufacturers (DuPont) performed research and testing that showed that workers exposed to PFAS had more cancer and other health problems. Even if they had this data, they did not share it with the government or the public.
Manufacturers
One of the first companies to manufacture and market AFFF was 3M. Since then, several other companies have been making and selling their own brands of firefighting foam.
Because firefighters may use a variety of foam brands while on the job, lawsuits name several companies as defendants.
AFFF manufacturers named in lawsuits include:
3M Company (Minnesota Mining And Manufacturing Company)
AGC Chemicals Americas Inc.
Amerex Corporation
Archroma Management, LLC
Arkema, Inc.
BASF Corporation
Buckeye Fire Equipment Company
Carrier Global Corporation;
Chemdesign Products, Inc.
Chemguard, Inc.
Chemicals, Inc.
Chemours Company FC, LLC
Chubb Fire, Ltd.
Clariant Corp.
Corteva, Inc.
Deepwater Chemicals, Inc.
Du Pont De Nemours Inc. (formerly known as DowDuPont Inc.)
Dynax Corporation
E.I. Du Pont De Nemours And Company
Fire Products GP Holding, LLC
Kidde-Fenwal, Inc.
Kidde Plc
Nation Ford Chemical Company
National Foam, Inc.
The Chemours Company
Tyco Fire Products LP, (as successor-in-interest to The Ansul Company)
United Technologies Corporation
UTC Fire & Security Americas Corporation, Inc. (formerly known as GE Interlogix, Inc.)
PFAS Lawsuit Settlements
These AFFF lawsuits aren't the first to cause legal troubles for PFAS manufacturers. In February 2017, DuPont and Chemours agreed to jointly pay $670.7 million to settle lawsuits that claimed PFOA contamination from its Washington Works plant in West Virginia caused injuries.
The settlement included up to $50 million for future liability payments for claims outside of the settlement for the next five years.
In January 2021, Johnson Controls agreed to pay $17.5 million to settle an AFFF class action lawsuit that included about 1,200 Wisconsin residents. The residents claimed they suffered exposure, property value loss and diseases as a result of PFAS contamination of wells in the Marinette/Peshtigo area.
Who Can File a Lawsuit?
Anyone who was exposed to AFFF and suffered adverse health problems may be eligible to file an AFFF lawsuit.
People who work directly with AFFF — such as firefighters (civilian and military), military personnel, airport workers, oil rig workers and chemical plant workers — have the greatest risk for long-term exposure to PFAS.
Many of these workers used AFFF over the course of many years.
Indirect exposure to PFAS occurs through the environment and contaminated groundwater, soil and air. People who live in communities around military bases or other facilities that use a lot of AFFF are at risk of ill health effects.
Injuries lawyers are accepting AFFF lawsuits for include:
Bladder cancer
Cholesterol changes
Immune system damage (e.g., antibody production and immunity issues)
Kidney cancer
Liver damage
Pancreatic cancer
Preeclampsia or high blood pressure in pregnant women
Testicular cancer
Thyroid disease
Ulcerative colitis
This isn't an all-inclusive list. If you aren't sure if your injury qualifies, contact a lawyer.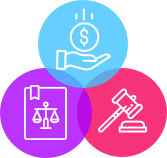 Did you experience serious health problems after exposure to AFFF?
Get your free case review today.
Status
There are about 500 cases pending in the MDL in South Carolina, according to the District of South Carolina's website. The court expects more cases to be transferred into the MDL from across the country.
Because AFFF has been in use for many decades, there may be a large number of lawsuits yet to be filed.
In March 2020, Judge Richard M. Gergel appointed plaintiffs' lawyers to the Plaintiff's Executive Committee and the cases are currently in discovery. No trials have been scheduled yet.
Please seek the advice of a qualified professional before making decisions about your health or finances.
Last Modified: September 21, 2021
Share This Lawsuit page
10 Cited Research Articles
Consumernotice.org adheres to the highest ethical standards for content production and references only credible sources of information, including government reports, interviews with experts, highly regarded nonprofit organizations, peer-reviewed journals, court records and academic organizations. You can learn more about our dedication to relevance, accuracy and transparency by reading our editorial policy.