Personal Injury
Injury is the leading cause of death for people between the ages of 1 and 44 in the United States, according to the Centers for Disease Control and Prevention. Injuries cost Americans $671 billion in medical costs and lost paychecks in 2013 alone. People who suffer injuries can sometimes recoup their losses through personal injury lawsuits.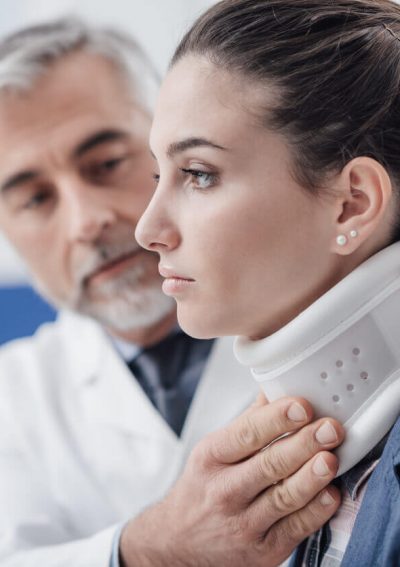 About 214,000 people die from injuries and violence every year in the United States. That's about one person every 3 minutes. Injuries from causes such as car crashes, falls or intentional violence take more American lives in the first half of life than do cancers or other deadly diseases.
And for every person who dies, 129 people are treated in an emergency room and another 13 are hospitalized. The Centers for Disease Control and Prevention reports that a total of 2.8 million people were hospitalized for injures in 2015, and another 27.6 million were treated in an emergency room.
Traffic accidents, prescription opioid overdoses and falls account for some of the greatest numbers of injuries and injury-related deaths. Sports-related injuries, including concussions, are a leading injury among children and teens and result in about 325,000 emergency room visits a year.
What Is a Personal Injury?
A personal injury involves situations in which someone is responsible, at least in part, for another person's injuries. Personal injury is a legal term that involves injuries that affect the mind, body or emotions.
It doesn't necessarily apply to property damage that may result from an incident that causes an injury. But the cost of replacing property that is damaged in the course of an injury may sometimes be involved in personal injury lawsuits.
Personal injuries may involve vehicle accidents or defective vehicles, medical errors or malpractice, workplace injuries, or injuries from slips and falls. Personal injuries may also result from a defective or dangerous product or hazardous conditions at a worksite or on someone else's property.
Personal Injury Lawsuits
People who suffer injuries may be able to file a personal injury lawsuit to recover the financial costs.
Personal injury lawsuits involve two factors: liability and damages. Liability determines who's responsible for the injury. Damages involve the financial costs of the injury.
To win a personal injury lawsuit, the injured party must be able to prove the party being sued is responsible for the injury and the costs of the injury. You must also show that the injury happened because of an intentional act, the other party's negligence or because the other party failed to live up to reasonable safety standards.
Basis of Personal Injury Claims
Intentional Wrongs

Intentional injuries may include assaults or other situations in which someone intentionally injures another person. It doesn't always include physical harm and may include actions such as unlawful detainment. These cases can sometimes involve a criminal case against the person who is responsible for the injury, especially if the victim is physically harmed.

Negligence

Negligence is the basis for most personal injury lawsuits. It covers situations in which people were injured because someone else didn't act with reasonable care. These cases may involve careless drivers who caused car crashes, doctors who didn't pay proper attention during surgeries that went wrong, or other people who failed to live up to their responsibilities not to harm others.

Strict Liability

Strict liability holds designers and manufacturers accountable for injuries from defective products. These injuries may result from a flawed design or manufacturing process that made a product unreasonably dangerous even though the injured person used it as it was meant to be used.
Statute of Limitations
If you've suffered a personal injury, you have a deadline to file a personal injury lawsuit. The amount of time you have varies depending on which state you live in and may vary by the type of injury. These laws are called statutes of limitations.
Some deadlines can be as short as one year from the time the injury happened. But some states may allow you to file a lawsuit as long as six years after the injury.

It is important to talk with an attorney as soon as possible after an injury happens if you are considering a personal injury lawsuit. It may take time to file all the necessary paperwork to begin a lawsuit. If you wait too long, you will not be able to file a lawsuit.
Filing a personal injury lawsuit against state or federal agencies can be even more complicated. Special rules apply and you may need to get permission through an administrative process before you can even file a lawsuit. Failing to follow those critical steps before the statute of limitations runs out can also prevent you from filing a lawsuit.
Compensatory Damages
Compensatory damages is the legal term for money a judge or jury awards to reimburse or compensate an injured person for the harm a personal injury caused. Most lawyers will seek this type of award if their client has been injured.
These damages are awarded to cover the actual costs of the injury and any other losses a person suffered. The goal of compensatory damages is to make an injured person whole again by restoring the person to the same financial level as before the injury.
Compensatory damages may cover:
Medical bills and treatment
Cost of future medical care
Household expenses
Income loss
Property loss
Legal fees
Courts may also award compensatory damages for injuries that are difficult to put a monetary figure on. These may include the injured person's pain and suffering, mental anguish and loss of companionship with a spouse.
Compensatory damages may also cover costs associated with a wrongful death. These can include funeral expenses, cost of medical care before death, and loss of financial contributions to the family or loss of future earnings.
Punitive Damages
Punitive damages are sometimes awarded in addition to compensatory damages to punish the person, company or organization responsible for the injury. This may happen in cases of intentional injuries such as assault. Or they may be awarded if a manufacturer knew its product may be unsafe but didn't do enough to protect consumers.
Did You Know?
Courts award punitive damages in about only 5 percent of verdicts.
Courts may award punitive damages to set an example. The damages may deter the defendant or others from repeating the same behavior that led to the injury.
Some states have a split-recovery statute in which a portion of the punitive damages award goes to the state instead of the injured person. Other states limit the amount of punitive damages a court can award. These limits are sometimes based on a percentage of any compensatory damages the court awards.
How Strong Is Your Personal Injury Case?
The best way to determine if you have a strong personal injury case is to talk with an attorney who specializes in personal injuries.
The amount of money you may get in a settlement or verdict can depend on several factors. These include the assets of the party you sue, the amount of injuries or losses you suffered, and whether you can show the other party is actually liable.
Even if you can show the injury was costly, you may not be awarded compensation if you can't show why the person, company or organization you're suing is liable for your injuries. The same is true if the party you sue has no assets, money or insurance to cover the costs.
A personal injury attorney can determine the best course of action for your particular circumstances.
Vehicle Defects and Crashes
Auto accidents are responsible for a large share of personal injuries in the United States. More than 4.5 million people needed medical care following vehicle crashes in 2018.
Most crashes happen because of a driver's negligence. Drivers have a responsibility to practice reasonable care while behind the wheel. Drivers may be responsible for injuries because they weren't following the law, they were driving carelessly, or they just weren't paying attention to the road.
Issues with vehicle safety, such as defective tires, airbags or other parts, may also cause injuries. While these are rarer than driver-related fault, defective parts can result in serious injuries or death. In these cases, the responsibility for injuries may lie with the automaker or the manufacturer of the defective part.
Volkswagen Emissions Scandal
Between 2009 and 2016, Volkswagen sold approximately 590,000 diesel vehicles equipped with software known as "defeat devices" that helped them circumvent federal emissions test.
According to the EPA, the software was programmed to detect and pass emissions standards testing. But outside of the lab, the company's "clean diesel" cars weren't so clean. In fact, they emitted up to 40 times more pollution than allowed under emissions standards.
After pleading guilty to criminal charges, two Volkswagen executives landed in jail, and the company has spent more than $25 billion settling claims from owners, dealers, regulators and states. The German automaker has also offered to buy back the half million vehicles that contain the cheating mechanism.
Medical Errors and Malpractice
Doctors and other health care professionals are expected to provide a certain level of skilled care. Failing to do so can result in malpractice and can cause serious injury to patients.
A 2017 study by the Institute for Healthcare Improvement looked at patient experiences with medical errors. Researchers found 21 percent of Americans had personally experienced a medical error and 31 percent had been involved in the personal care of someone affected by a medical error. The most common errors involved incorrect or delayed diagnoses or problems that were never diagnosed.
Another 2017 study in the journal Studies in Health Technology and Informatics said medical errors cause as many as 251,000 deaths in the United States every year. The rate for medical errors is also far higher in the United States than in other industrialized countries, according to the study by Purdue University researchers. And only about 10 percent of medical mistakes may ever be reported.
A 2016 study in the British Medical Journal said medical mistakes were the third leading cause of death in the United States. According to the study by Johns Hopkins researchers, only heart disease and cancer kill more people.
"Top-ranked causes of death as reported by the CDC inform our country's research funding and public health priorities. Right now, cancer and heart disease get a ton of attention, but since medical errors don't appear on the list, the problem doesn't get the funding and attention it deserves."— Dr. Martin Makary
"Top-ranked causes of death as reported by the CDC inform our country's research funding and public health priorities," Dr. Martin Makary, one of the authors of the BMJ study, said in a statement. "Right now, cancer and heart disease get a ton of attention, but since medical errors don't appear on the list, the problem doesn't get the funding and attention it deserves."
Workplace Injuries
Employers are required to provide safe working conditions. Still, the Centers for Disease Control and Prevention estimates more than 2.7 million workplace injuries occurred in 2016.
Most workplace accidents involve falls, overexertion, or equipment and motor vehicle-related injuries, according to an analysis by Liberty Mutual Insurance.
Top 5 Industries for Fatal Workplace Injuries in 2017
SECTOR
NUMBER OF FATAL INJURIES
Construction
971
Transportation & Warehousing
882
Agriculture, Forestry, Fishing & Hunting
581
Professional & Business Services
532
Government
473
People injured on the job may be able to seek workers' compensation if the injury resulted from their normal duties at work. People hurt in the workplace should report the injury as soon as possible.
You may be able to seek disability through your state or private insurance if the job-related injury will require you to stop working for an extended period of time. Contractors may not qualify for workers' compensation or other benefits that are available to traditional employees.
Slip and Fall Injuries
Property owners have a responsibility to keep their buildings and land safe and free from hazards. The term "slip and fall" applies to a wide variety of injuries that can result if owners fail to keep their property safe.
Owners may still not be liable for all accidents that happen on their property. It often depends on what the particular state laws say.
Falls in general are particularly dangerous for older people. About 1 in every 5 falls results in a serious injury such as fracture or head injury, according to the Centers for Disease Control and Prevention.
Nearly 2.8 million older Americans need emergency room treatment for falls every year, and more than 800,000 older people are hospitalized every year because of injuries from falls.
At least 300,000 of those hospitalizations are for hip fractures. Falls are also the leading cause of traumatic brain injury.
Factors That Can Make You More Likely To Fall
Foot pain, improper footwear
Hazards such as broken or uneven steps, spills, rugs or clutter that can trip people
Lower body weakness
Not enough vitamin D in your system
Side effects from certain medicines
Vision problems
Walking or balance difficulties
Medical costs for falls in the United States totaled $50 billion in 2015, according to the CDC. Medicare and Medicade covered all but a fourth of these costs.
Please seek the advice of a qualified professional before making decisions about your health or finances.
Last Modified: June 5, 2023
Share This Page
14 Cited Research Articles
Consumernotice.org adheres to the highest ethical standards for content production and references only credible sources of information, including government reports, interviews with experts, highly regarded nonprofit organizations, peer-reviewed journals, court records and academic organizations. You can learn more about our dedication to relevance, accuracy and transparency by reading our editorial policy.