Preventing Slips, Trips and Falls
Slips, trips and falls can happen anywhere and can result in serious injuries or death. Millions of Americans seek medical treatment for falls and thousands more die from them every year. You can take steps to prevent slips, trips and falls by being aware of hazards in your home, workplace or other surroundings.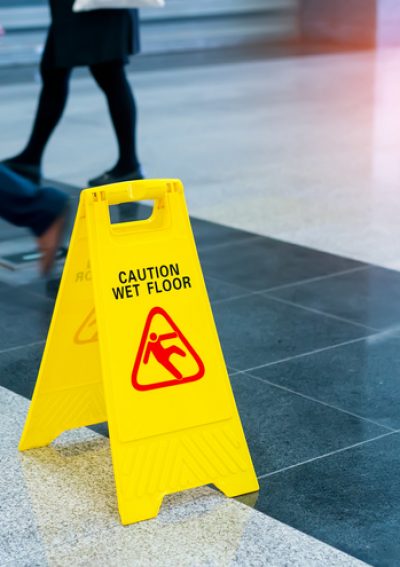 Slips, trips and falls are among the most frequently reported accidents in the United States. Falls cause nearly one-third of all nonfatal injuries, according to the National Safety Council.
Technically speaking, slips, trips and falls are three separate things. Slips consist of situations in which you lose your footing and balance. Trips happen when you lose your balance because your foot, leg or body hits a fixed object. Both can cause a fall. But falls can also happen because a support, such as a guardrail or handhold, fails or is missing.
Falling is especially common and dangerous for people 65 and older. Roughly one in four older people fall each year. But people of any age can suffer serious injuries from a fall at home, in the workplace or while simply going about their business.
Prevalent, Serious and Costly Injuries
Falls were the No. 1 cause of nonfatal injuries in the United States in 2017 and the third leading cause of fatal injuries. They injured nearly 8.6 million people and killed another 36,000 people, according to the National Safety Council.
About one in every five falls results in a serious personal injury, such as a head injury or a broken bone. Every year, 800,000 people are hospitalized due to fall-related injuries, according to the Centers for Disease Control and Prevention.
Did you know?
Older Americans on average spend more than $30,000 on a fall-related hospital visit.
Falls are the single most common cause of traumatic brain injury, also called TBI. And more than 95 percent of hip fractures are the result of falling.
The CDC estimates falls cost consumers or taxpayers more than $50 billion in medical bills in 2015. Medicare and Medicaid picked up three-quarters, or $37.5 billion, of the cost.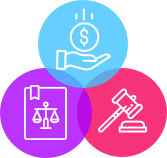 Did you suffer an injury after slipping & falling in a public, private or business setting?
Get your free case review today.
Main Causes
Most falls result from a combination of issues. Some may involve the floor or ground beneath you, but your age, health and other factors may play a role. Lack of proper safety rails or negligence in keeping surfaces clean, dry or uncluttered can also contribute to injuries.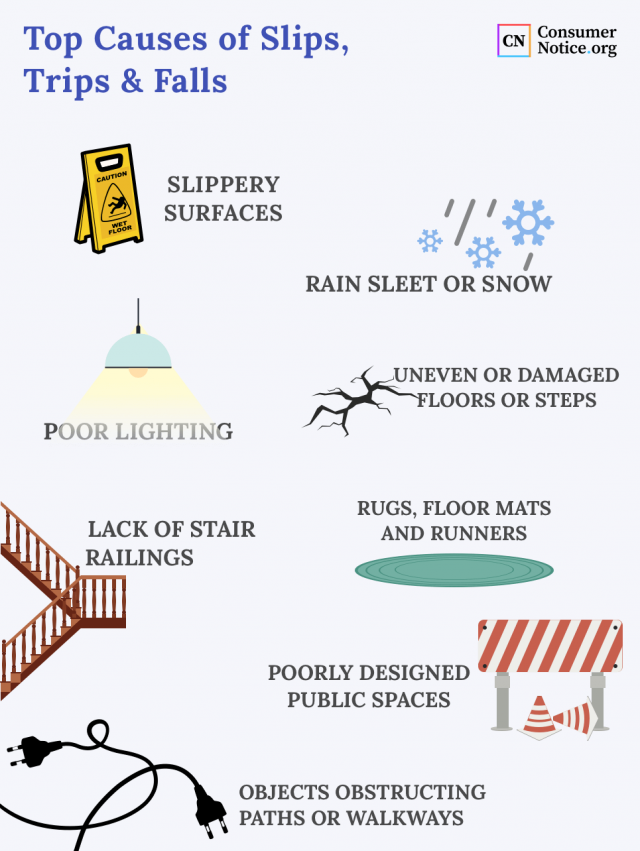 Vision problems, lower body weakness, and problems with walking or your balance can make you more susceptible to falling. Medicines, including over-the-counter drugs, can also affect your balance and make you more prone to tripping or falling on a hazardous surface.
Prevention in the Home and Workplace
Identifying and fixing slip, trip and fall hazards in your home or workplace can greatly reduce the risk of injuries. Good housekeeping and maintenance practices, quick responses to spills or leaks, and a few prevention measures can cut the risk of falls where you live or do business.
Solutions for Employers and Businesses
Workplace injuries from slips, trips and falls result in more than 260,000 missed workdays a year. The average worker misses 11 days of work following such injuries. And these injuries cost employers an average of $20,000 per incident, according to EHS Today, a trade magazine for environmental health and safety professionals.
Cost to Employers
Slips, trips and falls cost employers $17.54 billion a year.
Slippery conditions from spills on workplace floors to ice, sleet and snow account for more than half of all workplace slips, trips and falls.
How to Prevent Falls in the Workplace
Businesses can take steps to prevent employee or customer injuries by making their buildings or work areas safer. Floor markings can route people around dangerous areas. Warning signs can alert people to slippery floors or other possible dangers. Marking or eliminating obstructions can keep people from tripping. And improved lighting can help them see potential dangers.
Solutions for Your Home
Almost three in every four falls happen in the home or close by. The CDC does not track where falls happen in the home or what caused them. But some independent studies have looked as specific risks.
Surprisingly, the common belief that the bathroom is the most dangerous room in the house may not be correct for falls. A frequently cited study in the journal Medical Care ranked it fourth.
Where Falls Happen in the Home
Living room – 31%
Bedroom – 30%
Kitchen – 19%
Bathroom – 13%
Hallways – 10%
Carpets and throw rugs were responsible for nearly 38,000 emergency room visits during a seven-year period, according to a 2013 study in the Journal of Injury & Violence Research. And out of 1.5 million falls from ladders recorded over 16 years, more than 97 percent happened at home on or a farm, according to a 2007 study in the American Journal of Preventative Medicine.
Checklist: Fall Prevention in the Home
Add non-slip strips to wooden stair steps.
Arrange furniture with plenty of room for walking.
Clean up food, drink and other spills immediately.
Clear clutter from the floor, including electric cords, throw rugs or other trip hazards.
Keep essential items within easy reach.
Keep stairs, hallways and outdoor areas well lit.
Make sure walkways and steps are smooth and puddle-free.
Put non-slip mats in the shower and bathtub.
Hire a professional for high-risk repairs, such as installing gutters or pruning trees.
How to Prevent Falls in Your Home
Preventing slips, trips and falls in the home not only protects you and your family but also any guests who visit. Good housekeeping habits and moving furniture, cords, rugs, and children's or pet's toys are a quick start to making your home a safer place. You can also consider installing brighter lights and reducing clutter. Adding grab bars around bathroom fixtures and making sure your stairs have a rail on both sides can improve your home's safety, too.
Training Programs Reduce Falling Risks for Older Adults
Your risk of falling increases as you age. And the consequences of falling also become more serious as you get older. The National Safety Council recommends people 65 and older enroll in slip, trip and fall training programs.
Consumer Resource
Take this
simple test
from the Centers for Disease Control and Prevention to gauge your risk for falling.
The National Institutes for Health suggest several balance exercises you can do at home. These can help prevent falls.
The National Council on Aging can also connect you with a nearby falls prevention program. These evidence-based programs have shown results in reducing the falling risk in older adults.
How Older Adults Can Prevent Falls
In addition to strength and balance training, talking to your doctor about fall prevention can help. Half of older adults don't even tell their doctors they experienced a fall. Having your eyes checked every year will also reduce your falling risk.
Legal Responsibilities
Preventing slips, trips and falls doesn't just protect you from the risk of injuries, but also it can protect you from legal problems.
Homeowners, landlords, employers and business owners have legal responsibilities to prevent risks of injury from slips, trips and falls. The exact legal responsibilities may vary.
If you are injured because someone else was negligent in removing hazards, you may be able to file a slip, trip and fall lawsuit. These lawsuits are among the third most common type of tort lawsuits filed in state courts, behind car accidents and medical malpractice. Torts are actions or lack of actions that cause injuries to someone else.
People injured by a fall in the workplace may also be able to claim workers comp.
Please seek the advice of a qualified professional before making decisions about your health or finances.
Last Modified: July 28, 2023
Share This Page
16 Cited Research Articles
Consumernotice.org adheres to the highest ethical standards for content production and references only credible sources of information, including government reports, interviews with experts, highly regarded nonprofit organizations, peer-reviewed journals, court records and academic organizations. You can learn more about our dedication to relevance, accuracy and transparency by reading our editorial policy.