Asbestos in Makeup
Since 2017, nearly a dozen makeup products marketed to children have been pulled from store shelves because of reports of asbestos contamination. A big part of the problem is that the cosmetics industry essentially polices itself, and some lawmakers are pushing for changes. In the meantime, the safest bet for consumers is to avoid products containing talcum powder.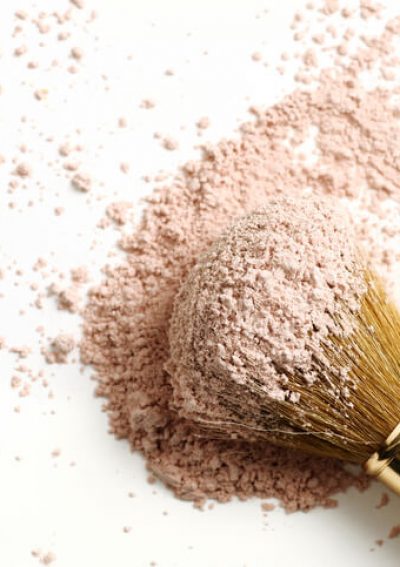 Asbestos is a deadly cancer-causing agent that kills up to 15,000 Americans every year, and on several occasions has been found in children's makeup.
The most notable scare occurred in 2017, when independent labs identified the dangerous substance in certain cosmetic products from two retail stores that cater to tweens: Claire's and Justice. In March 2019, the Food and Drug Administration confirmed the 2017 finding of asbestos contamination.
For many consumers, such news raises troubling questions: How does asbestos end up in children's makeup? Is makeup even safe? How can I protect my kids? And what's the government doing about all of this?
Unfortunately, the answers aren't always reassuring, but understanding the risks is the best way to protect your child's health.
Asbestos in Children's Makeup
Reports of asbestos in children's makeup first surfaced in 2017, when a Rhode Island mother decided to send her 6-year-old daughter's makeup to an independent laboratory for testing.
Kristi Warner, who worked at a law firm that specializes in asbestos litigation, told NBC affiliate WJAR that she'd come across tainted cosmetics in her work and was curious about the safety of the Claire's makeup she'd purchased for her daughter.
When she received the results, Warner was stunned. According to the lab, her daughter's sparkly eye shadow contained tremolite asbestos. Tremolite asbestos can cause a fatal type of cancer known as mesothelioma if it's swallowed or inhaled.
After she got the results, Warner and a colleague gathered and sent 17 additional Claire's samples from nine different states to the lab for testing. When each one came back positive for tremolite asbestos, Warner decided to make the results public.
Retailers Respond
Claire's disputed the lab's finding but pulled the products from shelves anyway as a "precautionary" measure. The retailer later reported that its own testing had shown the items were compliant with cosmetic regulations and said the talc in its products came from a supplier that was certified asbestos-free.
Around the same time, similar reports of asbestos-contaminated products sold by Justice prompted the retailer to pull eight products in its Just Shine line from store shelves.
The recalled products included:
Just Shine Shimmer Powder
Just Shine Bronzer Brush 
Just Shine Makeup Palette (11-piece – pinks) 
Just Shine Makeup Palette (11-piece – blues) 
Just Shine Eye Shadow Palette (5-piece – cool) 
Just Shine Eye Shadow Palette (5-piece – pinks)
Just Shine Makeup Palette (9-piece glitter cream)
Just Shine Eye Shadow Palette (9-piece eye shadow and glitter cream)
Justice also did its own testing. The retailer said that while one set of tests revealed no asbestos, the second round revealed trace amounts of the fiber, according to the Associated Press.
FDA Confirms Contamination
But in March 2019, the FDA announced that its own testing showed that Warner's original test results were correct.
The FDA found asbestos fibers in the following three Claire's products, which were sold between October 2016 and March 2019:
Claire's Eye Shadows (Batch No/Lot No: 08/17)
Claire's Compact Powder (Batch No/Lot No: 07/15)
Claire's Contour Palette (Batch No/Lot No: 04/17)
The FDA also found asbestos in one Justice makeup product. The item was one of the several suspect products recalled in 2017. The watchdog agency warned consumers not to use any of the recalled products.
Claire's informed the FDA that the products are not likely still in stores, but the retailer noted on its website that consumers might still have the product in their homes.
While Claire's initially resisted issuing a recall of the products, the retailer relented and issued a recall a few days after the FDA's announcement.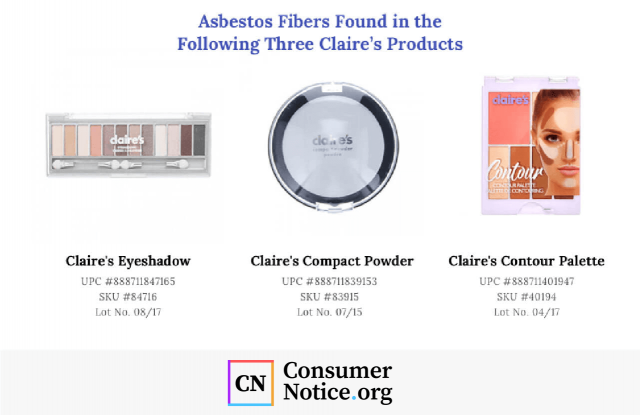 Independent studies by consumer groups have also detected asbestos-tainted children's makeup. The U.S. PIRG Education Fund issued a report in March 2018 stating that it found tremolite asbestos in three of 12 Claire's items it had tested.
Each of the three products — Claire's Contour Palette, Claire's Compact Powder, and Claire's Shadow and Highlight Finishing Kit — contained between 1 percent and 2 percent tremolite, according to an analysis by STAT Analysis Corporation.
In June 2019, FDA testing uncovered asbestos in two additional makeup products:
Claire's JoJo Siwa Makeup Set (SKU #888711136337m Batch/Lot No. S180109)
Beauty Plus Global's Contour Effects Palette 2 (Batch No. S1603002/PD-C1179)
The watchdog agency told consumers not to use the products and to report any adverse events to the FDA's MedWatch Adverse Event Reporting Program through its online reporting form. Beauty Plus Global and Claire's Stores Inc. voluntarily recalled the products.
How Does Asbestos End Up in Makeup?
Asbestos can end up in makeup when manufacturers use contaminated talcum powder in their products. Talc and asbestos naturally occur near one another in the earth, and talc can easily become contaminated with asbestos fibers during the mining process.
Cosmetic grade talc used in makeup, baby powder and other personal care products is supposed to be refined to remove the toxic substance. Unfortunately, there are few federal regulations in place to ensure talc is asbestos-free, and companies essentially set their own standards.
According to the Environmental Working Group, more than 2,100 products on the market today contain talc. This includes everything from baby powder to many eye shadows, facial powders, blushes and other makeup products. Fine and loose powdered products pose the greatest risk because they can be inhaled.
Did you know?
EWG maintains a database of thousands of personal care products. More than 2,100 of them contain talc as an ingredient and approximately 1,200 are loose or pressed powders that could be inhaled.
"Even small amounts of asbestos in talc can cause mesothelioma and other deadly diseases many years after exposure," Scott Faber, the EWG's senior vice president for government affairs, told lawmakers during a Congressional hearing on the matter in March 2019.
On its website, the American Cancer Society states that asbestos-tainted talc is "generally accepted as being able to cause cancer if it is inhaled." The link between talcum powder and cancer has also been drawing considerable attention because of thousands of ongoing talcum powder lawsuits brought by people who claim that regular use of baby powder products caused them to develop ovarian cancer and mesothelioma.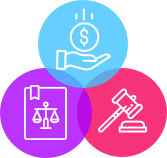 Diagnosed with mesothelioma or ovarian cancer after using talcum powder?
Get your free case review today.
A 'Regulatory Black Hole'
Under current law, there is little federal oversight of cosmetic safety, and the industry largely regulates itself. The FDA does not review or test cosmetics before they're sold to the public, and cosmetic manufacturers decide for themselves whether ingredients are safe.
Critics like Faber say this has created a "regulatory black hole" that puts consumers' health and safety at risk and is in stark contrast with how the agency oversees food, drugs and medical devices.
In his testimony to Congress, Faber pointed out that drug, food and medical device manufacturers must register with the FDA, report adverse events and provide the agency with access to records. If safety problems are found, the FDA can halt production and suspend product licenses. The agency can order recalls of dangerous food and devices, and it can take legal action against drug makers if they won't recall a product.
But when the FDA confirmed with its own testing that Claire's makeup products contained asbestos, the agency's hands were tied. Its only recourse was warning the public and urging Claire's to voluntarily recall the products.
Congressional Action
The uproar over asbestos-tainted makeup has prompted federal lawmakers to examine the problem. In March 2019, the House Subcommittee on Economic and Consumer Policy held a public hearing on the health risks of long-term use of products with talc and the regulatory framework that monitors these products.
In his opening remarks, Rep. Raja Krishnamoorthi, a Democrat from Illinois who chairs the subcommittee, blasted existing statutes for making the FDA a toothless tiger.
"Let's be clear, there is no question that exposure to asbestos is hazardous to human health. And geologists know that asbestos can be found in rock formations that also contain talc. Yet, the FDA cannot order any manufacturer to recall personal care products that potentially contain asbestos," Krishnamoorthi said.
"Let's be clear, there is no question that exposure to asbestos is hazardous to human health."
The reason, Krishnamoorthi explained, is a loophole in the law that prevents the agency from ordering necessary recalls, mandating risk labeling and requiring reports of adverse events. Instead, compliance with FDA guidelines is entirely voluntary for the cosmetics industry. Krishnamoorthi vowed that his committee is laser focused on changing the regulations to protect consumers.
Other lawmakers, meanwhile, have introduced legislation in response to the problem. In March 2019, Reps. Debbie Dingell, a Democrat from Michigan, and Jan Schakowsky, a Democrat from Illinois, introduced the Children Products Warning Act of 2019, or H.R. 1816.
The bill would require all cosmetics with talc marketed to children to carry a warning label stating that the product hasn't been tested for asbestos contamination unless the manufacturer attests to the Health and Human Services' Secretary that it gets its talc from an asbestos-free mine and has tests proving the products are asbestos free.
Avoid Talc, Find Alternatives
In the meantime, consumers are at the mercy of manufacturers and have limited options when it comes to protecting themselves.
The only foolproof option is to avoid makeup products that contain talc. Before making a purchase, always check the ingredient label on the item. In some cases, you may have to go online to the manufacturer's website or even call the company to get the information you're seeking.
Another good place to look is EWG's Skin Deep Cosmetics Database. The database contains ingredient information — along with potential health hazards related to those ingredients — for more than 71,000 products.
A good alternative is to choose makeup products that are known to be talc-free. There are many cosmetic lines that only sell talc-free makeup. They include: Omiana, Pacifica, and Nordstrom Natural Beauty & Wellness. You can search the internet or look at EWG's database for other options.
Please seek the advice of a qualified professional before making decisions about your health or finances.
Last Modified: October 21, 2022
Share This Page
28 Cited Research Articles
Consumernotice.org adheres to the highest ethical standards for content production and references only credible sources of information, including government reports, interviews with experts, highly regarded nonprofit organizations, peer-reviewed journals, court records and academic organizations. You can learn more about our dedication to relevance, accuracy and transparency by reading our editorial policy.