Hip Replacement Lawsuits
Hip replacement lawsuits claim people suffered infection, dislocation, loosening or a type of metal poisoning called metallosis after receiving a defectively designed or poorly tested artificial hip. These injuries were so severe that people had to have surgery to replace the faulty hip implants.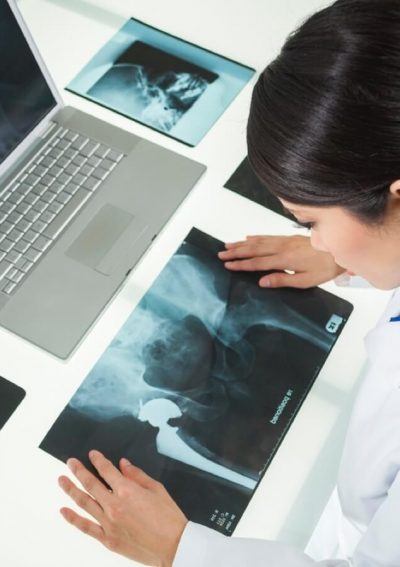 Hip replacements usually improve the quality of life for people suffering from severe joint damage or fractures. But people have sued device manufacturers because their faulty hip implants caused serious complications.
Several models of hip replacements have led to thousands of lawsuits and many have been consolidated into separate mass litigations. Roughly 29,000 lawsuits had been filed as part of these litigations as of July 2019, according to the Judicial Panel on Multidistrict Litigation. Hip implant manufacturers have paid more than $6.5 billion since 2008 to settle lawsuits over their defective devices.
People Filing Lawsuits Needed Surgery to Replace Defective Hip Implants
People who've sued hip implant makers generally claim a poorly tested or poorly made implant caused complications. In most cases, the complications were so severe that people needed surgery to replace the defective medical device.
Injuries claimed in hip replacement lawsuits include:
Device dislocation
Device loosening
Metallosis or other metal poisoning
Pain
Revision surgery
Even if your faulty implant was never recalled, you may still be able to file a lawsuit. A product liability lawyer who specializes in medical device lawsuits can explain your legal options if you've experienced complications from an artificial hip.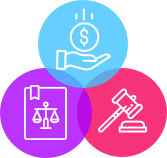 Experiencing pain, device dislocation or other complications after hip replacement surgery?
Get your free case review today.
Metal-on-Metal Hip Complications
Any hip replacement may lead to complications. But metal-on-metal implants have spurred a wave of hip replacement lawsuits in recent years. These artificial hips use a metal ball mounted on the top of the thighbone that rotates in a metal cup or socket mounted in the hipbone.
Although promoted as more durable and longer lasting that conventional implants, the metal-on-metal models failed sooner than expected and came with a relatively unique complication called metallosis.
Metallosis is a type of metal poisoning caused when metal components rub together and release microscopic particles in the body. The particles can cause tissue damage and lead to the artificial hip loosening.
Tritanium Acetabular Shell and Other Stryker Hip Implant Lawsuits
Law firms are accepting new cases involving injuries blamed on Stryker Corporation's Tritanium Acetabular Shells. Meanwhile, the medical device firm announced an initial settlement over its LFIT Cobalt Chromium V40 Femoral Heads in November 2018. The company had previously settled lawsuits over its Rejuvenate Modular-Neck Hip Stem and ABG II Modular-Neck Hip Stem in a pair of agreements starting in 2014.
Tritanium Acetabular Shell Loosening
Tritanium is a titanium-based alloy that Stryker developed and uses as a brand name for several of its medical devices. The shells, or cups, replace the socket portion of the hip joint. Bone is supposed to grow into and around the shell and hold it in place. But some people claim that never happened and their artificial hips came loose.
A study published in 2018 in the journal Arthroplasty Today described five patients at a single hospital whose Tritanium shells loosened. All of the patients experienced groin and hip pain. The researchers believed the problem was likely due to a manufacturing defect.
We advocate that patients that have received this implant be followed closely for evidence of clinical deterioration and component loosening.
Another study published in 2018 — this one in the journal of Orthopaedic Proceedings — also found problems with Tritanium acetabular components used in total hip replacement. The researchers X-rayed 121 hip replacements in 94 patients. A third of the hips showed signs associated with eventual loosening.
"We advocate that patients that have received this implant be followed closely for evidence of clinical deterioration and component loosening," they researchers wrote.
Settlement for Stryker LFIT V40 Lawsuits
In November 2018, Stryker announced it had reached a confidential settlement to resolve many of the LFIT Cobalt Chromium V40 Femoral Head lawsuits in both state and federal court.
More than 660 lawsuits were pending in a Massachusetts federal court in July 2019. Additional state-filed lawsuits had been consolidated in New Jersey.
The lawsuits claim patients needed revision surgery to replace the femoral heads because the devices caused pain, difficulty walking, and tissue and muscle damage. In some cases, patients complained that the femoral head had separated.
LFIT V40 Recall
Stryker recalled 42,519 LFIT V40 Femoral Heads in 2016 after reports that the part had loosened.
The LFIT V40 was used in several different Stryker hip replacement models. A law firm involved in the settlement talks said the settlement could cover people who had Stryker's' Accolade TMZF, Accolade 2, Citation, Meridian and Rejuvenate models of hip replacements.
$1.4 Billion Rejuvenate and ABG II Hip Lawsuit Settlement
Stryker paid $1.4 billion between 2014 and 2016 to settle more than 3,500 lawsuits over a pair of its metal-on-metal hip replacements.
Most hip implants have a single part that attaches to the thighbone. The models involved in this settlement had a two-piece stem. They featured interchangeable parts that fit into the ball. The different sizes and angles of these parts let surgeons customize fits to different patients.
But lawsuits claimed the friction between the parts released metal ions into the people fitted with them. The microscopic debris was blamed for metallosis and other complications.
Zimmer M/L Taper Hip Lawsuits Become New Mass Litigation
The first 21 lawsuits involving the Zimmer M/L Taper Hip Prosthesis were consolidated into a federal mass litigation in New York in October 2018. By June 2019, there were more than 100 lawsuits in the litigation.
The lawsuits claim people were injured by Zimmer's M/L Taper devices, including hip implants using the company's Kinectiv Technology and its Versys Femoral Head.
Zimmer uses a titanium alloy to make the metal materials in the M/L Taper Hip and M/L Taper Hip with Kinectiv Technology, while the Versys Femoral Head is made from a cobalt-chromium alloy.
Lawsuits claim the devices caused metallosis and other related injuries. The mass litigation is still in the early stages and no trials have been scheduled.
Durom Cup Lawsuit Settlement
Zimmer recognized $479.4 million for Durom Cup claims between 2008 and 2016, according to its 2016 annual report. The company also noted a short-term liability of $75 million and long-term liability of $218.6 million related to Durom Cup product liability claims.
In 2016, the company settled hundreds of lawsuits over its Durom Acetabular Component, or Durom Cup. The settlement program was open to all citizens and legal residents of the United States who had a Durom Cup implanted in the United States.
$175,000 Base Award
Zimmer's 2016 settlement offered a base award of $175,000 per hip. But the amount could be higher or lower based on the type and extent of a person's injuries.
The cup was a metal device designed to serve as an artificial socket in the hip. It was supposed to be held in place by bone that grew into it. But there were complaints shortly after it hit the market in 2006 that the cup was responsible for higher revision rates.
The lawsuits claimed the devices loosened, caused pain and weakness, and forced people to have surgery to replace the faulty cups.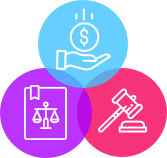 Suffering serious complications from a metal-on-metal hip implant?
Get your free case review today.
Smith & Nephew Hip Lawsuits Name at Least 4 Models
Smith & Nephew hip lawsuits are still in the early stages, but at least four models have been named in lawsuits. The company has recalled thousands of the devices.
The Birmingham Hip Resurfacing, or BHR, system and R3 acetabular hip system metal liners are part of a mass litigation. People have also begun filing lawsuits over Smith & Nephew's Modular SMF and Modular Redapt hip implants.
Birmingham Hip Resurfacing System and R3 Acetabular Hip System Liners
More than 600 lawsuits have been filed in a mass litigation over the Smith & Nephew Birmingham Hip Resurfacing, or BHR, system. The cases were consolidated in a Maryland federal court in 2017.
Birmingham Hip Resurfacing Femoral Head Recall
Smith & Nephew recalled nearly 6,000 BHR components in 2015 after it observed a higher than expected number of revision surgeries associated with the implants.
The company's R3 acetabular hip system metal liners were added to the litigation in 2018. The metal liners fit in the socket of the hip joint. Smith & Nephew pulled the R3 metal liners off the market in 2012. At the time, 7,700 of the liners had been implanted in patients.
The company said there were no reports of metallosis at the time of the R3 recall. Smith & Nephew said the decision was based on higher than expected complications that required revision surgery. Problems included infections, bone fractures and joint dislocations.
The BHR and R3 lawsuits are still in the early stages, and there have been no trials.
Modular SMF and Modular Redapt Revision Hips
Lawyers are investigating new lawsuits over a pair of Smith & Nephew hip products: the modular SMF and the Modular Redapt Revision Hip systems. The devices were used in primary and revision hip replacements.
Modular Hip Recall
Smith & Nephew recalled more than 6,200 modular neck hip prostheses in 2016, citing higher than expected rates of complications.
Smith & Nephew advised doctors to monitor patients implanted with the recalled models for pain, swelling and limited mobility. And it recommended checking patients for cobalt and chromium levels in their blood, which could indicate damage to soft tissue in the body.
These lawsuits are still in the very early stages. If you believe you have suffered an injury because of a Modular SMF or Modular Redapt hip replacement, an experienced medical device lawyer can advise you on your legal options.
DePuy Pinnacle and ASR Hip Settlements Top $4 Billion
DePuy Orthopaedics Inc. is a Johnson & Johnson company. It has paid more than $4 billion since 2013 to settle claims involving two of its metal-on-metal product lines and related hip replacement lawsuits brought by several states.
The company has faced more than 20,000 individual hip lawsuits that were consolidated into two separate mass litigations.
$1 Billion Pinnacle Hip Settlement
DePuy agreed to a nearly $1 billion deal to settle about 6,000 Pinnacle hip lawsuits in May 2019. Even so, the company still faced about 4,500 lawsuits in a Dallas federal court.
Details of the settlement were confidential. The company worked out agreements with individual attorneys who each represented large numbers of people suing DePuy. The settlement followed a series of jury verdicts against the company totaling more than $1.7 billion.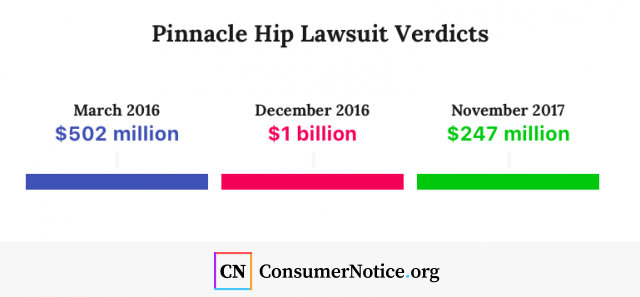 The first verdict was reduced to $151 million and then thrown out on appeal, but a retrial was promised. The other two were reduced but still totaled nearly $800 million.
DePuy's Pinnacle Cup was implanted in more than 2 million people worldwide between 2000 and 2015, according to the company. DePuy never recalled Pinnacle hips named in lawsuits, but the company phased out the metal-on-metal versions of its Pinnacle hip line in 2013.
$2.9 Billion ASR Hip Settlement
DePuy has settled more than 10,000 lawsuits over its ASR Hip Resurfacing System and ASR XL Acetabular System. The company agreed to settle an estimated 8,000 lawsuits for approximately $2.5 billion in 2013. It agreed to extensions of the settlement in 2015 and 2017.
Under the extension agreement reached in 2015, DePuy said it would pay as much as $420 million more to resolve lawsuits excluded from the 2013 settlement. The 2017 extension was expected to apply to about 900 people.
Failure Rate
DePuy reported one in eight ASR hips failed within five years.
DePuy recalled 93,000 ASR Hip Systems in 2010. The company ordered the recall after information from the National Joint Registry for England and Wales showed about 12 percent to 13 percent of the two ASR hip products failed within five years of being implanted.
The company recommended people who received the hips get yearly checkups to make sure they don't have problems with the devices.
$120 Million to Settle Deceptive Marketing Claims
DePuy agreed in January 2019 to pay $120 million to settle claims it engaged in unfair and deceptive marketing of both the Pinnacle Ultamet and ASR XL hip implants.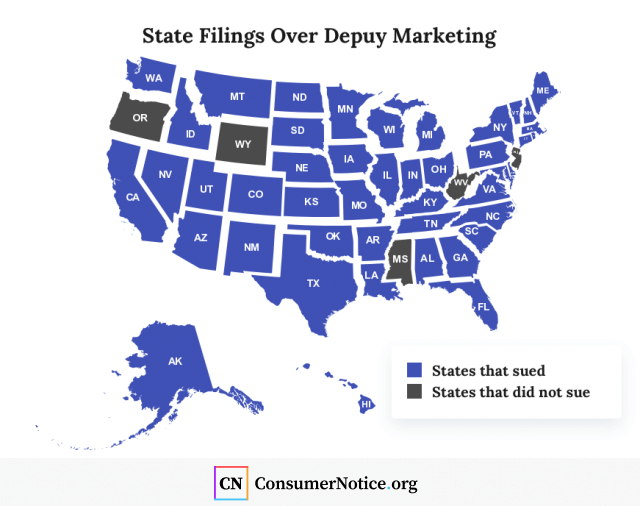 Attorneys general from 45 states and the District of Columbia sued DePuy, accusing the company of making misleading claims about how long the devices would last. In addition to paying the $120 million, the company agreed to monitor complications with the device. DePuy also agreed to update the way it tracks complaints about its hip implants.
Hip Replacement Lawsuits Against Biomet and Wright
Biomet and Wright Medical agreed to pay $385 million to settle thousands of lawsuits over their metal-on-metal hips. Biomet has since merged with Zimmer to create the third-largest orthopedic device maker in the world. Wright Medical sold its hip and knee implant business and no longer manufactures artificial hips.
$56 Million Settlement over Biomet M2a Magnum Hips
Biomet agreed in 2014 to pay at least $56 million to settle a mass litigation over its M2a Magnum metal-on-metal hips. More than 2,800 lawsuits had been consolidated into the litigation in an Indiana federal court.
The people who sued claimed the metal-on-metal design led to metallosis and other related injuries. The settlement applied to all lawsuits in the litigation at that time and any additional lawsuits filed before April 15, 2014.
Conserve Lawsuits and Wright Medical's $330 Million Settlement
Wright Medical settled 1,292 lawsuits over its Conserve, Dynasty and Lineage hip implants for $240 million in November 2016. The company agreed to pay another $89.75 million to settle roughly 600 more lawsuits in October 2017.
The lawsuits claimed metallosis related injuries and other complications. The settlements covered people who had a lawsuit pending at the time. They also had to have had revision surgery within eight years of receiving the faulty hip implant.
A judge closed a federal mass litigation over the hips in June 2018 following the final settlement.
Please seek the advice of a qualified professional before making decisions about your health or finances.
Last Modified: September 21, 2021
Share This Lawsuit page
40 Cited Research Articles
Consumernotice.org adheres to the highest ethical standards for content production and references only credible sources of information, including government reports, interviews with experts, highly regarded nonprofit organizations, peer-reviewed journals, court records and academic organizations. You can learn more about our dedication to relevance, accuracy and transparency by reading our editorial policy.