Knee Replacement Lawsuits
Knee replacement lawsuits frequently claim the devices loosened or became so unstable they had to be replaced. Zimmer Biomet has faced more than 1,700 lawsuits over its NexGen implant. And lawyers report new cases claiming injuries from the DePuy Synthes Attune Knee implant and the first-generation Smith & Nephew Journey BCS knee system.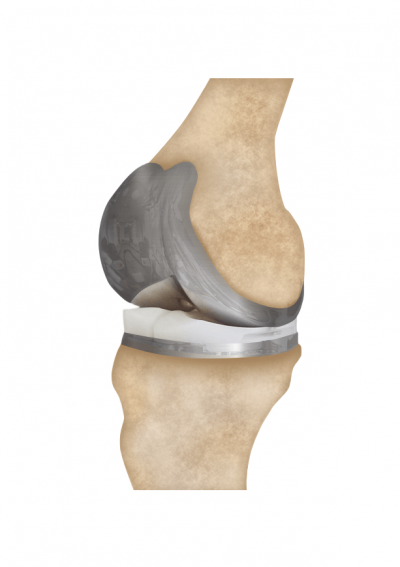 Knee replacement lawsuits claim that the devices had manufacturing or design flaws that caused them to fail. They cite problems so serious that people needed additional surgery to repair or replace their faulty knee implants.
Knee replacement is the most common type of joint replacement surgery. Surgeons perform more than 600,000 knee replacements every year in the United States. Even if only a small percentage of implants fail, flawed devices can injure hundreds or thousands of patients.
Lawsuits over several different types of knee implants are underway. Most are individual cases. Only one mass litigation is currently taking place in federal court and it is in the settlement phase.
Knee Replacement Manufacturers and Models Named in Lawsuits
| MANUFACTURER | MODEL NAME |
| --- | --- |
| Arthrex | iBalance Total Knee Arthroplasty (TKA) system |
| B. Braun | Advanced Surface ceramic coated knees |
| B. Braun | Attune Knee System |
| Exactech | Optetrack Knee |
| Zimmer Biomet | NexGen and Persona knee systems |
| Smith & Nephew | Journey I BCS Knee System |
Seeking Compensation for Revision Surgery Costs and Other Losses
Knee replacement lawsuits usually involve a complication so bad it requires surgery to fix. People who file lawsuits have either already had revision surgery to replace a faulty knee implant or they have scheduled surgery to replace one.
Complications this severe usually mean your knee implant is no longer functioning the way it was supposed to. Or the complications may even be a risk to your health and safety. These complications can result from several different defects in the design or manufacture of your knee replacement.
Why people have filed knee replacement lawsuits:
Excessive wear
Instability
Loosening due to cement failure
Loosening due to faulty screws
Pain
Premature failure
Restricted motion
Knee replacement lawsuits demand that manufacturers pay for the cost of revision surgery and related medical expenses. But they also demand the manufacturers pay for wages people lost while recovering from revision surgery and for other losses they suffered because of the faulty implant.
Attune Knee Loosening Claims
The first lawsuit over DePuy Synthes' Attune Knee System was filed in Alabama in September 2017. More lawsuits have followed, claiming cement that connected the implants to patients' bones failed. Lawsuits say this caused the artificial knees to loosen and resulted in instability, unusual swelling, decreased range of motion and persistent pain.
The Kansas City Business Journal compared reported problems with the Attune knee to those of a close competitor, Zimmer's Persona knee implant. As of June 2017, the Attune implant had racked up nearly eight times as many adverse event reports to the Food and Drug Administration. Attune failures also required nearly 10 times as many surgeries to replace the device compared to the Persona, according to the journal.
Attune vs. Persona Knee Implants as of June 2017
| KNEE IMPLANT | COMPLAINTS TO FDA | REVISION SURGERIES REQUIRED |
| --- | --- | --- |
| DePuy Attune Knee | 1,400 | 633 |
| Zimmer Persona Knee | 183 | 64 |
David and Marcia Love of Jackson County, Missouri, filed a lawsuit in 2018, after David Love's Attune knee had to be replaced. Love's lawsuit claims he was plagued with persistent pain and instability for two years before his revision surgery. The lawsuit says the surgeon "diagnosed Mr. Love with a 'failed tibial component'" that had become "grossly loose."
Cases Involving Smith & Nephew Journey BCS Knees
People have begun filing lawsuits against Smith & Nephew over the company's first-generation Journey BCS knees. Lawsuits claim the parts of the implants that connected them to the thigh bone or the lower leg bones loosened.
The company recalled more than 40,000 of the knee replacements that were still on the market in 2018, even though it had phased out the first-generation Journey models in 2013 and 2014. The newer, Journey II knee models were not affected by the recall.
Our analysis of available post-market surveillance data suggests that patients that have been implanted with a first-generation Journey BCS Knee System may have a higher risk of requiring a revision earlier than they or their surgeon had expected."
A 2018 study in the Archives of Orthopaedic and Trauma Surgery found the first-generation Journey BSC failed at much higher rates than the company's second-generation replacement. The authors found the older, recalled version failed at about four times the rate of the newer Journey II models. The study was financed in part by Smith & Nephew.
The company issued its voluntary recall based on high failure rates reported by joint registries in the United Kingdom and Australia. The registries found the first-generation Journey BSC knees were failing at 1.5 times the average rate for knee replacements.
"Our analysis of available post-market surveillance data suggests that patients that have been implanted with a first-generation Journey BCS Knee System may have a higher risk of requiring a revision earlier than they or their surgeon had expected," the company said in an Urgent Field Safety Notice.
Zimmer NexGen Knee Litigation
The only current knee replacement mass litigation involves the Zimmer NexGen Knee. It once included more than 1,700 individual lawsuits but most have been dismissed or withdrawn. In February 2019, both sides agreed to settle almost all of the remaining 279 lawsuits that were still in an Illinois federal court. But terms of the settlement were kept confidential, according to Zimmer's 2018 annual report.
Zimmer NexGen Knee Litigation Timeline
August 2011

A federal judicial panel combines lawsuits from around the United States in a mass litigation in an Illinois federal court.

November 2015

Zimmer wins the first trial in the litigation.

October 2016

Zimmer wins the second trial in the litigation.

January 2017

Zimmer wins the third bellwether trial in the mass litigation.

March 2017

The court tosses out the lawsuit in the planned fourth trial, giving Zimmer another win.

August 2017

Out of more than 1,700 NexGen lawsuits filed, nearly 1,400 cases had been dismissed or withdrawn from the mass litigation.

January 2018

Lawyers for plaintiffs and Zimmer reached a confidential settlement agreement that would resolve all remaining NexGen lawsuits in state and federal courts.

February 2019

Both sides reached a final agreement that settled 273 of the remaining 279 lawsuits.
As of May 2019, there were 258 cases still pending in the litigation.
Persona Knee Claims Against Zimmer
In 2015, Zimmer recalled all 11,658 of its Persona Knee tibial plate implants that had been on the market at the time. The plates were used to connect the artificial knee to the tibia, one of the bones in the lower leg.
The recall notice cited "an increase in complaints of loosening" as the manufacturer's reason for the recall. Lawyers have been talking with people who experienced complications with these devices about potential Persona Knee lawsuits.
Laura Woodfield of New York filed a Persona lawsuit in 2017. She had a Persona knee implanted in April 2014 but had to have it replaced less than five months later. Her defective knee included one of the plates from the recall. Her lawsuit claims its failure was the reason she needed surgery to replace it.
Other Knee Lawsuits
DePuy, Zimmer Biomet, and Smith & Nephew are among the four largest orthopedic companies in the world with combined revenue of $20.4 billion in 2018, according to Medical Design and Outsourcing. These companies may face more lawsuits simply because they produce an outsized share of the knee implants used in the United States, and they face a greater number of implant failures.
But other knee replacement manufacturers have also been hit with lawsuits in recent years. Again, most cases claim defective devices loosened.
Dozens Sue B. Braun over Ceramic Knees
More than 30 people sued German implant maker B. Braun in a Philadelphia County Court in 2018. The lawsuit claimed patients' ceramic knee implants loosened when the cement used to attach the devices to their bones failed.
The suit says the ceramic surface allowed moisture to collect between the implants and the cement that attached them to bones. This prevented the artificial knees from properly attaching, and they eventually loosened.
The case also claims that the company was aware of problems with its knee implants but hid them from regulators.
2019 Lawsuits Name Arthrex iBalance TKA Tibial Tray
Arthrex also faces lawsuits over loosening problems with its iBalance Total Knee Arthroplasty Tibial Tray. This was another implant part that connected to the tibia.
The company recalled nearly 2,400 of the trays in 2015 and 2016. Arthrex said the recalled units had a smooth finish instead of a textured outer surface. The U.S. Food and Drug Administration cited a "nonconforming" material or component as the agency's determination behind the company's voluntary recall.
Angela Owen of Hot Springs, Arkansas, filed an iBalance knee lawsuit in 2019. She received the knee in 2015 and claimed she experienced persistent pain, swelling and numbness around the knee until she had it replaced in 2016. Her lawsuit claims the surgeon said the tibial tray was "extremely loose" when he replaced it.
$1 Billion Sulzer Medica Settlement
In one of the largest knee implant settlements, Sulzer Medica agreed to pay $1 billion to settle roughly 4,000 lawsuits over its hip and knee implants in 2002. The settlement averaged $200,000 per patient.
In 2000, the Swiss company recalled thousands of hip implants that had been tainted with a lubricant. It also withdrew from the market 1,600 knee implants that had been slightly contaminated with oil.
Hundreds of patients who had received flawed knee implants needed surgery to replace them. Most of the people who sued had undergone hip revision surgery. But more than 560 patients had had knee revision surgery.
Zimmer purchased Sulzer, which had been renamed Centerpulse, for more than $3 billion in 2003.
Please seek the advice of a qualified professional before making decisions about your health or finances.
Last Modified: May 30, 2023
Share This Lawsuit page
27 Cited Research Articles
Consumernotice.org adheres to the highest ethical standards for content production and references only credible sources of information, including government reports, interviews with experts, highly regarded nonprofit organizations, peer-reviewed journals, court records and academic organizations. You can learn more about our dedication to relevance, accuracy and transparency by reading our editorial policy.