Motorcycle Accident Lawsuits
Motorcyclists are 28 times more likely to be killed in an accident than those traveling in cars — and survivors often suffer devastating injuries. If you've been injured in a motorcycle crash, you don't want to deal with insurance companies on your own. A skilled personal injury attorney who understands the intricacies of your state's motorcycle laws can help you get the compensation you deserve.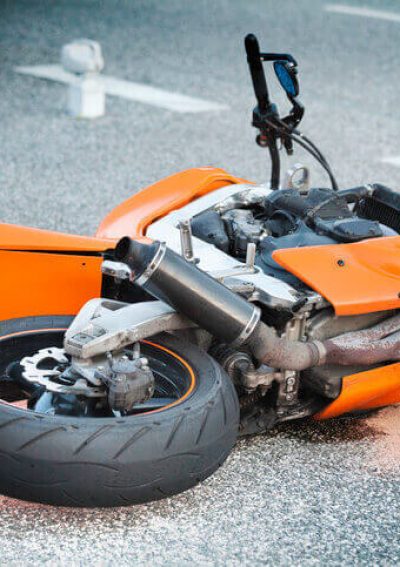 Motorcyclists are often stereotyped as reckless thrill seekers who end up crashing because of risks they take on the road. But studies show that most of the time, it's not their fault.
Like many other personal injury cases, motorcycle accident lawsuits rely on the legal concept of negligence. That means your lawyer will need to establish that the other driver was at fault in the accident for you to win your case.
Automobiles Often At Fault
Florida has the highest number of motorcyclist fatalities of any state in the nation. Every year, approximately 500 motorcyclists are killed on Florida roads and more than 8,000 bikers are injured. About 60 percent of the time, the other vehicle is the one at fault in a multiple-vehicle accident, according to a study by the University of South Florida's Center for Urban Transportation Research.
The author of the study, Chanyoung Lee, told the South Florida Sun-Sentinel that a big part of the problem is that car and truck drivers aren't expecting to see motorcycles on the road and often fail to yield the right of way to bikers.
DID YOU KNOW?
A 2018 federal study found that 64 percent of crashes involving motorcycles were caused by errors or failures on the part of the other driver.
A 2018 report from the National Transportation Safety Board reached similar conclusions. The study found 64 percent of multiple-vehicle motorcycle crashes were caused by an error or failure by the other vehicle driver — not the motorcycle rider.
The two most common crash scenarios involved a vehicle turning left in front of a motorcycle and a motorcycle falling on a roadway while attempting to avoid a collision with another vehicle. Approximately 33 percent of motorcycle crashes involving other vehicles occur when the other motorist turns into the path of biker, according to the National Highway Traffic Safety Administration.
Other common causes of motorcycle crashes include:
A motorcycle running off the road
Sideswipe collisions, where a passing vehicle strikes a motorcycle
Motorcycles rear-ending other vehicles
Other vehicles in the opposite direction turning in front of a biker
Motorcycles falling on the roadway
Other motorists making U-turns or three-point turns in front of a motorcycle
Bikers overtaking another motorist while the motorist is turning right
Motorcycles being rear-ended by other vehicle
The National Transportation Safety Board concluded that many of these situations could be avoided if the drivers of cars and trucks could better detect motorcycles when crossing a road, turning or changing lanes. Unfortunately, most crash avoidance technology is still often unable to detect motorcycles when cars are turning left or changing lanes — and much of the onus for motorcycle safety is on the biker.
The Cost of Crashes
Whatever the cause, the human and financial toll of a motorcycle crash can be catastrophic. Because bikers' bodies are more exposed, injuries are often more severe and medical costs can be staggering.
Common injuries in motorcycle accidents can include:
Blunt trauma to the chest and abdomen
Brain injuries
Spinal injuries and paralysis
Traumatic limb amputations
Broken bones
Road rash
Burns
A 2017 study in the Canadian Medial Association Journal (CMAJ) analyzed the costs of medical treatment for nearly 27,000 people injured in motorcycle crashes between 2007 and 2013. It found that severe injuries were 10 times more common in motorcycle accidents than in car crashes and the average cost of treatment for motorcyclists was almost double that of car accident victims.
In Florida, where motorcycle crashes are almost an epidemic, the median charge for a motorcyclist who is admitted to a hospital for treatment is $47,440. The median bill for motorcyclists who land in the emergency department but are released is nearly $2,400. And sadly, 46 percent of those injured don't have insurance to cover the costs of medical treatment.
In 2008, the economic toll of motorcycle crashes in the Sunshine State topped $396 million.
DID YOU KNOW?
In Florida, the median hospital bill for an injured motorcyclist is more than $47,000 — and most bikers don't have insurance coverage.
Because many people are unable to work after an injury, the economic damage can go even higher. All of these losses — as well as pain and suffering and damage to your bike — will figure into a potential motorcycle injury claim.
Unfortunately, insurance companies will often offer a low-ball settlement figure right away. That's why it's crucial to have an experienced attorney who knows how to negotiate and secure you the maximum compensation.
Verdicts and Settlements
Motorcycle accident verdicts and settlements may differ considerably depending on the unique facts of the case, but it's not unusual for accident victims to receive millions.
In 2018, Southern California Gas Co. settled a motorcycle injury lawsuit for $46 million, according to the Insurance Journal. A company driver had suffered a seizure and crashed into a motorcyclist stopped at a red light. The biker, United States Air Force Capt. Jason Lo, was wedged under the truck and dragged for more than the length of a football field.
The 30-year-old victim lost almost half his blood supply, nearly lost his leg and required several surgeries. At the time of the accident, the driver at fault was having seizures about once a week and had been warned by a doctor not to drive.
Other large verdicts and settlements include:
$47.5 million Verdict

In 2013, a jury in Orange County, Florida, awarded $47.5 million to a 27-year-old motorcyclist who was hit by a pickup truck going the wrong way. The biker suffered several broken bones, a collapsed lung and is unable to ever have children, according to the Orlando Sentinel.

$33 million Verdict

In February 2019, a jury in Spalding County, Georgia, awarded $33 million to the family of a man who was killed by a car that turned left directly in front of his motorcycle. The 26-year-old man left behind a wife and son, according to Law.com. Attorneys for the plaintiff are planning to seek an additional $450,000 in interest and $13 million in legal fees.

$6.1 Million Settlement

In February 2019, a Los Angeles City Council agreed to pay $6.1 million to a motorcyclist who crashed after hitting several potholes and suffered a traumatic brain injury. According to the Los Angeles Times, the holes were created by city employees who were doing surveying.
If you or a loved one has been involved in a motorcycle accident, you should contact an attorney today for a free consultation about your case. Personal injury cases are typically handled on a contingency basis, meaning it will cost you nothing unless there is a recovery.
Please seek the advice of a qualified professional before making decisions about your health or finances.
Last Modified: October 18, 2021
Share This Lawsuit page
24 Cited Research Articles
Consumernotice.org adheres to the highest ethical standards for content production and references only credible sources of information, including government reports, interviews with experts, highly regarded nonprofit organizations, peer-reviewed journals, court records and academic organizations. You can learn more about our dedication to relevance, accuracy and transparency by reading our editorial policy.