Drugs & Devices
Scientific advances in the pharmaceutical and medical device industries have revolutionized the lives of many Americans. But federal regulators receive thousands of reports every month detailing how drugs and devices have failed or injured people. Learn how you can reduce your risks.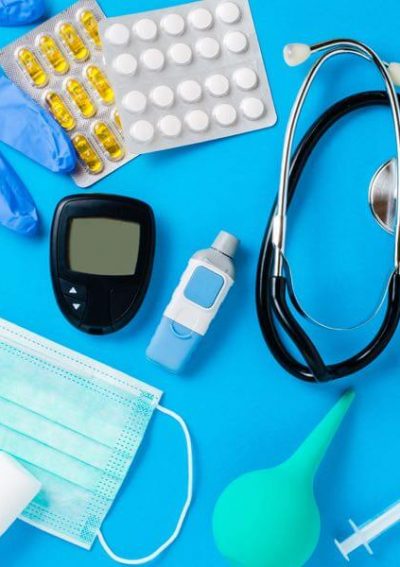 Most Americans trust our health care system and have faith in the doctors who care for us. And thanks to scientific innovation, we have incredible access to life-changing ­— and even lifesaving — drugs and medical devices.
Sometimes, though, drugs and devices don't undergo as much testing or scrutiny as they should, and the very products that were designed to help us end up causing harm.
Prescription Drugs
Almost half of Americans take at least one prescription medication and nearly a quarter use three or more drugs, according to the Centers for Disease Control and Prevention.
The U.S. Food and Drug Administration, which regulates medicines, contends that we have one of the safest drug supply chains in the world. But all medications carry risks and some drugs can be downright dangerous, or even deadly.

New drugs have to pass three rounds of human testing before going on the market. But those clinical trials often involve small numbers of people. Serious side effects may not show up in the trials. They also may not show up until thousands or even millions of people routinely take the new medicines for several years.
A 2017 study in the Journal of the American Medical Association found nearly a third of prescription drugs approved by the FDA from 2001 through 2010 had unidentified side effects when they hit the market.
Some of these resulted in manufacturers removing or correcting their products. Other times, the FDA released safety communications and required manufacturers to add black box warnings, the agency's strongest warning.
Adverse Events
The FDA has received more than 16 million reports of adverse events since it started collecting data in 1968. In 2018, the agency's public database showed more than 9 million of those reports were classified as serious. Another 1.6 million were associated with patient deaths.
But many drugs remain on the market even after defects and dangers are identified.
Proton pump inhibitors (PPIs), for example, have been found to cause serious side effects ranging from kidney disease to bone fractures to heart attacks. But while thousands of people have filed suit against the manufacturers of drugs such as Nexium and Prilosec, the drugs remain available over the counter in drugstores.
Abilify, an antipsychotic drug prescribed for schizophrenia, bipolar disorder and other mental health disorders, is another problematic drug that is still on the market despite causing serious side effects. While rare, some people on Abilify have developed self-destructive behaviors, such as compulsive gambling, binge eating, compulsive shopping and sex addictions.
The FDA first warned the public about these impulse-control problems associated with Abilify in 2016 — 14 years after the drug was originally approved.
Drug Recalls
When the FDA identifies a new potential risk related to a drug, it issues a safety announcement and requires new warnings be added to the drug's prescribing information and patient medication guides.
But if a drug's risks outweigh its benefits, it may be pulled off the market. Either a drug company or the FDA may initiate a drug recall.
According to a 2016 analysis of drug recalls in the American Journal of Health-System Pharmacy, the top five reasons for drug recalls were:
Contamination
Mislabeling
Adverse reaction
Defective product
Incorrect potency
Between 2018 and 2019, for example, several drug companies recalled batches of the blood pressure medications valsartan, irbesartan and losartan. The medications contained trace amounts of the cancer-causing chemicals N-Nitrosodimethylamine (NDMA) and N-nitrosodiethylamine (NDEA).
The contamination likely stemmed from manufacturing changes, according to a preliminary FDA investigation. The factories in China and India where the drugs were manufactured had a history of issues even before the NDMA and NDEA contamination was discovered, according to press reports.
The valsartan recall has impacted millions of patients.
Drug recalls are classified by the level of hazard they present to the public.
The FDA's three drug recall classifications include:
Class I Recall

This is the most urgent type of recall. It applies to dangerous or defective drugs that may cause serious health problems or death.

Class II Recall

This applies to a situation where a drug may cause temporary or reversible health problems or poses a "slight threat of a serious nature."

Class III Recall

This is the least serious category of recalls. The product violates FDA labeling or manufacturing laws but is unlikely to cause adverse health problems.
Though not all recalls are publicized through the news media, the FDA posts all recalls online in weekly enforcement reports. The reports include the name of the drug, the classification of the recall and the reason for the recall. The public is generally notified of a recall if the drug is widely distributed or poses a serious health hazard.
Medical Devices
Medical devices include a wide array of products, from tongue depressors and surgical robots to hip implants and surgical mesh. But medical devices don't go through the same rigorous testing as drugs. In fact, more often than not, new devices are never tested in humans before they are used in patients.

Devices can win FDA clearance through something called the 510(k) process. This process allows companies to market a new device if the manufacturer can show the device is "substantially similar" to another product already on the market.
As with defective drugs, problems with these medical devices may not show up for years after they are on the market. And they may lead the manufacturers to temporarily recall the device or pull it off the market entirely.
Device Recalls
Medical devices may also be recalled if they are defective or can present a risk of injury. While the FDA approves and regulates medical devices, the agency seldom issues recalls itself. Manufacturers voluntarily order recalls when they become aware of problems with their devices. In rare cases, the FDA may step in if a company ignores dangers and fails to order a recall on its own.
Consumer Resource
You can search the FDA's Medical Device Recalls database to see if your device has been recalled.
Manufacturers and importers are required by law to notify the FDA whenever they issue a recall. The FDA announces these publicly. Common reasons for recalling a device can include software problems, mislabeled packages or instructions, manufacturing defects, high failure rates or a lack of sterility.
Medical device manufacturers issued 1,267 product recalls affecting more than 441 million individual devices in 2018, according to Stericycle Expert Solutions, a tech firm that tracks consumer recalls. Software issues were the most common reason behind medical device recalls, accounting for 296 of them. Another 232 were because of mislabeling, the second-most common cause.
Recalls On the Rise
The FDA reported that the number of medical device recalls increased 97 percent in just 10 years, from 604 in 2003 to 1,190 in 2012.
There have been some cases in which companies never issued recalls despite higher than expected reports of complications involving their devices. Manufacturers have also simply taken a problematic device off the market or discontinued it instead of issuing recalls.
Medical Device Injuries
Medical device failures can lead to serious health problems. Implantable devices, such as knee replacements or defibrillators, often require surgery to remove or replace faulty devices.
Metal-on-metal hips have been blamed for metallosis, a type of metal poisoning that destroys bone or muscle tissue around the artificial joint and triggers other complications in the body. Hernia mesh has been associated with infection, bowel perforation and long-term pain.
From 2008 through 2017, the FDA received more than 5.4 million reports of complications, failures or other problems blamed on medical devices. Reviewing those reports in 2018, the International Consortium of Investigative Journalists found the reports listed almost 83,000 deaths potentially related to medical devices.
The decade's worth of reports also detailed 1.7 million injuries caused by all types of medical devices. More than a quarter of those injuries were blamed on just six types of devices. Insulin pumps and hip replacements were associated with the most injuries reported to the FDA.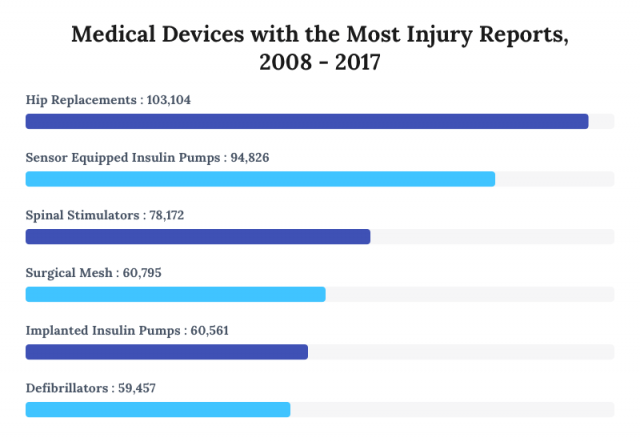 The number of reports to the FDA may be just the tip of the iceberg. The FDA requires hospitals to report adverse events associated with medical devices to the agency and the manufacturer within 10 days. But an FDA investigation of 17 large hospitals turned up gaps in reporting in 2015. The agency found that six of the hospitals it inspected failed to report patient deaths and injuries properly, while five others failed to meet deadlines for reporting injuries.
More recently, a 2019 investigative report by Kaiser Health News revealed that the FDA has allowed medical device companies to file reports about injuries and malfunctions through an alternative reporting database that can't be accessed by physicians or the general public. More than 1.1 million incident reports have been funneled through the "hidden database" since 2016, according to the article.
Reducing Your Risks
Fortunately, there are measures you can take to reduce your risk of a drug or medical device injury.
One of the most important things you can do is talk with your doctor before taking a medication — or undergoing surgery — to see if the benefits outweigh the risks. And it's often wise to get a second opinion.
With medications, make sure your doctor is aware of your medical history and knows what other drugs you are taking. Be sure to mention any over-the-counter drugs you take, as well as vitamins and supplements.
U.S. News and World Report offers other suggestions for reducing your risk, including:
Read the drug label and familiarize yourself with major and minor side effects.
Report any new symptoms that develop after you begin a medication.
If you suspect a drug is making you ill, ask your doctor about alternatives.
Ask your doctor if there is a safe way to reduce the number of medications you take.
You can also find out if a drug or medical device has been recalled by visiting the FDA's webpage on Recalls, Market Withdrawals, & Safety Alerts.
If you or someone in your family experiences side effects from medicine or complications related to a medical device, you can report the issues to the FDA's MedWatch program. It lets you report the problem online, by fax or over the phone. You can also print out a form to take to your doctor. They can then fill out the clinical information for you.
Please seek the advice of a qualified professional before making decisions about your health or finances.
Last Modified: September 26, 2023
Share This Page
44 Cited Research Articles
Consumernotice.org adheres to the highest ethical standards for content production and references only credible sources of information, including government reports, interviews with experts, highly regarded nonprofit organizations, peer-reviewed journals, court records and academic organizations. You can learn more about our dedication to relevance, accuracy and transparency by reading our editorial policy.