Truvada
Truvada is a prescription drug used for pre-exposure prophylaxis, or PrEP, to prevent HIV infection. It does not cure HIV, but it can help treat existing HIV infection when used in combination with other antiretroviral drugs. The most common side effects are mild and temporary. These include headache, abdominal pain and weight loss. On rare occasions, the drug may cause kidney and bone problems.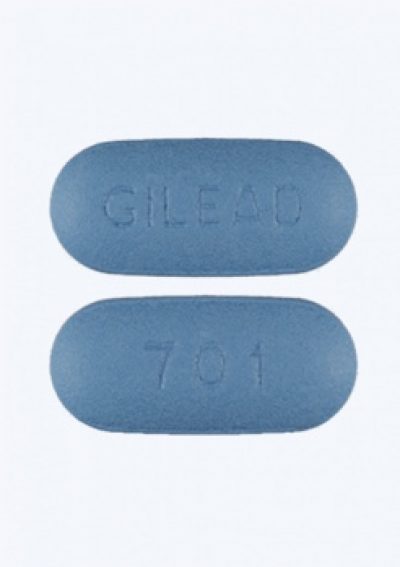 What Is Truvada?
Gilead Sciences manufactures Truvada, and its active ingredients are emtricitabine and tenofovir disoproxil fumarate. Other HIV drug combinations that share Truvada's active ingredient tenofovir disoproxil fumarate include Viread, Atripla, Complera and Stribild.
The U.S. Food and Drug Administration first approved the drug in 2004 to treat HIV, and then approved it for PrEP in 2012.
PrEP, or pre-exposure prophylaxis, is an HIV prevention strategy that allows people who have tested negative for infection to reduce their risk of acquiring HIV. PrEP decreases the risk of HIV infection about 99% for sex and at least 74% for sharing injection drug equipment.
Did you know?
About 1.1 million people are at risk of HIV infection in the United States, and roughly 200,000 of them use Truvada to prevent infection.
Out of about 1.1 million people at risk for HIV in the United States, approximately 200,000 use Truvada for PrEP. Truvada was the only drug approved for PrEP in the United States until 2019, when the FDA also approved Gilead's newer drug Descovy for PrEP.
What Does Truvada Do?
Truvada prevents the HIV virus from multiplying. The drug interferes with replication of the virus within the cell, thus lowering the amount of HIV in a patient and the number of healthy immune cells in the body. It does not cure HIV or prevent other sexually transmitted diseases.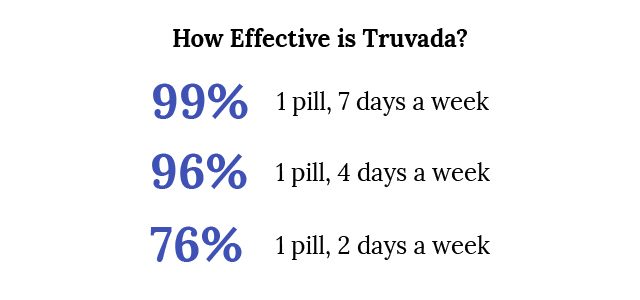 The HIV medication is most effective when taken every day and reduces HIV infection risk from sex up to 99%. A key Truvada study called the iPrEx trial found that people who only took two doses a week went down from 99% risk reduction to 76%. People who took it four times a week had a risk reduction of 96%.
Before a health care provider will prescribe the drug, they will typically test for HIV and hepatitis B infections. They will also usually test the patient's kidney and liver function.
Side Effects and Safety Information
Most patients tolerate Truvada well and don't report side effects. But in clinical trials, the most common Truvada side effects in patients who take it for PrEP are headache, abdominal pain and weight loss. For most people, these mild to moderate side effects only lasted for a few weeks after taking the HIV medication.
HIV-infected people using Truvada to treat HIV suffered more side effects than those who took it for PrEP.
Side effects reported in clinical trials include:
Abdominal pain
Abnormal dreams
Depression
Diarrhea
Dizziness
Fatigue
Headache
Insomnia
Nausea
Rash
Weight loss
On rare occasions, serious side effects can occur. These include kidney problems, lactic acidosis, decreases in bone mineral density and immune reconstitution syndrome — a condition that causes serious infections in people taking antiretroviral drugs.
Truvada has a black box warning for severe acute exacerbation of hepatitis B virus, or HBV, in patients who stop taking Truvada. Health providers should monitor patients with HBV who stop taking the drug.
Some people who suffered kidney damage and bone problems filed Truvada lawsuits against Gilead. The lawsuits claim the drug company failed to adequately warn them. They also say the drug maker purposely delayed the release of Descovy, a drug that is less harmful to the kidneys and bones.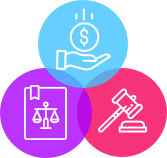 Did you suffer from kidney damage or bone injury after taking Truvada?
Get your free case review today.
How Do I Pay for PrEP?
Under the Affordable Care Act, also known as Obamacare, private insurers are required to cover preventative care if the U.S. Preventative Services Task Force gives a medication an "A" or "B" rating. In 2019, the task force gave PrEP an "A" rating. This means people with private insurance can get Truvada at no cost.
Gilead Advancing Access Program
Gilead provides the Gilead Advancing Access program for people with private insurance or no insurance. The program helps people afford their HIV medication.
For people with commercial insurance, the program provides a coupon card that covers up to $7,200 in co-pays per year for Truvada for PrEP. For some people, this means they will pay as little as $0 for PrEP.
People without insurance may be able to get Truvada at no cost if they qualify for the Medication Assistance Program. If they do not qualify, Gilead Advancing Access can help find alternative coverage options.
People with government insurance including Medicare, Tricare or VA are not eligible for the assistance program, but Gilead may still be able to help them find financial support for their medication.
Gilead Donates PrEP Medication to CDC
On May 9, 2019, Gilead announced it would donate up to 2.4 million bottles of Truvada each year to the Centers for Disease Control and Prevention.
The donation is intended for uninsured Americans at risk of HIV. Gilead plans to continue donating until 2030. It also plans to eventually transition its donation to Descovy for PrEP.
In addition to applying for Gilead's Medication Assistance Program, uninsured people can check with local LGBTQ+ centers or non-profits to get access to free or low-cost PrEP medication.
Truvada Dosage
Adults take one pill for PrEP once a day with or without food, according to the drug's medication insert. It takes at least seven days after starting PrEP for the drug to reach maximum effectiveness. People should make sure they practice safe sex and use condoms because Truvada alone may not prevent HIV infection.
Take the pill each day and don't skip doses. Skipping doses lowers Truvada's effectiveness and exposes people to infection.
Dose for PrEP
Adults weighing at least 77 pounds take one Truvada pill a day at the recommended dose of 200mg/300mg for PrEP.
Truvada comes in pills that contain a combination of emtricitabine and tenofovir disoproxil fumarate in doses from 100 mg/150 mg to 200mg/300mg.
Adults using Truvada for PrEP or to treat HIV in combination with other antiretrovirals typically take the highest strength pill, 200mg/300mg.
Pediatric patients take dosages adjusted for their weight. People with kidney problems may not be able to take Truvada or may take a lower dose.
Drug Interactions
Some drugs and substances can interact with Truvada. These interactions can cause additional side effects or prevent drugs from working effectively.
Drugs and Substances That Interact with Truvada
Didanosine.

Increased dianosine concentrations may cause symptoms of didanosine toxicity such as pancreatitis or neuropathy.

Drugs That Affect Renal Function.

Drugs that reduce kidney function in combination with Truvada can increase levels of the drug in the blood. Examples include: cidofovir, acyclovir, valacyclovir, ganciclovir, valganciclovir, gentamicin, and NSAIDs.

Hepatitis C Antiviral Agents.

Hepatitis C drugs such as Epclusa and Harvoni increase concentrations of Truvada and may cause more adverse reactions.

HIV-1 Protease Inhibitors.

Drugs such as atazanavir and ritonavir, darunavir and ritonavir, or lopinavir/ritonavir may be less effective, but they may increase levels of Truvada. This can cause toxicity.
This isn't a complete list of all drug interactions. People should tell their health care providers about all medications, vitamins and herbal supplements they take.
Descovy vs Truvada
Descovy is the only other drug approved for PrEP in the United States. It works similarly to Truvada and contains the same active ingredient emtricitabine. But the second ingredient in Descovy is tenofovir alafenamide instead of tenofovir disoproxil fumarate.
In studies, Descovy worked as well as Truvada at preventing HIV infection in men who have sex with men and transgender women. Gilead did not test the drug for PrEP in cisgender women, so the FDA did not approve it for these patients. The FDA approved Truvada for PrEP in all people at risk of HIV infection.
In clinical trials, researchers found Descovy was less harmful to bones and kidneys than Truvada.
Please seek the advice of a qualified professional before making decisions about your health or finances.
Last Modified: May 30, 2023
Share This Page
14 Cited Research Articles
Consumernotice.org adheres to the highest ethical standards for content production and references only credible sources of information, including government reports, interviews with experts, highly regarded nonprofit organizations, peer-reviewed journals, court records and academic organizations. You can learn more about our dedication to relevance, accuracy and transparency by reading our editorial policy.