Apotex Eye Drops
Apotex eye drops can treat various eye conditions, such as glaucoma, ocular hypertension, allergic conjunctivitis, bacterial eye infections and ulcers of the cornea. On March 1, 2023, Apotex voluntarily recalled six lots of Brimonidine Tartrate Ophthalmic Solution because of cracked caps.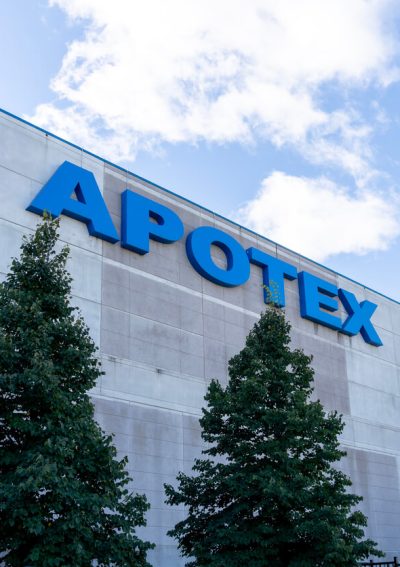 What Are Apotex Eye Drops?
Apotex Inc., a global pharmaceutical company, produces several types of eye drops that each include specific ingredients for treating a variety of eye conditions. The company designed these ophthalmic solutions to be sterile medications safe for topical use in the eye.
Ophthalmic solutions available from Apotex include:
Brimonidine Tartrate: A medication that activates specific receptors (alpha-adrenergic receptors) in the eye to help prevent damage to the optic nerve and preserve vision
Ofloxacin: A type of quinolone antibiotic that kills the bacterial cells that cause infection
Olopatadine:A nonprescription medication effective on common allergens, including animal hair or dander, pollen, grass and ragweed
The U.S. Food and Drug Administration has said it will change eye drops and other ophthalmic medications regulated as drugs to drug-device combinations. Moving forward, such drugs and devices will have to comply with new requirements.
Use of Apotex Eye Drops
Apotex Inc. eye drops can help maintain overall eye health and function. The company's ophthalmic solutions are formulated to manage a variety of symptoms related to eye pressure, infections or allergic reactions.
Allergic Conjunctivitis: Olopatadine can treat inflammation of the eye from an allergic reaction.
Bacterial Infections: Ofloxacin can treat bacterial infections of the eye, including pink eye, conjunctivitis and ulcers of the cornea.
Eye Pressure: Brimonidine tartrate can reduce pressure in the eyes for people with open-angle glaucoma or ocular hypertension.
Olopatadine is a type of mast cell stabilizer that prevents the release of histamines. It can also help suppress a type of white blood cell that causes inflammation and tissue damage. Ofloxacin doesn't treat viral or fungal infections of the eyes but can kill bacteria such as types of Staphylococcus and harmful Enterobacter cloacae.
Brimonidine helps maintain a balance of fluid pressure inside the eye. An imbalance can lead to adverse outcomes including glaucoma, an inflammation of the eye's middle layer (uveitis) and choroidal detachment (when the layer of blood vessels beneath the retina separates from the outer layer of the eye). This ophthalmic solution reduces the production of fluid inside the eye and increases drainage.
What Is the Correct Dosage for Apotex Eye Drops?
The dosage of Apotex eye drops depends on the condition needing treatment and the medication in use. Don't wear contact lenses while applying these eye drops.
Dosages for Apotex Ophthalmic Solutions:
Brimonidine Tartrate: Apply one drop in the affected eyes three times daily, approximately eight hours apart.
Ofloxacin for Bacterial Corneal Ulcers: Apply one drop in the affected eye every 30 minutes during the day and one drop four-to-six hours after you go to bed, for two days. Step down to one drop every hour during the day for seven more days.
Ofloxacin for Conjunctivitis: Apply one drop in the affected eye every two-to-four hours during the day for two days. Step down to one drop in each eye four times a day for up to five more days.
Olopatadine Ophthalmic Solution: For the 0.1% solution, use one drop in each affected eye twice per day at an interval of six-to-eight hours. For the 0.2%/0.7% solution, use one drop in each affected eye once a day.
Be sure to follow specific instructions from your doctor, particularly when administering these medications to children. Tell your doctor about any other medications you're taking. Some drugs may interact with Apotex eye drops. These include beta-blockers, high blood pressure medications, blood thinners, antidepressants and digoxin.
Apotex Eye Drop Side Effects
The most common side effects of Apotex eye drops are eye discomfort. These can include dry eyes, eye redness or watery eyes.
Side effects of Brimonidine Tartrate Ophthalmic Solution can include:
Cough
Difficulty falling asleep or staying asleep
Drowsiness
Dry eyes
Dry mouth
Eye itching
Eye pain
Eye redness
Flu-like symptoms
Headache
Heartburn
Pain or pressure in the face
Red or swollen eyelids
Runny nose and other cold symptoms
Sensitivity to light
Sore throat
Watery eyes
Less common but serious side effects of Ofloxacin Ophthalmic Solution have also been reported. Serious side effects may include:
Difficulty breathing or swallowing
Hives
Persistent eye itching
Skin rash
Swelling of the eyes, face and extremities
Vision changes
If you experience a serious side effect, you or your doctor can send a report to the FDA's MedWatch Adverse Event Reporting program or via phone at 1-800-332-1088.
FDA Apotex Eye Drop Safety Warning
Apotex Inc. initiated a voluntary recall for consumers for six lots of Brimonidine Tartrate Ophthalmic Solution, 0.15%, on March 1, 2023. The Apotex eye drop recall was initiated because cracks developed in some bottles, which may have impacted sterility.
The Apotex recall is separate from other voluntary recalls of eye drops such as Global Pharma Healthcare, which voluntarily recalled its Artificial Tears Lubricant Eye Drops. EzriCare distributed the eye drops that were linked to three deaths as a result of contamination from antibiotic-resistant bacteria.
Pharmedica also recently recalled two lots of its Purely Soothing 15% MSM drops because of a risk of eye infections. There had been no reports of illness.
Please seek the advice of a qualified professional before making decisions about your health or finances.
Last Modified: October 4, 2023
Share This Page
17 Cited Research Articles
Consumernotice.org adheres to the highest ethical standards for content production and references only credible sources of information, including government reports, interviews with experts, highly regarded nonprofit organizations, peer-reviewed journals, court records and academic organizations. You can learn more about our dedication to relevance, accuracy and transparency by reading our editorial policy.