3M Combat Arms Earplugs
Aearo Technologies Inc. and 3M Company supplied the United States military with dual-ended Combat Arms earplugs from 2003 to 2015 to protect soldiers' hearing while still allowing them to hear commands and fellow soldiers on the battlefield. But design defects may have caused hearing damage in unsuspecting military personnel.
The United States military used 3M's dual-ended Combat Arms earplugs to prevent hearing loss and tinnitus in servicemen and servicewomen from 2003 to 2015. These earplugs were standard issue in certain branches of the military, especially for soldiers deployed to Afghanistan and Iraq in the 2000s.
More than 28 million Americans suffer from hearing loss, but military personnel are at increased risk because of exposure to loud noises during training and on the battlefield.
Did you know?
More than 1.16 million veterans received disability compensation for hearing loss in 2017, and about 1.79 million veterans received compensation for tinnitus.
The Hearing Health Foundation estimates that more than 1.16 million veterans received disability compensation for hearing loss in 2017, and about 1.79 million veterans received compensation for tinnitus.
Aearo Technologies Inc. created the earplugs and obtained a military contract as an exclusive supplier of selective attenuation earplugs from 2003 to 2012. 3M bought the company in 2008 and took over the contract.
On July 26, 2018, the company agreed to pay $9.1 million to resolve allegations that it knowingly supplied defective earplugs to the military, according to a Department of Justice press release.
Now, hundreds of veterans have filed 3M Combat Arms earplug lawsuits over hearing loss and tinnitus side effects.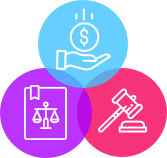 Suffering from hearing loss or tinnitus after using 3M combat earplugs?
Get your free case review today.
How Do 3M's Dual-Ended Earplugs Work?
Like most earplugs, Combat Arms earplugs fit into the ear and limit exposure to harmful levels of noise. But traditional earplugs may also make it difficult for soldiers to hear commands or approaching enemies.
Aearo/3M specially designed these dual-ended Combat Arms earplugs to provide two options for sound reduction depending on which end a soldier places in the ear. This type of plug is called a nonlinear, selective attenuation earplug.
The two ends of the earplug are distinguished by two different colors: olive and yellow.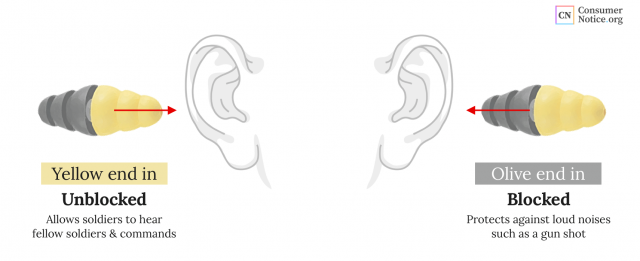 When a solider places the olive-colored end in their ear, it is in the "closed" or "blocked" position. This position blocks all noise like a traditional earplug would. The yellow end is the "open" or "unblocked" position. This end allows soldiers to hear fellow soldiers, commands and approaching enemy combatants.
Noise Reduction Rating
A Noise Reduction Rating, or NRR, measures the effectiveness of earplugs or other type of hearing protection. Decibels measure levels of noise.
A normal conversation is about 60 decibels. Noise above 120 decibels can cause instant hearing damage, according to the Centers for Disease Control and Prevention. The average gunshot clocks in at about 140 decibels.
Aearo told the military the olive end of the dual-ended Combat Arms earplugs had an NRR of 22 decibels, and the yellow end had a 0 NRR, according to information from a 2016 whistleblower lawsuit filed by Moldex-Metric Inc.
To calculate the amount of decibel reduction provided by an earplug, take the NRR, subtract seven and divide by two. Subtract that number from the total decibel number to determine your new level of noise exposure.
Calculating Level of Hearing Protection
Say a soldier wearing an earplug with an NRR of 22 is exposed to gunfire with a standard decibel rating of 140 decibels.
To determine the level of hearing protection, you would use the following equation:
22 – 7 = 15
15 ÷ 2 = 7.5
140 – 7.5 = 132.5
This means if a solider was exposed to 140 decibels from firing a weapon while wearing an earplug with an NRR of 22, the new noise exposure would be 132.5 decibels.
Wearing double hearing protection, such as earplugs and an earmuff, would increase NRR. But few soldiers do this.
"Military regulations require double hearing protection for some exposures," Bruce E. Amrein, a guest researcher at the U.S. Army Research Lab, wrote in The Synergist. "Unfortunately, double hearing protection is rarely worn because it significantly isolates the wearer from his environment and its use requires the audio level of communications systems to be increased, thereby partially negating its benefit."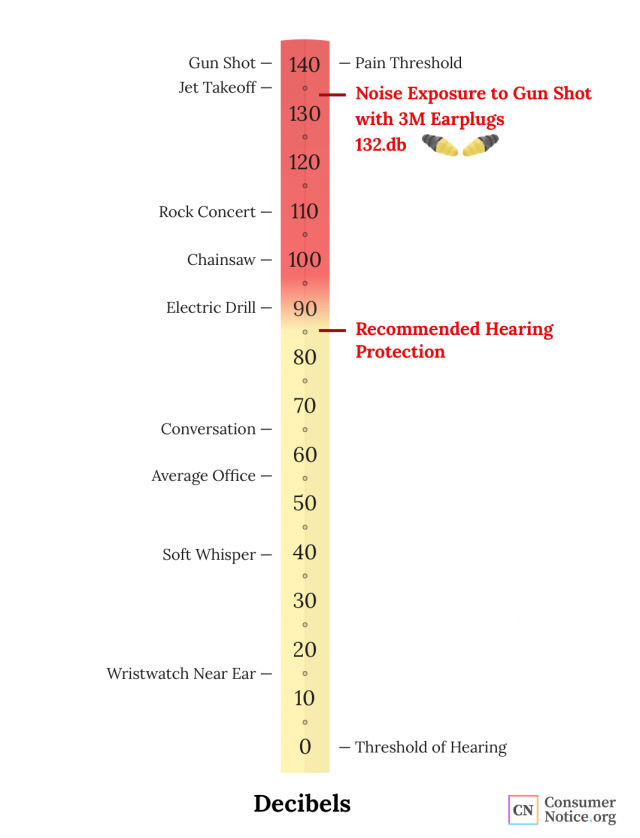 Alleged Product Defects
While Aearo/3M claimed its product had an NRR of 22 for the olive end and 0 for the yellow end, the Moldex lawsuit claimed that product defects led to lower NRRs. Tests run by Aearo suggested the true NRR of the olive end was 10.9, while the NNR of the yellow end was -2.
A -2 NRR would amplify sound, instead of keeping it out.
The earplugs only achieved 22 NRR when they fit perfectly into the ear canal, but defects made the earplugs loose.
"Because the stem of the dual-ended earplug is too short, it is difficult to insert the plug deeply into some wearer's ear canals and obtain a proper fit," the lawsuit said.
Specifically, "the basal edge of the third flange of the noninserted end of the earplug is prone to press against some wearers' ear canals and fold back to its original shape, thereby loosening the seal."
Soldiers thought they were protected from dangerous levels of noise, but they were actually at risk for hearing loss and tinnitus.
3M resolved the allegations by paying a $9.1 million settlement, though it did not admit fault.
Who Used Combat Arms Earplugs?
Aearo/3M held an exclusive military contract for more than 10 years. They supplied ear protection to millions of soldiers in the Army, Air Force, Navy and Marines.
Moldex began selling its BattlePlugs in 2012 after winning the military contract, but 3M continued to produce its dual-ended Combat Arms earplugs until 2015.
Soldiers deployed in Afghanistan as part of Operation Enduring Freedom were among the first to use the dual-ended Combat Arms earplugs. At first, soldiers didn't use the devices regularly and individual army units found them too expensive, D. Scott McIlwain and fellow researchers wrote in American Journal of Public Health.
Did you know?
By 2004, the military issued dual-ended Combat Arms earplugs to all deploying soldiers.
But hearing protection became more important after commanders realized it affected their units' performance. By 2004, the military issued dual-ended Combat Arms earplugs to all deploying soldiers. 3M supplied several military bases across the country.
The U.S. Marine Corps had a high opinion of the earplugs. It ordered over 20,000 pairs in 2003 and the product was temporarily out of stock, according to McIlwain and colleagues.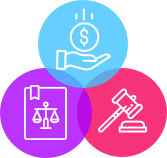 Suffering serious complications from using 3M Combat Arms earplugs?
Find out if you qualify for compensation.
Hearing Damage and PTSD
Military personnel are often exposed to noise 24 hours a day. Many are exposed to noise levels far exceeding safe levels.
For example, noise from weapons systems, such as handguns, rifles, rockets and howitzers, can range in intensity from 157 dBP (peak unweighted decibels) for an M16 rifle to 183 dBP for a howitzer, according to Amrein.
Constant exposure at these levels without proper hearing protection can damage hearing and compound the effects of post-traumatic stress disorder.
"PTSD coupled with [hearing impairment and noise-induced hearing injury] can have a compounded impact on [quality of life] among the military population compared to the effects on the civilian population," researcher Hasanat Alamgir and colleagues wrote in Military Medical Research.
Because hearing loss can sometimes have an isolating effect and tinnitus can be stressful, both can aggravate PTSD symptoms.
Seventy-one percent of soldiers returning from Afghanistan or Iraq reported loud noise exposure, and 15% reported tinnitus, or ringing in the ears, researcher Timothy S. Wells and colleagues wrote in Noise & Health.
These hearing disorders affect mental health. Veterans with tinnitus can develop anxiety and depression.
According to a 2015 study by J. Hu and colleagues in International Journal of Otolaryngology, 79.1% of 91 veterans with tinnitus had anxiety, 59.3% had depression and 58.2% had both conditions.
"Service members are at heightened risk for PTSD," according to the Department of Defense Hearing Center of Excellence. "Because hearing loss can sometimes have an isolating effect and tinnitus can be stressful, both can aggravate PTSD symptoms, such as depression, anxiety, obsession, and sleep disturbances."
Please seek the advice of a qualified professional before making decisions about your health or finances.
Last Modified: September 6, 2022
Share This Page
18 Cited Research Articles
Consumernotice.org adheres to the highest ethical standards for content production and references only credible sources of information, including government reports, interviews with experts, highly regarded nonprofit organizations, peer-reviewed journals, court records and academic organizations. You can learn more about our dedication to relevance, accuracy and transparency by reading our editorial policy.