Knee Replacement
Knee replacement (also called knee arthroplasty) is a type of surgery that replaces all or part of the knee with a man-made implant. It is intended for people with severe knee damage from injury or advanced arthritis.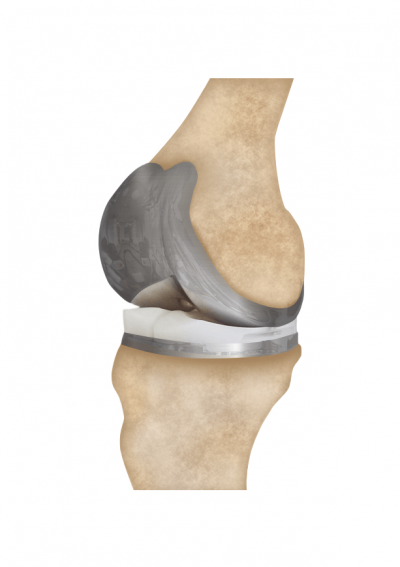 The type of knee arthroplasty a person receives depends on the extent of the damage to the joint. Total knee arthroplasty (TKA) replaces the entire joint, both bone and cartilage, with a metal and plastic or ceramic implant. A partial knee arthroplasty (PKA) involves replacing only the damaged parts of the natural joint.
Knee arthroplasty is one of the most frequently performed joint replacements in the United States, and the number of surgeries has grown rapidly over the years. Surgeons performed more than 615,000 procedures in 2008, which is more than double the number from nine years earlier. And the American Academy of Orthopaedic Surgeons expects the number to top 3.5 million a year by 2030.
Did you know?
More than 90 percent of people who have total knee replacement surgery experience reduced knee pain. But the procedure will not restore knees to the way they were before arthritis.
Part of the reason for the rising numbers may be related to younger people opting for the procedure. Most people who receive a new knee are between the ages of 50 and 80. But the average age has been dropping. A study presented to the American Academy of Orthopaedic Surgeons found the average age for total knee replacements fell from 68 in 2000 to 65.9 in 2014.
The surgery is not for everyone with knee pain. It is usually a last resort for people with serious damage to the joint. Surgeons base the need for a replacement on the patient's level of pain and disability.
This medical device can improve mobility and relieve pain. But it will not match the capabilities of a natural knee before it was damaged.
People with artificial knees usually have to give up running, jogging and other high-impact sports for the rest of their lives. But they may still be able to bike, swim or take short hikes.
The procedure also comes with the risk of serious complications, including infection, and a significant possibility of long-term pain. Some health professionals have even begun questioning whether everyone who has received knee replacements actually needed them.
Types of Implants
About 9 in 10 implants last 15 years after patients first receive them. But how long the devices last depends on the patients' general health, weight and activity level. Choosing the right implant depends on the extent of damage to the knee.
Metal knee components are made of titanium or cobalt-chromium alloys. The plastic parts are made from polyethylene, a light and flexible synthetic. All of the materials are lightweight and durable. A total knee implant weighs only about a pound.
The artificial joints are held in place in one of three ways based on their design:
Surgeons may attach the devices to shin and thigh bones with cement
Surgeons may use "cementless" implants with specially designed components that encourage bone growth around and into parts of the device
Surgeons may use a hybrid of both cemented and cementless designs
The three basic designs for total knee implants are categorized by how they either use or replace the anterior cruciate ligament (ACL) and the posterior cruciate ligament (PCL), which are the two ligaments that hold a natural knee together.
Posterior-Stabilized

Surgeons remove the two ligaments, and parts of the device substitute for the PCL. This is one of the most common designs, according to the American Academy of Orthopaedic Surgeons.

Cruciate-Retaining

Surgeons remove the ACL but keep the PCL in place. This design may be favored if the patient's PCL is still healthy.

Bicruciate-Retaining

This design allows the patient to keep both ligaments intact. The rationale is that if the ligaments remain healthy, the implant can feel and work more like a natural knee.
Design or manufacturing defects can shorten an implant's effective life expectancy by causing it to loosen or fail in some other way. If a knee implant wears out or otherwise fails, patients may need revision surgery to repair or replace the implant.
Manufacturers and Brands
Though more than a dozen companies market knee implants in the United States, four large manufacturers dominate the market: Zimmer Biomet, DePuy Synthes, Smith & Nephew and Stryker.
Major Knee Implant Manufacturers & Brands
Stryker
Models
Mako Systems
Restoris MCK
Triathlon
Triathlon Tritanium
Type
Robotic surgery systems coupled with total and partial replacements, Partial replacement
Partial replacement
Total, partial, revision
Total replacement
DePuy Synthes
Models
Attune
LCS Complete
Sigma
S-ROM Noiles
Type
Total and revision
Total and revision
Total and partial
Total and revision
Zimmer Biomet
Models
Gender Solutions
NexGen
Oxford
Persona
Vanguard
Type
Partial – gender specific
Total and revision
Partial replacement
Total and partial
Total and revision
Smith & Nephew
Models
Anthem
Genesis II
Journey II
Legion
Type
Total replacement
Total replacement
Total and partial
Total and revision
These companies also represent the top four orthopedic device firms based on 2017 revenue, according to Orthopedic Design and Technology (ODT), a trade magazine for the orthopedic industry.
Implant Manufacturer Revenue, FY 2017
| Ranking | Company | Revenue |
| --- | --- | --- |
| 1 | Stryker | $12.4 billion |
| 2 | DePuy Synthes | $9.3 billion |
| 3 | Zimmer Biomet | $7.8 billion |
| 4 | Smith & Nephew | $4.8 billion |
Source: Orthopedic Design & Technology
Wright Medical was also one of the largest knee implant manufacturers until 2013 when it sold its knee and hip implant division to China-based MicroPort Scientific. While the company no longer manufactures knee implants, thousands of people still have Wright knees.
Recalls
The four largest knee implant manufacturers and Wright Medical issued nearly 800 recalls between 2003 and 2019. A landmark 2013 Consumers Union report identified 709 knee implant device or component recalls. A 2019 search of the U.S. Food and Drug Administration's database identified at least 80 additional recalls issued since Consumers Union published its report.
Patient Resource
You can search the FDA's Medical Device Recalls database to see if your knee implant was recalled.
Device recalls are almost always issued by manufacturers and not the FDA. Manufacturers may recall knee implants for a wide range of reasons. But many implants associated with patients' complaints or complications may never be recalled.
Main Reasons for Knee Implant Recalls
Faulty Design: Implants or tools lead to complications
Improper fit: The fit causes damage to the bone or the device
Loosening: The implant comes loose or never attaches to the bone, forcing revision surgery
Packaging errors: Labels or instructions contain errors or the device's sterility is compromised
Premature wear: The implant fails earlier than expected
Wrong components: The left and right knee parts become mixed together or the wrong sizes were included
The number of devices affected by a recall can vary from a single unit to several thousand implants. And many recalls affect surgical tools doctors use to implant the devices rather than the artificial joints themselves. Surgical tools may have problems that could delay surgeries or leave broken parts in patients' legs.
Largest Knee Recalls Since 2015
January 2016

Device: Zimmer NexGen Complete Knee Solution Cruciate Retaining (Cr)Flex Femoral Components
Number Recall: 42,064
Reason: Packaging stuck to the implant

February 2017

Device: Zimmer Biomet polyethylene joint parts
Number of Recall: 28,253
Reason: High endotoxin levels identified in polyethylene components

March 2015

Device: DePuy Orthopaedics LCS Complete RPS Knee System
Number Recall: 19,059
Reason: Higher revision rates reported in Australia

January 2017

Device: Zimmer Vanguard Total Knee System
Number Recall: 15,000
Reason: Some components were labeled as either the incorrect size and/or side (left/right)

November 2017

Device: Various Zimmer Biomet knee implants packaged in LDPE bags
Number Recall: 13,227
Reason: Packaging stuck to the implant

June 2016

Device: Stryker Orthopaedics Modular Handle Triathlon Instruments
Number Recall: 12,469
Reason: Surgical instruments could come apart during surgery

January 2015

Device: Zimmer Persona Trabecular Metal Tibial Plate / Persona TM Tibia
Number Recall: 11,658
Reason: Increase in complaints of radiolucent lines and loosening

May 2016

Device: Zimmer Persona Trabecular Metal Tibia Plate Instruments and Brackets
Number Recall: 10,256
Reason: Incidents of radiolucent lines and loosening in implant

September 2015

Device: DePuy Specialist 2 Intramedullary Rod
Number Recall: 7,488
Reason: Surgical tool could fracture and leave parts in patient

June 2015

Device: DePuy Attune Knee Tibial Articulation Surface instruments
Number Recall: 3,474
Reason: Parts of surgical instrument could be left in patient

December 2017

Device: DePuy SIGMA HP PFJ Cemented Trochlear implants
Number Recall: 2,110
Reason: High rate of revision surgery
Complications
The Lancet, a peer-reviewed medical journal, cites multiple studies that suggest as many as 1 in 5 people who have a knee replacement will experience some type of complication. Complications can occur during or right after surgery, or they may take months or years to develop.
Most short term complications are related to surgery, while long-term problems tend to be more likely related to implants. Infection, for example, can be both a short-term and long-term complication.
Report a problem
You can report complications from your knee replacement to the FDA's MedWatch program.
People may also experience chronic pain either starting right after surgery or months later. Doctors and researchers have often overlooked chronic pain as a serious complication. But recent studies are changing that view by increasingly recognizing long-term pain as perhaps the most common complication of knee replacement and one that seriously affects people's quality of life.
Short-Term Complications
The most serious complications immediately after surgery include infection and deep vein thrombosis (DVT).
Contaminants can get into the wound during surgery and cause infection. These germs may hitch a ride on the implant itself or fall into the surgical wound during the operation.
Infection can show up right after surgery, or it may not be detected for weeks or even years. Doctors can sometimes treat it with antibiotics or other procedures. In the worst cases, a surgeon may have to reopen the wound, remove the implant and the infected tissue, and insert a new knee.
Infection is rare, however. It only occurs in as many as 2.5 percent of cases. But DVT is more common.
A 2018 Medscape article by Dr. Mervyn J. Cross reported as many as 50 percent to 70 percent of total knee arthroplasty patients may develop DVT after surgery without showing any symptoms.
DVT is a blood clot that forms in a deep vein, usually in the leg. The blood clot can come loose and travel to the lungs where it may block an artery and become life-threatening.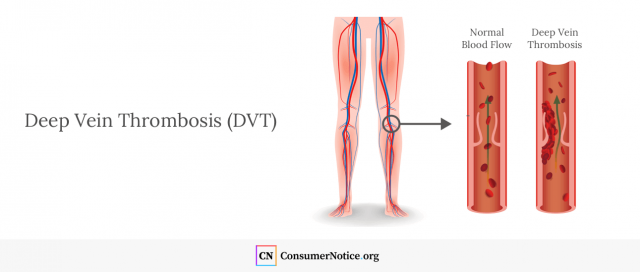 Long-Term Complications
The most serious long-term complications include wear on the prosthesis, loosening, infection and chronic pain. Periprosthetic fractures, or bone fractures around the implant, are another major complication but are far less common. Another rare complication is arthrofibrosis, which is excessive scarring that limits joint motion. These complications almost always require revision surgery to replace the implant.
It has been established that [polyethylene] wear in knee arthroplasty causes particle induced osteolysis which is the main reason for late failure and requires revision surgery.
A 2015 study in the Journal of Clinical Orthopaedics and Trauma cited wear on plastic parts in knee implants as a cause of osteolysis, which is the loss of bone tissue. This can lead to loosening, fractures or other problems.
"It has been established that [polyethylene] wear in knee arthroplasty causes particle induced osteolysis which is the main reason for late failure and requires revision surgery," the authors wrote.
Infection is another leading cause of knee implant failure years after surgery. A 2017 study in the journal Clinical Orthopaedics and Related Research looked at more than 11,000 total knee arthroplasty procedures. Researchers reviewed 15 years of follow ups with the patients.
They found infection was the cause of most failed knee arthroplasties in those first 15 years after surgery. Half of the infection cases that required revision surgery happened more than two years after the initial procedure.
The researchers also identified aseptic loosening as the second most common cause of implant failure. This is loosening that is not the result of infection. Half of those failures happened within eight years of the original replacement.
Chronic Pain
Studies suggest a significant number of patients will experience chronic pain at some point after a knee replacement. Chronic pain is usually described as pain that lasts more than a year.
Most people report less pain and greater mobility following knee replacement. But studies have found 1 in 5 patients reported chronic pain at some point after the procedure.
Chronic pain after TKA can affect all dimensions of health-related quality of life, and is associated with functional limitations, pain-related distress, depression, poorer general health and social isolation.
A 2018 study in the journal EFORT Open Reviews found about 20 percent of total knee arthroplasty patients experienced chronic pain. Researchers said the complication can lead to other problems and severely hamper people's quality of life.
"Chronic pain after TKA can affect all dimensions of health-related quality of life, and is associated with functional limitations, pain-related distress, depression, poorer general health and social isolation," the authors wrote.
A 2012 review in The BMJ Open looked at 1,308 previous articles on total knee replacement and found as many as 34 percent of patients reported chronic pain after surgery. When they narrowed their search to the "best quality studies," they found about 20 percent of patients reported an "unfavorable pain outcome," which suggests worse pain than before the surgery.
Chronic pain can be a sign of problems with an artificial knee such as loosening or wear and tear on the device.
Alternatives
Knee arthroplasty may also not be the best choice for everyone with knee pain and loss of mobility.
A 2017 analysis in The BMJ found total knee arthroplasty, on average, did little to improve the quality of life for more than 7,400 American patients in two studies. Researchers found the most dissatisfaction came from people with milder cases of osteoarthritis. The authors suggested restricting replacements to patients with the most severe cases. Those people in their studies did report improvements.
A 2014 study in Arthritis & Rheumatology found knee replacements were not appropriate for a third of patients who received them. Researchers suggested symptoms were not severe enough to warrant the surgery.
Some alternatives may include exercising more, losing weight or using assistive devices such as canes or walkers. Others may require medical professionals.
Alternative Treatments
Medications or supplements

Over the counter anti-inflammatory pain relievers such as Aleve, Advil, Motrin or aspirin may reduce swelling and ease arthritis pain in knees for many people. Some people have also successfully treated knee arthritis with dietary supplements such as glucosamine or chondroitin sulfate. These are naturally occurring chemicals in the fluid around joints.

Injections

Corticosteroid injections can lessen pain, swelling and inflammation in arthritic knees. These can last for 24 weeks. Weekly injections of hyaluronic acid (HA) over three to five weeks may lubricate the joint and reduce pain and allow greater mobility. But they don't always work for people with osteoarthritis.

Arthrocentesis

Instead of injecting a fluid into the knee, this procedure uses a hollow needle to drain fluid from the knee. It can sometimes provide quick pain relief and rapidly reduce swelling. Doctors sometimes do it ahead of injections.

Physical therapy

Physical therapists can help patients with exercise and therapy that increase blood flow and build up muscle around knees. Added muscle strength can increase support around a damaged knee.

Alternative surgical procedures

Arthroscopic surgery may put off the need for a full knee replacement. It is minimally invasive surgery that can repair damage or remove damaged parts of the knee while leaving the joint largely intact. A surgeon may also suggest osteotomy, a surgical procedure that involves cutting and shaping the bones in the leg to shift weight off the knee.
Other alternatives include acupuncture and magnetic pulse therapy. Patients should keep their doctor informed of these treatments.
Pros & Cons
A 2018 study in Osteoarthritis and Cartilage found non-surgical techniques may not work as well as surgery for some patients. But they can work well enough for patients to decide against surgery.
Patients underwent surgery or alternative treatments, including over-the-counter pain relievers, diet and exercise. Those who had surgery had twice the improvement rate. But they also had four times as many complications.
Those who opted for the alternative treatments reported more pain and less mobility than the patients who chose surgery. But two-thirds of those who tried alternatives were satisfied enough with their improvement that they chose not to have a replacement.
Lawsuits
Thousands of people have filed knee replacement lawsuits after problems with their implants caused them to need revision surgery. Lawsuits blame different flaws in implant designs for their injuries.
Implant maker Sulzer Medica paid $1 billion to settle about 4,000 lawsuits over its hip and knee implants in 2002. It has been one of the largest litigations over faulty knees to date.
In 2011, a federal panel combined lawsuits over Zimmer's NexGen knees into a large, national multidistrict litigation that grew to include more than 1,740 lawsuits. In 2018, both sides told a judge they had reached a potential settlement that could possibly end the litigation, which has dwindled down to about 260 pending cases.
Meanwhile, several other knee implant makers face lawsuits from people who claim the devices hurt them. For example, a flurry of lawsuits in 2017 blamed the design of the DePuy Attune Knee for instability and loosening.
Patients say the device loosened from their shin bones. The FDA's MAUDE database of medical device complications shows more than 100 mentions of loosening reported in the last two months of 2018 alone. None of the lawsuits have gone to trial, and there have been no publicly announced settlements.
Lawsuits against B. Braun claim the company's Advanced Surface ceramic-coated implants loosened when cement failed to connect the implant to the bone. Still other lawsuits say defective screws caused Zimmer Biomet's Persona Knee to loosen in patients.
Please seek the advice of a qualified professional before making decisions about your health or finances.
Last Modified: October 27, 2022
Share This Page
34 Cited Research Articles
Consumernotice.org adheres to the highest ethical standards for content production and references only credible sources of information, including government reports, interviews with experts, highly regarded nonprofit organizations, peer-reviewed journals, court records and academic organizations. You can learn more about our dedication to relevance, accuracy and transparency by reading our editorial policy.