Fisher-Price Rock 'n Play Lawsuits
Fisher-Price Rock 'n Play lawsuits claim that the inclined sleepers were ill-conceived and contributed to the suffocation deaths of infants who slept in them. They also contend that the company knew of the product's flaws but marketed them to parents anyway.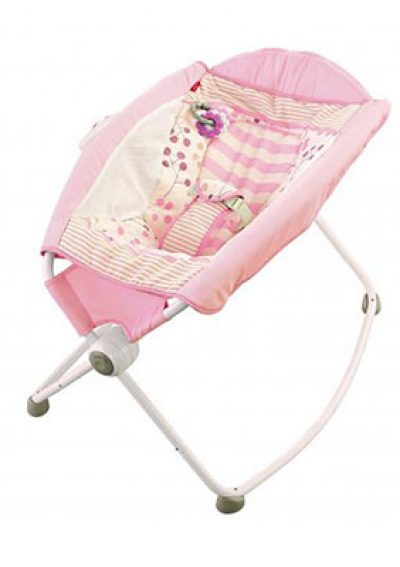 On Dec. 21, 2017, Keenan and Evan Overton placed their 5-month-old son, Ezra, down for a nap in his Rock 'n Play Sleeper while Keenan fell asleep on a nearby couch. But when the Virginia father awoke, he found his baby stiff and lifeless in a face down position. His resuscitation efforts were futile.
"He was already passed away," Keenan Overton told CNN in a 2019 interview shortly before Fisher-Price recalled the product.
In June 2019, the Overtons sued Fisher-Price and its parent company Mattel in the United States District Court for the Eastern District of Virginia. Their pending lawsuit alleges that the Rock 'n Play Sleeper was represented to the public as safe for "all-night sleep" when it wasn't.
The lawsuit, which is one of several legal actions filed over inclined sleeper deaths, alleges that the sleeper was "defective and dangerous, causing injury and death by asphyxia to babies who sat or slept in it" — and that Fisher-Price knew about the dangers of their product before bringing it to market but did so anyway.
President Biden signed a bill called the Safe Sleep For Babies Act of 2021 into law in May 2022. Under the new law, infant sleepers such as the Rock 'n Play and crib bumpers will be banned from the U.S. market.
Inclined Sleeper Recalls
Ezra Overton isn't the only baby who's suffocated to death in an inclined sleeper. Ongoing investigative reporting by Consumer Reports magazine has found that at least 50 infants have died in the hammock-like devices — many of which were recalled after Consumer Reports published its initial findings in spring 2019.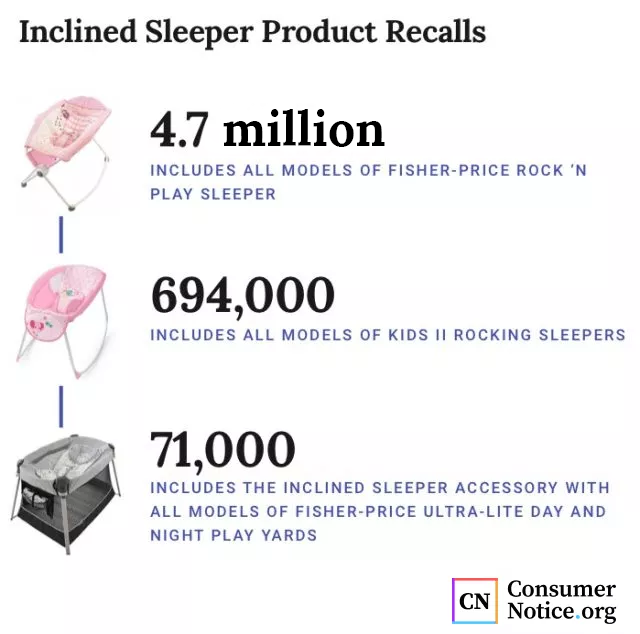 On April 12, 2019, Fisher-Price issued a recall of 4.7 million Fisher-Price Rock 'n Play Sleepers. The Consumer Product Safety Commission recall notice warned that infants could die after rolling from their backs to their stomachs or sides, like Ezra did. The recall came just days after Fisher-Price and the Consumer Product Safety Commission issued a warning that infants shouldn't be placed in the sleepers after they begin rolling over, which is usually around the age of 3 months.
On April 26, 2019, Kids II recalled nearly 700,000 rocking sleepers sold at Walmart, Target and other major retailers. The recall included three dozen models, which go by a variety of names. The products were recalled for the same issue of babies rolling from their backs to their stomachs and suffocating.
A couple of months later, Fisher-Price recalled an inclined sleeper accessory that came with its Ultra-Lite Day & Night Play Yards. The company recalled only the inclined sleeper accessory — not the entire product — and the move appeared to be a preventative measure. According to the recall notice, there were no reported incidents or injuries associated with it.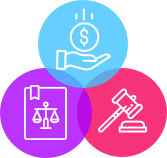 Did your infant get seriously injured or die while using a Fisher-Price Rock 'n Play Sleeper?
Get your free case review today.
Claims and Settlements
Some inclined sleeper lawsuits predated the recalls.
In 2015, two Texas parents sued Fisher-Price and a supplier called Imperial Manufactory after their 2-month-old daughter, Dayana Coronado Torres, asphyxiated while sleeping in the device.
The lawsuit, which was moved to the United States District Court for the Southern District of Texas, McAllen Division, was dismissed with prejudice in 2017 after the plaintiffs and defendants agreed to "compromise and resolve all matters at issue between them," according to a court filing. The terms of their settlement were not disclosed.
In 2016, the parents of a 7-week-old baby sued Fisher-Price after their baby was injured while napping in the Rock n' Play Sleeper their neighbors had given them.
According to the complaint, Courtney Goodrich and her mother took Courtney's newborn son to the school where she worked as a teacher so she could ready her classroom for the coming school year.
While she worked, they placed the 7-week-old baby, Asher, in his Rock 'n Play Newborn Sleeper for a nap. But when they checked on him a little while later, Asher's arms were ashen gray and the skin around his lips and eyes looked blue.
The baby's head was cocked over to the left "in what appeared to be a stuck position," and the baby appeared lifeless, according to the complaint, which was originally filed in the Superior Court of Fulton County, Georgia, and later transferred to the United States District Court for the Northern District of Georgia Atlanta Division.
Asher's panicked grandmother picked him up and screamed, "Baby!" in an attempt to rouse him. There was no response. Thinking he was dead, she clutched him close and screamed, "No!" at which point Asher jerked and began breathing again.
A pediatrician subsequently attributed the baby's life-threatening episode to "upper airway obstruction from his head being in a flexed position" because of the "ill design" of the Fisher-Price sleeper. The baby will require future monitoring for any potential developmental issues resulting from the lack of oxygen.
Pediatricians Advise Against Using Positioning Therapy to Treat Reflux in Babies
According the Washington Post, a federal judge dismissed the Goodrich case in 2018 because of a lack of evidence to support a product liability claim, but the case has provided compelling details about the development of the controversial product.
In a deposition during the case, Fisher-Price industrial designer Linda Chapman said she had dreamed up the device years earlier when her own newborn was suffering from reflux, the Post reported. Her pediatrician told her the best way to relieve her son's discomfort was to elevate his head while sleeping.
And that's one of the common reasons that parents turn to sleeper products: to soothe fussy, colicky infants. But most leading pediatric gastroenterologists don't recommend this practice, and some studies show that placing a sleeping baby in a semi-upright position, such as the position of a car seat or sleeper, can actually worsen reflux in babies.
Two leading societies of pediatric gastroenterologists issued joint recommendations in 2018 that concluded that it's uncertain whether position therapy, including head elevation, improves distress levels in colicky infants. The groups recommended not using positioning therapy to treat gastroesophageal reflux disease (GERD) in babies. Sleep safety, in fact, is one of the key elements of proper babyproofing and the prevention of Sudden Infant Death Syndrome, or SIDS.
Class Actions
Since the Consumer Reports exposé, several parents have filed class action lawsuits against Fisher-Price.
Samantha Drover-Mundy and Zachary Mundy of Delaware are the lead plaintiffs in a class action lawsuit filed in the United States District Court for the Western District of New York. The lawsuit describes the September 2018 death of their 3-month-old daughter identified as L.M., who died just a few minutes after being placed in the sleeper.
"L.M.'s death was a shattering event which would not have occurred if the Rock 'n Play's design was safe," the complaint states. "Nor did the recall come soon enough for dozens of other children who have died in the Rock 'n Play. Many more have been seriously injured."
The Drover-Mundy lawsuit alleges that Fisher-Price and Mattel knew or should have known their product was unsafe for babies and says the company disregarded recommendations from a leading association of pediatricians regarding the proper sleep position for babies. The organization says babies should only sleep on a flat and firm surface, free from bedding, bumpers and other items that could suffocate them.
L.M.'s death was a shattering event which would not have occurred if the Rock 'n Play's design was safe. Nor did the recall come soon enough for dozens of other children who have died in the Rock 'n Play.
Another class action filed by lead plaintiff Cassandra Mulvey in Nassau County, New York, claims that Fisher-Price engaged in "dangerously false and misleading" marketing by portraying the Rock n' Play Sleeper as safe for all-night or prolonged sleep.
The lawsuit alleges that positioning babies at a 30-degree incline can actually "increase the risk that the infant's head will slip into a dangerous position, tilt to constrict the windpipe and/or cause the infant's face to become pressed against the padded fabric in the sleeper and block airflow, which the infant may be unable to correct."
The Mulvey lawsuit also claims that the device increases the risk a baby will develop a flat head condition known as plagiocephaly or a twisted neck syndrome known as torticollis. It alleges that some infants have had to wear special helmets or receive physical therapy to correct the conditions.
In a statement issued in April 2019 after the recalls, Fisher-Price said it stands by the safety of its products. The company went on to say that it issued the sleeper recalls voluntarily and that the reported incidents resulted from consumers using the product improperly in a manner "contrary to the safety warnings and instructions."
Please seek the advice of a qualified professional before making decisions about your health or finances.
Last Modified: May 23, 2022
Share This Lawsuit page
24 Cited Research Articles
Consumernotice.org adheres to the highest ethical standards for content production and references only credible sources of information, including government reports, interviews with experts, highly regarded nonprofit organizations, peer-reviewed journals, court records and academic organizations. You can learn more about our dedication to relevance, accuracy and transparency by reading our editorial policy.