Slip and Fall Lawsuits
Slip and fall lawsuits are a common type of personal injury litigation. This is unsurprising because slip and fall accidents trigger more than 21% of visits to the emergency room, and many are due to negligence. Statutes of limitations for filing a claim vary from state to state.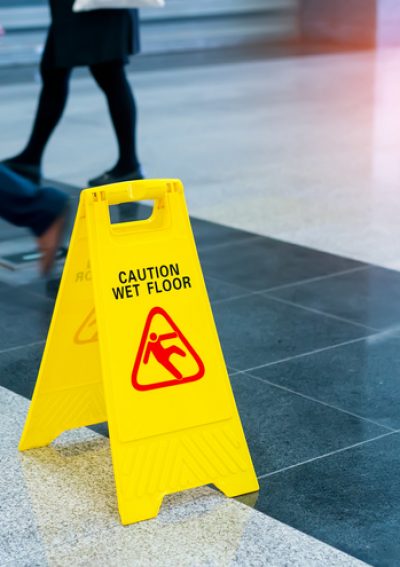 Why Do People File Slip and Fall Lawsuits?
People file slip and fall lawsuits to get compensation for injuries and damages due to an accident in which they fell. Accidental falls can cause various injuries, from minor bruises to severe fractures, head lacerations and concussions, spinal cord damage and even fatalities.
Each year, one in three people aged 65 and older experience a fall, and the incidence of falls increases with each subsequent decade of life. Falls account for more than 3 million hospital emergency room visits annually, according to the Centers for Disease Control and Prevention, and they're the most common cause of traumatic brain injury.
Besides needing money to cover medical expenses, people may seek compensation for pain and suffering, lost wages, rehabilitation costs and other damages from the accident. People also file slip and fall accident lawsuits to hold liable parties (property owners, occupiers or employees) accountable for negligence, inadequate warnings and premises liability, which requires locales to be safe for visitors.
Common Causes of Slips and Falls
The circumstances that lead to slips and falls are varied. While some falls are due to personal factors such as health or unsafe footwear, others are because of the environment or lack of workplace safety.
Common conditions of slips and falls include:
Cluttered or obstructed areas with physical obstacles such as cords, cables or equipment left in a walkway
Highly polished surfaces that remain slick when dry
Improper footwear that lacks proper traction
Inadequate warning signs or failure to communicate potential hazards
Lack of handrails or guardrails on stairs, ramps or elevated areas
Physical health or balance issues
Poor housekeeping practices, including improper storage of items or incomplete cleanup
Poor lighting
Sloped walking surfaces without skid or slip resistance
Uneven or damaged flooring
Wet or slippery surfaces
Preventing slips and falls means being proactive. Building owners and managers are responsible for maintaining and repairing walking surfaces, keeping walkways clear, improving lighting, displaying warning signs and encouraging appropriate footwear.
Who Is Liable for a Slip and Fall?
Multiple parties may be liable for a slip and fall accident. These can include property owners or renters, business operators, employers, contractors or maintenance companies and government entities.
Determining liability for a slip and fall accident depends on the circumstances of the fall and the laws in the municipality where the accident occurred. Some states follow contributory negligence principles. If the court finds an injured party partially responsible for their fall, the final ruling may reduce or deny compensation. In other states, comparative negligence rules may apply, where the courts determine compensation based on the degree of fault assigned to each party involved.
Regardless of who may be responsible, the person who fell must prove negligence. Negligence means a party failed to provide an expected level of "duty of care," which is the obligation to act with the same caution and reasonableness as any prudent person would under similar circumstances. Negligence can stem from taking improper actions or no action at all.
Consult a slip and fall injury lawyer for accurate advice about your legal rights in case of a slip and fall accident, including the time limits for filing a legal claim.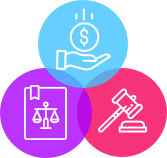 Did you suffer an injury after slipping & falling in a public, private or business setting?
Get your free case review today.
Time Limits for Filing a Slip and Fall Injury Lawsuit
Statutes of limitations vary by state but usually fall within two to four years. The time limit to file a slip and fall lawsuit in Florida is four years, while it's two or three years in New York. The clock starts ticking on the day of the accident.
If the accident took place on government property, a shorter time limit may apply. Failing to file a suit within the designated timeframe may cause you to lose your legal right to seek compensation.
Slip and Fall Lawsuit Settlement Amounts
Slip and fall lawsuit settlement amounts take into account medical bills, loss of income, cost of future medical bills, pain and suffering and even punitive damages.
Medical bills incurred because of a slip and fall accident are a key component in settlement calculations. If the accident creates long-term or permanent disabilities that hinder the person's ability to earn a living, the settlement amount is usually higher. More severe injuries, such as brain and spinal cord damage and permanent disabilities that affect someone's quality of life, also see higher settlement amounts.
If a court finds you partially at fault for an accident, comparative negligence laws may reduce compensation based on the degree of fault assigned to each involved party. Legal experts estimate the average slip and fall lawsuit settlement ranges from $10,000 to $50,000. However, no two cases are alike, and settlement amounts vary based on the specific circumstances and jurisdictions.
Can You File a Slip and Fall Lawsuit?
The person injured in a slip and fall accident must be the one to initiate any personal injury lawsuit, or in the case of death, a family member can file a wrongful death suit. The recommended course of action in either situation is to hire a legal professional.
To make your case, you must meet certain criteria and have proof of negligence showing that:
The accident caused injury, economic losses, emotional harm or wrongful death.
The injured party had a right to be on the property (trespassers may not be eligible to file a lawsuit).
The owner, occupier or employee of the establishment had a duty of care to maintain safe premises and prevent hazards.
The owner caused or knew of the conditions under which the accident took place.
Hazardous conditions caused the slip and fall accident.
The owner failed to inform the injured party of the hazardous conditions.
No two slip and fall cases are the same. Specific requirements and elements of proof depend on the jurisdiction and circumstances of the case. Contact a personal injury attorney experienced in personal injury or wrongful death cases to understand the eligibility requirements and gather evidence to support your claim.
Please seek the advice of a qualified professional before making decisions about your health or finances.
Last Modified: July 28, 2023
Share This Lawsuit page
9 Cited Research Articles
Consumernotice.org adheres to the highest ethical standards for content production and references only credible sources of information, including government reports, interviews with experts, highly regarded nonprofit organizations, peer-reviewed journals, court records and academic organizations. You can learn more about our dedication to relevance, accuracy and transparency by reading our editorial policy.