3M Combat Arms Earplug Lawsuits
Allegedly, 3M knowingly exposed U.S. soldiers to the risk of hearing loss and tinnitus with defective Combat Arms earplugs. The company agreed to pay $6 billion to settle hundreds of thousands of earplug lawsuits in August 2023.
Latest Updates in 3M Combat Arms Earplug Lawsuits
As of Aug. 15, 2023, there were 259,388 active3M Combat Arms Earplugslawsuits pending. There were 343,311 lawsuits originally filed.
Settlement talks had been slow going because of bankruptcy filings and arguments between 3M and plaintiffs about what constitutes a hearing injury. But in August 2023, 3M agreed to settle the earplug lawsuits for $6 billion.
August 2023:

On August 29, 3M announced that it reached a settlement with an estimated 250,000 plaintiffs in a $6 billion deal over defective combat earplugs manufactured by 3M.

July 2023:

Julian Mitchell of Barclays estimated it would take about $8 billion for 3M to settle its earplug lawsuits, according to Seattle Times.

June 2023:

Judge Jeffrey Graham dismissed 3M's bankruptcy filing.

May 2023:

Settlement negotiations continue. On the second day of negotiations, no settlement was reached but "progress was made, and negotiations continue," according to court filings.

May 2023:

MDL Judge Rodgers appointed Honorable David R. Herndon (ret.) and the Honorable Jeffrey J. Keyes (ret.) to serve as mediators. Special Master Randi Ellis is assisting with trying to reach a settlement in the MDL litigation.

January 2023:

So far, 3M has spent more than $450 million litigation earplug cases, according to Bloomberg reports.
The United States Judicial Panel on Multidistrict Litigation consolidated 3M earplug cases in MDL No. 2885 in 2019 in the Northern District of Florida. Despite the August 2023 settlement agreement, the MDL has not yet closed.
According to court documents, there are bellwether trials in Minnesota that aren't part of the MDL. They were scheduled for July 2023, September 2023, October 2023 and February 2024.
3M Whistleblower Lawsuit
Prior to the current MDL litigation, 3M Company faced a lawsuit filed in 2016. Known as the Moldex whistleblower lawsuit, it alleged that 3M and Aero Technologies knowingly sold defective dual-ended Combat Arms earplugs to the U.S. military.
The lawsuit noted that 3M and Aearo Technologies, the original creator of the earplugs, had an exclusive military contract. The earplugs were "standard issue in certain branches of the military during foreign conflicts from 2003 to 2015."
Key Moldex Whistleblower Facts
The suit resulted in a $9.1 million settlement.
Plaintiff Moldex-Metric Inc. is a competing hearing protection manufacturer.
Court documents claimed the earplugs weren't long enough to be properly inserted into soldiers' ears.
The earplugs could loosen, leaving soldiers without proper ear protection.
"The United States further alleged that 3M did not disclose this design defect to the military," the Department of Justice said in a press release. Shortly after the settlement was announced in July 2018, soldiers and veterans began filing hearing loss and tinnitus lawsuits against 3M.
Combat-Related Hearing Problems
Because the dual-ended Combat Arms earplugs were defective, unsuspecting military personnel were at risk of hearing damage, lawsuits say. The main injuries claimed in lawsuits are hearing loss and ringing in the ears, known as tinnitus.
Tinnitus and Hearing Loss Symptoms
Feeling as if ears are full when leaving a loud place
Finding it hard to understand what people are saying
Having a hard time hearing someone only three feet away
Hearing ringing or buzzing in the ears
Tinnitus and hearing loss affect a soldier's ability to do their job. Hearing damage can affect a soldier's quality of life and mental health.
Army Veteran Sarah Kay Carlson
Army veteran Sarah Kay Carlson is among those diagnosed with tinnitus after using dual-ended Combat Arms earplugs. She used them while stationed at bases in Missouri and Minnesota, as well as during her deployment in Iraq where she fired weapons and was exposed to mortar shells.
Carlson joined the Army Reserves in 2008 at 17 years old. The Army deployed her to Iraq as a part of Operation Iraqi Freedom.
Combat Arms earplugs were standard issue during her service. Carlson has reportedly said she and fellow soldiers would put the earplugs in daily, trusting they'd protect their hearing.
Marine Corps Veteran Andrew Bridges
Marine Corps veteran Andrew Bridges said in his lawsuit that he was never told to fold back the flanges when using the earplugs while in training or on active military duty. During his pre-deployment training, he started using dual-ended Combat Arms earplugs. They were standard issue.
"The warnings and instructions that accompanied the Dual-ended Combat Arms earplugs failed to provide that level of information that an ordinary consumer would expect."
Bridges joined the Marines in 2006 at 18 years old and stayed in active duty until 2010. The Marines deployed him to Iraq in 2009.
In 2010, officials at 29 Palms, a Marine Corps base in California, diagnosed him with tinnitus and sensorineural hearing loss. Damage to the inner ear or the nerve from the ear to the brain causes sensorineural hearing loss.
Marine Veteran Anthony F. Ascanio
Marine veteran Anthony F. Ascanio's lawsuit alleged that 3M didn't properly test its Combat Arms Earplug. Court documents indicate the plaintiff claimed the company violated federal law and military requirements.
3M (ATI at the time) did not commission an independent lab to conduct the testing on the Combat Arms Earplugs as federal law and the military solicitations required. Rather, 3M purported to conduct the testing in house, and it was a sham.
Ascanio used the earplugs during two deployments to Afghanistan. He now suffers from bilateral hearing loss and tinnitus.
Earplug Defects and Denials of Wrongdoing
Lawsuits allege Aearo knew about this problem as early as 2000 before the company obtained its military contract. Plaintiffs also claim Aearo and then 3M didn't attempt to fix the defect, inform the government or warn soldiers.
The stem of the dual-ended Combat Arms earplugs wasn't long enough to properly fit in ear canals, risking loosening. The company also failed to provide proper instructions for folding the flanges, leaving soldiers at increased risk of developing hearing problems.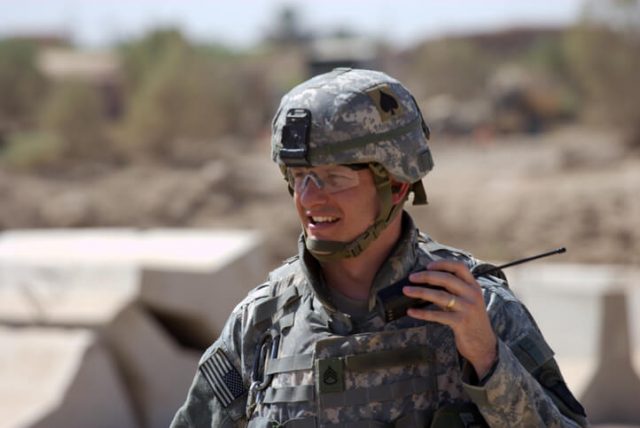 Lawsuits also claim Aearo misrepresented the Combat Arms earplugs' Noise Reduction Rating to the military. The yellow end had to achieve a 0 to 25 NRR and the olive end had to achieve a 25 to 40 NRR. In tests the olive end only reached an NRR of 10.9, far below the requirement of 25 to 40 and the yellow end scored a -2 NRR.
After the disappointing result, the company stopped testing it. The company printed these manipulated specifications on the product's package.
Scientists present at the testing joined 3M when the company bought Aearo, so 3M was also aware of the defect. 3M denies any wrongdoing, however.
Does Filing a Lawsuit Affect VA Benefits?
Many veterans who suffer from hearing loss or tinnitus may already receive VA disability benefits. In fact, these injuries are the most common service-connected disabilities, according to the United States Department of Veterans Affairs.
If defective earplugs caused hearing damage, veterans may still seek additional compensation from 3M. Veterans who want to pursue a lawsuitagainst 3M won't lose their disability, according to experienced lawyers.
A personal injury settlement won't affect disability compensation awards. The government doesn't base compensation on a veteran's income.
Please seek the advice of a qualified professional before making decisions about your health or finances.
Last Modified: September 14, 2023
Share This Lawsuit page
16 Cited Research Articles
Consumernotice.org adheres to the highest ethical standards for content production and references only credible sources of information, including government reports, interviews with experts, highly regarded nonprofit organizations, peer-reviewed journals, court records and academic organizations. You can learn more about our dedication to relevance, accuracy and transparency by reading our editorial policy.