Hernia Mesh Lawsuits
Thousands of people have filed hernia mesh lawsuits for device failure, infection or other serious injuries. Plaintiffs claim their hernias came back, mesh damaged their organs, they suffered allergic or immune-related reactions and they needed further surgery to remove faulty polypropylene mesh.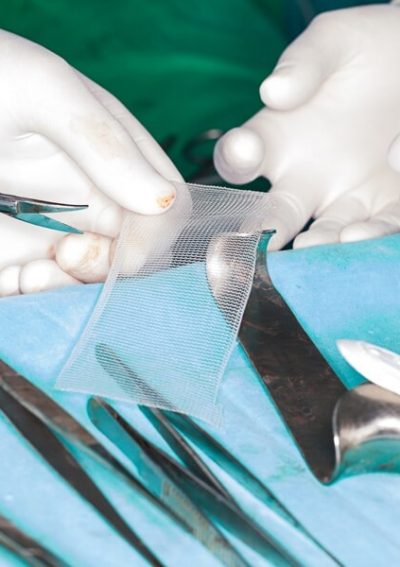 Why Are People Filing Hernia Mesh Lawsuits?
People are filing hernia mesh lawsuits after they suffered severe injuries that required revision surgery to treat. Some people required more than one extra surgery for serious complications. Plaintiffs are suing mesh makers for damages including medical bills, lost wages, loss of quality of life and pain and suffering. In some cases juries may award punitive damages intended to punish mesh makers for exceptionally poor behavior.
Claims in hernia mesh lawsuits include: Failure to warn that hernia mesh could fail and cause and complications, improper product labeling, defective product design, surgeon malpractice and defective manufacturing.
As of Aug. 13, 2021, over twenty thousand hernia mesh lawsuits from across the United States —20,264 lawsuits to be exact — have been combined in three different mass litigations. Each of the multidistrict litigations, or MDLs, involves a different hernia mesh manufacturer: Atrium Medical Corp., Ethicon and Bard Davol.
There have been no verdicts and no major settlements in any of the cases. Because of COVID-19 delays, the first bellwether has been rescheduled multiple times. Trials are supposed to take place in summer or fall of 2021.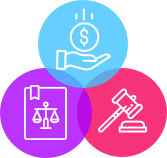 Experiencing pain, bowel obstruction or other complications after hernia mesh surgery?
Get your free case review today.
Complications Listed in Lawsuits
Many people who filed hernia mesh lawsuits experienced serious complications that required them to have one or more surgeries to remove faulty mesh and repair damaged tissue and nerves.
Sometimes, revision surgery doesn't fix the problems and people are left with chronic pain and other complications for the rest of their lives. If you suffered any of the complications below or other problems that aren't listed, you may qualify to file a lawsuit for compensation.
Complications in lawsuits include:
Adhesion: Mesh can stick to other tissues or organs or cause scar tissue.
Bowel Obstruction: Mesh can prevent people from emptying their bowel, causing gas, constipation or diarrhea.
Delayed or Long-Term Complications: Complications that can occur years after hernia surgery.
Groin or Testicular Pain: This typically happens in people with inguinal hernias and is caused by pinched nerves after hernia mesh surgery.
Hernia Recurrence: The hernia may come back when mesh fails.
Infection: Infections related to problematic mesh usually occur 30 days or more after implant surgery.
Mesh Failure: Mesh failure happens when the implant causes problems and has to be removed.
Migration: When hernia mesh moves from the original hernia site, it can damage organs and cause pain.
Pain: Pain from failed hernia mesh can become chronic and last for months or years.
Perforation of Organs or Tissues: When mesh moves in the body, it can puncture other organs or tissues.
Revision Surgery: Surgeons perform revision surgery to remove problematic mesh, and some people may need more than one.
Seromas: These pockets of fluid can build up around the surgery site and come with infection.
Who Qualifies to File a Hernia Mesh Lawsuit?
If you received hernia mesh manufactured by Ethicon, Atrium, Bard Davol or other manufacturers and you suffered serious injuries, you may be eligible to file a hernia mesh lawsuit.
The time limit to file a lawsuit varies by state, so you should contact an attorney right away to preserve your right to file. If you miss the deadline, you might not be able to file a lawsuit.
You may qualify for a hernia mesh lawsuits if:
A doctor or surgeon told you that you need one or more surgeries for complications
A doctor or surgeon told you that you need one or more surgeries for complications, but you can't have surgery because it's too risky
You had hernia revision surgery because of your injuries or mesh failure
You had your original hernia mesh repair surgery on or after Jan. 1, 2006
You sustained mesh-related injuries, including: Wrongful death, infections that occurred 30 days or more after surgery, organ damage, autoimmune problems, adhesions, bowel obstructions, hernia recurrence, mesh migration and perforation.
Your surgeon scheduled additional surgery to treat complications
Each law firm has slightly different qualifying criteria, but these general guidelines apply. If you aren't sure if you qualify, contact an attorney. They will speak to you for free and tell you if you have a case.
The three main manufacturers involved in the MDL lawsuits are Ethicon, Atrium and Bard Davol. Covidien/Medtronic and W.L. Gore and & Associates face lawsuits in various state courts.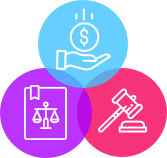 Suffering serious complications from hernia mesh surgery?
Find out if you qualify for compensation.
Manufacturers and Brands Named in Litigation
Atrium
Atrium manufactures C-Qur mesh. Maquet, a subsidiary of the Getinge Group, bought Atrium and now manufactures this mesh brand. Atrium made C-Qur mesh with a fish oil coating that was supposed to prevent inflammation.
Instead, lawsuits say the coating makes the mesh more likely to fail and cause adhesions and infections. The company recalled more than 145,000 C-QUR units in 2013 because the mesh's coating caused it to stick to packaging. Recalled products included C-QUR V Patch, TacShield, Edge and standard C-QUR Meshes.
C-Qur brands included in lawsuits include: C-QUR Edge Mesh V-Patch, C-QUR OVT Mesh, C-QUR Lite Mesh V-Patch, C-QUR TacShield, C-QUR RPM Mesh, C-QUR V-Patch, ProLoop and C-QUR Mosaic.
C.R. Bard
Becton Dickinson and Company, also known as BD, bought C.R. Bard in 2017. The company has been known as Bard and Bard Davol. In 2005, Bard issued a recall for its Kugel Patch hernia mesh. The memory ring on the mesh could break and cause bowel adhesions and fistulas.
C.R. Bard's mesh brands included in lawsuits include: PerFix Mesh, Ventralex Patch, 3DMax Mesh, Ventralex ST Mesh, Composix E/X Mesh, Composix L/P, Sepramesh IP Composite Mesh, Marlex, Ventralight ST, Bard Mesh Dart, Ventrio ST, Visilex, Ventrio patch, Sperma-Tex, Modified Kugel Hernia Patch, Kugel Hernia Patch and Composix Kugel Hernia Patch.
Covidien/Medtronic
Medtronic bought Covidien in June 2014. Covidien's Parietex mesh isn't made from polypropylene like most meshes. Instead, it's made of polyester. However, these meshes have the same complications as meshes made from polypropylene, including contraction, shrinkage and migration.
Covidien recalled more than 7,000 Parietex Composite Parastomal Meshes in October 2018 due to reports of mesh failure years after original hernia repair using the modified Sugarbaker technique.
Brands named in lawsuits include: Parietex Composite Mesh, Parietex Surgical Mesh, Parietex ProGrip Mesh, Parietex ProGrip Self-Fixating Mesh, Parietex Composite Ventral Patch, Parietex Optimized Composite Mesh, Parietex Composite Open Skirt (PCO OS) Mesh, Parietex Plug and Patch System, Parietex Composite Parastomal (PCO PM) Mesh, Parietex Optimized Open Skirt Mesh, Parietex Hydrophilic Anatomical Mesh, Parietex Composite Hiatal Mesh (PCO 2H), Parietex Flat Sheet Mesh, Parietex Folding Mesh and Parietex Lightweight Monofilament.
Ethicon
Ethicon is a subsidiary of Johnson & Johnson. Brands involved in lawsuits include: Proceed, Physiomesh Flexible Composite Mesh, PHS, Prolene Hernia System and Prolene 3D.
From 2005 to 2014, the company recalled thousands of units of Proceed brand hernia mesh. Ethicon stated that it recalled the devices because mesh could lose its coating and increase the risk of complications such as bowel fistulas and adhesions.
It withdrew its Physiomesh Flexible Composite mesh from the market in 2016 after registries in Denmark and Germany showed high rates of hernia recurrence and reoperation rates.
W.L. Gore & Associates
W.L. Gore & Associates manufactures Gore-Tex DualMesh, a mesh made from ePTFE, a material known for its resistance to liquid penetration. However, bacteria may grow on the mesh and cause problems.
Complications mentioned in lawsuits include organ perforation, seromas, bowel obstruction and adhesions.
Individual Lawsuits Consolidated into Hernia Mesh MDL
More than 20,000 lawsuits are consolidated into three main multidistrict litigations or MDLs involving Atrium, Bard and Ethicon.
Courts consolidate injury cases into MDLs to streamline the process of handling large numbers of cases. Plaintiffs in MDLs retain their own attorneys and can choose to accept or reject a settlement.
Class actions don't typically claim damages for injuries. Instead, they ask for reimbursement for a faulty product, such as the purchase price of a drug or medical device. Plaintiffs in class actions don't get to reject a settlement and don't choose their own lawyer. Currently, there aren't any hernia mesh class actions.
Atrium C-QUR Mesh MDL No. 2753
The Atrium C-QUR mesh in New Hampshire District Court has 2,901 lawsuits pending as of Aug. 13, 2021. The MDL was created in December 2016.
The first bellwether trial was scheduled for July 7, 2021, but the case was suddenly resolved prior to the trial, according to a status conference agenda dated July 1, 2021. Attorneys must propose a new bellwether trial schedule.
Bard Davol Hernia Mesh MDL No. 2846
There are 13,767 lawsuits pending in the Bard Davol MDL in the Southern District of Ohio as of Aug. 13, 2021. The MDL formed on Aug. 2, 2018.
The first bellwether trial for Steven Johns began in August 2021.
Ethicon Physiomesh Flexible Composite Mesh MDL No. 2782
As of Aug. 13, 2021, there were 3,596 pending lawsuits for Ethicon's Physiomesh Flexible Composite hernia mesh in Georgia Northern District Court. The MDL formed in June 2017.
Originally, bellwether trials were scheduled for March 2021, June 7, 2021, and September 13, 2021. But in a practice and procedure order, Judge Richard Story cancelled the June 7th date and suspended all bellwethers until further notice.
What Compensation Is Available for the Injured?
Filing a hernia mesh lawsuit may allow you to receive compensation for financial, physical and emotional hardship. It may also help hold mesh manufacturers accountable for their negligence.
Because hernia mesh injuries usually require one or more surgeries to fix, treatment can be costly and there is no guarantee that complications might not be permanent. Filing a lawsuit may help you pay for medical treatment, ease pain and suffering and recover lost wages.
Verdicts and Settlements
So far, there have been no settlements for the current hernia mesh MDL lawsuits. It can take many years to resolve complex litigations like the cases involving hernia mesh, especially since there are thousands of claimants.
Previously, a jury ordered Bard to pay $1.5 million to Christopher Thorpe in his Kugel patch lawsuit in 2010. The mesh maker also paid $184 million to settle 2,600 lawsuits and the Kugel Patch MDL was closed.
It can take three to seven years for cases like those in the hernia mesh MDL to resolve, according to trial attorney Trent Miracle.
Please seek the advice of a qualified professional before making decisions about your health or finances.
Last Modified: May 9, 2023
Share This Lawsuit page
25 Cited Research Articles
Consumernotice.org adheres to the highest ethical standards for content production and references only credible sources of information, including government reports, interviews with experts, highly regarded nonprofit organizations, peer-reviewed journals, court records and academic organizations. You can learn more about our dedication to relevance, accuracy and transparency by reading our editorial policy.