Zantac
Zantac (ranitidine) is a drug in the histamine-2 receptor agonist class that decreases the amount of stomach acid. It treats conditions including heartburn, stomach and intestinal ulcers and GERD. This page is about Zantac made with ranitidine, which was withdrawn from the market in April 2020.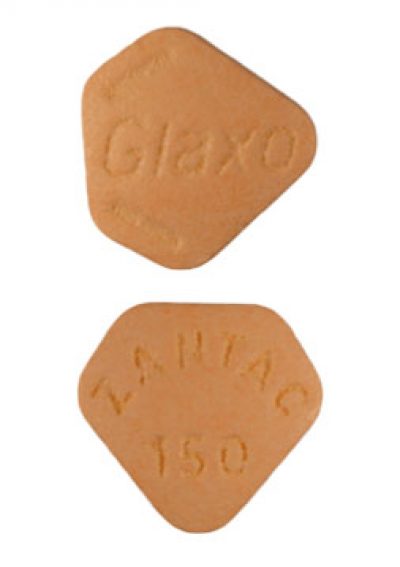 What Is Zantac Used For?
Zantac (ranitidine) is a histamine-2 receptor agonist, or H2 blocker. H2 blockers lower stomach acid. They work fast and can stop the symptoms of heartburn in as little as 30 minutes. Zantac can control acid for up to 12 hours, reducing the severity and frequency of heartburn. Doctors prescribe Zantac to treat or relieve heartburn, acid indigestion, GERD and gastric ulcers.
But after the FDA found the potential carcinogen NDMA in some batches of Zantac, it requested all manufacturers withdraw all Zantac made with ranitidine from the market. As of April 2020, Zantac made with ranitidine is no longer available on the US market.
Several other drug companies have been involved in selling it over the years, including Boehringer Ingelheim, Johnson & Johnson and Sanofi SA. Sanofi created a new formula made with famotidine called Zantac360, which is available over-the-counter in the US.
Zantac Side Effects
In general, most people tolerate Zantac with ranitidine well and side effects are mild. Some go away after the body gets used to the medication.
Headache was one of the most common reported side effects.
Potential Zantac (ranitidine) side effects include:
Chest pain
Constipation
Dark urine
Diarrhea
Dizziness
Drowsiness
Fatigue
Fever
Headache
Insomnia
Jaundice
Nausea
Rash
Shortness of breath
Stomach pain
Vomiting
NDMA Contamination Linked to Cancer
Zantac's more serious side effects may occur because of NDMA contamination. NDMA causes cancer in animals and may cause cancer in humans. Of all the cancers linked to Zantac, bladder cancer has the greatest connection.
Research on the types of cancer potentially linked to Zantac is still ongoing and results are mixed. For example, a 2021 study published in the Journal of Clinical Medicine found no evidence that NDMA in ranitidine increased the risk of cancer.
But another 2021 study published in Cancers found there were more reports of gastrointestinal system cancer with ranitidine use compared to other H2 blockers. The authors determined, "the study results support the hypothesis that NDMA-contaminated ranitidine increases the risk of cancer and supports the withdrawal of these medications from the market."
Zantac Recalled over NDMA Contamination
After the FDA discovered low levels of NDMA in batches of ranitidine medications, the first companies began recalling Zantac and ranitidine products in September 2019. Most people are exposed to NDMA in small amounts in the environment, and these amounts don't typically cause problems.
But lab testing revealed NDMA levels in Zantac were above the FDA's acceptable daily exposure limit. After further testing, the FDA found that NDMA levels in some samples of ranitidine continue to increase over time and when stored at higher than room temperatures.
In April 2020, the agency requested that all manufacturers withdraw The FDA told consumers taking OTC Zantac to stop taking it immediately. The agency told consumers taking prescription Zantac to ask their doctor for alternative medications before stopping treatment.
Some people who took Zantac and were later diagnosed with cancer filed Zantac lawsuits against Sanofi and other brand name drug makers. Lawsuits claim Zantac is a defective drug because it can form NDMA in the human body and that drug makers knew about the risk but failed to warn the public.
How to Take Zantac
Patients typically take prescription ranitidine two to four times a day depending on the condition being treated, according to the prescribing information. People take OTC ranitidine tablets one or twice a day. Zantac can be taken with or without food.
Effervescent tablets or granules should be dissolved in a full glass of water, about six to eight ounces, before drinking.
Always take prescription Zantac as directed by your medical provider. Patients shouldn't take Zantac or generic ranitidine for longer than 14 days unless recommended by a doctor. If heartburn, indigestion, upset stomach or other symptoms don't stop after 14 days, tell your medical provider.
Precautions
Zantac made with ranitidine is no longer available in the US, and the FDA recommends that people dispose of any remaining OTC ranitidine they may still have. These precautions don't apply to Zantac 360 made with famotidine, which is still available in stores.
In addition to the potential risk of NDMA contamination in recalled products, the drug's label lists precautions for taking ranitidine. People with impaired renal function, kidney disease or liver problems should talk to their medical provider before taking ranitidine.
In addition, people with a history of acute porphyria may experience severe attacks and they shouldn't take Zantac with ranitidine.
Zantac may also interact with drugs including warfarin, glipizide, ketoconazole, atazanavir and others.
What to Take Instead of Zantac
Because ranitidine is no longer available on the market, patients may be wondering what medications to take instead of Zantac made with ranitidine. Patients taking prescription Zantac should check with their doctors for alternatives before stopping their medication. People taking OTC ranitidine can switch to other OTC alternatives.
The FDA recommends proton pump inhibitors and other H2 blockers as Zantac alternatives because they don't carry the same risks from NDMA.
Zantac 360
After withdrawing Zantac products made with ranitidine, Sanofi reformulated a new Zantac formula made with the H2 blocker, famotidine. Famotidine is also the active ingredient in Pepcid.
Zantac 360 is an OTC formula available in regular and maximum strength, and Sanofi hasn't reformulated a prescription version of Zantac. This medication doesn't carry risks from NDMA found in ranitidine and wasn't involved in the recall.
Proton Pump Inhibitors
Proton pump inhibitors are a class of acid-reducing drugs. When taken every day they can control acid for up to 24 hours. But they may take days to work. They come in OTC and prescription strength.
The FDA recommends the following PPIs as Zantac alternatives:
Nexium (esomeprazole)
Prevacid (lansoprazole)
Prilosec (omeprazole)
H2 Blockers
Other drugs in the H2 blocker class work similar to ranitidine and come in OTC and prescription strength. Like ranitidine, they can relieve heartburn and other symptoms in as little as 30 minutes and last for up to 12 hours.
FDA-recommended H2 blockers include Pepcid (famotidine) and Tagamet (cimetidine).
Please seek the advice of a qualified professional before making decisions about your health or finances.
Last Modified: December 8, 2022
Share This Page
10 Cited Research Articles
Consumernotice.org adheres to the highest ethical standards for content production and references only credible sources of information, including government reports, interviews with experts, highly regarded nonprofit organizations, peer-reviewed journals, court records and academic organizations. You can learn more about our dedication to relevance, accuracy and transparency by reading our editorial policy.