Nexium
Nexium is a proton pump inhibitor used to treat excess stomach acid in conditions such as GERD, erosive esophagitis and frequent heartburn. It's available as a prescription or over the counter. Nexium side effects are generally mild, but can be serious.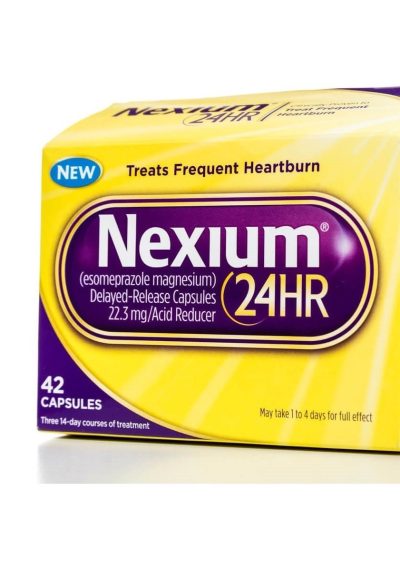 What Is Nexium Used For?
Nexium is a member of a class of drugs known as proton pump inhibitors that reduce stomach acid. Doctors prescribe Nexium, or esomeprazole, to treat a variety of gastric conditions.
Conditions Nexium Treats
Erosive esophagitis
Gastric ulcer prevention
Gastroesophageal reflux disease
Indigestion, also called dyspepsia
Peptic ulcer disease
Zollinger-Ellison syndrome
Nexium is also available over the counter at pharmacies, online and in retail stores. The OTC version is used to treat frequent heartburn in both adults and children as young as one month old.
How Does Nexium Work?
Nexium suppresses acid production in the stomach while increasing pH levels. It limits the proton pump of the stomach (or inhibits hydrogen potassium ATPase) and affects the stomach wall cells related to stomach acid production (parietal cells) to reduce the amount of acid they secrete.
Proton pump inhibitors like Nexium are some of the most commonly prescribed medications in the U.S. While effective for many conditions, this commonly taken drug may cause serious side effects in rare cases.
Some patients experience relief from symptoms in as little as a day. Most see results in four days. Patients that don't notice a change after four days should consult their healthcare provider.
What Is the Dosage For Nexium?
Always follow your doctor's instructions and take the indicated dosage at the right times. Take Nexium with at least 8 ounces of water an hour before a meal. Common dosages are as follows.
Indication
Age of Patient
Recommended Dosage
Duration of Treatment
Erosive Esophagitis: Healing
Adults
Delayed-release capsules or oral suspension:
20 mg or 40 mg
4 to 8 weeks
12-17 years old
Delayed-release capsules or oral suspension:
20 mg or 40 mg once per day
4 to 8 weeks
1-11 years old
Delayed-release oral suspension:
10 mg once per day for patients under 20 kg
10 mg or 20 mg once per day for patients 20 kg and up
8 weeks
Erosive Esophagitis: Maintenance
Adults
Delayed-release capsules or oral suspension:
20 mg once per day
Up to 6 months
GERD-related Erosive Esophagitis treatment
Up to 1 year old
Delayed-release oral suspension:
2.5 mg once per day for patients weighing 3 kg-5 kg
5 mg once per day for patients 5 kg-7.5 kg
10 mg once per day for patients 7.5 kg-12 kg
Up to 6 weeks
GERD
Adults
Delayed-release capsules or oral suspension:
20 mg once per day
4 weeks and an additional 4 weeks if needed
12-17 years old
Delayed-release capsules or oral suspension:
20 mg once per day
4 weeks
1-11 years old
Delayed-release oral suspension:
10 mg once per day
Up to 8 weeks
Reducing Risk of Gastric Ulcer from NSAIDs
Adults
Delayed-release capsules or oral suspension:
20 mg or 40 mg once per day
Up to 6 months
Reducing Risk of Duodenal Ulcer from Helicobacter pylori
Adults
Nexium 40 mg once per day in combination with a personalized regimen of Amoxicillin and Clarithromycin
10 days
Zollinger-Ellison Syndrome
Adults
Up to 240 mg per day
Speak to your doctor
In most cases, doctors prescribe Nexium for a treatment course of four to eight weeks. If symptoms don't improve sufficiently, the patient may need a second course. Some conditions require long-term use of the drug.
Can You Overdose on Nexium?
Taking an extra dose of Nexium typically won't cause any adverse reactions. Taking an excessive amount, however, can result in an overdose.
Nexium Overdose Signs
Confusion
Drowsiness
Dry mouth
Flushing
Headache
Nausea
Rapid heartbeat
Sweating
Vision problems
All patients who take Nexium should follow recommended dosage instructions to lower the risk of an overdose. Anyone worried about new or worsening symptoms should contact their doctor or get emergency medical help.
When to Stop Taking Nexium
Most people are prescribed Nexium for a course of treatment that lasts between four and eight weeks. Others may take the drug long-term to manage chronic symptoms. Those who take it for more than a year should receive regular health checks from their doctor.
All patients should check with their doctor before stopping Nexium. People who stop taking Nexium abruptly, especially those who have taken it for a long period of time, may experience a sudden increase in stomach acid that causes their symptoms to return.
Common Nexium Side Effects
The majority of people who take Nexium don't experience any side effects. Those who do, about 1 in 100 or greater, may have one or more common symptoms such as stomach pain.
Nexium Side Effects
Constipation
Decreased appetite
Diarrhea
Dry mouth
Gas
Headache
Nausea
Stomach pain
Side effects are generally mild and last only for the duration that the patient takes the medication. If symptoms persist or worsen, your doctor or pharmacist can advise you on the best ways to manage them.
Serious Nexium Side Effects
Some side effects may be signs of serious issues. For example, bloody diarrhea may indicate the presence of an infection. A fast heart rate, shaking, muscle jerks or cramps, dizziness or cough are potential signs of low magnesium.
A decrease in urination or blood in urine can indicate kidney problems. New or worsening joint pain as well as a rash on the arms or cheeks that gets worse in the sun could be signs of lupus.
Adverse Events With Nexium
Acute Diarrhea
Allergic reaction
Fractures
Fundic gland polyps
Joint pain
Kidney problems
Low magnesium levels
Pneumonia
Seizures
Severe stomach pain
Skin rash
Vitamin B deficiency
A study of VigiBase database in Switzerland and another of the French National Healthcare Data System shows that these stomach acid blockers may cause severe liver injury. Medical professionals can help patients determine if treatment with Nexium is the best decision.
Serious side effects from Nexium are rare, affecting less than 1 in 1,000 patients. People who experience complications should take immediate action and get the advice of a medical professional. Taking higher doses or staying on Nexium for a long time can increase the chance of developing certain side effects.
Nexium Drug Interactions
Like many drugs, Nexium can have potential negative interactions with other prescriptions, over-the-counter drugs and herbs. They may also interfere with the way Nexium works.
Nexium Drug Interactions
Antifungals
Clopidogrel
Diazepam
Digoxin
Ferrous sulfate and other iron-containing medications
HIV medications
Methotrexate
Rifampin
St. John's wort
Warfarin
Patients should inform their doctor about all medications and OTC supplements they take to determine if an interaction is likely. It's also important to discuss current health conditions, pregnancy and known allergies.
Nexium Recalls and Lawsuits
There are currently more than 12,000 ongoing PPI lawsuits. Plaintiffs claim these drugs caused chronic kidney disease or injury and that AstraZeneca knew of the risks and failed in its duty to warn the public, allowing people to think the drug was safe.
To date, there are no recalls for Nexium related to kidney problems. There has been a Zantac recall, however, Nexium isn't part of it. Zantac was subject to a recall in 2019 because of NDMA contamination, which is a likely carcinogen.
Please seek the advice of a qualified professional before making decisions about your health or finances.
Last Modified: September 26, 2023
Share This Page
13 Cited Research Articles
Consumernotice.org adheres to the highest ethical standards for content production and references only credible sources of information, including government reports, interviews with experts, highly regarded nonprofit organizations, peer-reviewed journals, court records and academic organizations. You can learn more about our dedication to relevance, accuracy and transparency by reading our editorial policy.