Is Social Media Harmful?
The relationship between social media and mental health is complicated. It can help users grow community and explore creative expression. Studies also suggest, however, that heavy social media use may cause harm, contributing to anxiety, body dysmorphia, disordered eating, self-harm and depression.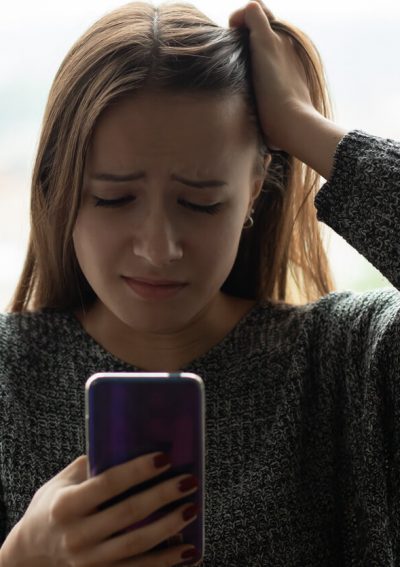 Online Harassment and Abuse
While only 9% of surveyed teens have mostly negative views of social media, 46% said they'd experienced at least one form of cyberbullying, according to 2022 Pew Research. Teens defined social media harassment as offensive name calling, spreading of false rumors, receiving explicit photos, constantly being asked their whereabouts, threats of physical harm and having explicit photos of themselves shared without consent.
Social media has created new opportunities for online harassment, but according to National Center for Education Statistics from 2019, teens reported most bullying occurred in person. Students reported that bullying they experienced most often occurred at school: 43% in the hallway or stairwell at school, 42% inside the classroom, 27% in the cafeteria, 22% outside on school grounds, 12% in the bathroom or locker room and 8% on the school bus. Only 15% reported harassment online or via text.
Social media harm statistics from Pew show adults also report experiencing cyberbullying with 41% saying they've experienced some form of online harassment. Of those reporting online harassment, 75% said the most recent place they experienced abuse was on social media.
Trolling
Trolling, internet slang for the practice of making comments or posts online to provoke an argument, hostility or any emotional response, also sometimes called "baiting," is often designed to create drama. Both adults and teens share negative feelings about trolling online with 38% of teens noting the drama can cause feelings of being overwhelmed.
Trolls often hide behind anonymity and target people because of their culture, race, religion, sexual orientation, gender or disability. As the White House recently reported, "Women, adolescent girls, and LGBTQI+ individuals, who may be additionally targeted because of their race, ethnicity, religion, and other factors, can experience more severe harms from online harassment and abuse."
Despite the potential for harm when trolls' attacks may cause a social media "pile on," 58% of teens report that what they see on social media helps them feel more accepted. Researcher Mesfin Awoke Bekalu of the Harvard T.H. Chan School of Public Health said he and his colleagues found when conducting a 2020 study that social media benefits "were generally associated with younger age, better education, and being white, the harms were associated with older age, less education, and being a racial minority."
Cyberstalking
Cyberstalking is using email, the Internet or other technology to stalk another person. It's very similar to the physical form of stalking.
Cyberstalkers are deliberate and persistent. Online messages or emails cyberstalkers send often contain inappropriate and disturbing content.
Sexual Harassment
Online sexual harassment is any form of sexual exploitation or abuse that takes place through screens, according to The National Sexual Violence Resource Center. This includes unwanted requests for naked photos or videos, sending unwanted communication about sex or asking someone to livestream sexual acts.
Other examples of online sexual harassment or abuse include sharing private sexual images or videos without consent — also called revenge porn. It can also include performing sexual acts on a webcam without consent.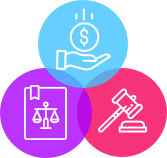 Has your child suffered a serious injury after using social media daily or weekly?
Get your free case review today.
Social Media and Mental Health
Social media is a tool that can offer both positive and negative mental health outcomes in terms of social well-being, positive mental health and self-rated health. Researchers suggest the key to self-protection from social media harm is how one uses it.
Dr. Ofir Turel, associate professor of information systems and decision sciences at the College of Business and Economics at California State University, Fullerton, speaking about the possibility of social media addiction explains, "Social media provides rewarding experiences that generate dopamine in the brain, the same substance produced when we eat cake or have sex. Over time, it trains your brain to want to check social media more and more often."
The potentially addictive nature of platforms such as Facebook and Instagram may encourage overuse. Bekalu, however, explains that, "We found that routine social media use—for example, using social media as part of everyday routine and responding to content that others share—is positively associated with all three health outcomes."
Negative health outcomes, Bekalu notes, are associated with use such as, "checking apps excessively out of fear of missing out, being disappointed about or feeling disconnected from friends when not logged into social media." He adds, "In more general terms, these findings suggest that as long as we are mindful users, routine use may not in itself be a problem. Indeed, it could be beneficial."
Facebook, Instagram and Others Linked to Mental Illnesses
Some studies have linked Facebook, Instagram and other social media platforms to anxiety, loneliness and depression. Though some research suggests social media can also help ease feelings of loneliness and help users find others with common interests.
A 2022 Tel Aviv University, MIT Sloan School of Management and Bocconi University study found that students who had access to Facebook had a 7% increase in severe depression and a 20% increase in anxiety. Yet 67% of teens Pew surveyed responded that social media helps them feel that they have people who can support them through tough times.
Bekalu and his colleagues noted there is a growing body of research showing an association between social media use and increased risk of anxiety and depression, but that "Our findings suggest that the ways that people are using social media may have more of an impact on their mental health and well-being than just the frequency and duration of their use." He added that social media can help some people overcome barriers to socialization and connect with others, noting, "there is some empirical evidence supporting this."
Social Media and Suicide
Social media use may increase exposure to negative messages promoting self-harm and harmful behaviors. Facebook's own internal reports document that 13% of social media users in the U.K. and 6% in the U.S. traced their suicidal thoughts back to Instagram.
One study published in the Journal of Youth and Adolescence in 2021 analyzed 10 years of data. Researchers found a correlation between 13-year-old girls beginning social media use for two to three hours per day, increasing over time, and higher rates of suicide in early adulthood.
Other studies have suggested that depression itself may be a predictor of heavy social media use rather than social media use predicting depression. In addressing the issue of correlation vs causation, the lead researcher of the 2021 study, Dr. Sarah Coyne of Brigham Young University, told the Institute for Family Studies, "I think that there's a possibility that depressed and anxious teenagers turn to social media, and that it also might exacerbate those kinds of tendencies. But it's more of a pattern, and I believe strongly that it's the context of the use that matters more than the time."
Meta and Other Platforms' Effects on Children and Teens
Meta's own research indicates that 32% of teen girls and 14% of teen boys reported that when they experience feelings of insecurity about their appearance, Instagram exacerbates their negative feelings. Karina Newton, head of Instagram's public policy, wrote in a blog post, "The research on the effects of social media on people's well-being is mixed, and our own research mirrors external research."
Some platform users express feeling pressure to feature curated images, leading some teens in particular to compare themselves to the photos they see in terms of body image, social status and material wealth. These social media risks to teens have led to social media lawsuits against Meta, alleging the company knowingly addicted children, produced a defective product and didn't warn about the dangers.
How to Minimize Social Media Harm
Because overuse or some ways social media is used may contribute to harmful behaviors, there are strategies that may help minimize negative effects. A key is being aware of how much time and the kind of time you or your child spend using social media.
Potential signs of excessive social media use:
Increasing feelings of fear of missing out when not using social media
Feelings of anxiety and withdrawing from usual activities
Comparing yourself to others on social media often
Posting photos you wouldn't normally just to gain likes
Ignoring people you're with in person to engage digitally online
If you or your child experience any of these symptoms, it may be time to decrease social media use. Here are some tips to minimize social media harm and improve internet safety for kids.
Set Limits
Setting a time limit for social media use may be helpful, especially for kids. One study found that people who limited social media use to 30 minutes a day decreased loneliness and depression over three weeks compared to those who didn't set a time limit.
Practice Mindfulness
Be mindful of how you're interacting with social media. Before you reach for your phone or pull up a social media app, take a moment to meditate and reflect on whether or not the urge to check your phone is more of a habit than a genuine desire.
Practicing active "mindfulness" or awareness may also be helpful. Using social media to engage in positive activities, such as the body positivity movement that research has shown to have benefits, may help counter negative aspects of social media. Finding volunteer opportunities and ways to help others may also help people feel more positively.
Protect Your Information
Protecting your information on social media can protect you against scams, cyberstalking and other harmful behaviors. Don't overshare personal details or information.
Only accept friend requests from people you know. Two-factor authentication and strong, unique passwords that are changed often can also provide more security online.
Report Online Harassment
Always report online harassment and harmful behaviors. Each platform has a method for reporting or flagging trolls and other online abusers.
Don't "feed the trolls" or encourage aggressive posters. Their main objective is to get a reaction. If you ignore them, they're less likely to continue harassing people.
Please seek the advice of a qualified professional before making decisions about your health or finances.
Last Modified: August 1, 2023
Share This Page
21 Cited Research Articles
Consumernotice.org adheres to the highest ethical standards for content production and references only credible sources of information, including government reports, interviews with experts, highly regarded nonprofit organizations, peer-reviewed journals, court records and academic organizations. You can learn more about our dedication to relevance, accuracy and transparency by reading our editorial policy.