Train Accidents
Thousands of train accidents happen annually. Georgia, Texas and Ohio have the most train accidents per state. Train accidents can cause injuries, fatalities and damage. If you've been in a railway accident, an experienced train accident lawyer can help you get compensation via a personal injury lawsuit.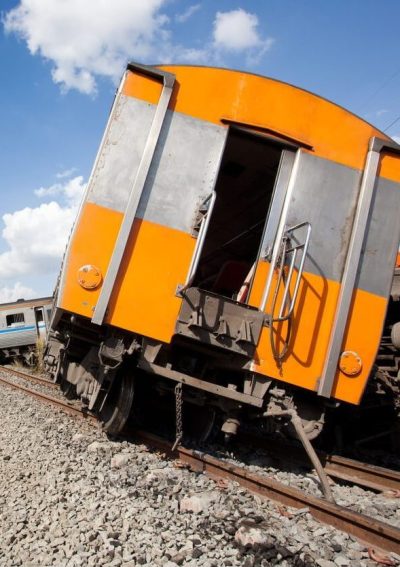 Train Accident Statistics
The Federal Railroad Administration tracks railroad safety information, including incidents and accidents. The most recent data available covers through the end of 2021. In 2020, the total number of accidents decreased from the numbers between 2017 and 2019. However, 2021 marked an increase in accidents, some of which caused personal injury, including fatalities.
Data confirms that the overall train accident rate has been down 28% since 2000 because of a commitment to safety from workers and industry.
Notable statistics about train accidents:
Total number of accidents and incidents from 2017-2021 was 44,831.
Total number of injuries from train accidents from 2017-2021 was 27,858.
The three states with the most train accidents between 2017 and 2021 were Georgia (277), Texas (262) and Ohio (255).
While the leading cause of derailments over the last decade has been track defects, in 2022 it was human error.
Over the last decade, 18 accidents leaking hazardous chemicals led to the evacuation of more than 200 people.
Most derailments occur within the boundaries of railyards. Railroad safety has improved significantly, though there are about three daily derailments in the U.S., most of which do not cause significant damage or injury.
There have been tragic historical incidents of derailments, including the Big Bayou Canot rail accident, which occurred on Sept. 22, 1993. After barges collided with a rail bridge spanning the Canot Bridge in Mobile, Alabama, the subsequent derailment killed 47 people and injured 103. The accident was the worst U.S. railway disaster since 1958, when 48 people died in the Newark Bay derailment.
Top Causes of Train Accidents
Freight trains account for most accidents in the U.S. The most common type of accidents are derailments, followed by collisions.
According to the Federal Railroad Administration, the causes of train accidents between 2018 and 2021 were attributed to the following:
Shoving movement, absence of man on or at leading end of movement (163)
Highway user inattentiveness (158)
Shoving movement, man on or at leading end of movement, failure to control (153)
Switch improperly lined (151)
Failure to comply with restricted speed or its equivalent not in connection with a block or interlocking signal (143)
Broken Rail – Detail fracture from shelling or head check (136)
Wide gage (due to defective or missing crossties) (130)
In the wake of several recent accidents related to Norfolk Southern Railway, the National Transportation Safety Board launched a special investigation into the company's organization, safety practices and culture.
Although freight trains are involved in most incidents, passenger train accidents also occur. The Brightline rail service in Florida is connected to the highest number of fatalities, with one person a month on average being killed on its tracks, whether in a car, on a bike or on foot. Suicides also make up a small portion of related deaths.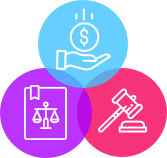 Have you been affected by the Norfolk Southern Railway Company derailment and its aftermath?
Get your free case review today.
Consequences of Train Accidents
Train accidents have led to thousands of injuries to railway company employees and members of the public over the last decade. The ratio of railroad-related deaths to nonfatal injuries is around 1:6, according to the National Safety Council.
More than 90 million tons of hazardous materials are transported via rail annually in America. Although accidents releasing them are rare, chemical spills may pose a significant danger to residents and the firefighters who respond.
Railroad accidents can also impact the environment. The recent Ohio derailment and subsequent fire releasing vinyl chloride into the environment resulted in the evacuation of residents because of a chemical emergency. It also leaked into the Ohio River, raising concerns about aquatic life, wildlife and water quality. Vinyl chloride is the main ingredient in PVC plastic.
Environmental contamination of the area around a train accident often necessitates extensive clean-up and remediation. In addition to environmental degradation, accidents cause property damage, socio-economic impacts, the disruption of shipping and impacts to business and commerce.
Who Is Liable in a Train Accident?
Determining who is responsible for a train accident can be difficult if a combination of factors are involved. You may have a legal claim against the train operator and the railway track owner if the accident resulted from employee error or faulty equipment. However, state laws might also enable you to pursue a claim against the part manufacturer, as well as against those who sold, installed, repaired or serviced it.
People riding passenger trains may face another level of legal complexity in the event of an accident. One railway company, BNSF, which owned a train that collided with a dump truck, faced lawsuits from victims and families who lost loved ones. But BNSF countersued. The company alleged that the Terms and Conditions of buying the passenger ticket contained language barring passengers from taking legal action against BNSF.
In a case in which an intoxicated man's legs were amputated in a train accident, a jury awarded him $28.6 million but found the man was partially responsible, along with his doctor and the hospital. Amtrak was found to be only 5% responsible.
Because liability in a train accident case can be complex, it's wise to enlist the assistance of a qualified personal injury attorney to investigate and determine the relevant parties to sue.
Legal Options for Train Accident Victims
A lawsuit may compensate you for your injuries and the economic losses you have suffered. These may include past or future necessary medical treatments, pain and suffering, past and future lost wages and the loss of enjoyment of life.
There are two types of lawsuits that may be filed in the event of a train accident:
Personal Injury Lawsuit. This is a civil claim filed by a plaintiff or plaintiffs who have suffered injuries because of a train accident. The complaint is filed, and the train company and any other defendants file a response. There is a discovery period, followed by pretrial motions, and if the parties do not settle, a trial determines who is liable and the amount of damages owed.
Wrongful Death Lawsuit. This is a civil claim brought by the surviving family members of a person who died in a train accident. The claim for wrongful death allows families to seek compensation for losses relating to the victim's death, including medical expenses, funeral costs, lost wages, and any benefits they would have earned. Claims may also include amounts for loss of care, companionship and support for family members, and pain and suffering of the victim before death.
One personal injury suit in which a Texas woman was struck by a train and suffered brain damage and amputations resulted in railway company Union Pacific paying $557 million in damages to the plaintiff. The amount represented 80% of the responsibility for the accident. The jury awarded $9 million for past and future mental anguish, $15.5 million for past and future impairment and $12 million for disfigurement.
Importance of Hiring a Train Accident Lawyer
Railroad companies devote many resources to train accidents and hire the most seasoned lawyers. Due to the complexities of railway litigation, hiring a lawyer experienced in train accident personal injury litigation is crucial.
One of the complexities includes a cap on the overall liability of railroads for passenger rail accidents. The Amtrak Reform and Accountability Act was initially set at $200 million. It was raised in the Fixing America's Surface Transportation Act, or FACT Act, to $322,864,228 in 2015. The result of this change means that damages in some train accidents may far exceed the cap because it is a total payout for all claims, including punitive damages, from a single incident.
Another complicating factor requiring special legal expertise is the likelihood of a multidistrict class action lawsuit because the multiple plaintiffs injured by a train accident will be from different jurisdictions.
Preventing Train Accidents
Following the Norfolk Southern derailment in East Palestine, the federal government proposed rail safety legislation to increase fines for safety violations and strengthen safety requirements. President Joe Biden applauded the move, saying the legislation "strengthens safety requirements for all trains carrying hazardous materials and phases in newer, safer tank cars over the next two years, not over the next decade."
The U.S. Department of Transportation urged the rail industry to do more to decrease derailments by "investing in human and physical infrastructure." It called upon the freight railroad industry to protect from reprisal workers who spot safety issues, deploy new inspection technologies, expedite the phase-in of safer tank cars, provide proactive advance notification to state emergency response teams, and support the railway workforce by providing paid sick leave.
The FAST Act authorized $305 billion for the Department of Transportation's safety programs, including rail, between 2016 and 2020. It also specifies that a state-approved rail plan be submitted for acceptance by the Federal Railroad Administration every four years.
Railway accidents cost lives and create an environmental and economic loss. Through preventive safety measures and efforts between industry and government via legislation, the risk of injury and damage from train accidents can be lessened if not eliminated.
Please seek the advice of a qualified professional before making decisions about your health or finances.
Last Modified: April 26, 2023
Share This Page
18 Cited Research Articles
Consumernotice.org adheres to the highest ethical standards for content production and references only credible sources of information, including government reports, interviews with experts, highly regarded nonprofit organizations, peer-reviewed journals, court records and academic organizations. You can learn more about our dedication to relevance, accuracy and transparency by reading our editorial policy.