Ozempic for Weight Loss
Semaglutide-based Ozempic is only FDA-approved to treat Type 2 diabetes and reduce the risk of heart attack, stroke or death in people with Type 2 diabetes and known heart disease. Some healthcare providers, however, have prescribed it off-label for its "beneficial side effect" of weight loss.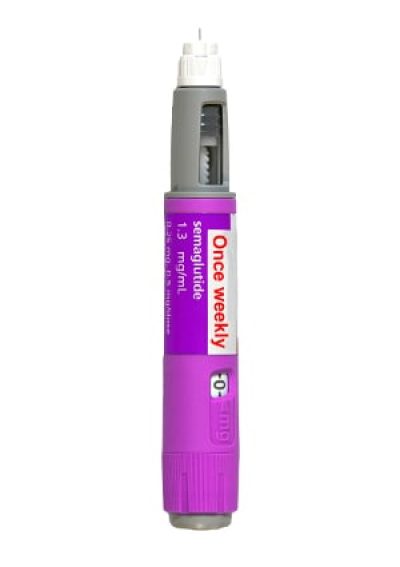 Is Ozempic FDA-Approved for Weight Loss?
Ozempic is not currently FDA-approved for weight loss. Ozempic is approved to treat Type 2 diabetes. It's also FDA-approved to reduce the risk of stroke, heart attack or death in adult patients diagnosed with Type 2 diabetes mellitus along with heart and blood vessel disease.
People taking Ozempic have experienced weight loss leading to high demand for it and other semaglutide drugs. This has led to cases of misuse or compounded drugs that raise the risk of side effects. As with all prescription medications, you should only use Ozempic under the direction and care of a qualified physician to lower your risk of experiencing adverse effects.
"We've been closely monitoring how semaglutide …[is] being broadly discussed in both mainstream and social media… and insufficient clinical evaluations by some telehealth providers promoting semaglutide-based products for weight loss. As a result of these unprecedented dynamics and high demand for semaglutide products, we believe it is our responsibility to continue to raise awareness, to reinforce responsible use of our medicines and, ultimately, to support patient safety and positive clinical outcomes."
When healthcare providers prescribe medications for unapproved uses, it's known as an "off-label use." Some off-label uses of medication can have benefits for patients, but there are also potential risks.
The FDA is clear that unapproved uses are up to providers. But the agency warns, "If you and your healthcare provider decide to use an approved drug for an unapproved use to treat your disease or medical condition, remember that FDA has not determined that the drug is safe and effective for the unapproved use."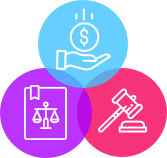 Did you or a loved one suffer from severe gastroparesis, ileus or intestinal obstruction after taking Ozempic?
Is Weight Loss a Possible Effect of Ozempic?
Ozempic is not FDA-approved for weight loss, but losing weight is a "beneficial side effect" of how the drug works to lower A1C. Ozempic mimics a hormone produced naturally in the body that makes you feel full. It also slows down your digestion.
Ozempic manufacturer Novo Nordisk also produces semaglutide-based Wegovy, which is FDA-approved for weight management. While Ozempic can lead to weight loss in Type 2 diabetes patients, results are typically more significant with Wegovy than Ozempic.
Did You Know:
Adults lost an average of 15 pounds over 40 weeks with 2.0 mg of Ozempic while taking it to lower A1C vs. an average loss of 35 lbs over 68 weeks with 2.4 mg of Wegovy.
Ozempic is an injection that comes in pre-filled pens delivering dosages of 0.5 mg, 1 mg or 2 mg. Doctors generally prescribed the lowest dose effective for managing blood sugar levels. Higher doses are generally found to lead to greater weight loss.
If you and your doctor decide off-label Ozempic for weight loss is right for you, your doctor will take into consideration your medical history and health goals to determine the appropriate dose. Never adjust your dose or stop taking Ozempic without first consulting your doctor for advice.
Should You Take Ozempic for Weight Loss?
Weigh the benefits and risks of off-label use of Ozempic for you with your doctor. Be sure to discuss your lifestyle and medical history. The more information your doctor has, the better able they are to make specific recommendations for you. The only safe way to get Ozempic is via a prescription through a reputable doctor.
As Dr. Gail A. Van Norman of the University of Washington wrote in an article published in the Journal of the American College of Cardiology's Basic to Translational Science, there are risks associated with off-label prescriptions you and your doctor should consider together. For some patients, the benefits may outweigh the risks.
"There is virtually no oversight of off-label drug or device use, which bypasses the consumer-safety and efficacy purpose of FDA approval processes and is nearly impossible to track. Problems often only come to notice through industry whistleblowers, or when sufficiently large groups of patients are harmed."
Van Norman also highlights a historic example of serious issues that arose from off-label use of weight loss drugs. She explains that in the 1970s fenfluramine hydrocholoride and phentermine were each individually FDA-approved for weight loss. Results weren't as significant as patients hoped, but when an article was published describing an off-label combination of the two drugs and its more significant weight loss effects, off-label prescriptions for this combination, known as Fen-Phen, soared. Eventually annual prescriptions of Fen-Phen exceeded 18 million in the U.S.
Just as Fen-Phen grew in popularity, reports of serious complications emerged. Nearly 33% of people taking the off-label drug combination experienced lung and heart damage. Of the injured patients, about 21% required heart surgery and Van Norman recounts that "many experienced disability and/or death." The FDA requested the withdrawal of the drugs in 1997 after 20,000 personal injury lawsuits and a $21 billion settlement with the manufacturer, Wyeth Pharmaceuticals.
Possible Adverse Effects of Taking Ozempic for Weight Loss
Ozempic's label warns the drug could potentially cause serious adverse health effects and includes a boxed warning about the possibility of increasing the risk of thyroid cancer.
More common Ozempic side effects include nausea, vomiting, diarrhea, abdominal pain and constipation. These are typically mild and usually taper off over time.
Possible Serious Ozempic Complications
Acute kidney injury: Another possible risk the drug's label warns about is acute renal failure. Prescribing physicians should monitor their patients' renal function carefully.
Diabetic retinopathy: Clinical trials of Ozempic show a risk of diabetes-related vision loss and possible blindness. Any patients who have a history of diabetic retinopathy require close monitoring if they choose to use Ozempic.
Gallbladder disease: Product packaging warns that swelling of the gallbladder or gallstones are possible side effects of taking Ozempic.
Gastroparesis: Some patients taking Ozempic report experiencing stomach paralysis, a serious condition that has no cure, though it is treatable.
Thyroid cancer: Ozempic carries a boxed warning for the potential risk of developing thyroid cancer. A boxed warning is the FDA's highest warning level related to a drug's safety and alerts consumers to significant risks.
Pancreatitis: Ozempic's label warns about a potentially elevated risk of pancreatitis. Johns Hopkins reports this risk nearly doubles in those who take semaglutide drugs.
The more serious adverse health effects have led to Ozempic lawsuits claiming personal injury. The latest round of lawsuits involves those who experienced gastroparesis during or after taking Ozempic.
Always take prescription drugs exactly as your doctor prescribes. Talk to your doctor about any symptoms you experience and their severity to get the best possible health advice and treatments.
Please seek the advice of a qualified professional before making decisions about your health or finances.
Last Modified: November 17, 2023
Share This Page
17 Cited Research Articles
Consumernotice.org adheres to the highest ethical standards for content production and references only credible sources of information, including government reports, interviews with experts, highly regarded nonprofit organizations, peer-reviewed journals, court records and academic organizations. You can learn more about our dedication to relevance, accuracy and transparency by reading our editorial policy.