Hernia Mesh Recall
Several manufacturers issued hernia mesh recalls from February 2005 to February 2019. These recalls were voluntary and not FDA-mandated because some hernia mesh products had high failure rates or caused injuries to patients. Some of the recalls were also for packaging errors.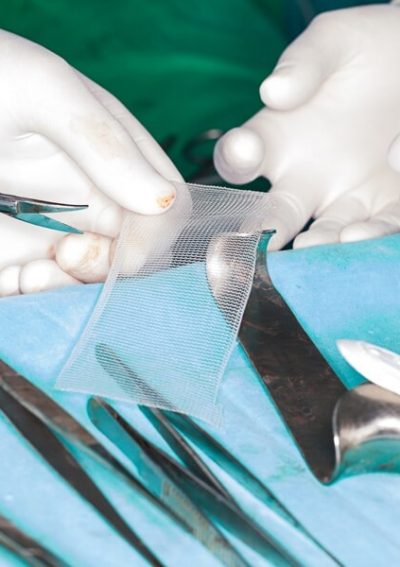 Complications Associated With Recalled Hernia Mesh
Adverse events relating to mesh hernia repair have occurred. Many of the hernia repair complications reported to the U.S. Food and Drug Administration have been associated with recalled mesh products.
Complications reported to the FDA include:
Adhesion
Infection
Obstruction
Pain
Perforation
Recurrence
The FDA reported in its analysis of medically adverse events that recalled mesh products were "the main cause of bowel perforation and obstruction complications." A bowel obstruction is a blockage in the small or large intestine. Both perforation and obstruction can lead to abdominal cramping, fever and chills or more serious consequences such as sepsis and peritonitis.
Class 1 Hernia Mesh Product Recalls
Some manufacturers have initiated their own voluntary hernia mesh recalls. Classed from 1 to 3 depending on the seriousness of the potential consequences, Class 1 recalls are the most serious.
Class 1 hernia mesh recalls include the following products:
Bard Composix Kugel Mesh X-Large Patch Oval with ePTFE, 8.7" x 10.7" - Code: 0010206
Bard Composix Kugel Mesh X-Large Patch Oval with ePTFE, 10.8" x 13.7" - Code: 0010207
Bard Composix Kugel Mesh X-Large Patch Oval with ePTFE, 7.7" x 9.7" - Code: 0010208
Bard Composix Kugel Large Oval, 5.4" x 7" - Code: 0010202
Several Class 1 recalls occurred because the hernia mesh's "memory recoil ring could break and potentially lead to bowel perforation and/or chronic enteric fistula," according to the manufacturer. Bowel perforation from hernia mesh can cause feces to leak into the abdomen. Chronic enteric fistula is an abnormal connection between two organs, at least one of which is part of the gastrointestinal tract.
Class 2 Hernia Mesh Product Recalls
A Class 2 recall means that a person may suffer temporary or medically reversible adverse health consequences from the recalled product. The FDA classified most of the hernia mesh recalls from 2005 to 2019 as Class 2.
Most of the Class 2 recalls cover a variety of issues. Some of these include packing, nonsterility, delamination concerns and the requirement for repair surgery because of hernia recurrence.
ACell and Sofradim Recalls
Manufacturer ACell recalled its products on March 21, 2019. Sofradim followed, issuing Class 2 recalls of its products on April 26, 2018.
The recall details of the products include:
ACell Inc. Gentrix Surgical Matrix Thick: The 30 x 40 cm device failed to meet the company's tensile strength specification, resulting in a recall in 2019.
Sofradim Versatex Monofilament Mesh: Some patients reported abdominal hernia recurrence following hernia repair with the product prompting a recall in 2018.
Gentrix Surgical Matrix meshes are made from biologic products designed to dissolve over time. Sofradim's product, however, is made from polyester textile.
Atrium Recalls
Manufacturer Atrium Medical Corporation issued Class 2 recalls for its ProLite Mesh product on November 22, 2017. The company then recalled multiple types of its C-QUR 2013 product on July 19, 2013.
The recall details of the products include:
Atrium ProLite Mesh: These were incorrectly placed inside a pouch of packages labeled with a product code and number not associated with it. This 2019 recall affected only 60 units.
Atrium C-QUR: The models recalled in 2013 included C-QUR V-Patch, TacShield, Edge and standard C-QUR Meshes. The company indicated high humidity could cause the mesh to stick to the inner liner of the package. This affected more than 145,000 units.
The ProLite Mesh was distributed to Spain only. Atrium products shipped around the world, making them one of the most high-profile hernia mesh recalls.
Bard Recalls
Bard Inc., which Davol now owns, manufactures several polypropylene hernia mesh products for hernia repair. Several have undergone Class 2 recalls over the years.
Details of the recalled products include:
Composix: Four models were recalled in 2014 because the pouch holding sterile inflation assembly and inflation adapter may be open or have a weak seal. The problem began with packaging process controls.
Ventralight: Six models were recalled in 2014 because the pouch holding sterile inflation assembly and inflation adapter may be open or have a weak seal. The problem began with packaging process controls.
Ventralight ST Mesh: Two models were recalled in 2012 because of mislabelling of the 8" x 10" package and the 7" X 9" packages.
Soft Mesh Patch: One model was recalled in 2011 because 198 units may have contained a different size patch than was indicated.
Ventralex ST Medium Circle: This product specifically with Strap Hernia Patch was recalled in 2011 because the product was packaged and identified as a Bard Ventralex" ST Large Circle.
Preshaped Mesh: One model was recalled in 2010 because of mislabelling.
Ventrio Hernia Patch: One model was recalled in 2010 because of mislabelling.
3D Max Mesh: One model was recalled in 2009 because of mislabelling.
There was also one Class 3 recall, which means the use of or exposure to a product in violation is not likely to cause adverse health consequences. The distribution of the products in all classes of recalls ranged from nationwide to global distribution.
Covidien Recalls
Covidien made several Class 2 recalls of its hernia mesh products over the years. The company is a subsidiary of Medtronic.
Recall details include:
Parietex Hydrophilic: Parietex Hydrophilic Anatomical Mesh 15 cm x 10 cm polyester left was recalled in 2021. The model recalled has a packaging label indicating that the device is for the left side, but the product inside the package is for the right side.
Parietex Composite: Parietex Composite Parastomal Mesh was recalled in 2018. The company received reports of parastomal mesh failure several years after parastomal hernia repair using the modified Sugarbaker repair technique. In these reports, product failure led to hernia recurrence, requiring additional surgery.
AutoSuture Surgipro: AutoSuture Surgipro Polypropylene Mesh Clear 3" x 5" Sterile was recalled in 2011. The recalled model had a breach in the sterile barrier, leading to compromised sterility.
At the time of its voluntary recall of the Parietex Composite Parastomal Mesh, the company indicated it had received reports of injury. Globally there were 10 reports of mesh failure following the use of the product in the previous five years.
Ethicon Recalls
From 2005 to 2014, Ethicon made Class 2 recalls of more than 18,000 units of its Proceed hernia mesh. Many of the recalls were related to issues of compromised sterility.
Recall details include:
Proceed Surgical Mesh, 2020: A customer found a hair inside the primary packaging of one unit, resulting in a recall of 15 units from a single lot.
Proceed Surgical Mesh, 2014: 225 units of the product were recalled because of an incomplete seal on the packaging. That could compromise the device's sterility and lead to delamination, which means the mesh could lose its coating.
Proceed Surgical Mesh, 2010: 87 products were recalled because of the potential for delamination.
Proceed Surgical Mesh, 2006: Thousands of devices were recalled – the largest number of Ethicon recalls – because of the possibility that the coating on the product could delaminate during certain hernia repairs.
Delamination of mesh could potentially lead to complications. According to the company, the risk associated with its 2006 recall was that the "exposure of the polypropylene layer to the bowel prior to reperitonealization could increase the risk of adhesions and bowel fistulization."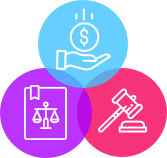 Experiencing pain, bowel obstruction or other complications after hernia mesh surgery?
Get your free case review today.
FDA and DOJ Hernia Mesh Actions
Because of extensive recalls during many years, the FDA has commissioned safety reports, issued warnings and involved the Department of Justice in an extreme case. Recalls occurred because patients experienced hernia mesh injuries, the mesh products had a high failure rate or the packaging was inadequate or incorrect in some way and posed a threat or risk of injury.
Studies show that patients continue to report significant issues. These include chronic and acute pain, hernia recurrence, hematoma, seroma and other responses after using several brands and models of hernia meshes. Regulatory science evaluates the safety and performance of medical devices throughout their life cycle. Hernia mesh materials are complex and present challenges for medical researchers and regulators, which they continue to attempt to resolve through traditional and new evidence-based research methods, such as big data platforms.
What To Do If Your Hernia Mesh Is Recalled
If you discover that your hernia mesh has been recalled, consult your surgeon for additional information so they can evaluate your situation and provide guidance on medical interventions or monitoring. Keep all documentation related to your hernia mesh, including records and communications with health care providers.
Contact a medical device litigation attorney for a free consultation and an evaluation of your case. An experienced attorney will inform you of your legal rights and guide you through the process if you decide to pursue a claim.
Hernia mesh lawsuits for related complications are ongoing. Remember, each case is unique, and it's important to consult with a legal professional who can provide personalized advice based on your circumstances and injuries.
Please seek the advice of a qualified professional before making decisions about your health or finances.
Last Modified: September 6, 2023
Share This Page
39 Cited Research Articles
Consumernotice.org adheres to the highest ethical standards for content production and references only credible sources of information, including government reports, interviews with experts, highly regarded nonprofit organizations, peer-reviewed journals, court records and academic organizations. You can learn more about our dedication to relevance, accuracy and transparency by reading our editorial policy.