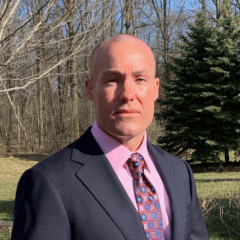 Thomas Brock, CFA, CPA
Chartered Financial Analyst and Certified Public Accountant
Thomas Brock has more than 20 years of experience in investments, corporate finance and accounting. This includes oversight of a $4 billion portfolio for an insurance group.
Brock's varied financial work includes credit analyses, the development of multiyear financial forecasts as well as the evaluation of capital budgeting proposals and investment opportunities.
Earlier in his career Brock managed several accounting and financial planning functions and led a number of transformational initiatives, including a general ledger conversion, a financial reporting system implementation, the establishment of a centralized procurement office and the execution of due diligence reviews and integrations for several multimillion-dollar merger and acquisition deals.
Outside of the corporate setting Brock has helped individuals and businesses with accounting, budgeting, financial planning and investing matters.
Brock obtained a Master of Business Administration from Franklin University. He also earned a bachelor's degree in business administration from Bowling Green State University.
Expertise
Accounting
Corporate Finance
Cryptocurrency
Financial Consulting
Insurance
Investments
Licenses and Certifications
Chartered Financial Analyst (CFA)
Certified Public Accountant (CPA)
Education
Bachelor's degree in business administration and finance, Bowling Green State University
Master of Business Administration in finance, Franklin University
About Our Contributing Experts
The contributing experts at ConsumerNotice.org are respected authorities in their fields. Their professional background, education, training and certifications qualify them to contribute trustworthy information and review our content to ensure it is accurate, comprehensive and up to date.