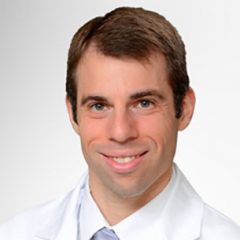 Dr. Daniel A. Landau
Medical Oncologist, Hematologist & Expert Contributor
Dr. Daniel A. Landau is the section chief of hematology and oncology at Orlando Health Cancer Institute.
In 2005, he received his medical degree from the University of South Florida College of Medicine, where he also finished a residency in 2008. He then completed a fellowship in medical oncology and hematology at MD Anderson Cancer Center's former location in Orlando, Florida, where he served as chief fellow.
Dr. Landau is board certified in two types of internal medicine: Medical oncology and hematology. He is a member of the American Society of Clinical Oncology and the American Society of Hematology.
In addition to his specialization in medical oncology and hematology, Dr. Landau is known for his expertise in genitourinary cancers including cancers of the bladder, prostate and kidney.
Dr. Landau has received several honors and awards, including top oncologist by SmartestOncologist.com.
About Our Contributing Experts
The contributing experts at ConsumerNotice.org are respected authorities in their fields. Their professional background, education, training and certifications qualify them to contribute trustworthy information and review our content to ensure it is accurate, comprehensive and up to date.