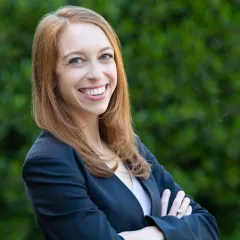 Marlene Goldenberg
Attorney and Product Liability Expert
Marlene Goldenberg is an award-winning lawyer and founding partner at the national law firm Nigh, Goldenberg, Raso and Vaughn. At 14 years old, Goldenberg began working in her family's law firm and held nearly every position at Goldenberg Law before she helped co-found NGRV.
Goldenberg's law practice is largely devoted to helping people injured by defective medical devices and pharmaceutical drugs. But she also specializes in several other practice areas, including defective supplements, sexual assault, personal injury, product liability and medical malpractice.
After graduating magna cum laude from Syracuse University — where she majored in international relations, political philosophy and Spanish — Goldenberg received her law degree from William Mitchell College of Law in Saint Paul, Minnesota. She also attended BPP University Law School in London, earning a Graduate Diploma in Law.
Since beginning her career as an attorney in 2013, Goldenberg has been recognized by Minnesota Lawyer as an Up & Coming Attorney in 2014 and by Minnesota Super Lawyers as a Rising Star every year since 2015. She was selected by Best Lawyers in Minnesota and named Member of the Year in 2018 by the Minnesota Association for Justice.
Goldenberg has held leadership positions in several pharmaceutical and medical device multidistrict litigations, such as Zantac, valsartan, aripiprazole and Bard IVC filters. She is also on the Plaintiffs Executive Committee for the paraquat MDL.
According to Goldenberg, the law should be a vehicle for making the world a better and safer place for everyone.
She is a strong believer in community, and she enjoys volunteering and giving time to others. She serves as a Big Sister through Big Brothers Big Sisters of Minnesota and as a board member of the Jewish Family and Children's Service of Minneapolis NextGen organization. Goldenberg is also a volunteer attorney for the Children's Law Center, where she represents and advocates for the interests of children who are placed in foster care.
Education
William Mitchell College of Law, Juris doctorate, 2013
BPP University Law School, London, Graduate Diploma in Law, 2012
Syracuse University, Bachelor of Arts in International Relations, Political Philosophy and Spanish
Professional Associations and Memberships
American Association for Justice – Member
Minnesota Association for Justice – Member
Bar Admissions
Minnesota, 2013
United States District Court for the District of Minnesota, 2013
United States District Court for the Eastern District of Wisconsin, 2015
Washington, D.C., 2022
Leadership Positions
Plaintiffs Executive Committee: In re Paraquat Products Liability Litigation
Plaintiffs Steering Committee: In re Zantac (ranitidine) Products Liability Litigation
Plaintiffs Executive Committee: In re Valsartan, Losartan & Irbesartan Products Liability Litigation
Discovery Liaison and Plaintiffs Steering Committee Member: In re Aripiprazole Products Liability Litigation
Law and Motion Committee Member: In re Bard IVC Filter Products Liability Litigation
Honors and Awards
Best Lawyers in Minnesota, 2022, 2023
Minnesota Super Lawyers, Rising Star, 2015-2022
Member of the Year, Minnesota Association for Justice, 2018
Minnesota Lawyer, Up & Coming Attorney, 2014
Presentations & Publications
Co-Leader of Zantac Litigation Group, American Association for Justice, 2019-Present
Co-Leader of Valsartan Litigation Group, American Association for Justice, 2018-Present
Co-Leader of Abilify Litigation Group, American Association for Justice, 2017-2020
"What to Do with a New Drug or Device Case," Minnesota Trial Magazine, Winter 2017
Speaker, "Abilify," Mass Tort Medical School, Orlando, Florida, March 2017
Speaker, "Abilify and Compulsive Gambling," American Association for Justice Mid-Winter Convention, Austin, Texas, February 2017
Speaker, "Medical Device Preemption and Getting Around Riegel," American Association for Justice Annual Convention, Montreal, Quebec, July 2015
"Taking on Infuse and Preemption," Trial Magazine, July 2015
Speaker, "Speaking to Your Treating Physician and Pleading Fraud," American Association for Justice Annual Convention, Baltimore, Maryland, July 2014
Speaker, "Medtronic Infuse Bone Graft – Litigation Update," American Association for Justice Education's Plaintiff-Only Pharmaceuticals and Medical Device Litigation Update Seminar, New Orleans, Louisiana, January 2014
"Pleading a Parallel Claim Based on Fraudulent Promotion of Off-Label Use," American Association for Justice Speaker Paper, July 2013
Moderator, "A Broad View of the Medtronic Infuse Litigation and Substantive Issues Therein," American Association for Justice Annual Convention, San Francisco, California, July 2013.
"Pleading a Parallel Claim: The Challenging Landscape of Preemption in Medical Device Cases and Possibilities for the Near Future," American Association for Justice Infuse Bone Graft Teleseminar Speaker Paper, December 2012