JUUL E-Cigarettes
JUUL is the most widely used electronic cigarette in the United States. But many of its users are unaware that all JUUL pods contain nicotine. And JUUL pods deliver some of the largest and most powerful nicotine doses among all e-cigarettes. This leaves users open to addiction risks and several serious health dangers.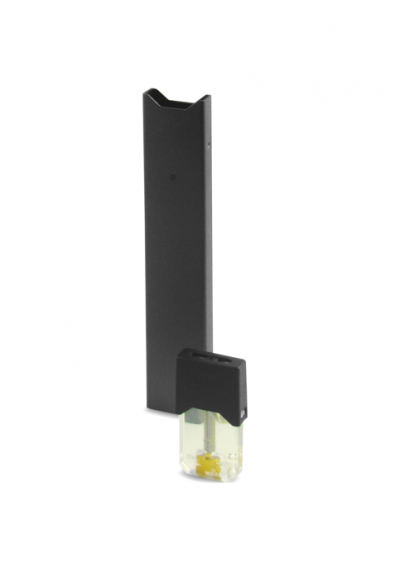 JUUL has come to dominate the e-cigarette market. It hit the market with delivering more than twice the nicotine dose of other e-cigarettes at the time. Its design and early marketing appealed to teens and young adults, and it is often mentioned as part of what the United States Surgeon General has called an "epidemic of youth e-cigarette use."
Big tobacco giant Altria bought a 35 percent stake in JUUL Labs in December 2018 for $12.8 billion. The deal created a partnership that dominates both smoking and vaping sales in the United States. Altria controls half of the tobacco cigarette market, and JUUL has as much as a 75 percent share of the e-cig market.
As part of the deal, Altria gave up top-shelf display space next to its Marlboro displays in retail stores. It also discontinued its MarkTen and Green Smoke e-cigarettes to eliminate competition for JUUL. The two products only accounted for 4.4 percent of the e-cig market at the time.
The arrangement may be darkly beneficial to both companies. A 2017 study in the American Journal of Medicine suggested e-cigarettes like JUUL may serve as a gateway to tobacco use. Researchers found that young adults who use e-cigs are more than four times as likely to start smoking tobacco within 18 months as those who don't vape.
How Does JUUL Work?
JUUL has been called "the iPhone of e-cigarettes," and its branding and packaging are similar to Apple's signature minimal style. When it premiered in 2015, JUUL incorporated innovations in aesthetic design, electronics and chemistry that were big departures from earlier e-cigarettes.
JUUL has a sleek, lightweight design meant to mimic the weight and feel of a tobacco cigarette. The gadgets look like flash drives and can be recharged by plugging into your computer's USB port. The battery powers a heating element that vaporizes liquid contained in an interchangeable pod.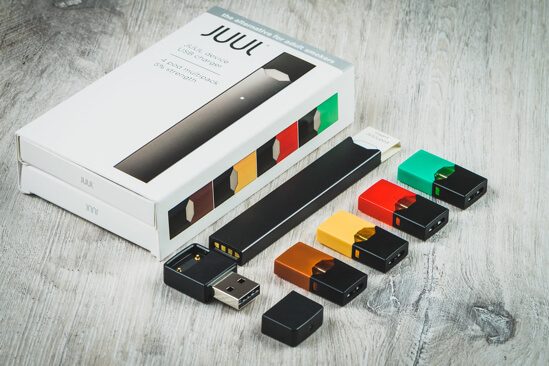 JUUL pods come in several flavors but all contain nicotine salts. By mixing benzoic acid with nicotine salts, JUUL's inventors were able to deliver nicotine to the brain as fast as tobacco cigarettes. This was something no other e-cigarette could do at the time.
The pod serves as the mouthpiece after it's connected to the JUUL stick. There are no on-off switches or other settings. The JUUL device detects when you inhale and automatically heats the liquid into a vapor. Once you stop inhaling vapor, the JUUL goes into standby until your next puff.
Aggressive Marketing Propelled JUUL's Popularity
JUUL more than tripled its share of the United States e-cigarette market in just 15 months. In August 2017, JUUL accounted for 24 percent of the market. By October 2018, it sold 75 percent of the e-cigs in America.
Studies suggest that the explosive growth was due to an aggressive social media marketing strategy that attracted teens and young adults to the product. JUUL Labs says its products are meant to be used by adults to stop smoking, and its current ads reflect that. But a 2019 study by Stanford researchers found the first six months of JUUL marketing targeted young people, not adult smokers.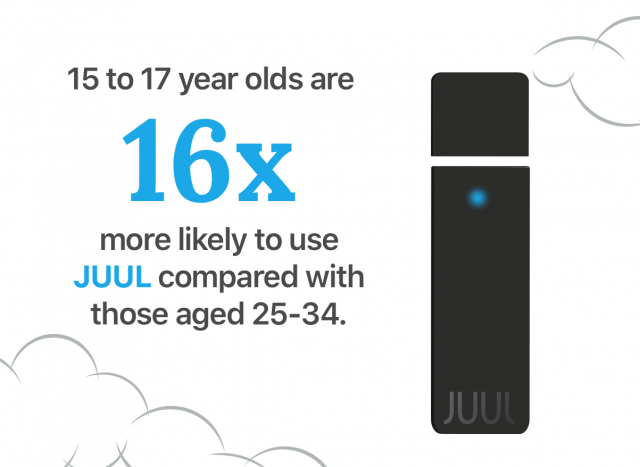 Stanford Research Into the Impact of Tobacco Advertising reported that early JUUL marketing efforts involved recruiting "youthful influencers" to popularize the e-cigs on social media. JUUL paid these high-profile social media stars to write favorable reviews but to keep financial arrangements off the radar.
Use Among Teens and Young Adults
JUUL and other e-cigarettes are not supposed to be sold to anyone under the age of 18. But the devices have become extremely popular among people far younger than that.
A 2019 report from the anti-smoking advocacy group Truth Initiative found that 15- to 17-year-olds were 16 times more likely to try JUUL than 25- to 34-year-olds. And more than half of users were younger than 18 the first time they tried JUUL.
It's easy for a teen to conceal a JUUL e-cig from parents and teachers. Adults often mistake them for flash drives, and they are small enough for a teen to hide the device in the palm of his or her hand.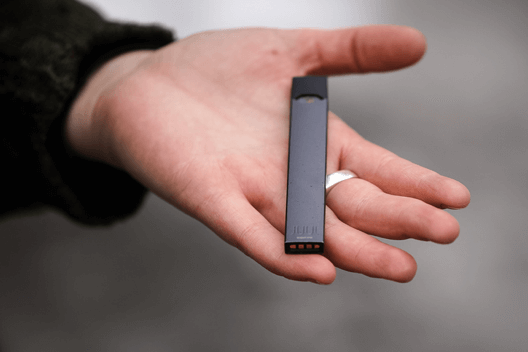 The United States Surgeon General's Office estimates that one in five high school students used an e-cigarette in 2018. But the number may be higher due to a language gap. Researchers have found that teens don't often realize JUUL is an e-cigarette and may not accurately answer survey questions about using them.
Public health researchers found teens frequently use the term "Juuling" instead of "vaping" and believe the two to be distinct activities. The confusion was pronounced enough that researchers changed the language in 2019's National Youth Tobacco Survey to better track JUUL use among teens. The survey is conducted each spring by the Centers for Disease Control and Prevention and the Food and Drug Administration.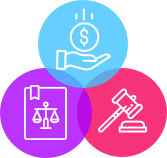 Experiencing nicotine addiction or seizures after using JUUL or another e-cigarette?
Get your free case review today.
Addiction Risks
While JUUL's design intrigues potential users, it is the product's nicotine that keeps customers coming back. Nicotine is highly addictive, and JUUL Labs has claimed its device delivers nicotine up to 2.7 times faster than competitors.
Each pod contains about as much nicotine as a pack of 20 tobacco cigarettes. That was twice the nicotine as most other e-cigs when JUUL first hit the market. Other brands have since engaged in what a 2019 British Medical Journal study called a "nicotine arms race" to increase the amount of nicotine in their products in an effort to keep up with JUUL.
Nicotine reaches the brain within 10 seconds of being inhaled. It causes the brain to release chemicals that let you feel pleasure. But over time, it takes more and more nicotine to feel pleasure. And users experience withdrawal symptoms that can only be soothed by more nicotine. This is how a person becomes addicted to nicotine.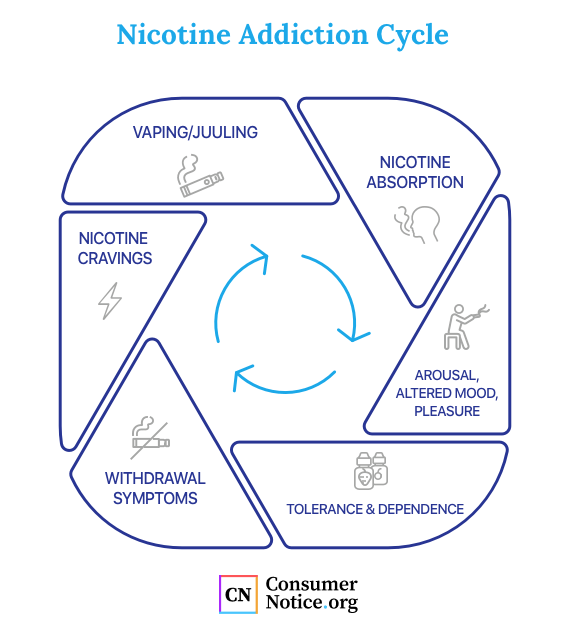 A 2018 study of youths and young adults in the journal Tobacco Control found that 63 percent of JUUL users did not know the product contains nicotine.
A 2017 study at the University of Southern California found that teens who vaped higher doses of nicotine — like those found in JUUL pods — were more likely to become regular smokers. Researchers found that 43 percent of high school students who used high-nicotine e-cigs like JUUL at the start of the study were "frequent smokers" six months later. The researchers published their work in JAMA Pediatrics.
Parents and teachers can play a major role in reducing teen nicotine addiction. It can be as simple as knowing the facts about students and vaping, and explaining the dangers in a frank and reasonable discussion.
Nicotine Side Effects, Heart Damage and Other Health Risks
Both nicotine and the flavorings used in JUUL pods have been associated with serious and permanent health conditions. Nicotine's effects have been known for decades but because e-cigarettes are a relatively new invention, researchers are still learning about health risks from JUUL and other e-cigs.
Nicotine Side Effects
Nicotine is poisonous. Outside of smoking and vaping, its only other known use has been as an insecticide. It's been sprayed on crops to kill bugs since the 17th century. But the United States Environmental Protection Agency banned its use as an insecticide in 2014.
Nicotine poisoning in people depends on several factors, including your body weight and how much nicotine you have in your system.
At least eight research studies since 1995 have found nicotine has the potential to cause cancer. It's also known to cause complications for the heart, lungs, kidneys and reproductive system.
Nicotine can stunt brain development in teens and young adults. The human brain doesn't stop developing until a person is around 25 years old. Nicotine use before then can prevent the prefrontal cortex from fully developing. That's the part of the brain that handles decision making, impulse control and other higher personality functions.
Nicotine use in adolescence has also been associated with behavioral problems later in life, including substance abuse and mental health problems. Nicotine can cause long-term problems with learning, memory and the ability to pay attention.
Study Finds E-Cig Flavors May Cause Heart Damage
A May 2019 study from Stanford School of Medicine found the flavors used in e-cigarettes like JUUL damaged blood vessel cells grown in a lab. The damage resulted even if there was no nicotine mixed with the flavors. The amount of damage varied between flavors but was most severe with cinnamon and menthol.
The flavors damaged endothelial cells that line the insides of blood vessels. Damage to these cells leads to other cardiovascular diseases. The researchers published their work in the Journal of the American College of Cardiology.
Researchers conducted the study on tissue in a lab and later research on people may not produce the same results. But it shows how researchers are just beginning to look at how JUUL and other e-cigarette products may cause harm.
Congestion, Breathing Issues and Seizures
JUUL lawsuits claim that using the popular e-cigarette also led to chest congestion, severe breathing difficulties and seizures.
In April 2019, the FDA announced it was investigating reports of seizures after e-cigarette use. The agency identified 35 cases reported since 2010 and most involved teens and young adults. It said there was a "slight but noticeable" uptick in reports starting in 2018, the same year JUUL saw sevenfold growth, according to the Washington Post.
Please seek the advice of a qualified professional before making decisions about your health or finances.
Last Modified: October 7, 2021
Share This Page
37 Cited Research Articles
Consumernotice.org adheres to the highest ethical standards for content production and references only credible sources of information, including government reports, interviews with experts, highly regarded nonprofit organizations, peer-reviewed journals, court records and academic organizations. You can learn more about our dedication to relevance, accuracy and transparency by reading our editorial policy.