Juul Labs Will Pay $438.5 million to Settle E-Cigarette Claims
Fact Checked
Fact-Checked
Consumernotice.org adheres to the highest ethical standards for content production and distribution. All content is thoroughly researched and verified at each stage of the publication process.
Our writers and editors follow strict guidelines for written and visual content, including vetting all sources and verifying quotes and statistics, to guarantee honesty and integrity in our reporting.
We collaborate with legal and medical experts and consumer safety professionals to further ensure the accuracy of our content.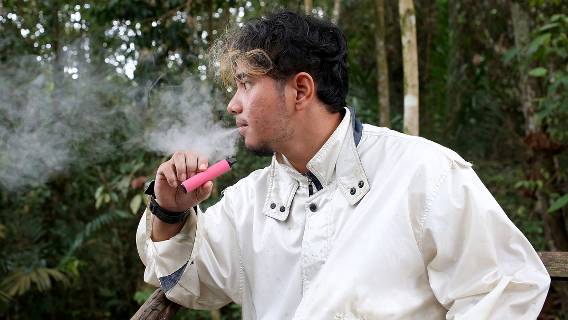 Juul Labs Inc. has agreed to pay at least $438.5 million to 33 states and Puerto Rico to settle allegations that its highly addictive electronic cigarettes had been marketed directly to young adults.
This agreement also includes numerous restrictions on how the product can be marketed and sold in the future. It comes in the wake of a total of $62.5 million in settlements with North Carolina and Washington state earlier this year over similar charges that involve underage users of the product.
The company is still facing nine more states whose attorneys general are leveling similar claims, and potentially thousands of personal injury Juul lawsuits. There also are dozens of local school districts across the country considering comparable action.
Connecticut Attorney General William Tong announced this latest settlement, which resolved a two-year investigation into the business practices used by Juul.
"Juul's cynically calculated advertising campaigns created a new generation of nicotine addicts," Tong said in a statement Sept. 7. "They relentlessly marketed vaping products to underage youth, manipulated their chemical composition to be palatable to inexperienced users, employed an inadequate age verification process, and misled consumers about the nicotine content and addictiveness of its products."
The beleaguered company, which has been blamed for sparking the teen vaping surge, did not acknowledge any wrongdoing in the settlement.
Juul Must Make Marketing Concessions
Juul said in a statement that the settlement is a "significant part of our ongoing commitment to resolve issues from the past," adding that the terms of the deal are already in alignment with its current business practices.
"We remain focused on our future as we fulfill our mission to transition adult smokers away from cigarettes – the number one cause of preventable death – while combating underage use," Juul said as part of its statement.
Earlier this summer, the U.S. Food and Drug Administration announced a ban of Juul e-cigarettes, citing their overall safety. The FDA said they played "a disproportionate role in the rise of youth vaping."
The company was able to continue selling the products after receiving a court order blocking the FDA's Juul ban.
As part of this latest settlement, Juul agreed to refrain from using multiple marketing practices. It will not use paid social media influencers, cartoons, or advertising on billboards or public transportation. It also will not use anyone under 35 years of age in an advertisement. 
Although Juul's earlier marketing focused on the young, it already has shifted to pitching its product as an alternative nicotine source for older smokers.
Juul reported sales of $1.9 billion in 2021. The $438.5 million settlement is based on a six-year timeframe. The company can extend payments for up to 10 years, but it will then cost another $40 million, according to the Connecticut attorney general's office.
"We have essentially taken a huge chunk out of what was once a market leader, and by their conduct, a major offender," Tong said. "We think this will go a long way in stemming the flow of youth vaping."
FDA Says Juul Contributed to Youth Vaping Epidemic
Youth use of e-cigarettes has been falling since the minimum age to purchase tobacco products in the U.S. was raised to 21 in 2019. Over the last few years, Juul already had instituted many of the marketing practices that were part of the recent settlement. For example, the sale of sweet and fruity e-cigarettes stopped almost three years ago.
The sale of e-cigarettes to teenagers first soared in 2015 when Juul launched its original promotions, leading the FDA to declare an "epidemic" of underage vaping.
By 2018, Juul became the market leader and the target of multiple regulators and considerable criticism over its business practices. 
School administrators throughout the country blamed the student vaping epidemic on Juul's early marketing, which included such things as free sample parties, sleek vaporizers, fruity flavors and a rash of slick social media advertisements.
"The full public health ramifications of this misconduct are yet unknown," Tong said. "But these are some of the toughest mandates at any point on any industry."