Electric Scooters and Hoverboards
Hoverboards and electric scooters range from fun toys to serious alternative transportation for urban commuters. But fires with hoverboard batteries and regulatory scrutiny of scooter-related injuries have raised concerns over risks for riders.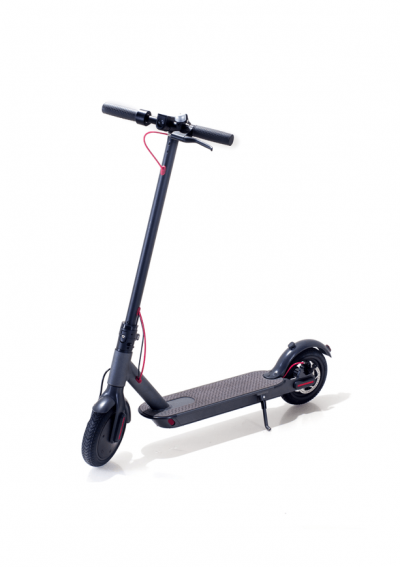 Hoverboards and electric scooters have redefined how millions of people get around. The small, compact machines take advantage of powerful electric motors and lithium ion batteries to speed people around at 13 miles per hour or more.
Both products have been associated with battery-related fires that have resulted in property damage, burns and, in the case of hoverboards, at least two deaths.
Electric scooters are increasingly associated with head and face injuries as the devices have become popular among urban commuters. At least two federal agencies are monitoring e-scooters following thousands of reported injuries.
Electric Scooters
Electric scooters, or e-scooters, feature two in-line wheels. An electric motor powers a drive-wheel at the back, and the rider uses a handlebar to steer the front wheel. The rider stands on a platform between the front and back wheels.
These machines are popping up in cities around the United States as pay-as-you go transportation called "dockless mobility." These are rentals that do not require a fixed dock station for people to pick-up or return bikes or scooters.
In October 2018, a Bloomberg report published by Insurance Journal estimated dockless mobility scooter operations were in more than 100 cities around the world. Bird and Lime, two of the largest dockless mobility companies that specialize in scooters, had provided an estimated 20 million rides on e-scooters as of 2018, the report said.
E-scooters have also been associated with fires, and are increasingly blamed for other serious injuries. Bloomberg reported there are no official counts of deaths and injuries related to e-scooters because hospitals don't track the cause of injuries.
But news reports have indicated at least four scooter-related deaths between September 2018 and February 2019. In December 2018, the U.S. Centers for Disease Control launched a study into the safety of electric scooters.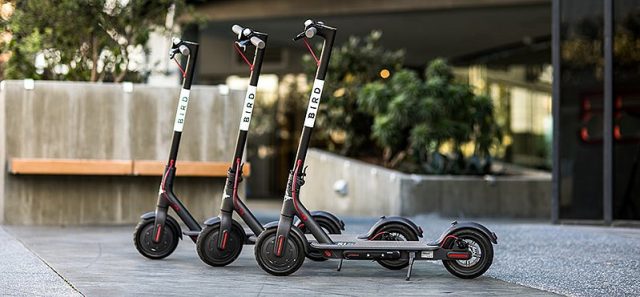 E-Scooter Injuries
A 2019 study in the Journal of the American Medical Association Network Open found head injuries accounted for 2 in every 5 serious electric-scooter-related injuries. The study looked at 249 people who had gone to an emergency room following an e-scooter incident.
Study: Most Common E-scooter Injuries
Head Injuries – 40.2%
Fractures – 31.7%
Cuts, sprains, bruises without a fracture – 27.7%
About 6 percent of the patients needed to be admitted to the hospital after treatment in the emergency room. This included two patients who were admitted to intensive care units.
The researchers found fewer than 5 percent of the patients had been wearing a helmet. They also observed 193 electric scooter riders who were not part of the injured group. They found more than 94 percent rode without helmets.
CDC Investigation
University of Texas shortstop David Hamilton was a key player for the Longhorns in the College World Series in 2018. But an e-scooter crash landed him on the injured list for the entire 2019 season.
Hamilton's high-profile crash resulted in a torn Achilles tendon and highlighted both the injury risks associated with electric scooters and how prevalent scooter injuries appear to be in the college city of Austin, Texas.
An Austin city government committee reported that riders in the city took 275,300 trips on dockless e-scooters licensed to seven companies in October 2018. Riders traveled 264,300 miles around the city that month.
Scooter Use in October 2018 in Austin, Texas
7 licensed companies
11,000 scooters
275,300 trips
264,300 miles traveled
The U.S. Centers for Disease Control and Prevention and the Austin Public Health Department partnered in 2018 to study e-scooter injuries in the city. The city has as many as 14,000 dockless electric scooters, making it one of the highest ratios of scooters-to-people in any city in the country, according to a 2019 CNN report.
Researchers will look at 37 emergency calls and 68 injuries that were reported over a 60-day period in 2018. It's the first study of its kind in the United States.
The study aims to measure the number of injuries per number of scooters ridden and per mile traveled. Researchers will look at rider behavior, helmet use, alcohol use, weather conditions, street types where crashes happened, and other road conditions.
Lime Recalls
Fires have been far more common with hoverboards than with electric scooters. But Lime recalled about 2,000 scooters in 2018 after reports that some of the devices were smoldering. The company blamed the problem on a manufacturing defect but said only a small percentage of the recalled scooters posed any real risk.
"The issue arose in one of the two batteries housed on early versions of the scooter; in several isolated instances, a manufacturing defect could result in the battery smoldering or, in some cases, catching fire," Lime said in a company statement.
"The issue arose in one of the two batteries housed on early versions of the scooter; in several isolated instances, a manufacturing defect could result in the battery smoldering or, in some cases, catching fire."
Lime purchases scooters from several manufacturers, but the recalled scooters were manufactured for Lime by Segway Ninebot. Lime told The Washington Post a problem with welding around the battery had led to short circuits.
"All vulnerable scooters were quickly removed from circulation, minimally impacting service to our Los Angeles, San Diego and Lake Tahoe markets," according to Lime's statement. "At no time were riders or members of the public put at risk."
The Post reported that while there had been several reports of the scooters smoking or smoldering, only one reportedly caught fire.
Lime had relied on what it calls "Juicers" to help charge the scooters. The company had paid customers $15 to charge scooters overnight in their homes. Lime removed all the affected scooters from the charging program over possible fire risks.
"All Segway Ninebot scooters will now only be charged at Lime's scooter storage facilities and will no longer be available to Juicers for afterhours charging until we are satisfied that there are no remaining issues with these scooter models," according to the company's statement.
Hoverboards
Named after Marty McFly's flying skateboard from the movie "Back to the Future Part II," real world hoverboards don't levitate off the ground. Federal regulators refer to them as self-balancing scooters. The boards feature two wheels side-by-side, and they have a place for the rider's feet but no handlebar.
Many have handheld remotes that allow riders to control their speed. The boards pivot in the middle. Sensors detect signals sent through the rider's foot to control speed and direction. A series of gyroscopes, computer components and electric motors make adjustments to keep the board level.
Each wheel has its own gyroscope, sensors and motor. By pivoting along the center of the board, riders can turn or spin in circles by having one wheel go faster than the other or in opposite directions.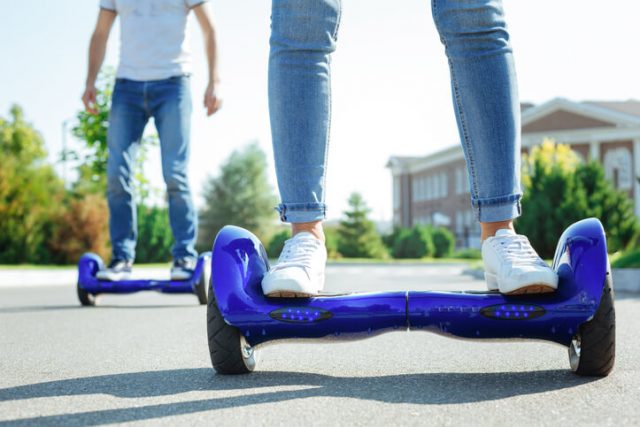 Fires and Other Injuries
The devices rely on rechargeable lithium ion batteries for power. These batteries are found in electronic devices ranging from cell phones to electric cars. They are powerful but can burst into flames if damaged or improperly charged.
Since 2015, the Consumer Product Safety Commission has received at least 250 reports of serious hoverboard incidents related to fires or overheating. These include the deaths of two girls, one 10 years old the other 2 years old, after a hoverboard started a house fire in Pennsylvania.
The commission also says there have been at least 13 burn injuries and three smoke inhalation injuries related to the devices. It estimates hoverboard fires have also resulted in $4 million in property damage since 2015.
While fires have been responsible for deaths, most injuries occur from falls.
Study: Most Common Hoverboard Injuries
Fractures- 40%
Contusions (Bruises)- 17%
Strains or Sprains- 13%
A 2018 study in the journal Pediatrics found an estimated 26,854 hoverboard injuries treat in United States emergency rooms between 2015 and 2016. Researchers relied on data from the Consumer Product Safety Commission's National Electronic Injury Surveillance System, which tracks product-related injuries in the United States. It looked at hoverboard and skateboard injuries among children 18 years old and younger.
Researchers found fractures, contusions, sprains and strains were the most common injuries. Wrists were the most common body part to suffer an injury. The forearm and head were the other most common injury sites. Fractures accounted for about 40 percent of injuries, and about 3 percent of injuries required hospitalization. Head injuries accounted for 14 percent of all hospitalizations.
Causes and Prevention
Liquid inside most lithium ion batteries is highly flammable. Insulation is supposed to prevent this liquid from touching both the positive and negative terminals of the battery. But if the battery is punctured or damaged so that this fluid leaks, it can short-circuit the battery, which can trigger a fast-burning fire or explosion.
CNET reported in 2016 that there was no one particular situation causing hoverboard fires. They started while the devices were being charged, being stored, and in one case, while on display outside a kiosk at a mall.
Prevent Hoverboard Fires
Use only the charger that comes with the hoverboard
Never charge overnight
Never leave a charging hoverboard unattended
Do not charge or store on or near flammable materials
Have working fire extinguishers and smoke alarms in the charging area
Hoverboards appeared on the market almost overnight around 2015. They sold quickly but were such a new product there were no real safety standards.
Underwriters Laboratories developed new safety standards called UL 2272 compliance. Underwriters Laboratories is an international company that tests, inspects, and certifies products for safety.
The Consumer Product Safety Commission put the new rules into effect on Jan. 29, 2016. A hoverboard that meets these standards should have a label or other mark showing it is UL 2272 compliant. People who are purchasing a board should insist on proof that the product they're buying has met this certification.
LayZ Board and Other Recalls
The Consumer Product Safety Commission lists at least 20 hoverboard recalls between July 2016 and November 2017. Recalls in 2016 alone affected 500,000 boards, according to CBS News.
Check for Hoverboard Recalls
The Consumer Product Safety Commission's Hoverboards Information Center lets you know which hoverboards have been recalled.
In November 2017, the Consumer Product Safety Commission advised people to stop using one particular model of hoverboard, the LayZ Board, after the devices were blamed for house fires. One fire killed two girls.
The commission estimated more than 3,000 boards had been imported into the United States from Shenzhen, China. It advised people who want to dispose of the devices to take them to a local recycling center to make sure the lithium-ion batteries are disposed of safely.
Please seek the advice of a qualified professional before making decisions about your health or finances.
Last Modified: July 17, 2020
Share This Page
24 Cited Research Articles
Consumernotice.org adheres to the highest ethical standards for content production and references only credible sources of information, including government reports, interviews with experts, highly regarded nonprofit organizations, peer-reviewed journals, court records and academic organizations. You can learn more about our dedication to relevance, accuracy and transparency by reading our editorial policy.