Anchoring Furniture: How to Keep Your Child Safe
Children are naturally curious and explore their surroundings. Climbing is a natural extension of this, helping them learn and gain new perspectives, but this can present particular home safety challenges when child-proofing. Throughout your home, everyday items like appliances, furniture and TVs can tip over and cause injury. Anchoring your furniture and appliances helps to mitigate this risk and keep your family safe.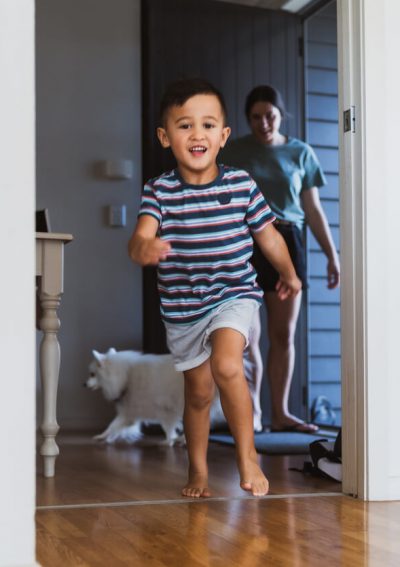 Why Should You Anchor Your Furniture?
Tip-over accidents typically occur when a child climbs onto, pulls up on or bumps into appliances or furniture. The U.S. Consumer Product Safety Commission (CPSC) reports that 451 children aged 17 and under were killed when furniture and TVs tipped over between 2000 and 2019. Annually, an average of 11,100 children went to the emergency room for injuries resulting from a tip-over incident between 2017 and 2019. Children under the age of six made up 79% of all furniture and TV tip-over fatalities and 75% of tip-over fatalities for children involved a TV.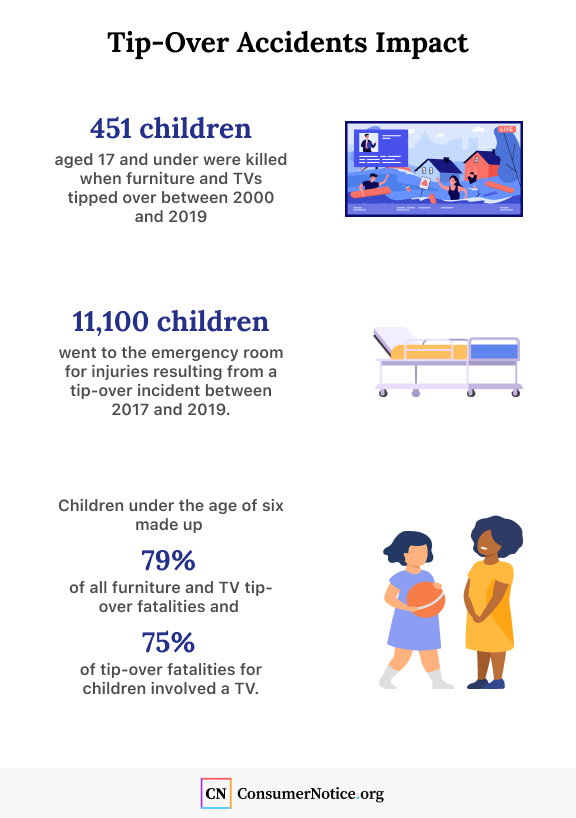 Activists are raising awareness of the risks associated with unsecured furniture. Lisa Siefert lost her 2-year old son Shane to a tip-over incident in 2011 and has since started a foundation in his honor. Through her work, Siefert has discovered that many families don't always know the full list and variety of unanchored furniture that can pose serious risks.
Many parents face home safety challenges, though, when they don't have total control over their space. Some parents live with extended family, have limitations on drilling into walls written in their rental agreements or their children spend time in the homes of family, friends and babysitters where furniture is not anchored. Parents may feel awkward having child safety conversations with others or asking for permission to install anchors in someone else's walls. There are products and options available that don't require drilling that can mitigate potential wall damage and kits to patch and repair drill damage.
What Furniture Anchoring Devices Can You Use?
Furniture anchors can be difficult to find, even in major retailers, across the United States, but many are also available at online retailers. There is a variety of anchoring devices available to suit a wide range of parents' needs.
Brackets & Cables: These devices typically consist of one bracket secured to the wall and a second bracket fastened to the furniture itself. These brackets are connected with a nylon or steel-braided cable that keeps the furniture from tipping forward.
Mounts: Free-standing, unsecured TVs pose a significant risk of tipping over. TVs can be directly attached to metal brackets that are then screwed into the walls.
Zero-Screw Kits: There are products on the market now (some are listed as "patent pending") that use adhesives, picture-hanging sized nails or a system of straps for people who cannot drill into the walls or studs of their space. Some of these products claim they can prevent tipping up to 200 pounds.
Most anchoring options do require some sort of drilling. There are also wall repair kits available from hardware stores, various retailers and online that can mitigate damage to walls.
What Furniture Needs to Be Anchored?
Children climbing, pulling up on or bumping into free-standing, heavy furniture can happen in almost any room of your home. Furniture that is prone to tipping includes:
Dressers
Desks
Chests
Shelving units and bookcases
TVs and TV stands
Tables
Heavy Chairs
Stoves/Free-standing ranges
Any tall and/or potentially unstable furniture or appliances
Dressers in particular pose a heightened risk of tipping over. Dressers with full-extension drawers can fall forward from the weight of the drawers and their contents.
In recent years, standards organization ASTM International has implemented standards mandating dressers be able to withstand up to 50 pounds of forward force without tipping. For many children, however, that may not be enough. For maximum security and peace of mind, anchor your dresser and use drawer stops that limit how far dresser drawers can extend.
How to Anchor Furniture
While there's a variety of anchoring products available, there is a general set of guidelines consumers can follow. When applying the anchor to the wall, it is important to install screws into the studs designed to support your home. Studs are typically 16 inches apart and can be located using a stud finder tool.
When applying the anchor to the furniture itself, it is important to mount the fastener onto solid wood that can typically be found along the top or sides of the item. Fabric or thin wood may not be strong enough to withstand forward force, leading to a tipping incident.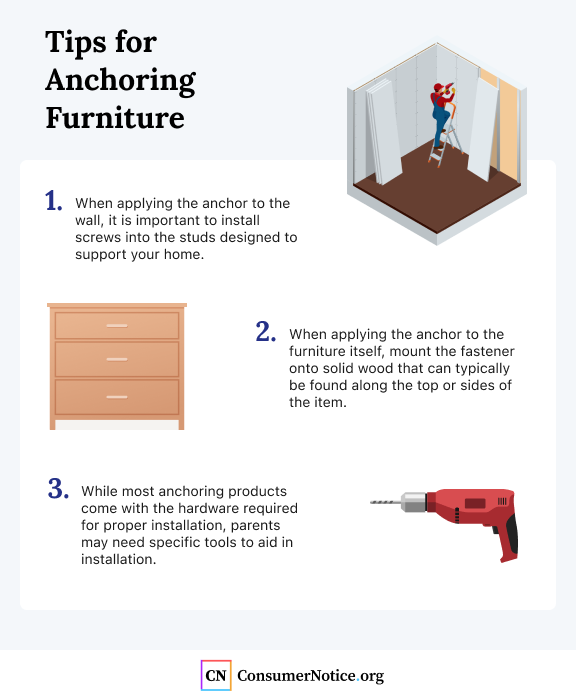 While most anchoring products come with the hardware required for proper installation, parents may need specific tools to aid in installation. Hammers, screw drives, drills, tape measures and other common tools may be necessary to install furniture anchors properly.
Child Safe Furniture
There are child-safe furniture alternatives that prevent tips or reduce the risk of children getting pinned. For example, lowering the mattress in cribs lowers the crib's center of gravity, making it more difficult to tip over. There are also child-safe tables with adjustable heights that keep children from climbing to grab items on the table that are out of reach.
Dressers made with plastic or lighter wood alternatives are available. These lighter materials can reduce the risk that children would be pinned underneath fallen furniture, which can cause suffocation. Some new dressers also come with stability features, including limiting the ability to open drawers until the furniture is secured to a wall. Specific drawer straps can also be purchased to keep drawers on dressers and cabinets closed.
Safety Testing Your Furniture
Parents should conduct furniture safety tests to evaluate and mitigate the risk of a child being injured. This should include testing the balance of free-standing furniture like dressers or bookshelves (even if they're anchored to the wall or floor). Ensure that heavy or tempting objects are out of reach or sight, and that all flat-screen TVs and their cords are out of reach. Parents should look through the lens of their child's perspective and climbing capabilities.
When performing a home-safety test on furniture, consider these guidelines:
Anchor all free-standing, heavy furniture to the wall or floor.
Install drawer stops on dressers with full-extension drawers.
Mount TVs to the wall out of reach.
If a TV cannot be wall mounted, place it on a sturdy, low-rise platform, secured to the furniture with a TV strap, pushed back as far as possible.
Place all electrical cords out of the reach of children.
Keep remote controls and other attractive items off of tables, dressers and TV stands, preventing children from reaching or climbing for them.
Teaching children the risks of climbing on large, heavy furniture or appliances and playing with electrical cords is an important step in protecting them as well. No safety product is always 100% effective and helping children make good choices when they're developmentally able to understand can be empowering.
The Need for Child Safe Furniture
Tip-over incidents claim the lives of hundreds of children every year. Anchoring your furniture and conducting home-safety tests are extremely important. Even with these safety measures in place, however, they are not a complete solution to the problem.
In June 2021, the STURDY Act (Stop Tip-overs of Unstable, Risky Dressers on Youth Act) passed in the U.S. House of Representsatives and was received in the U.S. It was read twice and referred to the Committee on Commerce, Science and Transportation. The bill requires the U.S. Consumer Product Safety Commission to revise the safety standards for dressers, bureaus and chests of drawers and include tip-over testing.
Please seek the advice of a qualified professional before making decisions about your health or finances.
Last Modified: November 17, 2021
Share This Page
8 Cited Research Articles
Consumernotice.org adheres to the highest ethical standards for content production and references only credible sources of information, including government reports, interviews with experts, highly regarded nonprofit organizations, peer-reviewed journals, court records and academic organizations. You can learn more about our dedication to relevance, accuracy and transparency by reading our editorial policy.