Wedding Planning Scams
Common wedding scams involve everything from counterfeit gowns to missing flowers to photographers who hold your photos hostage after your nuptials. Fortunately, there are a number of precautions you can take on your way to happily ever after.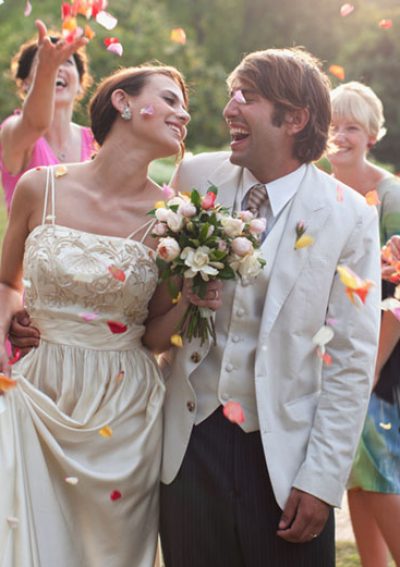 In 2018, the average wedding in the United States came with a price tag of more than $44,000, according to Brides magazine. But it can cost considerably more if you fall prey to fraud and scams.
Planning your wedding is exciting, but it can also leave you vulnerable to con artists and identity theft. One of the most devastating schemes involves the fake wedding planner who takes tens of thousands of dollars up front but disappears right before your big day.
Learning about recent scams — and being able to detect red flags in advance — can keep your wedding planning on track and safe from con artists.
Counterfeit Gowns
Buying a wedding dress is supposed to be every bride's dream, but it can turn into a nightmare if you're not careful. One of the most common scams involves online websites that sell cheap knockoffs of gorgeous designer gowns.
We're not talking about the websites that sell quality replicas of haute couture designs at affordable prices. We're talking about sites that try to pass off counterfeit gowns as the real thing.
The websites, which are often based in China, use original designers' photos and trademarks to mislead brides who think they've found their dream gown at an incredibly steep discount. But when the dress arrives in the mail, they're dumbfounded.

Sarah Weber told ABC's Good Morning America that she paid $200 for what she thought would be a beautiful lace gown. But when it arrived two weeks before her wedding, the dress didn't resemble the one in the picture. Even worse, the bottom was dirty and had string hanging off of it and the buttons were falling off.
Weber's experience isn't unusual. Shady websites based in China ship about 600,000 knockoff dresses to the United States every year, according to the American Bridal and Prom Industry Association — and some paying customers don't receive a dress at all.
How to Spot a Fake
As with any big purchase, you should vet the seller. Check out the site on SiteJabber.com and read all available reviews of the business. If other customers have had issues, that's a major red flag, and you should go somewhere else.
Other red flags may include:
A wedding dress that is $200 or less. If the deal seems too good to be true, it probably is.
A wedding dress website based in China with no U.S.-based address or telephone number in the "Contact Us" section of the website.
A sales agreement with no terms or conditions. This can make it exceptionally hard to get a refund, particularly if the seller is based overseas.
The American Bridal and Prom Industry Association says retail prices for designer gowns should be consistent among all retailers, so if you see an online price well below the average, it's most likely a fake. The group suggests visiting the brand name "Where to Buy" or store locator webpage. If the website you're perusing isn't on there, it could be a counterfeit operation.
If you've already ordered the dress, take a look at the garment's tags. Authentic gowns will have a hangtag and inside garment label with the brand's logo. If the tags or labels are missing or misspelled, you may have a knockoff on your hands.
DID YOU KNOW?
The bride's wedding dress is one of the most emotional purchases of the wedding, and it's also a pricey one. The average cost of a wedding dress was $2,260 in 2018, according to Brides magazine, and the typical veil cost $316.
To avoid scams in the first place, only shop at reputable stores and never wire money to sellers you haven't met. If you do decide to make a purchase online, use a credit card or a reputable pay app like PayPal. That way, you'll have some recourse if things go wrong. PayPal specifically offers purchase protection if an item is described as authentic but turns out to be a knockoff.
Wedding Planner Fraud
Be careful of whom you hire to plan your wedding. Weddings cost a lot of money and unscrupulous planners can make off with a small fortune and ruin your big day.
That's exactly what happened to Sean and Lauren Burnetter. The Chicago couple paid Tameka Jones more than $30,000 for a catered loft wedding in 2018, according to CBS 2, but nine days before their nuptials, they received a letter from Jones saying she was filing for bankruptcy.
Just days before they received that letter, Jones had tried to get them to pay her another $18,000, according to the couple. They were almost forced to cancel their wedding, but family members pitched in and found another venue so they could still have their ceremony.
Sadly, the scenario is more common than one might think.
In 2016, authorities in Monroe County, Florida, arrested a wedding planner who had scammed two couples out of money that was supposed to have gone toward their weddings at an Islamorada resort.
And in 2017, an Orlando couple told the local news that a wedding planner they had met at an expo took $17,000 from them but never paid for a venue or promised services. The con artist disappeared three days before the couple walked down the aisle.
Protecting Yourself
There's no foolproof way to avoid a con artist, but doing a good bit of vetting in advance can help.
You should start by looking at a planner's website and online reviews. The website should look professional and not just consist of a Facebook page. The majority of the reviews should be excellent.
If you like what you see, set up a meet and greet and treat it as an interview. Ask them how many weddings they've planned and whether they've planned any similar to what you want. Find out how their payment systems work. And ask to see a contract.
DID YOU KNOW?
The average fee for a wedding planner in 2018 was $2,481.
Ask the planner for references and be sure to check them out. A reputable planner will be transparent and happy to provide them.
Talk to couples who've actually used the wedding planner's services and see what they have to say. Also ask to speak with other wedding vendors with whom they've worked.
It's important to listen to your gut instincts here. If something seems amiss, it probably is.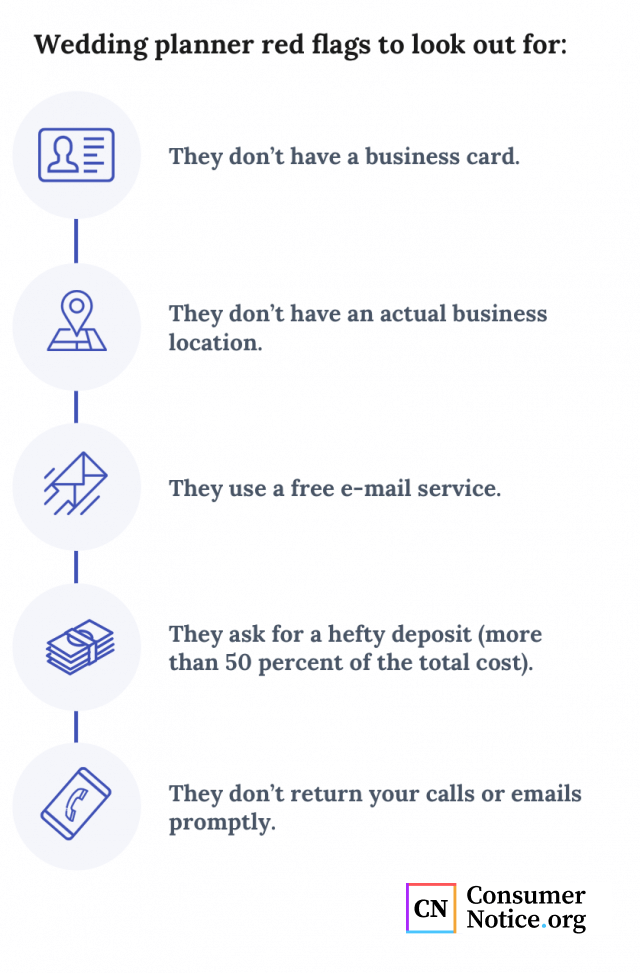 Keep in mind that you should be paying vendors directly, not writing blank checks to the wedding planner or giving the planner all the money to spend. That's how most scams happen. Also be sure to read through the wedding planner's contract with a fine tooth comb and make sure you understand exactly what you're signing.
Shady Venues and Vendors
Another scam that's ruined weddings is the shady venue that accepts your money in advance and then shuts down or cancels your wedding.
One of the worst cases we've come across occurred in Kentucky, where Nicolle Thompson operated Gabriella Farm and offered couples all-inclusive weddings in a rustic barn setting for between $3,000 and $10,000.
But according to a lawsuit filed by Kentucky Attorney General Andy Beshear, Thompson conned at least seven couples by canceling their weddings or providing subpar events without the promised vendors and services.
Thompson went so far as to cancel three couples' weddings just weeks before they were scheduled, according to the 2018 complaint. She told them that the farm had been sold. But the farm hadn't been sold and the couples never received the refunds Thompson had promised them, according to court records. Even worse, she threatened to sue couples for defamation if they posted negative reviews of her online.
Most wedding vendor scams are similar in nature. You pay for something in advance — flowers, photographs, a cake, a DJ — but on the wedding day, the vendor is a no-show or someone else shows up in their place. Another common twist is for the photographer to show up and take pictures but refuse to release photographs afterward unless you pay more money.
Avoiding Vendor and Venue Scams
As with your wedding planner, make sure you do your homework. Check out the vendors and venue in advance and read up on all the reviews. Talk to other clients about their experiences. Also, check with the Better Business Bureau to see if any complaints have been filed.
DID YOU KNOW?
The Better Business Bureau received close to 900 complaints about wedding vendors in 2017. The complaints named wedding suppliers, consultants, cake makers, venues, caterers, videographers, photographers and others.
The Better Business Bureau also recommends finding out how many people are currently using the service and how long it's been in business. This can give you a better idea of how reputable the company is. Also find out if they guarantee their services, and get everything in writing.
The Better Business Bureau offers these other tips:
Double-check prices and avoid vendors with high-pressure sales tactics.
Transportation services can have rigid cancellation policies. Find out in advance what happens if you need their services longer or shorter than expected on your wedding night.
Go and listen to musicians and DJs at another event before hiring them. Ensure the folks you hear are the same ones who will be performing and make sure the contract spells out exactly how long they'll be playing and what if any costs would be involved if the event were extended.
Find out how and when your photographer and/or videographer will deliver your pictures and in what format they'll provide them. Also, find out whether others in your wedding party or family can purchase photos.
Flowers can change depending on availability. Ask your florist how they'll handle any last-minute substitutions or charges. Also, spell out in your contract the minimum size or stems you expect in each flower arrangement.
Get everything in writing — products, dates, prices and cancellation polices.
Follow up with your vendors a week or two before your wedding to make sure everything is on track and there are no last-minute surprises.
Don't pay up front, never pay by cash and avoid paying by checks. Checks provide strangers with a lot of personal information, including your address, bank account and routing number. Instead, use credit cards whenever possible because they provide the most protection if things go awry.
If you decide you do want to pay by check, open a separate bank account specifically for the wedding. This will also help you to keep track of expenses and payments. As with the dress, watch out for deals that sound too good to be true because they probably are.
You might also consider purchasing wedding insurance. Most major insurers, such as Travelers and Progressive, offer it, and it can cover a broad range of risks from the absentee photographer to lost deposits to an unforeseen cancellation or postponement of your big day.
Also, keep a close eye on your credit card statements in the days and months after your wedding and even run a credit report. If you notice any questionable charges or accounts, contact your credit card companies immediately.
Thwarting Thieves
If you're like most people, you'll be tempted to post a lot about your wedding on social media. Even if you don't, your relatives and guests might do it for you by tagging you and your spouse in photos all over Facebook and Instagram.
Unfortunately, this is a very bad idea. It's just like posting that you're on vacation and can tip off would-be thieves that you're not home.
In fact, that's exactly how a burglary ring in Wichita, Kansas, got their leads. They knew of two homes that were empty because of wedding postings they'd seen on Facebook and Twitter, according to the local news.
Posting wedding details publicly can also alert thieves to crash your wedding. Gift grabbing is a common and devastating scam. Choose a safe place at the reception for your gift table and consider asking someone you trust to man the station. Also realize that big, conspicuous gift holders are much harder to make off with than small ones.
Social Media Safety
Protecting your social media accounts is one way to lower your risk. But many brides and grooms forget about those special wedding sites, blogs and gift registries where they've listed so many important details. Sharing your name, maiden name, wedding date and other personal details doesn't just make you vulnerable now, it could also create an identity theft nightmare for you in the future.
To stay safe, password protect everything you put on the Internet. Set all your accounts to private, and if the site doesn't allow you to password protect it, then don't use it. Also, don't use your location settings on apps unless it's completely necessary.
Be mindful of the photos you post. That loving engagement photo of you and your fiancé might make your heart pitter patter, but the rock on your finger could also tempt would-be thieves.
At the end of the day, if you're able, find someone to housesit for you during your wedding and honeymoon. That's the ultimate way to put your mind at ease.
Changing Your Name
You'll also want to take some precautions if you're changing your name because it can also raise your risk of identity theft. When you change your name, you'll be getting a slew of sensitive mail ­including: a new social security card, new driver's license, new credit and debit cards, and insurance documents.
To lesson your risks, keep an eye out for important documents in the mail. If you're expecting something important — such as your new credit card — and it doesn't arrive, make some calls and if need be, cancel the card.
You might even want to put a hold on your mail at the U.S. Post Office and pick it up in person. There is no charge to put your mail on hold. You can learn more about the USPS Hold Mail Service by visiting the postal service's website.
Finally, after you've received all your new cards, checks and other new documents in the mail, it's time to pull out the shredder. Destroying old documents, credit cards and checks is the best way to deter a con artist from stealing your information and your identity.
Please seek the advice of a qualified professional before making decisions about your health or finances.
Last Modified: May 30, 2023
Share This Page
26 Cited Research Articles
Consumernotice.org adheres to the highest ethical standards for content production and references only credible sources of information, including government reports, interviews with experts, highly regarded nonprofit organizations, peer-reviewed journals, court records and academic organizations. You can learn more about our dedication to relevance, accuracy and transparency by reading our editorial policy.