Robocalls & Telemarketers
Robocalls are automated telephone calls that deliver a recorded message. Some robocalls, such as those from political campaigns and legitimate charities, are legal. But those trying to sell you something are illegal unless the company has your written permission to call. If you haven't given permission, it may be a scam.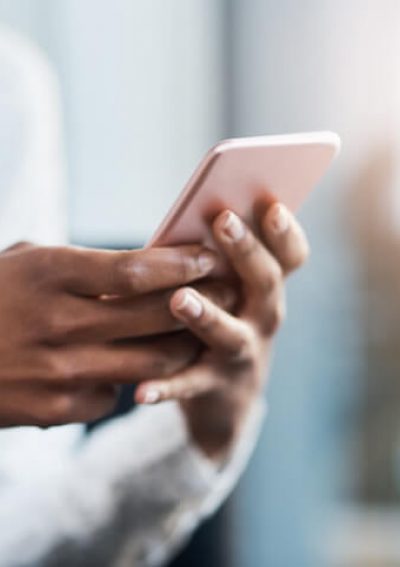 Robocalls account for some of the most frequent consumer complaints in the United States. Many are associated with scams, but some of them are perfectly legal – even if they are annoying.
They're cheap to use for both legitimate telemarketers and illegal scammers alike. They can place the calls over the internet from anywhere in the world without the high cost of long distance. Recorded messages and automated dialing systems can also be a lot cheaper than traditional, human telemarketers.
One online ad for robocall services promises costs of less than one-cent per minute and no set up fees for its service allowing customers to "send millions of calls."
But robocalls are expensive for consumers. Inc. Magazine reported they cost Americans $9.5 billion every year.
Hiya, a company that specializes in apps that block spam calls, estimated Americans received 26.3 billion robocalls in 2018 — up 46 percent over the year before. CBS News reported a monthly record of 5.7 billion robocalls placed in Oct. 2019 alone. That comes out to 17 calls per person.
Robocalls are the biggest consumer complaint filed with the Federal Communications Commission. The FCC receives 200,000 robocall complaints every year — 60 percent of all complaints to the agency. And Chairman Ajit Pai has promised to "combat the robocall scourge." But consumers are still the ones on the front lines of that battle.
Are Robocalls Legal?
The Federal Trade Commission regulates telemarketing and robocalls. Under the law, most of these calls can be made only if you give your permission. But there are some situations where it is legal for robocallers to call you.
Legal Robocalls Allowed Without Your Permission
Calls from health care providers: These robocalls include calls from your doctor reminding you of an appointment or from your drug store reminding you to refill a prescription.
Debt collection: Debt collectors can use robocalls to reach you but they cannot try to sell you services to reduce your debt. Those that do may be scams.
Messages from charities: Charities can make robocalls on their own. But if a charity hires a robocall service, it can only call members of the charity or people who have contributed to it in the past. They must also give you the option to opt out of future robocalls from the charity.
Political calls: These may include pollsters calling for your opinion and political campaigns calling with ads or "get out the vote" messages.
Purely informational messages: Calls that do not attempt to sell you something, but alert you to something you need to know, such as school closures, natural disaster warnings or an airline calling to let you know your flight is delayed.
Be wary of any robocall that doesn't meet the legal exceptions because it could be a fraud or scam.
Your Rights Under the Telephone Consumer Protection Act
The Telephone Consumer Protection Act, or TCPA, protects consumers against harassing and unregulated telemarketing calls and faxes. It took effect in 1991, but technology has outpaced many of its original protections.
Consumer Resource
If you receive a scam or other unwanted call, file a complaint with the FCC Consumer Complaint Center. This can help protect other consumers from scams.
The TCPA regulates telemarketing and automated phone calls, limiting how callers can use pre-recorded messages, automatic dialing and how callers can use text and faxes to reach you.
TCPA compliance requires callers to honor the National Do Not Call Registry. People who have signed up for the registry can file robocall lawsuits against companies that continue to call their number.
In some cases, consumers may be able to sue TCPA robocall violators for between $500 and $1,500 per call. Or they may be able to join mass litigations seeking a TPCA settlement against robocallers.
How to Stop or Block Robocalls
The first step in stopping or blocking robocalls and telemarketers is to resist the urge to answer your phone if you don't recognize the number.
Simply answering a robocall lets the computer on the other end know it's found a working number. Your phone number is placed into a database that's sold to other telemarketers and robocallers, setting you up to receive more annoying calls.
9 Consumer Tips on How to Stop Telemarketers and Robocalls
Don't answer calls from unknown numbers, let them go to voicemail
Don't return calls to numbers you don't recognize, it could be a scam
If the call appears to be from a legitimate company, like your bank or insurance company, hang up and call back from a valid number you find online or in the phone book
If the caller, including a recording, asks you to press a button to stop receiving calls, it's likely a scam. Just hang up
Never say "yes" or "OK" or any other phrase that answers in the affirmative. It could be used as proof you gave permission for something you never agreed to
Remember: Caller ID showing a "local" number no longer means it's a local caller
Any caller asking you to make any payment using a gift card is likely a scam
If you lose money to a phone scam, contact your local police or sheriff's office
Ask your local phone company about its robocall blocking service, many are free
What is Spoofing?
Robocallers often "spoof" a local number, making you think it could be a family member, friend or client calling you.
A phone's Caller ID is transmitted between the first and second ring of a call. With a spoofed call, the caller transmits a different caller ID. These may include your area code and even the first three digits of your personal phone number to make it look like a local call.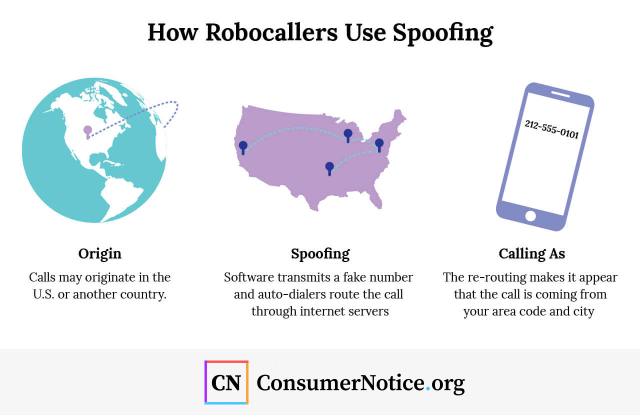 There are several different companies that offer spoofing services. They work much like a conference call that connects your phone to the fake number the robocaller spoofs, instead of the robocaller's actual phone number.
Few robocallers are ever prosecuted for illegal spoofing because current laws define the act very narrowly according to cell phone provider Verizon. The company and other cell service providers have joined a partnership spearheaded by attorneys general for all 50 states and the District of Columbia to step up prosecutions of illegal robocalls.
FTC 2019 Crackdown: Where Robocalls Came From
Student loan scams — United States (mainly California and Florida)
Travel scams — Mexico, Guatemala and Costa Rica
Medical brace scams — The Philippines and Latin America
IRS and Social Security scams — India
Apps that Block Robocalls on Your Cell Phone
Check Google Play or Apple's App Store for spam blocking apps that work for your particular model of phone. There are also robocall-blocking filters you can attach to your landline phones. Consider all of these ideas as potential parts of your family's data protection plans.
Robocall blocking apps offer a wide range of options and prices. Shopping around can help you find one that works for your specific needs and what you're willing to spend.
Sample of Robocall Blocking Apps
APP
COST
NOTES
Hiya
Basic: Free
Premium: $3/month
$15/year
Has built a database of suspected spam and robocallers based on user input.
Nomorobo
$2/month
Won the Federal Trade Commission's 2012 challenge for new technology to fight robocalls. Has a database of 1.8 billion known spam and robocallers.
RoboKiller
Android: $3/month
$25/year
iPhone: $4/month
$30/year
When it identifies a robocaller, it blocks the number and sends the spam caller to RoboKiller's "Answer Bots." These play prerecorded messages to trick robocalls or telemarketers to tie up spam callers' time and resources. It also records the conversation so you can play it back later.
YouMail
Basic: Free
Premium: $6 - $10/month
Replaces your phone's voicemail with its own service. Allows you to see who left a message and stores them in the cloud.
Trucaller
Basic: Free
Premium: $3/month
$27/year
Allows you to search for the profile of the name or number calling your phone. Uses a database to identify and block robocalls and spammers.
TrapCall
Different services ranging from $6/month to $240/year
Once you decline the call, TrapCall uses its own number to dial the suspected robocaller back, forcing the caller to identify itself. Suspected spammers receive a "phone disconnected" tone to discourage further calls.
Free and Paid Services that Block Robocalls on Your Cell Phone
Cell phone services have begun offering robocall protection for consumers. Many are free, while some you may still have to pay extra for, but none are able to stop all robocalls yet.
Verizon Call Filter allows you to put a name to unknown numbers, access the risk of incoming calls and put them on a call block list.
AT&T's free Call Protect service promises to block spam calls, alert you on your screen that a call is suspected spam and guard against other threats to your phone itself.
T-Mobile includes free services that identify likely robocalls or spam on your phone screen and filter out likely scammers before you even get the call. You can pay extra for an additional service that will list the name of the caller.
You can check with your cell service provider for other options they may have.
How to Stop Robocalls on Landlines
Phone companies have been rolling out new spam and robocall protections for landline customers.
Verizon customers may see a spam warning if the caller's name or number has been identified as a spam or robocaller. Some customers by be able to enroll in Nomorobo, a third-party service that stops your phone from ringing when known telemarketers or robocallers call.
AT&T landline users can block unwanted calls for up to 100 numbers by simply hitting *61 after the call. They can also set up a call block list through their account with the phone company.
You can also consider robocall-blocking filters for your landline phone. Call Control Home costs around $160 and plugs into your phone. You still need a smart phone to manage the device.
Why the Do Not Call List Doesn't Stop All Robocalls
The National Do Not Call Registry was designed to stop sales calls from legitimate companies willing to follow the Telephone Consumer Protection Act. The Federal Trade Commission oversees the registry, but the agency cannot legally block any calls. Scam artists simply ignore the list and the law.
Still, this national registry will stop some calls from real businesses and help you spot scam calls.
Consumer Resource
Register your telephone numbers, including all cellphones in your family, with the
National Do Not Call Registry
. It can reduce the number of spam calls you get because legal telemarketers respect this list and avoid calling numbers on it.
Please seek the advice of a qualified professional before making decisions about your health or finances.
Last Modified: November 2, 2021
Share This Page
13 Cited Research Articles
Consumernotice.org adheres to the highest ethical standards for content production and references only credible sources of information, including government reports, interviews with experts, highly regarded nonprofit organizations, peer-reviewed journals, court records and academic organizations. You can learn more about our dedication to relevance, accuracy and transparency by reading our editorial policy.