PFAS in Water
Testing has shown the presence of PFAS in water supplies in almost every state around the U.S. Some bottled waters have also tested positive for PFAS and other forever chemicals. Drinking PFAS-contaminated water can have potentially serious health consequences.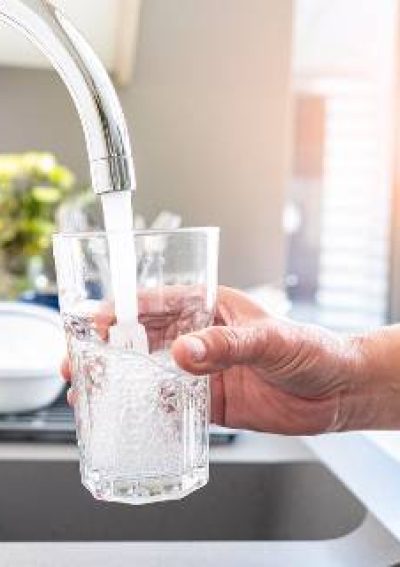 How Are People Exposed to PFAS in Water?
Per- and polyfluoroalkyl substance exposure commonly occurs when people drink contaminated water. Both private and public water supplies have tested positive for PFAS. Many brands of bottled still and sparkling water also contain these chemicals, some at potentially harmful levels.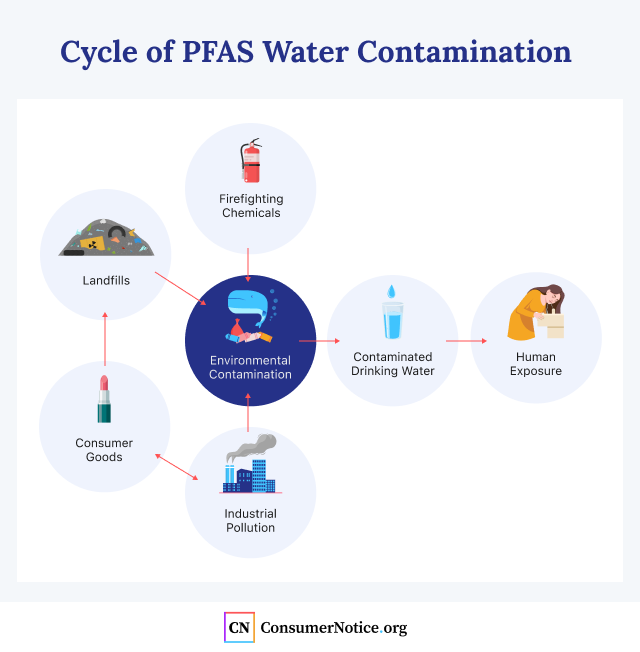 People can also be exposed when ingesting food cooked in contaminated water. Consuming plants grown in areas with high concentrations of PFAS in the ground and fish that live in contaminated water can be sources of exposure as well. Both drinking water and eating food contaminated with PFAS poses a health risk.
Because these "forever chemicals" take so long to break down, this type of exposure continues long after phasing chemicals out of the production processes. Consumers have growing concerns about the presence of forever chemicals in many products such as non-stick cookware and food packaging.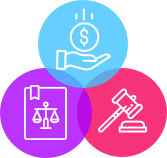 Were you diagnosed with cancer or ulcerative colitis after being exposed to PFAS?
Get your free case review today.
Testing Finds PFAS-Contaminated Water Is Widespread
Data from the first-ever study of PFAS in public and private groundwater supplies shows that at least 45% of the U.S. drinking water supply contains these chemicals. Water in most states, Puerto Rico and the U.S. Virgin Islands had at least one PFAS detection.
Key Facts About PFAS in Water
PFAS affect everyone. CDC testing shows virtually everyone's bodies have levels of PFAS because of widespread exposure.
Current data is incomplete. In a recent USGS study, expanded testing for additional common PFAS revealed increased exposure estimates.
More than 200 million people in the U.S. may have PFAS in their drinking water. The same study revealed that between 18 to 80 million people drink water with PFAS levels above 10 ng/L.
Because of the widespread nature of PFAS in water and a lack of federal regulations, many states are taking steps to reduce exposure. This includes increased testing of public water supplies, educating the public about the presence and health risks of PFAS and monitoring and restricting polluting businesses.
Where Are PFAS Concentrations Highest?
Military bases and the surrounding communities have some of the highest concentrations of PFAS in their groundwater supplies. This is likely the result of flame-resistant firefighting foam commonly used in training exercises on military bases.
Other areas where PFAS contamination is common include communities surrounding manufacturing sites. Because PFAS remains bioavailable for a long time, contamination is an ongoing concern near manufacturing sites with a prior history of use.
Did You Know?
At least some groundwater in the majority of U.S. states plus Puerto Rico and the U.S. Virgin Islands contains PFAS.
Environmental Working Group data shows PFAS contamination in 610 individual sites spread across 43 states. This includes drinking water supplies for some 19 million people.
Health Risks of PFAS in Drinking Water
The exact impact of PFAS on health is still being studied. Research has found potential links between exposure to high levels of these forever chemicals and serious conditions including low infant birth weight, liver and kidney toxicity and thyroid disease. Studies also show a possible association between high level PFAS exposure and increased rates of certain cancers.
PFAS are bioaccumulative, meaning they collect in the body instead of immediately passing through in waste. As a result, health effects may persist long after eliminating exposure.
Forever Chemicals' Health Effects
Decreased fertility in women
Elevated cholesterol levels
Higher rates of preeclampsia
Hormone disruption and increased risk of thyroid disease
Increased risk of certain cancers
PFAS levels in many brands of bottled and sparkling water are well beyond those considered safe. Additionally, many tap water supplies are also contaminated. This can result in health complications.
Many individuals diagnosed with PFAS-related illnesses are filing lawsuits over PFAS contamination. Suits seek compensation for medical expenses, lost wages and pain and suffering. They also aim to hold companies responsible for allegedly failing to ensure products meet state and federal regulations and are safe for consumption.
Tips for Limiting Exposure to PFAS in Water
Researching products before purchase can help consumers avoid PFAS in water. Some household water filtration systems can remove PFAS from tap water in the home.
Tips for Avoiding PFAS in Water
Research companies before buying bottled or sparkling water
Test private water supplies
Use reverse osmosis filtration on cooking and drinking water
Until state and federal regulations move in line with the science of how harmful these chemicals are, individuals must try to protect themselves and their families from PFAS in drinking water. Staying informed about which brands have tested positive for PFAS and what purification methods manufacturers use, such as reverse osmosis, can help.
Can I Check My Drinking Water for PFAS?
If you choose to test drinking water for PFAS independently, be sure to choose a method appropriate to your water's source. The EPA recommends contacting your state for a list of approved labs and methods.
The EPA has developed three methods of testing surface and groundwater-sourced drinking water. If the laboratory you select doesn't use an EPA-developed method, look for one that uses the Department of Defense Environmental Laboratory Accreditation Program accreditation for PFAS or ISO 17025 accreditation for PFAS.
How Are PFAS Regulated?
Within the U.S. different agencies handle the regulation of PFAS depending on the stage of use. The EPA regulates PFAS use in manufacturing, environmental contamination and (ground and surface) drinking water supplies.
Once companies bottle water for sale, it falls under the Federal Drug Administration's jurisdiction. The FDA allows the use of certain PFAS deemed safe in food-contact surfaces, such as non-stick cookware and packaging.
Congress has introduced numerous bills attempting to regulate and limit PFAS contamination in drinking water. Several, including the PFAS Act and the Preventing PFAS Runoff at Airports Act, became law in 2022. However, many attempts at regulating PFAS and drinking water contamination fail to become law.
PFAS Regulations and Recent Legislation
March 2023: The EPA proposed drinking water limits for PFOA, PFOS, PFNA, PFHxS, PFBS and GenX.
June 2022: The EPA issued interim health advisories for PFOA and PFOS in drinking water
October 2021: PFAS Strategic Roadmap laying out accelerated efforts for national drinking water standards released by EPA.
The EPA PFAS Strategic Roadmap is a multi-pronged approach involving multiple stakeholders. It aims to further research into PFAS, increase testing for contamination and improve health outcomes in communities across the country. Many states are also acting to limit PFAS use and contamination and improve drinking water supplies.
Many other nations are taking steps to curb PFAS use. In January 2023, Denmark, Germany, the Netherlands, Norway and Sweden submitted a request to the European Chemicals Agency to limit PFAS. An EU Drinking Water Directive currently limits all PFAS to a maximum of 0.5 µg/l. The European Food Safety Authority set a new safety threshold of 4.4 nanograms per kilogram of body weight per week for several forever chemicals.
Please seek the advice of a qualified professional before making decisions about your health or finances.
Last Modified: November 20, 2023
Share This Page
15 Cited Research Articles
Consumernotice.org adheres to the highest ethical standards for content production and references only credible sources of information, including government reports, interviews with experts, highly regarded nonprofit organizations, peer-reviewed journals, court records and academic organizations. You can learn more about our dedication to relevance, accuracy and transparency by reading our editorial policy.