PFAS in Cosmetics
Per- and polyfluoroalkyl substances are synthetic compounds often found in popular cosmetics. Health risks associated with high-level PFAS exposure include impaired fetal development and several types of cancer. Concerns have prompted legal action, regulatory involvement and further research.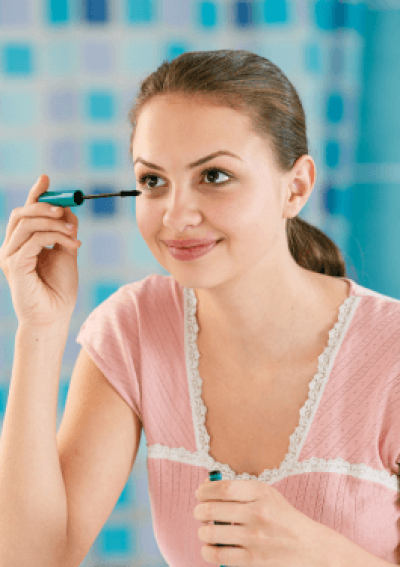 Are PFAS in Makeup?
Per- and polyfluoroalkyl substances have been found in many makeup products. Some manufacturers add these chemicals intentionally as an ingredient in the product. According to the FDA, forever chemicals can also end up in cosmetics unintentionally from ingredients that break down over time or impurities in raw materials. 
A targeted analysis found more than 100 popular cosmetic products, including many advertised as waterproof  or wear-resistant, had high levels of organic fluorine, indicating the potential presence of PFAS.
PFAS Found in Makeup
82% of tested waterproof mascara
63% of tested foundations
62% of tested liquid lipsticks
58% of tested eyeshadows, eye creams and eyeliners
Research from the University of Notre Dame revealed that manufacturers often failed to label these chemicals in their products. Some PFAS ingredients in cosmetics can be labeled perfluorooctyl triethoxysilane, polytetrafluoroethylene, perfluorodecalin, perfluorononyl dimethicone and perfluorohexane.
"There's the individual risk — these are products that are applied around the eyes and mouth with the potential for absorption through the skin or at the tear duct, as well as possible inhalation or ingestion" noted Principal Investigator Graham Peaslee of the Notre Dame study in a statement. "PFAS is a persistent chemical — when it gets into the bloodstream, it stays there and accumulates."
Why Are PFAS in Makeup?
PFAS are often used to increase the water-resistant properties of lipstick, mascara and other cosmetics. These chemicals may also preserve the color found in lipsticks or eyeshadows, helping them last longer both in their packaging and when worn. PFAS compounds can help products smooth more easily across skin.
"Certain PFAS are also intentionally added as ingredients in some cosmetic products, including lotions, cleansers, nail polish, shaving cream, foundation, lipstick, eyeliner, eyeshadow and mascara. These PFAS are used in cosmetics to condition and smooth the skin, making it appear shiny, or to affect product consistency and texture."
PFAS are known as forever chemicals because they're highly resistant to breaking down over time. They're also oil and water resistant. That durability is seen as a key value for some manufacturers.
Which Makeup Brands Use PFAS?
A January 2023 BBC News investigation revealed that top brands in the U.K., including L'Oréal's Urban Decay, also popular in the U.S., were using PFAS. Following the report, the brands all told the BBC they planned to phase out PFAS from their cosmetics.
Tested Brands With PFAS
Inglot
Revolution
Urban Decay
Notre Dame's researchers tested 231 makeup and personal care products in the U.S. and Canada. The products "were screened for total fluorine using particle-induced gamma-ray emission spectroscopy." 
More than 50% of the products tested contained high levels of PFAS. Researchers noted that brands including Essence, L'Oreal, Maybelline, Revlon and Wet 'n Wild were purchased at Ulta Beauty, Sephora, Target and Bed Bath & Beyond from 2016 to 2020. The exact levels of PFAS in specific brands were not indicated in the report.
Health Risks of Exposure to PFAS in Makeup
The health risks of high-level PFAS exposure include increased risk of cancers, changes in the immune system response, changes in liver enzyme levels and low infant birth weights. High-level exposure increases the risk of steatosis or fatty liver disease. The chemicals may increase inflammation in the liver, leading to scarring or fibrosis.
Potential Risks of PFAS Exposure
Decreased thyroid and immune function
Decreased vaccine response
Higher cholesterol levels
Impaired fetal development
Kidney cancer
Liver cancer
Pancreatic cancer
Prostate cancer
Testicular cancer
Ulcerative colitis
In addition to cosmetics, exposure can come from environmental pollution in soil or contaminated drinking water. Studies of firefighters, for example, have revealed  increased cancer risks. Skin contact and long-term exposure to the PFAS found in firefighting foam may contribute to this elevated risks of thyroid, bladder, kidney, prostate, testicular and colon cancer.
Limiting Exposure With PFAS-Free Cosmetics
Limiting your use of products containing PFAS can help reduce your risk of PFAS-related health issues. Because the use of these chemicals is so widespread, however, it can be challenging to know where to begin to reduce PFAS exposure.
3 Tips for Finding PFAS-Free Makeup
Government websites: Rely on government websites and authorities such as the Consumer Product Safety Commission for safety warnings, awareness campaigns and product recalls.
Look for PFAS-free on labels: Seek brands that clearly advertise that their products are PFAS-free. Read the ingredients on the labels.
Mobile apps: Use consumer-friendly tools like mobile apps or browser plug-ins that can evaluate the ingredients of cosmetics when you shop online.
Avoid products that list perfluorooctyl triethoxysilane, polytetrafluoroethylene, perfluorodecalin, perfluorononyl dimethicone and perfluorohexane in their ingredients. Look for labels that state that the ingredients are PFAS-free.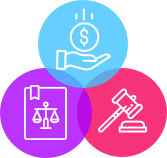 Were you diagnosed with cancer or ulcerative colitis after being exposed to PFAS?
Get your free case review today.
Cosmetics Companies Named in Legal Action Over PFAS
Industry leaders L'Oreal, CoverGirl, Shiseido and Burt's Bees are just a few of the brands named in PFAS lawsuits. Claims include false advertising, particularly from brands that promote their products as "natural" and free of dangerous chemicals.
Lawsuits Over PFAS in Makeup
Burt's Bees: Plaintiffs argue the "100% natural claim" of the company's products is false given the detection of PFAS in its products.
CoverGirl: Plaintiff Toxin Free USA claims false advertising and failure to disclose harmful chemicals.
L'Oreal/Maybelline: The basis of the lawsuit is research that revealed PFAS in six L'Oreal and Maybelline waterproof mascara products.
Shiseido:Plaintiffs seek damages for advertising Bare Mineral products as free of harsh chemicals despite detection of PFAS.
Coty Inc., the parent company of CoverGirl, recently received a dismissal in a case alleging hidden PFAS in its mascara line. The court found the claims lacking in supportive details and evidence.
Regulating Forever Chemicals in Makeup
There are no national mandates regulating forever chemicals in makeup. The Environmental Protection Agency has authority under the Toxic Substances Control Act to review new chemicals and new uses of PFAS.
The Federal Food, Drug and Cosmetic Act restricts the marketing of misbranded or adulterated cosmetics. This includes products containing PFAS without proper labeling. 
State-level actions include bans on the intentional use of PFAS, but these aren't all makeup-specific. California put in place the PFAS-Free Beauty Act of 2022 to ban PFAS in cosmetics sold in the state. Vermont, Maryland and Colorado have similar bans.
No PFAs in Cosmetics Act
U.S. Senators Susan Collins and Richard Blumenthal introduced a bill in 2021 to ban PFAS chemicals in cosmetic products. The bill would have set stricter cleanup standards and liabilities for companies using PFAS as well as restricted the use of the chemicals in textiles, food packaging and cosmetics. 
Because of pressure from lobbyists and cosmetic companies, the bill died in Congress despite tremendous public support.  Though this legislation didn't become law,  a spending bill provision did direct the Department of Health and Human Services to research the safe use of PFAS chemicals in makeup.
Please seek the advice of a qualified professional before making decisions about your health or finances.
Last Modified: November 21, 2023
Share This Page
25 Cited Research Articles
Consumernotice.org adheres to the highest ethical standards for content production and references only credible sources of information, including government reports, interviews with experts, highly regarded nonprofit organizations, peer-reviewed journals, court records and academic organizations. You can learn more about our dedication to relevance, accuracy and transparency by reading our editorial policy.