Fire Safety for Kids
Fires in the home do, unfortunately, happen. Children are at a heightened risk for injuries and death, especially because of how quickly and unpredictably fires can start and grow: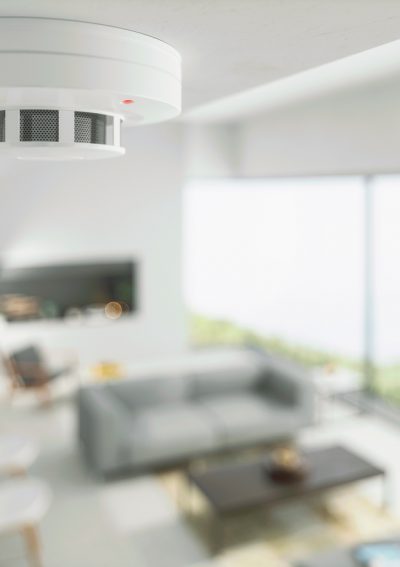 There are more child fire-related injuries and fatalities at home than in any other location.
Children younger than 6 years old are more than twice as likely to die in a fire than any other age group,
Fires kill approximately 500 children under the age of 15 every year.
Ensuring that your children have knowledge of fire safety and emergency preparedness can be a matter of life and death. Understanding not only how the stakes of a fire relate to home safety, but how to protect themselves in the event of an emergency, can also be empowering for children.
Tips for Preventing Fires
The prospect of a fire in your home is very scary to consider, especially to parents of young children. Following proper safety procedures and educating your family on fire prevention can go a long way in keeping yourselves, your families and your belongings safe. In order to prevent accidental fires, parents with children should take extra precautions, which can include: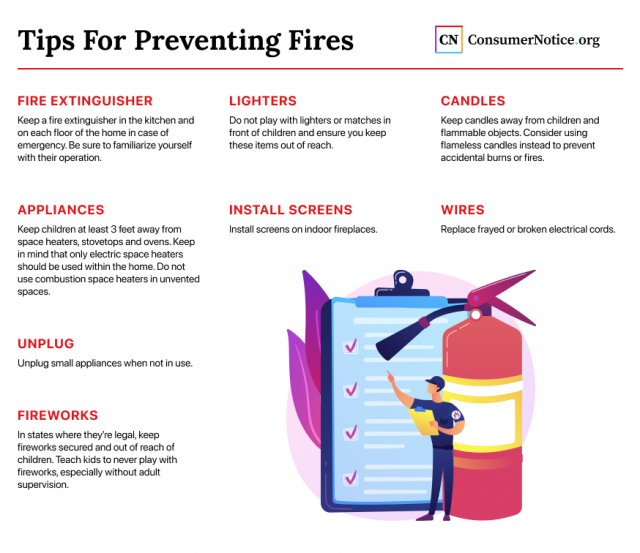 While not all fires are preventable, taking a few preventative measures can help protect you and your children from harm. Additionally, comprehensive fire-prevention plans require you to have a few items in your house to mitigate the danger fire poses.
Smoke Alarms
Installing and properly maintaining smoke detectors in the home is a proven way to dramatically reduce the risk of serious fire-related injuries. Fires can spread extremely quickly, and smoke alarms can provide you with valuable time to either put out a fire or evacuate your home in the case of a fire that rapidly becomes out of control.
Proper maintenance of smoke alarms is just as important as installing them in the first place. In situations in which the life of a child may be in jeopardy, it is essential to follow all smoke alarm guidance closely:
Install smoke alarms on every level of your home and inside all sleeping areas.
Test your smoke alarms monthly.
Replace batteries on an annual basis or when a smoke detector begins to chirp, whichever comes first.
Know the difference between smoke detectors, carbon monoxide detectors and other indoor air quality alarms.
Replace smoke alarms every ten years.
Ensure your children know what fire alarms sound like and what to do in the event that they hear them.
Smoke detectors reduce the risk of dying in a home fire 50%. Without routine and proper maintenance, however, these alarms will not work properly and may not warn you of a fire in time to get everyone out of the home safely.
Fire Extinguishers
Keeping fire extinguishers in your home is an integral part of a comprehensive fire safety plan. Experts recommend you keep a fire extinguisher on each level of your home and in rooms with open flame heating (kitchen, garage, etc.). Keep extinguishers in plain sight, but out of reach of children.
Safety experts have classified fires into three classes depending on what exactly is on fire: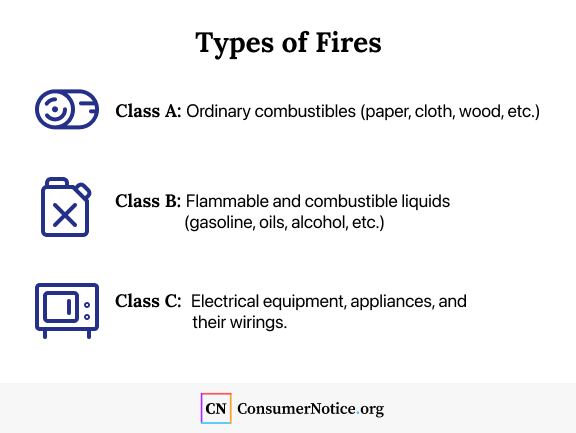 Not every fire extinguisher is capable of putting out all types of fires. Safety experts recommend homeowners purchase ABC-rated extinguishers because of their ability to put out multiple types of fires. Look for the fire class symbols on the extinguisher when purchasing to understand which class of fire your extinguisher can put out.
In the event of a fire, it is essential that all of the adults in your home know how to properly use a fire extinguisher. Experts recommend following the acronym PASS when using a fire extinguisher: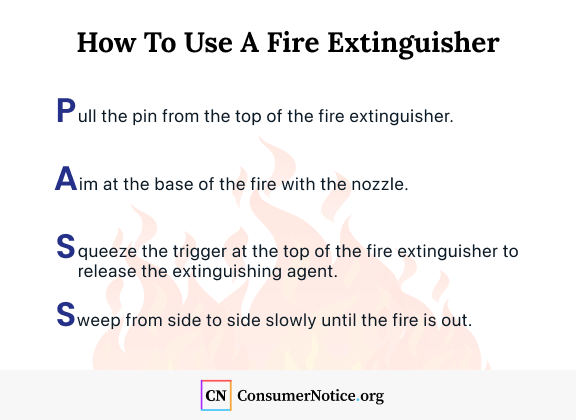 In addition to using a fire extinguisher, always remember to call the fire department regardless of the situation. Fires are extremely unpredictable and can rekindle themselves, even after you think you've put it out.
Surviving a House Fire
Even if you take property safety precautions and follow all expert guidance, home fires can still happen. It is vital for families, especially those with young children, to understand how to safely evacuate their homes in the event of a fire.
In order to improve your family's chances of survival, it is important that parents have a comprehensive evacuation plan in place. This plan should fully encompass what each family member must do, including how they plan to evacuate and what to do once they've escaped. For parents with children, there are quite a few variables that will need to be taken into account to ensure your children can reach safety.
Help Those Who Can't Help Themselves
Children are not always properly prepared or even equipped to handle a frightening event like a fire. More than 50% of the children who have died in household fires were asleep at the time of the fire and approximately 33% were quite young.
In order to ensure every child in the home has the chance to make it to safety, it is essential that all family members understand who is responsible for assisting each of the children (or any individual that may require help) in the home. When formulating your family evacuation plan, designate one adult to help each specific child and everyone is clear on the plan.
Have an Escape Plan
Every family should have a comprehensive plan to escape their home in the event of an emergency. When creating an escape plan, families should:
Identify at least two ways out of each room in the home. Ensure exits are not blocked.
Designate one spot a safe distance away from the home to meet once they've escaped.
Install escape ladders on higher floors and teach children how to use them in case of emergency.
Be sure children understand that they should crawl to safety to avoid rising smoke.
Teach children how to Stop, Drop, & Roll if their clothing catches fire.
Emphasize that children should never return to a burning building for any reason
Your children should be able to recite the escape plan back to you and execute it in family drills with minimal supervision. Experts recommend that families regularly practice their escape plan at least twice a year in order to keep children familiar with what they will need to do in the case of an emergency.
Call 911
The final step after escaping your home is calling for help. It is very important to not waste time in your home while on the phone with a 911 operator. Evacuate as quickly as possible. Only once you have reached the predetermined meeting point at a safe distance away from your home, call 911.
Help will be on the way. It is absolutely essential adults also refrain from reentering the home and let the professionals handle the situation.
In the case a child ever needs to call 911, there are a few questions they should be prepared to answer in order to help the operator dispatch necessary services to the right location as quickly as possible. Parents should ensure their children can readily give 911 operators information such as:
Their name
A description of the emergency
Their address
A parent's phone number
Their age
When calling a 911 operator, make sure your children speak slowly and clearly. Make it clear that they should not hang up on a 911 operator until instructed to do so.
Please seek the advice of a qualified professional before making decisions about your health or finances.
Last Modified: October 13, 2021
Share This Page
11 Cited Research Articles
Consumernotice.org adheres to the highest ethical standards for content production and references only credible sources of information, including government reports, interviews with experts, highly regarded nonprofit organizations, peer-reviewed journals, court records and academic organizations. You can learn more about our dedication to relevance, accuracy and transparency by reading our editorial policy.