FDA Bans Juul Vaping Products
Fact Checked
Fact-Checked
Consumernotice.org adheres to the highest ethical standards for content production and distribution. All content is thoroughly researched and verified at each stage of the publication process.
Our writers and editors follow strict guidelines for written and visual content, including vetting all sources and verifying quotes and statistics, to guarantee honesty and integrity in our reporting.
We collaborate with legal and medical experts and consumer safety professionals to further ensure the accuracy of our content.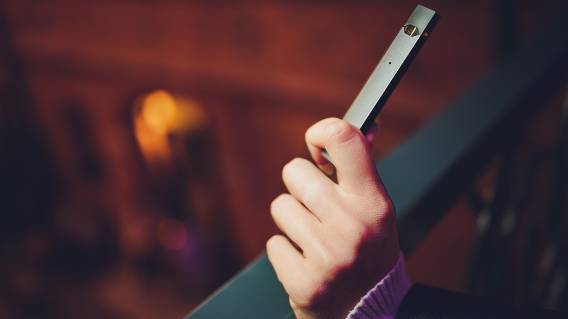 In a landmark decision, the U.S. Food and Drug Administration issued marketing denial orders to popular electronic cigarette maker Juul Labs Inc. that ban the company from distributing and selling its products in the U.S.
In addition to stopping sales and distribution, Juul must also remove products already with retailers.
The June 23 announcement comes after Juul's premarket tobacco product applications, or PMTAs, failed to provide the FDA with enough evidence to show that the benefits of its e-cigarette products outweighed the risks.
"Today's action is further progress on the FDA's commitment to ensuring that all e-cigarette and electronic nicotine delivery system products currently being marketed to consumers meet our public health standards," FDA Commissioner Dr. Robert M. Califf said in a statement.
Consumer advocates and medical organizations, including the American Medical Association, praised the FDA's decision. Many cited Juul's part in helping to create a teen vaping epidemic.
"The AMA applauds the FDA's decision today ordering the removal of all Juul Labs Inc. e-cigarette products from the U.S. market. For too long, companies like Juul have been allowed to sell e-cigarettes that appeal to our nation's youth — ultimately creating another generation of young people hooked on tobacco products," American Medical Association President Dr. Jack Resneck Jr. said in a statement.
The FDA said it will ensure that Juul, retailers and distributors comply with the order, and it is prepared to take enforcement action against parties that don't comply. Enforcement action doesn't apply to consumers because the FDA doesn't have the authority to go after individuals for possession of Juul products.
So far, the agency has authorized 23 e-cigarettes and related products for sale in the U.S. and will continue reviewing PMTAs into late 2023.
Dangers of Juul and Other Vaping Products
Part of the concern over Juul's products is that the company hasn't been able to show its vaping device and pods are "appropriate for the protection of the public health," according to the FDA. And the argument for vaping has always been that e-cigarettes help consumers quit smoking traditional cigarettes.
The studies Juul provided were filled with insufficient and conflicting data, according to the agency. There wasn't enough information on "genotoxicity and potentially harmful chemicals leaching from the company's proprietary e-liquid pods."
In 2019, the same year the FDA released its guidance on PMTAs, Juul received an FDA warning for several unsubstantiated claims its representatives made while speaking to school children, including that the FDA was about to say that Juul was "99% safer" than cigarettes and "totally safe," among other claims.
Even before the FDA made its decision to pull Juul off the market, the company had been besieged with claims that its products encouraged addiction and could cause other health issues.
As of June 15, Juul faces more than 3,800 federal lawsuits claiming the company produced defective and dangerous products and failed to tell consumers its products were more potent and addictive than cigarettes. Plaintiffs claimed Juul side effects ranged from seizures to death.
FDA Authorization Doesn't Mean Vapes Are Safe
A few studies suggest that vaping may offer a safer alternative to traditional cigarettes and help people quit smoking. But a growing number of studies show that e-cigarettes don't help people stop smoking and may actually encourage dual use, meaning vaping and smoking traditional cigarettes.
Even when the FDA has authorized an e-cigarette for sale, it has never claimed the product is safe. For example, in May, the agency authorized the first e-cigarette through the PMTA pathway, R.J. Reynolds' Vuse. R.J. Reynolds was able to show that its product was less dangerous than traditional cigarettes, but the FDA never called it safe.
"This authorization allows these products to be legally marketed in the U.S. While this action permits these specific products to be sold in the U.S., it does not mean these products are safe nor are they 'FDA approved,'" the agency said in May. "All tobacco products are harmful and potentially addictive. Those who do not use tobacco products shouldn't start."
The American Lung Association echoes the FDA's sentiments about e-cigarettes and offers help to people looking to quit all tobacco products.
"It's very important to keep in mind that e-cigarettes, including Juul, are tobacco products. Continuing to use e-cigarettes is not quitting smoking," Erika Sward, assistant vice president of national advocacy for the American Lung Association, told ConsumerNotice.org in an email. "The Lung Association recognizes how hard it is to end an addiction to tobacco products, especially Juul — which intentionally put high levels of nicotine in its products to hook people even more to its products."
Sward said the American Lung Association is available to help Juul users and others addicted to tobacco products quit. Consumers can visit Lung.org/quitsmoking, talk with their health care providers or call 1-800-Quit-Now.