Zantac Class-Action Lawsuit Dismissed by US Appeals Court
Fact Checked
Fact-Checked
Consumernotice.org adheres to the highest ethical standards for content production and distribution. All content is thoroughly researched and verified at each stage of the publication process.
Our writers and editors follow strict guidelines for written and visual content, including vetting all sources and verifying quotes and statistics, to guarantee honesty and integrity in our reporting.
We collaborate with legal and medical experts and consumer safety professionals to further ensure the accuracy of our content.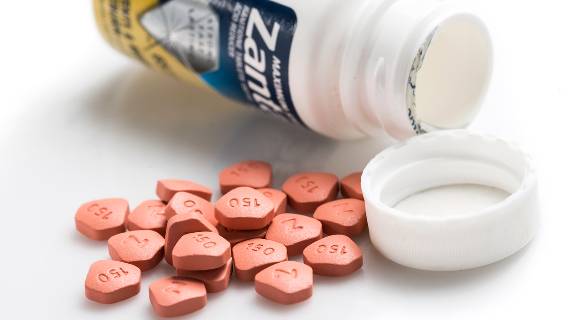 A closely watched class-action lawsuit involving the heartburn medication Zantac was dismissed recently after the United States Court of Appeals for the 11th Circuit found it was improperly framed.
The judgment upheld an earlier dismissal by a lower-level federal court in the Southern District of Florida.
Plumbers & Pipefitters Local Union 630 Welfare Fund had filed the Zantac lawsuit against GlaxoSmithKline, Boehringer Ingelheim and Par Pharmaceutical, all one-time manufacturers of the drug.
Zantac, first distributed by Sanofi in 1983, is used to treat heartburn, indigestion, gastric ulcers and GERD. Its active ingredient formerly was ranitidine, which can produce high levels of N-Nitrosodimethylamine, a carcinogenic chemical also known as NDMA.
After the U.S. Food and Drug Administration found high levels of NDMA in some Zantac samples in 2019, manufacturers voluntarily recalled their products. The FDA issued a full recall in 2020 after finding that the NDMA levels could increase when stored at higher than room temperatures, leading to unacceptable toxicity.
A reformulated Zantac 360 – using famotidine instead of ranitidine – is being sold now but not in prescription strength.
Ranitidine Lawsuits Continue, Include Generic Products
Although thousands of state and federal Zantac lawsuits have been filed against various manufacturers in the past three years, this one was being watched closely because of its status as a consolidated, third-party payer, class-action case.
Most of the lawsuits allege that Zantac potentially increased the risk of cancer and that the drug label failed to properly warn of the risk.
Until recently, only manufacturers of brand name Zantac made with ranitidine – which included Sanofi, Boehringer Ingelheim, Chattem, Pfizer and GlaxoSmithKline – were named in lawsuits.
Recently, though, generic manufacturers that sold the drug with ranitidine as the active ingredient have been added to the list of case defendants.
The plumbers union is representing dozens of plaintiffs. The union had paid for and provided Zantac to eligible members and dependents as part of its health benefits package.
Zantac Lawsuit Dismissal Asserted 'Shotgun Pleadings'
The circuit court dismissed the case earlier this month because the plaintiff failed to challenge the drug manufacturers' assertion that the complaints were "shotgun pleadings," which are impermissible under federal court rules. These pleadings do not provide sufficient clarity for fair notice and defense of the claims being filed.
"First, it lumped 67 related and unrelated defendants across two groups, thereby creating confusion and failing to provide a factual basis to distinguish the conduct of individual defendants," the court wrote in its decision.
A week earlier, the circuit court also upheld the dismissal of two individual cases involving prostate, abdominal and ovarian cancer allegedly caused by Zantac or a generic alternative.
The union's lawsuit was claiming fraud, negligence and other torts, including violations of federal anti-racketeering laws against the defendants.
In August, the first scheduled trial for a Zantac case was dropped suddenly after the plaintiff in Illinois accepted a $500,000 settlement from the makers of a generic version.
Ranitidine With NDMA Linked to Cancer 
Various studies have been done in recent years about the correlation between NDMA and cancer. Some have linked NDMA to several cancers, including liver, kidney, esophagus, colon, prostate and stomach. The journal Cancer published a study in 2021 that found NDMA increased the risk of gastrointestinal cancer.
Plaintiffs have argued that the drugmakers knew about the potential cancer risk for years but continued selling Zantac with ranitidine and failed to inform the public.
Drug companies have continued to insist there is no link to cancer from Zantac with its original ingredients and that the levels of NDMA were close to what is found in many types of food.
"The overwhelming weight of the scientific evidence supports the conclusion that there is no increased risk associated with the use of ranitidine," GlaxoSmithCline said in an earlier statement. The company also has said it will defend itself against any claims alleging otherwise.
The International Agency for Research on Cancer has said NDMA is "probably carcinogenic to humans." It is classified by the FDA as a group 2 carcinogen, based on the evidence that it could cause cancer in humans.