EPA Finds Asbestos in Aftermath of Indiana Recycling Plant Fire
Fact Checked
Fact-Checked
Consumernotice.org adheres to the highest ethical standards for content production and distribution. All content is thoroughly researched and verified at each stage of the publication process.
Our writers and editors follow strict guidelines for written and visual content, including vetting all sources and verifying quotes and statistics, to guarantee honesty and integrity in our reporting.
We collaborate with legal and medical experts and consumer safety professionals to further ensure the accuracy of our content.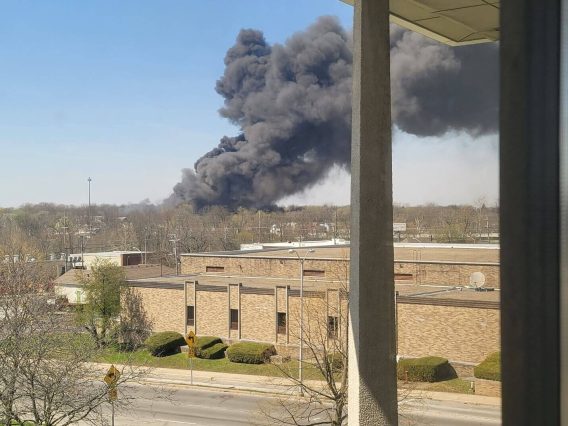 A large fire at a former Indiana recycling plant earlier this month released a toxic plume of smoke and debris into neighboring areas, forcing days-long evacuations and raising health concerns.
Investigators with the Environmental Protection Agency found asbestos-containing material in a widespread debris field and several volatile organic compounds in the air near the fire site in Richmond, Indiana, close to the Ohio border.
EPA air monitoring stations, put in place shortly after the April 11 fire, detected several toxic substances inside the half-mile evacuation zone, including:
Hydrogen Cyanide:

Causes rapid breathing, dizziness and unconsciousness, and could be deadly.

Benzene:

Irritates the skin, eyes and respiratory system, and can cause cancer with long-term, high-level exposure.

Chlorine:

Irritates the eyes, nose and throat, and can cause chest pain, vomiting and death at higher concentrations.

Carbon Monoxide:

Causes headaches, confusion and unconsciousness, and can be deadly.

Volatile Organic Compounds:

Can cause irritation of the eyes, nose and throat, headaches, and can lead to long-term health effects, including cancer.
Richmond officials lifted an evacuation order on April 16 after EPA air monitoring data showed safe levels and the fire was under control. Residents were able to return home, and businesses and schools in the area were allowed to reopen.
Warehouse Owner Cited Previously for Fire Hazards
While the cause of the April 11 fire at the former My-Way Trading warehouse remains under investigation, Richmond officials said the property owner was cited several times in the past by the city's unsafe building commission for various violations.
The former plastics recycling site, which was sold and renamed Cornerstone following bankruptcy proceedings, was under scrutiny by the city because of its dilapidated condition and known fire hazards, according to documents provided by the city of Richmond.
Richmond Mayor David Snow said the town took the business owner, Seth Smith, to court over concerns about unsafe conditions. In 2019 a court ordered Smith to clean up the site. The orders went unheeded.
"We were aware that what was operating here was a fire hazard," Snow said at a press conference a day after the blaze ignited. "This [fire] was a fear for us.
"That business owner is fully responsible for all of this. Everything that's ensued here at the fire – the damages, the risk that our first responders have taken and risk these citizens are under, are the responsibility of that negligent business owner."
Asbestos Found in Fire Debris
Since the fire, EPA investigators have urged residents to not touch, disturb or mow over any potential debris that may contain asbestos due to the age of the warehouse. Asbestos is a known carcinogen that was once widely used for construction. It is highly toxic and could release microscopic fibers when handled. Exposure could cause mesothelioma, a rare and aggressive form of cancer.
EPA contractors wearing protective gear worked to collect debris from schools, daycares and city parks in Indiana and Ohio. Schools took priority, followed by residential properties, businesses and parks, according to the city of Richmond.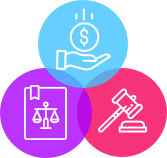 Were you or a loved one diagnosed with mesothelioma after exposure to asbestos?
Get your free case review today.
Health Concerns Raised Over Recent Toxic Fires and Spills
A series of major toxic fires and chemical spills across the U.S. in recent months has put many on edge about long-term health and environmental consequences. Among the most recent high-profile incidents are a train derailment in Ohio that released toxic chemicals into the air, soil and water; a chemical fire in Georgia; and a chemical spill in Philadelphia.
Some people, including first responders, who are affected by events stemming from chemical emergencies can seek legal options against negligent companies.
Richard Peltier, associate professor of environmental health sciences at the University of Massachusetts Amherst, recently told CNN the biggest risks are the unknown chemicals that form when compounds burn.
"We know that it is very common that a large range of chemicals are formed whenever plastic materials are burned, including styrene, benzene and a wide number of polyaromatic hydrocarbons. All of these are strong carcinogens, and it's important for people to avoid exposures," Peltier said.
Potential short-term health risks could include symptoms such as dizziness, nausea, coughing, headache and fatigue, Peltier said. Longer-term problems include an increased risk of cancer if someone is exposed to a high concentration of toxins for a prolonged period.
"Just because you have a short-term exposure doesn't necessarily mean you will get cancer," Peltier said. "Your risk increases with duration and concentration."
Photo courtesy of the city of Richmond, Indiana