What Can I Use Instead of Talcum Powder?
Fact Checked
Fact-Checked
Consumernotice.org adheres to the highest ethical standards for content production and distribution. All content is thoroughly researched and verified at each stage of the publication process.
Our writers and editors follow strict guidelines for written and visual content, including vetting all sources and verifying quotes and statistics, to guarantee honesty and integrity in our reporting.
We collaborate with legal and medical experts and consumer safety professionals to further ensure the accuracy of our content.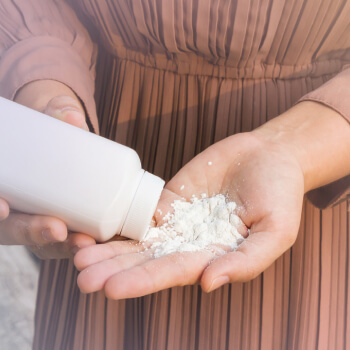 Americans have used talc-based baby powder for decades. Its silkiness and moisture-absorbent qualities made it ideal for uses including personal hygiene in adults and preventing diaper rash in babies. 
But talc-based powders have been controversial because of lawsuits and studies that link it to cancer and lung problems. 
Johnson & Johnson faces thousands of talcum powder lawsuits claiming the company's talc-based products — Johnson's Baby Powder and Shower-to-Shower — led them to develop ovarian cancer and mesothelioma. In October 2019, Johnson & Johnson recalled about 33,000 bottles of baby powder after the U.S. Food and Drug Administration discovered asbestos in one bottle it tested. 
On May 19, 2020, Johnson & Johnson announced it would stop selling talc-based Johnson's Baby Powder in the United States and Canada because of poor sales and fallout from the COVID-19 pandemic.
Fortunately, consumers have a few options when it comes to replacing talcum powder for common uses such as preventing diaper rash, preventing chafing, controlling odor and keeping dry.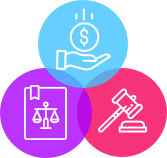 Were you diagnosed with cancer after using talcum powder?
You may be eligible for compensation.
Diaper Rash
For decades, parents have dusted babies with talcum powder during diaper changes to prevent diaper rash. But the American Academy of Pediatrics has had concerns with talcum powder for decades, and doesn't recommend its use. 
One of the earliest studies published in Pediatrics, the official journal of the AAP, from 1969 reported at least three infant fatalities from inhaling talcum powder. 
"Do not use baby or talcum powders on the baby. If inhaled, talcum-containing powders can cause severe lung damage and breathing problems in babies."
Now the AAP advises against the use of all baby powders because they can cause lung damage and breathing problems. 
Instead, opt for using ointments at every diaper change, according to the American Academy of Family Physicians. Good ointment choices include those that contain petroleum such as Vaseline or those that contain zinc oxide, such as Desitin. 
Preventing Chafing
Chafing is skin irritation that occurs when clothing rubs against skin or skin rubs against skin. It can occur anywhere on the body, but it most often affects the inner thighs and can be bothersome and painful. It tends to affect athletes, people who are overweight and those who wear dresses or skirts in humid weather. 
Traditionally, talcum powder has been recommended to prevent chafing because it reduces moisture and prevents friction. For consumers that prefer a powder-based option, cornstarch makes a good substitute for talc and there are plenty of cornstarch-based options to choose from. 
There are also anti-chafe products on the market that accomplish the same thing without talc or powder. According to the National Institutes of Health, you can use petroleum jelly before activities to prevent chafing in easily irritated areas, such as upper arms or inner thighs.
Anti-Chafe Lubricants and Ointments
The most basic anti-chafe lubricant is petroleum jelly, also known as Vaseline. Applying it to any areas prone to chafing will allow limbs to glide past each other instead of rubbing or pulling skin. 
Anti-chafe lubricants and ointments include:
CeraVe Healing Ointment

Body Glide 

Megababe Thigh Rescue

Lush Cosmetics Silky Underwear

Gooch Guard Chamois Cream

Chamois Butt'r Original Anti-Chafe Cream
Clothing
People who don't like to apply lubricants or ointments can wear anti-chafing underwear or shorts under their clothes. These undergarments are designed to be thin and breathable. In addition to protecting skin from friction, anti-chafing clothing can also keep skin dry.
Anti-chafe clothing options include:
Adidas Men's Sport Performance Climalite Boxer Brief

Hanes Men's Comfort Flex Fit Lightweight Mesh Boxer Brief 

Undersummers by CarrieRae Classic Shortlette Anti-Chafing Slipshort

Jockey Women's Underwear Skimmies Short Length Slipshort
Personal Hygiene
For decades, men and women have relied on talcum powder for intimate hygiene and controlling odor on their bodies and in clothing. But recent concerns about talc's link to ovarian cancer have made consumers more cautious about dusting their intimate areas with talc. 
Talc-free deodorant powder options exist, and some come in spray form, too. Some of these combine cornstarch with kaolin clay, arrowroot powder and oatmeal to deodorize and soothe skin. Body wipes can keep odor away and keep the genital area clean. 
For people who use talcum powder to keep gym clothes or shoes fresh, non-talc sneaker sprays and powders are good options. 
Non-talc body deodorants for men and women include:
Nutribiotic Natural Body & Foot Powder

Burt's Bees Baby Bees Dusting Powder

Goodwipes Flushable Men's Cleansing Wipes

Summer's Eve Cleansing Cloths

Goodwipes Down There Feminine Flushable Wet Wipes

Vagisil Ultra Fresh Intimate Powder

Chassis Premium Body Powder for Men
Staying Dry
In addition to keeping odor under control, people have relied on talcum powder to stay dry. Cornstarch or other non-talc-based powder such as arrowroot or kaolin clay provides the same benefits of moisture control. 
But some people may prefer to go powder-free. A good option is sweat-wicking clothing. Several companies make undergarments designed to keep men and women dry.
Sweat-wicking clothing brands include:
Hanes Constant Comfort X-Temp Modern Brief Panty

Adidas Ultimate Training Tank

Under Armour UA Tech V-Neck

Mack Weldon Airknitx Trunk

Jockey Underwear Skimmies Wicking Slipshort

Vapor Apparel UPF 50+ UV/Sun Protection Short Sleeve Shirt

Fit for Me by Fruit of the Loom