Pilot COVID-19 At-Home Tests Recalled Amid Contamination Concerns
Fact Checked
Fact-Checked
Consumernotice.org adheres to the highest ethical standards for content production and distribution. All content is thoroughly researched and verified at each stage of the publication process.
Our writers and editors follow strict guidelines for written and visual content, including vetting all sources and verifying quotes and statistics, to guarantee honesty and integrity in our reporting.
We collaborate with legal and medical experts and consumer safety professionals to further ensure the accuracy of our content.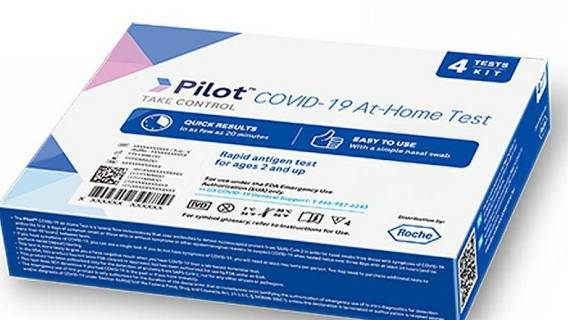 More than a half-million at-home COVID-19 tests were recalled earlier this month due to contamination concerns that could result in bacterial infections. 
The U.S. Food & Drug Administration warns consumers and health care providers to stop using the harmful products and throw away certain lots of SD Biosensor Inc. Pilot COVID-19 At-Home Tests. A complete list of impacted lot numbers are listed on the FDA's safety communication.
Affected tests were distributed by Roche Diagnostics to certain retailers, including about 500,000 tests to CVS Health and about 16,000 to Amazon. It's unclear how many of those tests were sold. None of the impacted lots were distributed through the government's free COVID-19 at-home test distribution program nor were they part of any other federal testing program, according to the FDA.
SD Biosensor Inc. initiated the voluntary recall on May 4 and hasn't received any reports of adverse reactions. The contamination was discovered during routine quality control testing. An SD Biosensor spokesperson told CBS News in a statement the company identified raw materials from a supplier as the likely cause of the contamination.
Bacterial Contamination Could Cause Infections
Health officials said the liquid solution in the at-home tests was found to be contaminated with organisms that can cause various infections in the urinary tract, respiratory tract and bloodstream. 
"Direct contact with the contaminated liquid solution may pose safety concerns and the bacterial contamination could impact the performance of the test," the FDA stated.
Some people may have received a false positive or negative result.
Bacteria found in the liquid includes:
Enterobacter:

Bacteria commonly found in soil and water that can cause infection in the urinary tract and bloodstream. 

Enterococcus:

Bacteria found in the human digestive system that can cause infections in the bloodstream, urinary tract and surgical sites. Some strains are known to be drug-resistant.

Klebsiella:

Bacteria found in the intestines and the environment. It can cause urinary tract and bloodstream infections and pneumonia. Certain strains are drug-resistant.

Serratia: Can cause infections in the respiratory tract and urinary tract. Some strains are resistant to antibiotics.
Some people may have received a false positive or negative result after using the contaminated tests.
FDA Urges Consumers to Throw Away COVID Tests
Consumers should not use the products and instead throw away any tests that are part of the recall identified by lot number. The liquid in the test kit should remain sealed and not be poured down the drain. 
Users may accidentally come in contact with the liquid while opening the ready-to-use, pre-filled and sealed tube while opening the tube, handling it or while performing the test. 
If the liquid in the test tube contacts eyes or skin, flush with large amounts of water and seek medical attention if irritation occurs. Any spilled liquid should be cleaned with a disinfectant and hands should be washed thoroughly with soap and water.
Exposure to the bacteria could cause infection. Signs of infection include fever, discharge, red eyes or other concerning symptoms, the FDA warns.
Consumers can request a replacement kit by contacting Roche Diagnostics online or by calling 1-866-987-6243 and selecting option 1.