Baby Formula Makers Investigated for Collusion on WIC Contracts
Fact Checked
Fact-Checked
Consumernotice.org adheres to the highest ethical standards for content production and distribution. All content is thoroughly researched and verified at each stage of the publication process.
Our writers and editors follow strict guidelines for written and visual content, including vetting all sources and verifying quotes and statistics, to guarantee honesty and integrity in our reporting.
We collaborate with legal and medical experts and consumer safety professionals to further ensure the accuracy of our content.
Baby formula makers that supply the federal Women, Infants and Children programs are under investigation for collusion by the Federal Trade Commission.
The agency issued a civil investigative demand to formula giant Abbott Laboratories in late January regarding its bidding practices for the lucrative state contracts, according to documents published on the FTC website. 
In an order denying Abbott's petition to limit the investigation, the FTC stated that WIC contracts create a lucrative "spillover effect" on the manufacturers' non-WIC sales of baby formula. 
"Although the boost in non-WIC sales motivates manufacturers to win WIC contracts, it may also create incentives to engage in collusive or coordinated market allocation, whereby incumbent WIC contract holders agree not to bid against each other so that they can continue enjoying dominant positions in non-WIC markets in their respective states," the FTC wrote in the denial. 
The WIC program was established in the 1970s to help low-income women, infants and children who are at nutritional risk. This includes pregnant, postpartum and breastfeeding mothers with a child up to 1 year old; infants up to their first birthday; and children up to their fifth birthday. The participants' income must fall at or below 185% of the U.S. poverty guideline.
About 53% of all infants born in the U.S. are served by the WIC program, according to the USDA. Each state is responsible for administering the WIC program and seeks bidders that will offer the greatest discount to the state for infant formula. 
3 Manufacturers Hold 70 Contracts
Since 1996, Abbott has been one of only three companies that have bid on WIC contracts, according to the FTC. Currently Abbott holds 43 of the 70 available WIC contracts that serve the 50 states, Washington, D.C., six U.S. territories and 14 Native American tribal organizations, according to the United States Department of Agriculture, which oversees the WIC program.
Mead Johnson, a subsidiary of Reckitt, holds 15 contracts. Nestlé Gerber holds 12 contracts, many with the tribal organizations. Nestlé Gerber confirmed to Reuters that the FTC was seeking similar information from its company. 
"We, like other companies, received a civil investigative demand related to the WIC contract bidding process and have responded to the FTC," a Nestlé Gerber spokesperson told Reuters.
Reckitt declined to comment but told The Wall Street Journal it "complies with regulatory and enforcement agency requests it receives as a matter of principle."
All three companies have issued baby formula recalls in the past year because of bacterial contaminations that left a number of babies sick, with some deaths. Many parents filed baby formula lawsuits against the formula makers in those cases.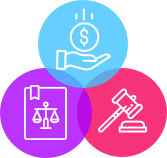 Was your premature baby diagnosed with NEC after being fed Similac or Enfamil baby formula?
Get Your Free Case Review
History of Manufacturer Issues
This is not the first time formula makers have been under this type of scrutiny. In its denial of Abbott's petition, the FTC mentioned a 2015 USDA study that examined the WIC contract bidding between 2003 and 2013 and identified patterns that potentially indicated noncompetitive bidding for those contracts.
In the early 1990s, the FTC brought charges against the three largest domestic baby formula manufacturers at the time – Abbott Laboratories, Mead Johnson and American Home Products. It alleged bid-rigging in connection to the WIC contract in Puerto Rico, according to a 2015 report by the USDA. 
"Mead Johnson and American Home Products agreed to settle charges by providing 3.6 million pounds of free infant formula to the WIC program, but the court ruled in favor of Abbott Laboratories," the 2015 study said. "The FTC has not brought any other price-related charges against the infant formula manufacturers since then."
Abbott denies any collusion in the current case.
"Abbott is unaware of any factual basis to support the WIC-related investigation, and staff have not identified any reason to believe that Abbott or any of its competitors have coordinated or colluded regarding any WIC contract," Abbott wrote in its petition in April.