Residents in Deadly Surfside Building Collapse File $5M Lawsuit Against Condo Association
Fact Checked
Fact-Checked
Consumernotice.org adheres to the highest ethical standards for content production and distribution. All content is thoroughly researched and verified at each stage of the publication process.
Our writers and editors follow strict guidelines for written and visual content, including vetting all sources and verifying quotes and statistics, to guarantee honesty and integrity in our reporting.
We collaborate with legal and medical experts and consumer safety professionals to further ensure the accuracy of our content.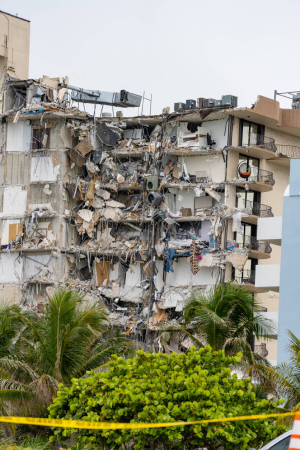 A unit owner in the Surfside Champlain Towers South condo complex filed the first class-action lawsuit against the building's condo association after part of the building collapsed, leaving 18 dead and 145 people still missing as of Wednesday.
Manuel Drezner filed the lawsuit in the 11th Judicial Circuit in Miami-Dade County less than 24 hours after the building's collapse in the early morning of Thursday, June 24, 2021.
The complaint calls the collapse "one of the most breathtakingly frightening tragedies in the history of South Florida."
The lawsuit filed against Champlain Towers South Condominium Association Inc. said the collapse occurred because the association failed to adequately secure the building and protect the lives and property of residents and visitors despite being aware the building was vulnerable.
In addition, the association failed to "disclose to its residents and visitors that it did not have adequate safety measures in place," according to the complaint.
So far, engineers haven't determined an official cause of the collapse.
Drezner seeks damages for himself and other owners for injuries, including loss of use of the property, in the amount of $5 million in addition to attorney's fees and costs.
Attorneys expect more lawsuits could follow.
Report Warned of 'Major Structural Damage'
The lawsuit claims the Champlain Towers South Condominium Association Inc. had known the building was in poor condition before the collapse but didn't do enough to prevent it.
Defendant's attorney Ken Direktor made public statements that "repair needs had been identified," according to the suit.
In addition, Frank Morabito, the civil engineer hired to inspect Champlain Towers South for its 40-year recertification process, said there was evidence of "major structural damage" below the pool deck and entrance drive in his October 2018 report.
He also noted "abundant cracking" in the underground parking garage beams, concrete columns and walls — including "exposed deteriorating rebar."
"Buildings in America just don't fall down like this. This is a third-world phenomenon. There is something very, very wrong here at this property," Surfside Mayor Charles Burkett said in an interview on Sunday TODAY with Willie Geist. "And that 2018 report talks about issues that were raised at that time. We're going to be looking very, very comprehensively at that report."
Residents Told Building Was in 'Very Good Shape'
Residents said officials had assured them the building was safe, despite Morabito's report that indicated otherwise, according to NPR. The engineer indicated the concrete repairs needed to be done "in a timely fashion."
NPR obtained the minutes of a November 2018 board meeting just one month after Morabito's report was completed. During the meeting, Surfside building official Ross Prieto said he had reviewed the engineer's report and said, "It appears the building was in very good shape."
Condo resident Susana Alvarez recalled being at the November 2018 meeting.
"We took out $15 million to fix that building at [the engineer's] say so. No one ever, ever, ever told us that that building was in such bad shape. No one. No one," Alvarez told NPR.
Rescue Efforts Halted
Rescue teams had been working around the clock to locate survivors using firefighters, sniffer dogs and sonar and radar devices, but thunderstorms and falling debris made the efforts difficult.
As of Thursday morning, one week after the building's collapse, officials have halted all search and rescue efforts due to stability concerns with the remaining structure.
On Tuesday, White House press secretary Jen Psaki told reporters President Joe Biden and First Lady Jill Biden will travel to Surfside, part of the Miami metropolitan area, on Thursday. Psaki added that Biden supports a federal probe to help determine what caused the building to collapse, CNBC reported.