Study: Florida's Redfish Contaminated With Pharmaceutical Drugs
Fact Checked
Fact-Checked
Consumernotice.org adheres to the highest ethical standards for content production and distribution. All content is thoroughly researched and verified at each stage of the publication process.
Our writers and editors follow strict guidelines for written and visual content, including vetting all sources and verifying quotes and statistics, to guarantee honesty and integrity in our reporting.
We collaborate with legal and medical experts and consumer safety professionals to further ensure the accuracy of our content.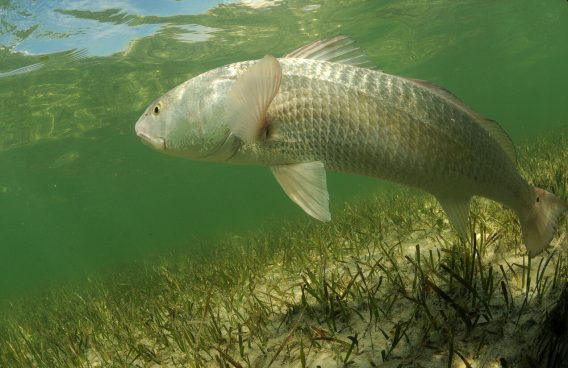 Pharmaceutical pollution in Florida's estuaries is having a profound impact on the state's popular redfish, according to a study conducted by Florida International University's Coastal Fisheries Research Lab.
The year-long study found that nearly 100% of the fish sampled were contaminated with at least one pharmaceutical drug. On average, more than a quarter of the fish tested exceeded a level of pharmaceuticals considered safe. This equates to one-third of the therapeutic levels in humans, according to the Bonefish & Tarpon Trust, which funded the study.
"Given the importance of redfish to the $13.9 billion recreational fishery in Florida, and the negative impacts of pharmaceuticals on fish, this is an urgent concern," researchers wrote in the recently released Redfish Pharmaceutical Contaminants Study. "This research follows a prior study that discovered pharmaceutical contaminants in 100% of bonefish sampled from Biscayne Bay and the Florida Keys, and shows that pharmaceutical contamination is a statewide issue."
Fish Test Positive for Opioid Pain Relief and Psychotropics
The study sampled 113 Florida redfish from nine of Florida's estuaries: Apalachicola, Cedar Key, Charlotte Harbor, Florida Bay, Jacksonville, Northern Indian River Lagoon, Pensacola, Tampa Bay and St. Augustine. 
Fish plasma and tissue samples were tested for 94 commonly prescribed pharmaceuticals. On average, researchers found 2.1 pharmaceuticals per redfish. Only seven fish in the study had zero contamination. Most commonly, fish were found to be contaminated with cardiovascular medications, opioid pain relievers and psychoactive medications, according to the report. 
Twelve medications accounted for 97% of pharmaceutical detections in the sampled fish. According to researchers, seven of those drugs are known to have harmful effects on the fish:
Caffeine

: Stimulant drug that is commonly found in coffee, tea and some soft drinks.

Diclofenac

: Nonsteroidal anti-inflammatory. 

Diphenhydramine

: Antihistamine medication used to relieve symptoms of allergies.

Donepezil

: Used to treat symptoms of Alzheimer's disease, such as memory loss and confusion.

Ranitidine

: Medication used to treat and prevent stomach and intestinal ulcers, acid reflux and heartburn.

Sertraline

: Antidepressant medication used to treat depression, anxiety, obsessive-compulsive disorder and other related conditions.

Tramadol

: Opioid pain medication used to treat moderate to severe pain.
Additional drugs were found in the fish, the effects of which are unknown. They are clotrimazole, felodipine, flecainide, flutamide and flupentixol.  
Researchers Concerned About Health Effects
"These studies of bonefish and redfish are the first to document the concerning presence of pharmaceuticals in species that are important to Florida's recreational fisheries," Dr. Jennifer Rehage, FIU professor and the study's lead researcher, told FIU News. 
"Given the impacts of many of these pharmaceuticals on other fish species and the types of pharmaceuticals found, we are concerned about the role pharmaceuticals play in the health of our fisheries," she said. "We will continue this work to get more answers to these concerning questions."
Rehage told the Tampa Bay Times the amount of drugs found in each Florida fish was so small, a person would have to eat roughly 48,000 filets to get a prescription dosage.
"Nobody knows what being exposed to something at really low levels over your lifetime means to your health," Rehage said. "You're getting exposed with some tiny, tiny levels of something for a long time, and it's interacting with other pharmaceuticals."
Water Treatment Updates Could Help Eliminate Pharma Contamination
Researchers in Europe have found that ozone treated wastewater removes most pharmaceuticals, according to the redfish study. Ozone, a powerful oxidating agent, can remove pollutants to effectively disinfect wastewater and reduce the presence of organic compounds, making it safer to release back into the environment. 
Florida has upgraded and updated wastewater infrastructure to get rid of nutrients that lead to harmful red tide. Researchers suggest retrofitting existing plants and requiring new plants to include additional treatments, like ozone, could address the emerging environmental health concern.
"The results underscore the urgent need to modernize Florida's wastewater treatment systems," said Bonefish & Tarpon Trust President and CEO Jim McDuffie. "Human-based contaminants like these pose a significant threat to Florida's recreational fishery, which has an annual economic impact of $13.9 billion and directly supports more than 120,000 jobs."
Left untreated, pharmaceutical contamination in water can harm wildlife and fish that are later eaten. Consuming contaminated fish could lead to potential health risks.
Contaminated Water Can Cause Health Problems
Water contamination from improperly treated water can cause massive health problems and make water unsafe for cooking, drinking and other uses. 
In an unrelated water contamination issue, people who lived at Marine Corps Base Camp Lejeune in North Carolina were sickened after the water supply there was compromised. Water treatment plants were contaminated with dangerous chemicals and specific volatile organic compounds for decades. 
The Camp Lejeune water contamination was linked to cancer, birth defects, neurological effects, neurobehavioral problems and other diseases. Many of those affected have filed Camp Lejeune lawsuits.
Fisherman Dustin Pack, an FIU researcher who participated in the Florida study, said he finds the fish contamination alarming.
"This is something that everyday people, and even fishing guides like myself, wouldn't think of: Drugs in our redfish?" he told the Tampa Bay Times. "It being so potent in our waterways that it's strong enough to show up in blood tests? It's kind of overwhelming."