13 Common Waterborne Diseases: Symptoms, Safety Tips and More
Almost 7.2 million people in the United States get sick each year from waterborne diseases, the term for illnesses spread through contaminated water sources. Yet 95% of them are preventable. Discover 13 common waterborne diseases plus eight tips for how to purify your own drinking water.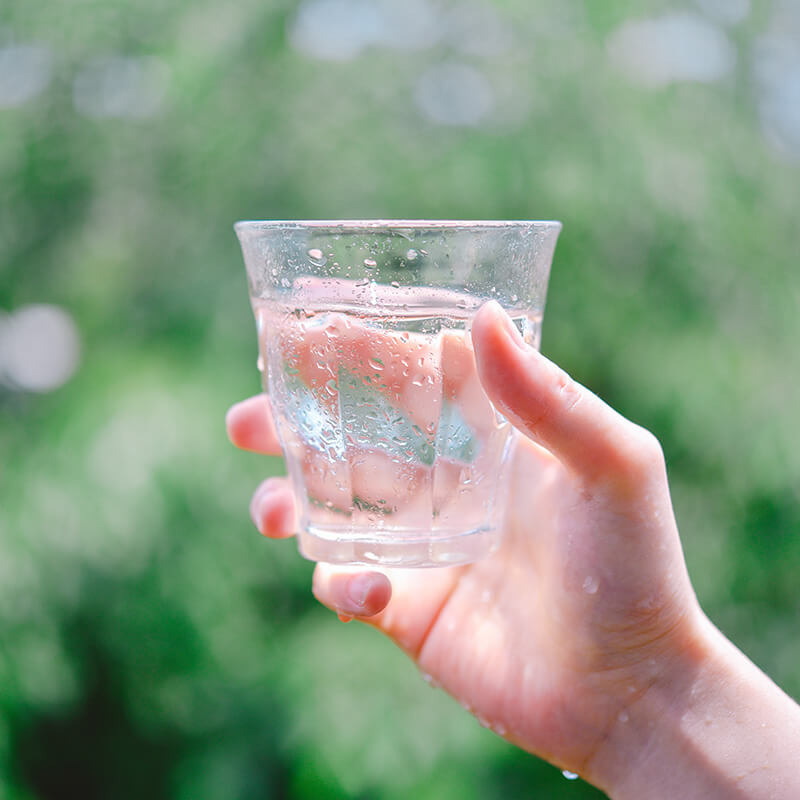 1. Amebiasis
A single-celled parasite called Entamoeba histolytica is the cause of a waterborne disease known as amebiasis. Although more commonly occuring in tropical areas of the world, it can also be contracted in the United States. It flourishes in contaminated water and poor sanitary conditions.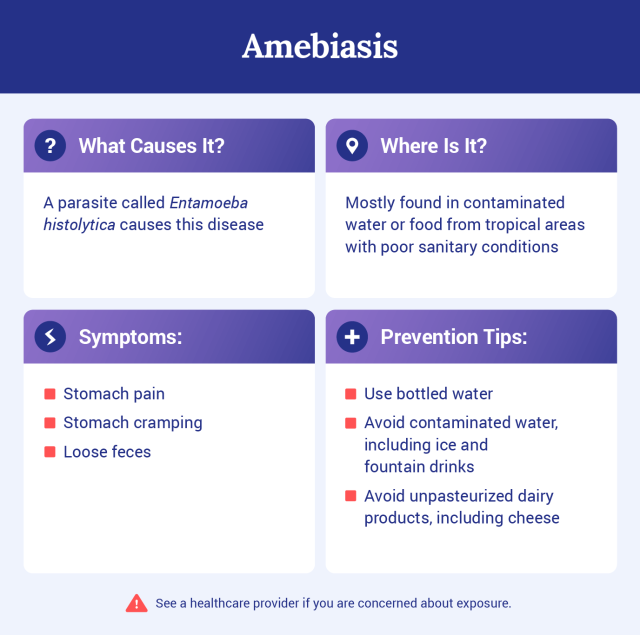 Researchers estimate that amebiasis affects 4% of the U.S. population and approximately five people die from it annually. The state of California averages approximately 300 cases per year, while Texas averaged 158 cases each year between 2015 and 2019.
Causes
Infection can occur when a person swallows E. histolytica-contaminated food or water or ingests the parasite's eggs, which can be picked up from something that has touched a contaminated surface or fingers. Unpasteurized dairy items are an additional potential source of contamination. People living in institutions or housing systems with less access to clean water and proper toilet facilities also face increased risks of infection.
Symptoms
Only 10% to 20% of people infected with amebiasis develop symptoms. Look for symptoms approximately two to four weeks after exposure. Common physical symptoms to watch for include:
Stomach pain
Stomach cramping
Loose feces
More rare symptoms include bloody stool and fever. Amebic liver abscesses and possible abdominal rupture can impact 5 to 10% of people with amebiasis.
Contact a medical professional if you're experiencing these symptoms and believe you've been exposed to contaminated water.
Prevention
As is the case for many waterborne disease risks, avoiding drinking potentially contaminated water is the best prevention method. That includes ice cubes, fountain drinks and any other beverages mixed with water. Opt for bottled or boiled water as possible.
Avoid unpasteurized dairy products and peel your own fresh fruit or vegetables whenever possible. Use caution with food or beverages sourced from vendors that may not boil water, take precautions to avoid cross contamination or use water from unknown water sources.
2. Cholera
Cholera, a Vibrio cholerae bacterial infection of the intestines, impacts approximately 1.3 to 4 million people globally each year. It's been identified in natural environments such as saltwater rivers and coastal waters and is also associated with water or foods an individual who is infected has contaminated.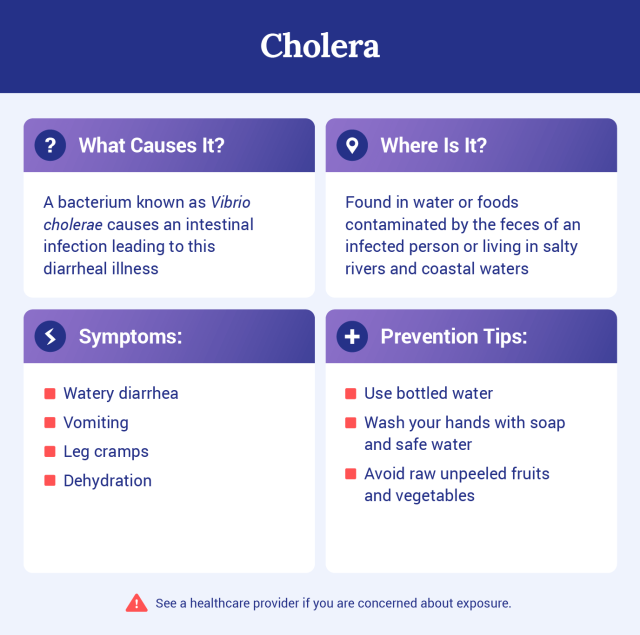 Raw sewage is a potential source of contamination. While cholera has mostly been eliminated in the U.S. as a water-borne disease thanks to modern sewage-treatment facilities, the EPA acknowledges that current sewer systems across the country occasionally still overflow. This can release untreated sewage out into the environment that can lead to serious health issues like cholera.
Causes
People residing in areas with unsafe drinking water and inadequate sanitary conditions face the most risk of encountering cholera bacteria. Eating or drinking contaminated food and water can directly lead to infection.
Symptoms
Often people diagnosed with cholera experience either mild symptoms or no symptoms at all. But approximately 10% of people who contract cholera experience severe symptoms such as:
Leg cramps
Vomiting
Watery diarrhea
Dehydration and shock can happen suddenly in these patients because of a rapid loss of body fluids. If people don't receive medical treatment within hours of the onset of their symptoms, serious illness and even death can occur.
If you are experiencing symptoms and have traveled to an area with high risks of cholera or believe you may have consumed contaminated food, contact your doctor right away. If symptoms are severe, seek immediate medical attention.
Prevention
In the event of a sewage spill and resulting outbreak or if traveling to areas with known risks of cholera, follow CDC health guidelines, including any advisories regarding boiling water. Use bottled water that still retains its safety seal when possible. This can help limit your cholera exposure.
Use bottled water not only for drinking, but to brush your teeth, wash dishes, clean food, cook and create ice. Wash your hands frequently and thoroughly with soap and bottled water when possible. Avoid eating raw fruits and vegetables that you did not peel yourself, instead opting for freshly cooked food served hot and steaming.
3. Cryptosporidiosis
Microscopic parasites known as Cryptosporidium, are responsible for cryptosporidiosis. "Crypto" is spread via water, food, soil or surfaces that have become contaminated with infected feces. These parasites cause symptoms including fever and abdominal pain.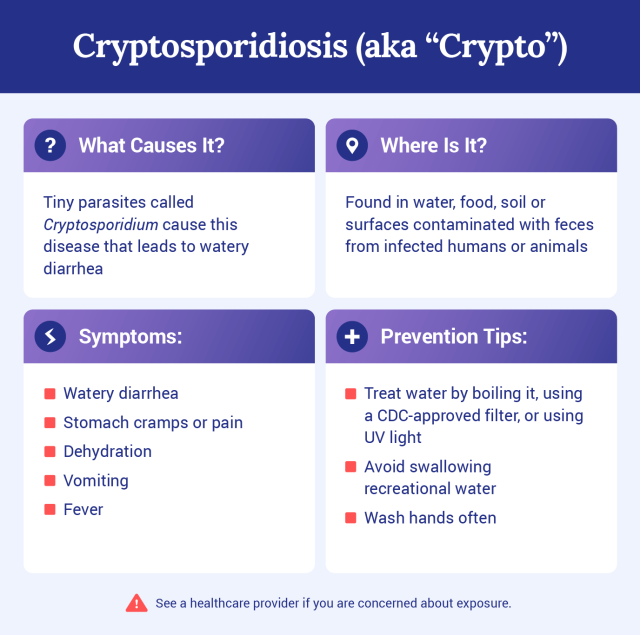 Crypto levels are currently monitored at water sources around the country. Scientists detected the parasites in 2017 in the Bull Run Watershed in Portland, Oregon. They continue to track the crypto levels there as the Portland Water Bureau slowly develops a new filtration system for the location.
Causes
Crypto has been found in both drinking water and recreational water sites. The parasites are transmitted to water sources via the stool of infected animals or people. From 2001-2010, crypto was the main source of American waterborne disease outbreaks tied to recreational water, such as rivers, swimming pools, lakes and fountains.
Symptoms
Crypto symptoms take seven days on average to reveal themselves and typically last approximately one to two weeks in patients with healthy immune systems. They often include:
Dehydration
Fever
Nausea
Stomach cramps or pain
Vomiting
Watery diarrhea
Weight loss
Symptoms may come and go during the recovery process for up to 30 days. Some people infected with crypto may show no symptoms at all.
Prevention
To help prevent crypto infections, avoid swimming in bodies of water with posted restriction signs. People enjoying recreational waters should try to not swallow any of the water, if possible. Try to avoid untreated or contaminated drinking water and use commercially bottled water when drinking water safety is in doubt.
Good hygiene practices are also important preventative measures. Wash your hands with soap and water frequently during high-risk situations. Boil drinking water for 1-3 minutes, depending on your location's elevation, if you have concerns about possible crypto contamination. Other at-home water treatment options include using UV light, ozone, reverse osmosis or a water filter specifically certified to filter out crypto.
4. Cyclosporiasis
An intestinal infection known as cyclosporiasis develops after contamination from a microscopic one-cell parasite known as Cyclospora cayetanensis. The parasite can infect water and food supplies, putting people at risk. Cases in the U.S. have been linked to fresh produce.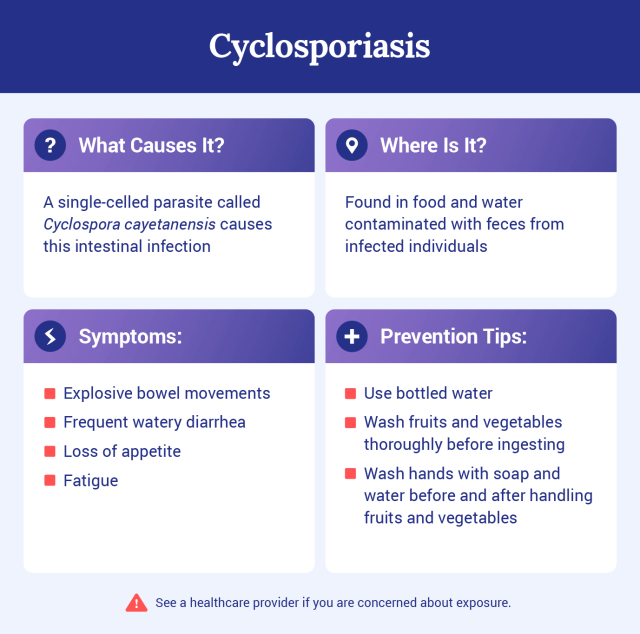 While some cases are tied to contracting the infection when traveling to areas with high infection rates, more than 1,100 cases of non-travel-related cyclosporiasis were tracked in the U.S. within six months in 2022. Some cases were believed to be tied to leafy greens contaminated by Cyclospora cayetanensis, but evidence was not definitive.
Causes
Often found in feces-contaminated food or water, U.S.-based outbreaks have typically been foodborne and linked to imported fresh produce. Unwashed contaminated fruits and vegetables can be an infection source. Infections are more common in tropical and subtropical areas.
Symptoms
On average, symptoms develop about one week after infection. Not everyone infected will have symptoms. For those who do, they can include:
Bloating
Explosive bowel movements
Fatigue
Frequent watery diarrhea
Loss of appetite
Nausea
Stomach pain
Weight loss
Untreated intestinal distress can last for up to a month. Immunocompromised individuals may experience symptoms for longer periods of time. See your doctor if cyclosporiasis is suspected.
Prevention
To help prevent cyclosporiasis, follow guidelines in official notifications or alerts about possible contamination from the CDC or other experts including using bottled water or boiling water before use. Thoroughly wash fruits and vegetables before cutting, cooking or eating them as possible. Wash your hands with warm water and soap both before and after handling fruits and vegetables to help limit exposure.
5. Escherichia Coli O157 (E. coli O157)
Escherichia coli O157, commonly shortened to E. coli O157, is the most common toxic form of E. coli found in North America. It's part of a larger group of bacteria, Escherichia coli, that naturally live in the intestines of humans and animals. Most strains are harmless, but people may get sick from other strains, like E. coli O157, which can create a toxin known as Shiga toxin.
A major drinking water crisis in Flint, Michigan, was largely attributed to lead contamination. But, in 2014, evidence surfaced that the bacteria E. coli was also present in the contaminated water supply, requiring residents to boil any water they used from the tap.
Causes
Waterborne E. coli O157 is typically traced back to either cattle farms or feces-contaminated water sources such as faulty sewage systems, agricultural runoff or polluted stormwater runoff. Like most waterborne illnesses, ingesting any amount of feces from an infected source can cause the disease to develop. Some people have been infected after swimming and swallowing contaminated lake water. Raw and unpasteurized dairy products also run a high risk of E. coli contamination from cattle feces.
Symptoms
Symptoms of an E. coli infection typically worsen over multiple days. They often start about three to four days post-exposure. Specific symptoms include:
Diarrhea, which is often bloody
Severe stomach cramps
Vomiting
Approximately 5 to 10% of people with an E. coli O157 infection will develop a major complication known as hemolytic uremic syndrome. HUS can be life-threatening.
You'll notice HUS symptoms roughly seven days after the initial E. coli O157 symptoms appear. HUS symptoms include losing some of the rosy color in face cheeks and lower eyelids, decreased urination needs and feeling increased fatigue. See a doctor immediately if HUS symptoms occur.
Prevention
Cities like Baltimore have had to issue boil water advisories in recent years because of the identification of E. coli in their water supply. If an alert goes out in your area, boil your water for 1-3 minutes, depending on your elevation, before drinking.
Washing your hands thoroughly is also key to preventing the spread of E. coli, especially after using the toilet, changing diapers or coming into contact with animals or their environments. Individuals should also avoid swallowing recreational water while swimming or playing in bodies of water as possible.
6. Giardiasis
The microscopic parasite known as Giardia duodenalis resides in human intestines and is exposed to others through feces, causing the diarrheal disease giardiasis. In some instances, the parasite can live outside the body for weeks or even months.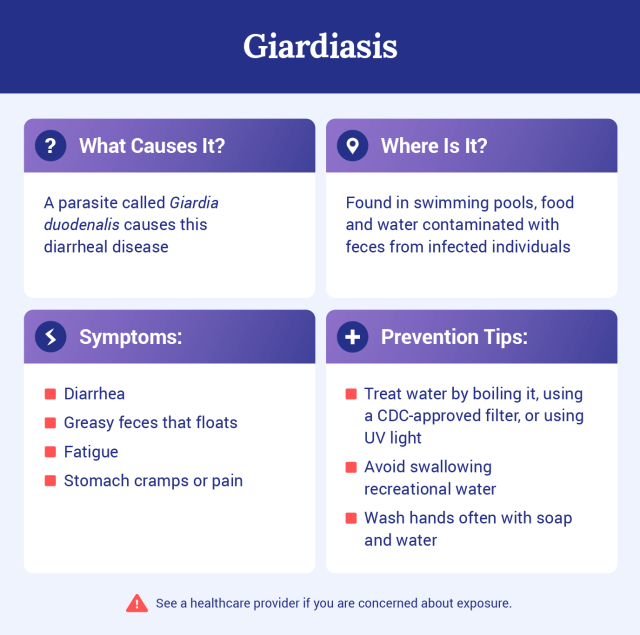 The CDC notes that Giardia parasites can survive in chlorinated swimming pool water for approximately 45 minutes. A single infected swimmer can contaminate an entire swimming pool.
Causes
Ingesting Giardia-infected food or water will lead to giardiasis. The parasite spreads easily through water, including chlorinated water like swimming pools. Traveling in areas with higher rates of giardiasis infections can also increase your likelihood of exposure and illness.
Symptoms
Giardiasis symptoms often present about one to two weeks after exposure. They include:
Dehydration
Diarrhea
Fatigue
Floating oily and foul-smelling stool
Gas
Nausea
Stomach cramps or pain
If symptoms persist, people infected with giardiasis may experience weight loss over time. Typically, symptoms dissipate within two to six weeks.
Prevention
To eliminate giardiasis from your drinking water, there are several options. Boil water for 1-3 minutes, depending on your location's elevation. You can also treat the water with UV light, ozone, reverse osmosis or utilize a water filter specifically certified to remove Giardia.
Wash your hands with soap and water after any potential exposure. Properly washing fruits and vegetables will also help remove parasites. Being mindful to not swallow water while in recreational bodies of water is also helpful.
7. Harmful Algal Blooms (HAB)
Harmful algae blooms, abbreviated as HAB, are potentially toxic algae growths that develop in bodies of water where the water is slow-moving, warm and rich with nutrients such as nitrogen and phosphorus. Different types grow in fresh and saltwater, and not all are harmful to humans.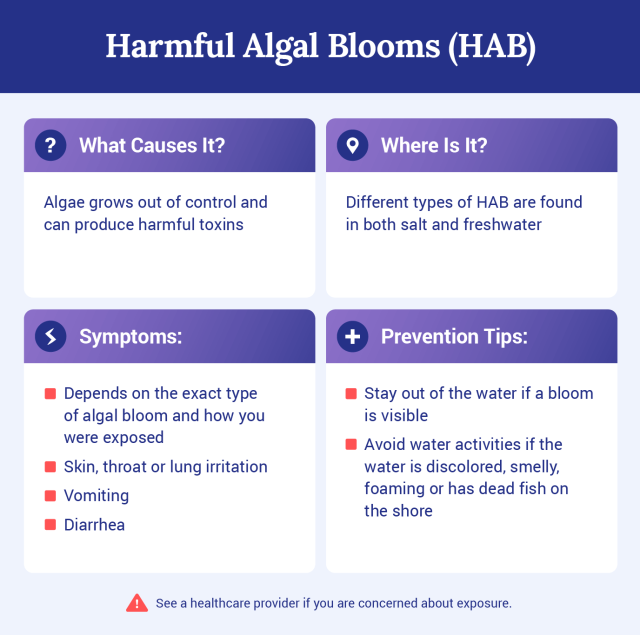 In March of 2023, scientists identified an HAB off the coast of Florida consisting of an overgrowth of algae known as Karenia brevis. It killed off thousands of fish and created breathing issues for beachgoers along the state's southwest shores.
Causes
Infection may occur when swimming, wading or playing in or near contaminated bodies of water. Both people and pets are susceptible to developing symptoms after spending time in or around these areas. Ingesting contaminated drinking water and eating contaminated fish or shellfish are additional causes of HAB-associated illnesses.
The EPA identifies excess nitrogen and phosphorus in water as leading causes of algal blooms. The agency notes that primary sources of pollution are agriculture (manure and fertilizers), consumer products (lawn care products, detergents and soaps), fossil fuels and wastewater (septic and sewer systems). Stormwater can also carry nitrogen and phosphorus to local waterways and natural bodies of water.
Symptoms
Identifying HAB-related symptoms depends on the exact type of algal toxin you were exposed to, as well as the method and duration of exposure. Generally, HAB-associated illnesses feature symptoms such as:
Diarrhea
Dizziness
Headache
Numbness of mouth and/or lips
Skin, throat, eyes or lung irritation
Stomach pain
Vomiting
The specifical algal growth in the HAB in Florida, Karenia brevis, is known to cause coughing, sneezing, eye irritation, skin irritation and asthma attacks in both people and pets. People who ingest shellfish from these contaminated waters could also develop stomach problems.
Prevention
Avoiding entering bodies of water that have a visible or reported algae bloom is the simplest way to prevent infection. Don't enter the water if you suspect a bloom is present. If you're unsure, look for indicators such as if the water is discolored, smelly or has dead fish on the shore. Water that has paint-like streaks across the surface or a layer of foam or scum should also be avoided. Before you head to a body of water for recreation, check the Harmful Algal Bloom Monitoring System from the National Centers for Coastal Ocean Science.
8. Hepatitis A
Hepatitis A is a viral communicable disease that inflames the liver. It has been linked to contaminated food and large-scale food recalls. There is a hepatitis A vaccine available that the CDC categorizes as "highly effective."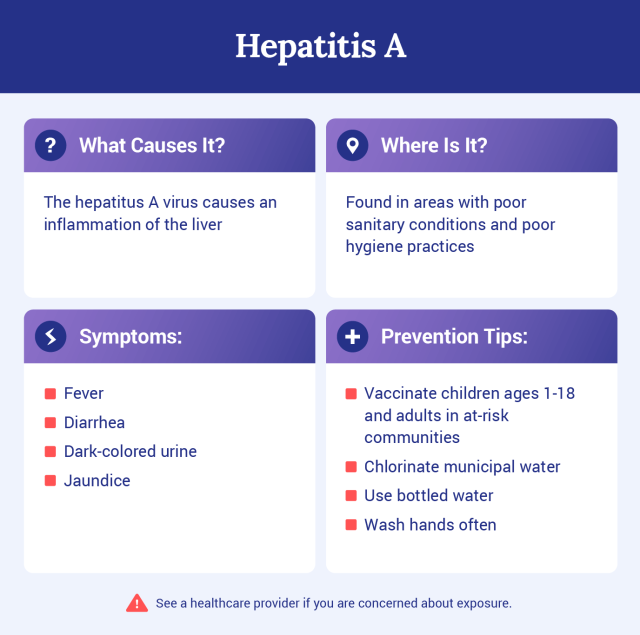 A 2023 hepatitis A outbreak in Washington state was linked to organic strawberries in products sold at major retailers such as Trader Joe's and Costco. The fruit was imported from farms in Baja, California.
Causes
Poor sanitary conditions, poor personal hygiene practices and unsafe water or food supplies are the main causes behind hepatitis A. Contamination occurs through either ingestion of feces-contaminated food or water or through direct contact with an infected person. One worker at a restaurant in Virginia was identified as the source of a major outbreak in 2021, with more than 50 related cases and three deaths.
Symptoms
The symptoms associated with hepatitis A can range from mild to severe. They include:
Dark-colored urine
Diarrhea
Fatigue
Fever
Jaundice
Loss of appetite
Stomach pain
Symptoms can take from two to seven weeks to show up. Most people recover within one to two weeks, but hepatitis A can become chronic in some patients and cause long-term health problems.
Prevention
Because, though rare, there have been cases of death from hepatitis A, the vaccine is recommended to help prevent infection. HAV vaccinations are recommended for most children, as well as for adults at risk. Chlorine is also a useful preventative measure used to kill HAV in the U.S. municipal water supply. Proper handwashing practices and following CDC or other agency guidelines in the event of an outbreak are important and may include the use of bottled water.
9. Legionella
Bacteria called Legionella is the cause of a severe type of pneumonia or lung infection known as Legionnaires' disease. The majority of healthy people will not develop Legionnaires if exposed to Legionella. Those who do get sick typically require hospital care. Legionella is also the source of a milder infection known as Pontiac fever.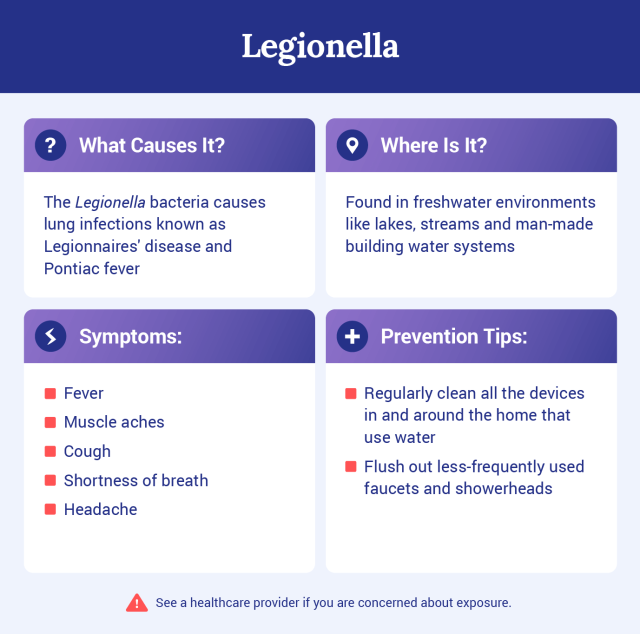 Recent cases of Legionnaires were reported at a New Hampshire campground in 2023 and a Manhattan nursing home facility in New York in 2022. A Legionnaires outbreak also struck the city of Flint, Michigan in 2014, killing 12 people. The same year, the city also battled both lead and E. coli in its water supply.
Causes
Breathing in water droplets contaminated with Legionella can lead to infection. Outbreaks of Legionnaires are often connected to large man-made water systems, such as those found in hotels, cruise ships and hospitals. The bacteria can grow exponentially in the warm standing water found in showerheads, sink faucets, hot tubs, hot water tanks, etc.
Symptoms
Specific symptoms may vary depending on how a Legionella infection develops. Legionnaires' disease symptoms may include:
Confusion
Cough
Diarrhea
Fever
Headache
Muscle aches
Nausea
Shortness of breath
Pontiac fever symptoms are less extensive and include fever and muscle aches. People diagnosed with Pontiac fever do not have pneumonia, in contrast to those diagnosed with Legionnaires.
Prevention
At-home prevention of the spread of Legionella requires regular cleaning of the many devices in and outside your house that use water. The most common devices to monitor are showerheads, faucets, water heaters, portable humidifiers and neti pots. Simply flushing out faucets and showerheads you don't utilize often can also help between cleanings.
10. Norovirus
Norovirus is the biggest cause of illness related to contaminated food in the U.S. It's a highly contagious virus that inflames the stomach or intestines, leading to vomiting and diarrhea. While sometimes referred to as the stomach flu, it's not related to the influenza virus.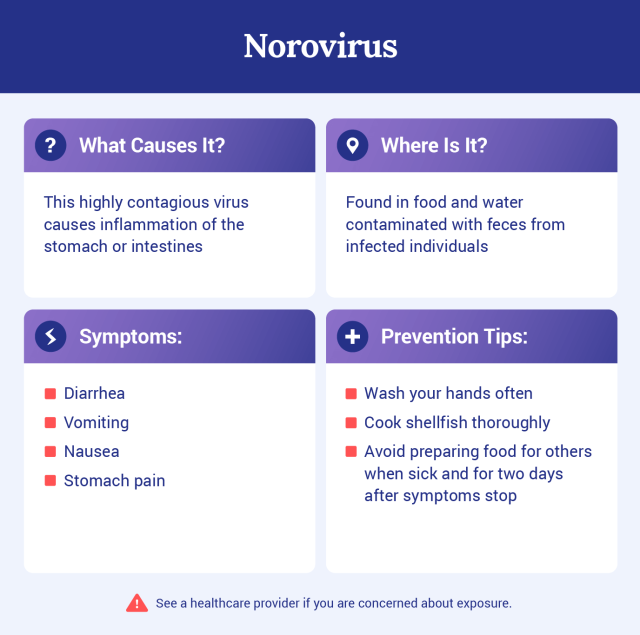 A 2022 norovirus outbreak impacted residents across eight Southern states. It was traced back to raw oysters harvested from the southeastern Galveston Bay waters in Texas. No specific source of the water contamination has been identified yet.
Causes
Fecal contamination of food and water from an infected person is one of the main causes of norovirus in America. Food grown or harvested with contaminated water may also be a source of norovirus exposure. Both recreational and drinking water are also vulnerable to norovirus contamination.
Symptoms
The inflammation norovirus causes is diagnosed as acute gastroenteritis. Possible symptoms may include:
Body aches
Dehydration
Diarrhea
Fever
Headache
Nausea
Stomach pain
Vomiting
Symptoms often develop quickly, approximately 12-48 hours after exposure, and resolve within one to three days. Frequent diarrhea leads to a heightened risk of dehydration for those infected.
Prevention
Proper hygiene is the main defense against norovirus. This includes washing your hands after visiting the bathroom, before and after eating, preparing and handling food and prior to taking or giving medications. The CDC recommends those infected should not prepare food or provide healthcare for others for at least two days after symptoms disappear.
11. Salmonella
Salmonella is the bacteria behind the largest amount of bacterial infections reported annually, with more than 1.4 million cases attributed to it in the U.S. each year. It's largely associated with being the cause of foodborne illnesses, but also has been present in studies on contaminated groundwater.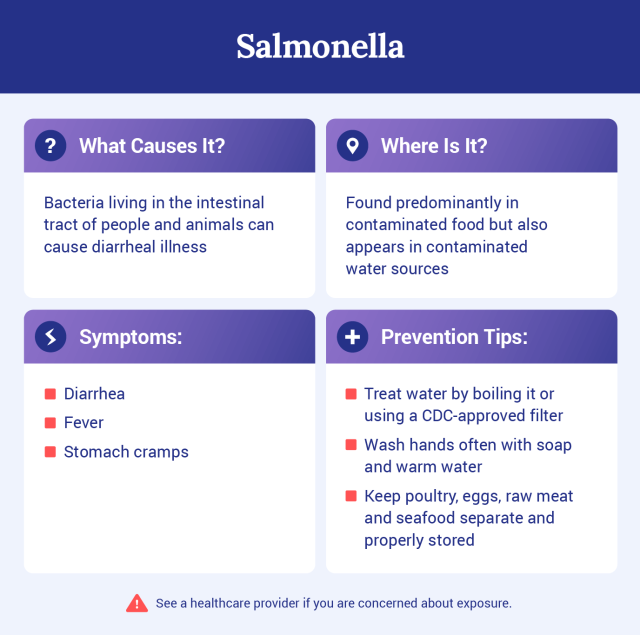 Contaminated water from a farm in Holtville, California, was identified as a major contributor to the largest outbreak of Salmonella in the U.S. in recent years. In 2020, more than 1,100 cases were reported and tied to red onions grown at the farm.
Causes
The unintentional ingestion of fecal matter causes many illnesses and infections, including Salmonella. Exposure may stem from sewage overflows, polluted stormwater runoff, agricultural irrigation runoff or dysfunctional sewage systems. Pets and other animals may also be a point of exposure since they can carry Salmonella, too. A wide variety of food, such as chicken, eggs, pork, beef, fruits and vegetables, may contain Salmonella.
Symptoms
People infected with Salmonella usually begin showing symptoms between six hours and six days after infection. Symptoms may include:
Bloody stool
Dehydration
Diarrhea
Fever
Intense vomiting
Prolonged diarrhea lasting more than three days without improvement
Stomach cramps
Recovery takes four to seven days on average and often does not require treatment or a visit to the doctor. But certain at-risk groups face life-threatening consequences from a Salmonella infection. They include pregnant women and their unborn children, infants, young children and older adults.
Prevention
Advice for preventing a Salmonella infection focuses primarily on food. Extensive guidelines walk you through how to clean, separate, cook and chill food items. Key highlights include consistent handwashing hygiene habits and keeping products like poultry, eggs, raw meat and seafood separated and properly stored. Cooking foods to a safe internal temperature also ensures that any potential bacteria have been killed.
Treat any drinking water that may be contaminated with Salmonella. There are several methods to consider. Boil water for 1-3 minutes, depending on your location's elevation. You can check the CDC's recommendations for the size of filters they approve for removing Salmonella bacteria from water.
12. Shigellosis
A bacterial infection known as shigellosis occurs after contamination from one of four species of the bacteria Shigella. Most U.S. cases are specifically the result of the Shigella sonnei species, which can cause bloody diarrhea.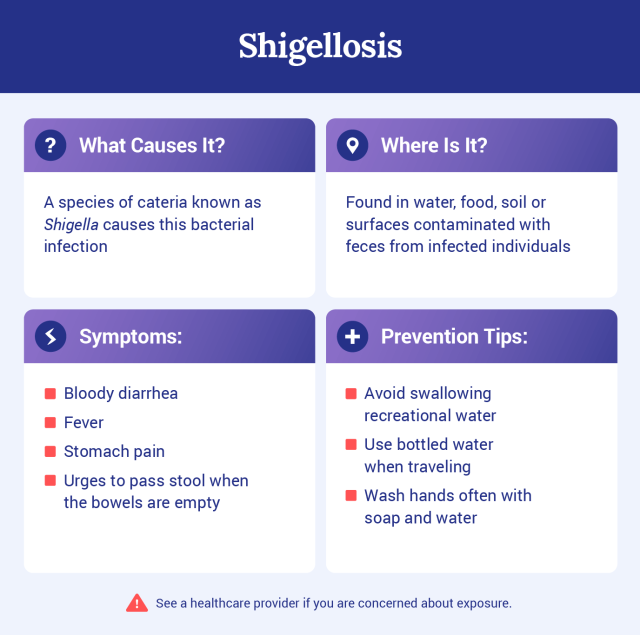 The various species of Shigella are responsible for an estimated 450,000 infections annually across the U.S. They also lead to approximately $93 million in direct medical costs. The CDC recently announced concerns about an increase in drug-resistant Shigella infections.
Causes
Shigella bacteria spread easily, needing only a few bacteria from diarrhea to make a person sick. An infected individual can spread the bacteria for weeks, even after their diarrhea ends. Common causes of infection are ingesting recreational water contaminated with the bacteria. People may also come into contact with Shigella when touching contaminated surfaces. Restaurants have been recent sources of infection.
Symptoms
Shigellosis symptoms may present approximately one to two days after exposure and last for seven days. They typically include:
An urge to pass stool even when the bowels are empty
Diarrhea that is bloody or lasts more than three days
Fever
Stomach pain
People infected with shigellosis may benefit from a simple at-home recovery of fluids and rest. Doctors may prescribe antibiotics for more serious cases.
Prevention
Standard preventative measures for avoiding shigellosis include thoroughly washing your hands with soap and warm water often, drinking bottled water while traveling to regions with high rates of infection and avoiding ingesting recreational water from sources such as untreated swimming pools, lakes and ponds.
13. Typhoid Fever
Salmonella Typhi causes typhoid fever and is a strain of Salmonella bacteria. It's a life-threatening illness that impacts between 11 million and 21 million people around the world each year. In the U.S., an average of 350 cases are reported annually.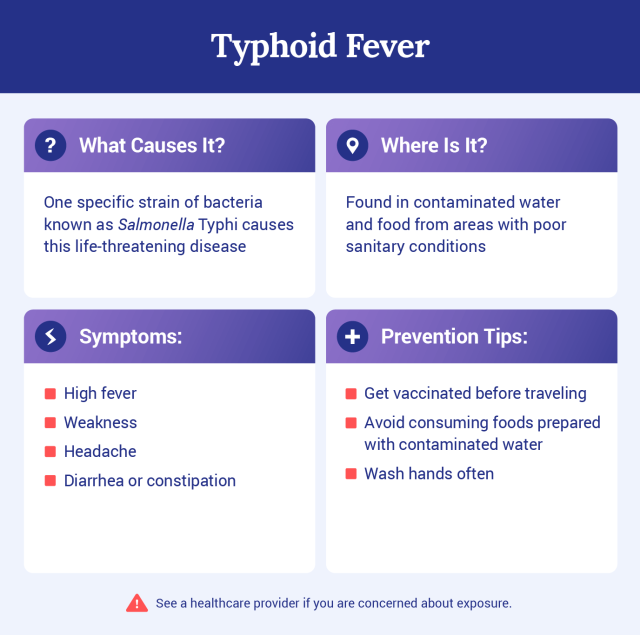 Cases of antimicrobial-resistant Salmonella Typhi have increased globally. People have been infected with resistant strains in recent decades after traveling to locations with high rates and risks of infections.
Causes
Typhoid fever is spread through fecal contamination of food and drinking water. When the bacteria enters a person's body, it begins to multiply and spreads to the bloodstream, which then causes typhoid fever.
Symptoms
A high fever of 103°F to 104°F is the most common symptom of typhoid fever. Potential symptoms to watch for include:
A flat, spotted rose-colored rash
Cough
Diarrhea or constipation
Headache
High fever
Internal bleeding
Loss of appetite
Stomach pain
Weakness
Medical treatment with antibiotics that kill the bacteria helps most people recover approximately one week after starting treatment. Untreated typhoid fever leads to death in 12-30% of cases.
Prevention
Vaccine options — both a pill form and an injectable — are available. Both must be completed one to two weeks before traveling to high-risk locations. Avoid drinking potentially contaminated water and eating foods prepared with it. Wash your hands frequently with soap and water for at least 20 seconds.
Waterborne Disease FAQ
While each of the waterborne illnesses on this list has its own unique qualities, there may be some lingering questions overall. Here are answers to additional questions you may have.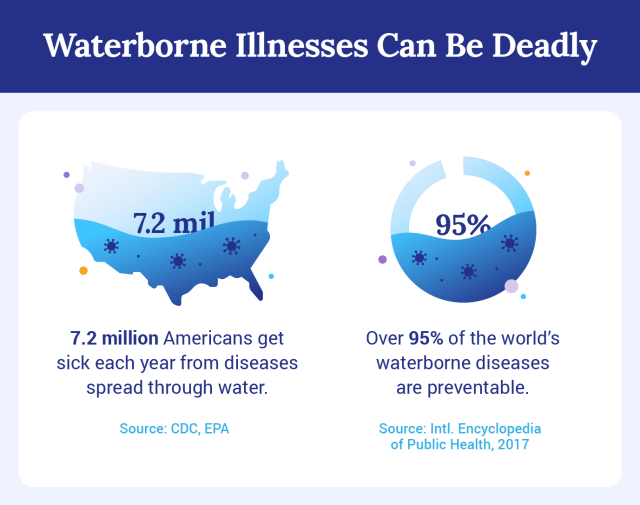 How Common Are Waterborne Illnesses in the U.S.?
CDC data shows that more than 7 million diagnoses were tied to waterborne pathogens in 2014. They resulted in 601,000 emergency department visits, 118,000 hospitalizations and 6,300 deaths. The healthcare costs, including insurance and out-of-pocket expenses, totaled $3.3 billion.
Was Water Contamination at Camp Lejeune Related to Waterborne Diseases?
More than 30 years of water contamination from leaked and mishandled chemicals caused health issues at Camp Lejeune in North Carolina. The contamination of two of the camp's water treatment plants was discovered in 1982 and cleaned up by 1987. But the damage had been done and is still being felt today. The toxic chemicals spilled and leaked at Camp Lejeune have been linked to cancer, birth defects, neurological effects and other illnesses.
How Do I Know If My Water Is Safe?
While there are ways to test your water quality at home yourself, the Environmental Working Group has created a helpful resource called the Tap Water Database. It allows you to type in your home ZIP code and then provides the most recently available data on the water quality in your area.
Tips for Clean Drinking Water
When dealing with unknown water quality, there are ways to purify water in small batches for drinking, washing dishes, brushing teeth and other daily needs. Note that not every method will kill every type of germ, bacteria or virus.
As a first step, if your water is cloudy, filter it through a clean paper towel, coffee filter or cloth to remove the sediment. Alternatively, you can allow the sediment to settle to the bottom, then draw off the clear water into another container.
To purify your untreated clear water, try one of the following methods:
Boil: The most effective and reliable method is boiling. Boil water for one minute, or three minutes if you are located at an elevation above 6,500 feet.
Ultraviolet light: A portable UV light can disinfect small amounts of clear water. It does not work well on cloudy water because germs hidden behind loose particles in the water are blocked from the rays of light.
Portable water filter: Look for filters labeled "NSF 53" or "NSF 58" with an absolute pore size of 1 micron or smaller for the best filtration.
Bleach: Use an unscented liquid bleach with a 5% to 9% concentration of sodium hypochlorite (most common in the U.S.). Then use an eyedropper to add 10 drops of bleach into 1 quart/liter of water. Use 40 drops for 1 gallon of water, and 200 drops for 5 gallons of water. Double the number of drops if the water you're starting with is cloudy, colored or very cold.
The visual guide below offers a few more suggestions for purifying unsafe water yourself.
Environmental health factors like waterborne diseases impact millions of lives every day. Understanding the health risks from water contamination is a valuable tool for keeping yourself and your family safe.
Please seek the advice of a qualified professional before making decisions about your health or finances.
Last Modified: April 19, 2023
Share This Page
30 Cited Research Articles
Consumernotice.org adheres to the highest ethical standards for content production and references only credible sources of information, including government reports, interviews with experts, highly regarded nonprofit organizations, peer-reviewed journals, court records and academic organizations. You can learn more about our dedication to relevance, accuracy and transparency by reading our editorial policy.
CDC. (2023, March 8). Shigella – Shigellosis. Retrieved from https://www.cdc.gov/shigella/general-information.html
Logan, N. et al. (2023, February 28). Epidemiology, Testing, and Management of Extensively Drug-Resistant Shigellosis. Retrieved from https://emergency.cdc.gov/coca/calls/2023/callinfo_022823.asp
CDC. (2023, February 23). Norovirus. Retrieved from https://www.cdc.gov/norovirus/index.html
CDC. (2023, February 14). Five Basic Cholera Prevention Steps. Retrieved from https://www.cdc.gov/cholera/preventionsteps.html
CDC. (2023, January 4). Waterborne Disease & Outbreak Surveillance Reporting. Retrieved from https://www.cdc.gov/healthywater/surveillance/burden/qa.html
CDC. (2023, January 4). Waterborne Disease in the United States. Retrieved from https://www.cdc.gov/healthywater/surveillance/burden/index.html
Das, S., Kungwani, N.A. Understanding Microbial Biofilms. Elsevier Inc., 2023.
CDC.. (2022, December 9). Harmful Algal Bloom (HAB)-Associated Illness. Retrieved from https://www.cdc.gov/habs/general.html
CDC.(2022, September 30). Cholera - Vibrio cholerae infection. Retrieved from https://www.cdc.gov/cholera/general/index.html
CDC. (2022, September 9). Salmonella. Retrieved from https://www.cdc.gov/salmonella/general/index.html
CDC.. (2022, August 23). Germs That Can Contaminate Tap Water. Retrieved from https://www.cdc.gov/healthywater/drinking/contamination/germs.html
EPA. (2022, July 6). Emergency Disinfection of Drinking Water. Retrieved from https://www.epa.gov/ground-water-and-drinking-water/emergency-disinfection-drinking-water
World Health Organization. (2022, June 24). Hepatitis A. Retrieved from https://www.who.int/news-room/fact-sheets/detail/hepatitis-a
Fu, B., Wang, J., Fu, X. (2022, April 11). A rare case of extraintestinal amebiasis. Retrieved from https://www.ncbi.nlm.nih.gov/pmc/articles/PMC9004190/
CDC. (2021, December 29). Parasites - Amebiasis - Entamoeba histolytica Infection. Retrievd from https://www.cdc.gov/parasites/amebiasis/general-info.html
Voelker, R., (2021, June 15). Contaminated Water Is Suspected in Massive Salmonella Outbreak. Retrieved from https://jamanetwork.com/journals/jama/article-abstract/2781070
CDC. (2021, March 25). Legionella (Legionnaires' Disease and Pontiac Fever). Retrieved from https://www.cdc.gov/legionella/about/index.html
CDC. (2021, February 26). Parasites - Giardia. Retrieved from https://www.cdc.gov/parasites/giardia/general-info.html
CDC. (2021, February 12). Extensively Drug-Resistant Salmonella Typhi Infections Among U.S. Residents Without International Travel. Retrieved from https://emergency.cdc.gov/han/2021/han00439.asp
CDC. (2021, February 8). Parasites - Cryptosporidium (also known as "Crypto"). Retrieved from https://www.cdc.gov/parasites/crypto/general-info.html
CDC. (2020, September 17). Cyclosporiasis FAQs. Retrieved from https://www.cdc.gov/parasites/cyclosporiasis/gen_info/faqs.html#what_cyclo
CDC. (2020, September 2). Parasites - Cercarial Dermatitis (also known as Swimmer's Itch). Retrieved from https://www.cdc.gov/parasites/swimmersitch/faqs.html
CDC. (2020, November 16). Typhoid Fever and Paratyphoid Fever. Retrieved from https://www.cdc.gov/typhoid-fever/sources.html
CDC. (2020, July 28). Hepatitis A Questions and Answers for Health Professionals. Retrieved from https://www.cdc.gov/hepatitis/hav/havfaq.htm
Shirley, D.T., Watanabe, K., Moonah, S. (2019, November). Significance of amebiasis: 10 reasons why neglecting amebiasis might come back to bite us in the gut. Retrieved from https://www.ncbi.nlm.nih.gov/pmc/articles/PMC6855409/
California Department of Public Health. (2018, January). Amebiasis Fact Sheet. Retrieved from https://www.cdph.ca.gov/Programs/CID/DCDC/CDPH%20Document%20Library/AmebiasisFactSheet.pdf
Quah, S. International Encyclopedia of Public Health. Elsevier Inc., 2017.
CDC. (2014, December 1). E. coli (Escherichia coli). Retrieved from https://www.cdc.gov/ecoli/general/index.html
CDC. (n.d.). Water treatment while hiking, camping, and traveling. Retrieved from https://www.cdc.gov/healthywater/pdf/drinking/Backcountry_Water_Treatment-508.pdf
Texas Department of Health and Human Services. (n.d.). Amebiasis. Retrieved from https://www.dshs.texas.gov/foodborne-illness/amebiasis